The global bathroom taps market size was valued at $17,270.0 million in 2020, and is projected to reach $32,953.0 million by 2030, registering a CAGR of 6.5% from 2021 to 2030. Bathroom taps are usually linked to water supply through a tap connector, which is soldered or compression-fitted to the end of water pipe and has a big nut to screw into the threaded "tail" of the tap, which hangs down beneath bath, basin, or sink. Hot and cold water may be adjusted independently using mixer taps, however, two flows are combined in one spout above bath. A shower hose may be connected to a mixer bath tap, and the water may be routed to it as needed.
The COVID 19 outbreak has affected the growth of the bathroom taps industry owing to the lockdown measure in the countries and delay in manufacturing and production of bathroom taps which are utilized in residential and commercial spaces.
Manufacturers are increasingly adopting the concept of smart bathroom with modern and smart accessories, owing to rise in concerns about hygienic standards and energy conservation, as well as booming smart technology. Bathroom taps are important smart components that are gaining popularity among both customers and manufacturers. Manufacturers are now offering a broad selection of digital and electronic taps for household and commercial markets, owing to the advent of revolutionary technology. For instance, in June 2020, ROCA Sanitario launched L20 and L90 electronic taps for basins. Water flow is activated once the pressure of a user is detected without having to touch the faucet. In addition, it shuts off automatically when sensors stop detecting anything, hence saving water. In addition, introduction of sensor-based bathroom taps, with the goal of ensuring higher hygiene standards and water savings, is also projected to boost the global bathroom taps market during the forecast period.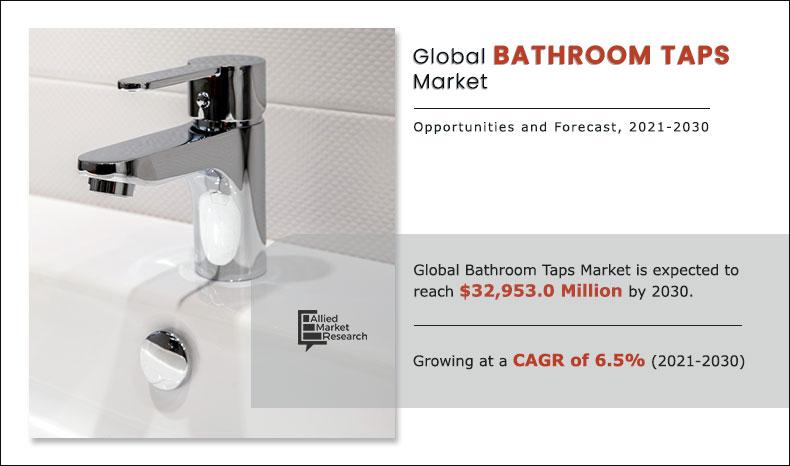 The novel coronavirus has rapidly spread across various countries and regions, causing enormous impact on lives of people and overall community. Originating as a crisis to human health, it now poses significant threat to the worldwide trade, economy, and finance. Continuous lockdowns in key global countries has led to halt in production of many items in bathroom taps business. Market players can afford a complete lockdown only for a limited period, after which they would have to alter their investment plans. Furthermore, number of COVID-19 cases are expected to reduce in the near term as vaccines for COVID-19 has been introduced in the market. This is further expected to lead to re-initiation of bathroom taps companies at their full-scale capacities, which is expected to aid the market to recover by the start of 2022. After COVID-19 infection instances have started to decline, equipment and machinery producers must focus on protecting their staff, operations, and supply networks to respond to urgent emergencies and establish new methods of working.
One of the major reasons that boost the global bathroom taps market growth is rise in consumer disposable income. The global bathroom taps market is anticipated to grow in response to rise in consumer demand for home renovations and stylish & smart bathroom accessories. Furthermore, water and energy shortages are a result of rising urbanization and infrastructure building initiatives. This situation is expected to lead to rise in adoption of smart bathroom accessories, including bathroom taps, supporting the global bathroom taps market growth. Sensor-based bathroom taps, on the other hand, are more expensive to install than standard bathroom taps. In addition, when there is a power outage, faucets stop working. These is expected to be among the key limitations that limit the global bathroom tap market.
Bathroom Taps Market

---
By Product Type
Mixer Taps segment is projected to grow at a significant CAGR
Bathroom taps are of various types, mixer taps, pillar taps, wall mounted taps, and floor mounted taps. The mixer taps segment was the highest contributor to the market and is expected to grow further in the forecast period. Mixer taps can work equally well on a bath or a bathroom sink and allows to precisely regulate temperature of water whether shaving or washing with water straight from the faucet or while taking a bath.  
Bathroom Taps Market

---
By End User
Residential segment holds dominant position in 2020
The bathroom taps market is segmented on the basis of product type, material, end user, and region. By product type, the market is divided into mixer taps, pillar taps, wall mounted taps, floor mounted taps, and others. By material, it is divided into metal, and plastics. By end user, it is divided into residential, and commercial. Region wise, the market analysis is conducted across North America (the U.S., Canada, and Mexico), Europe (the UK, France, Germany, Italy, Spain, Russia, and Rest of Europe), Asia-Pacific (China, Japan, India, Australia, South Korea, ASEAN, and Rest of Asia-Pacific), and LAMEA (Latin America, the Middle East, and Africa).
Bathroom Taps Market

---
By Region
Asia-Pacific holds a dominant position in 2020 and is expected to grow at a significant rate during the forecast period.
Competition Analysis
Key companies profiled in the bathroom taps market report include CERA Sanitaryware Limited, Delta Faucet Company, Jaquar Group, Kohler Co., LIXIL Corporation, MOEN Incorporated, MAC Faucets, LLC., MASCO Corporation, ROCA Sanitario S.A., and Eczacibasi Group (VITRA).
Key Benefits For Stakeholders
The report provides an extensive analysis of the current and emerging bathroom taps market trends and dynamics. 
In-depth emerging bathroom taps market analysis is conducted by constructing market estimations for key market segments between 2021 and 2030.
Extensive analysis of the emerging bathroom taps market is conducted by following key product positioning and monitoring of top competitors within the market framework.
A comprehensive analysis of all the regions is provided to determine the prevailing opportunities.
The global emerging bathroom taps market forecast analysis from 2021 to 2030 is included in the report.
The key players within emerging bathroom taps market are profiled in this report and their strategies are analyzed thoroughly, which help understand the competitive outlook of the emerging bathroom taps industry.
 Bathroom Taps Market Report Highlights
Aspects
Details
BY PRODUCT TYPE

Mixer Taps
Pillar Taps
Wall Mounted Taps
Floor Mounted Taps
Others

BY MATERIAL

Metal

Brass
Nickel
Bronze
Stainless Steel

Plastics

High-Density Polyethylene
Polyvinyl Chloride
Others

BY END-USER
BY REGION

NORTH AMERICA (U.S, CANADA, MEXICO)
EUROPE (GERMANY, FRANCE, UK, ITALY, SPAIN, RUSSIA, REST OF EUROPE)
ASIA-PACIFIC (CHINA, INDIA, JAPAN, AUSTRALIA, SOUTH KOREA, ASEAN, Rest of Asia-Pacific)
LAMEA (LATIN AMERICA, THE MIDDLE EAST, AFRICA)

Key Market Players
CERA Sanitaryware Limited, Delta Faucet Company, Jaquar Group, Kohler Co., LIXIL Corporation, MOEN Incorporated, MAC Faucets, MASCO Corporation, ROCA Sanitario S.A., Eczacibasi Group (VITRA)