Bathroom Vanities Market Research, 2031
The global bathroom vanities market size was valued at $10.2 billion in 2021, and is projected to reach $18.4 billion by 2031, growing at a CAGR of 5.6% from 2022 to 2031.
The rise in population density in major cities has fueled the growth of the furniture market. People are migrating from rural areas to urban areas in search of job opportunities, and they are bringing their families with them.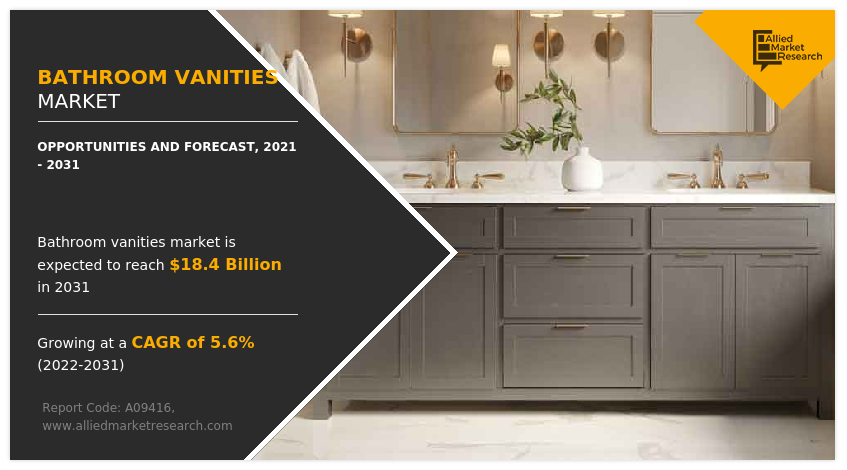 The bathroom vanities market is segmented into Material, Application, and Distribution Channels.
A bathroom vanity is a combined unit that includes a sink and storage space around or beneath it. In addition to storage, it conceals exposed plumbing to keep things looking neater and more streamlined. Bathroom vanities are commonly used to store hygiene products, toiletries, and medications. Bathroom vanities are different than bathroom counters as all bathroom vanities have sinks attached to them, while counters may or may not have sinks. Bathroom vanities are made in various sizes in order to fit bathrooms of various dimensions and are most commonly bought in complementing colors and accents to the interior of the bathrooms.
There is a rise in the adoption of bathroom vanities due to an increase in interest in home decor and home modifications. The sales of bathroom vanities have increased slightly in recent years, and the trend is predicted to continue as the consumers keep investing in household decorations. In 2018, approximately 55% of the global population lived in cities; however, this figure is expected to exceed 68% by the end of 2050. This migration creates potential opportunities for real estate, hotels and restaurants, hospitals and clinics, and other facilities that require various types of furniture, including bathroom vanities, especially for the residential and hospitality sector. The growing urban population is contributing to the bathroom vanities market demand across the globe.
Customers all over the world prefer various styles and designs of bathroom vanities. Companies constantly introduce new bathroom vanities patterns, styles, and designs to meet consumer demand. Furthermore, because of its unique appearance, the vintage style is extremely popular among consumers. A bathroom vanity is a popular choice for customers looking to add retro style to their bathrooms. Furthermore, contemporary, modern, hygge, and Japanese aesthetic styles are popular in the bathroom vanity market. These styles are distinguished by the same characteristics, which include minimalism, simplicity, and clean lines. Furthermore, gold is gaining popularity, particularly in kitchen and bathroom fixtures.
Bathroom vanities market manufacturers face numerous problems and challenges as a result of the high cost of wood as well as the scarcity of high-quality wood in sufficient quantities. In addition, marble is a popular raw material used in bathroom vanities. Marbles used in bathroom vanities include statuario, michael angelo, golden statuario, flawless white, fantastic silver, grey Picasso, Manhattan, grey Frappuccino, and coating. However, marble is extremely expensive due to its scarcity, tenacity, and enduring beauty. Furthermore, it adds a sense of luxury to any setting, and genuine stone is in high demand. As a result, these are some of the primary reasons for marble's notably high price. Therefore, the prices of raw materials used in bathroom furniture such as vanities, cabinets, and flooring have risen. The high cost of bathroom furniture has threatened the entire sector owing to availability of high-priced raw materials.
Popularity for bathroom vanities in residential areas is increasing driven by growing purchasing power and global urbanization. Furthermore, innovation and modernization are constantly required, to meet consumer demand in the bathroom vanities market. In addition, incorporating technology in the bathroom accessories has a wide range of applications, hence creating bathroom vanities market opportunity.
Furthermore, sensor-based faucets are widely available in commercial buildings, however such technology has yet to gain popularity for residential use. Furthermore, by replacing the traditional infrared sensor with a high-tech field, several innovative touchless faucet designs are expected to reduce the level of annoyance felt by homeowners by automatically detecting hands nearby. As a result, introduction of innovative technology such as faucet technology is expected to boost the growth of the market during the bathroom vanities market forecast period.
The bathroom vanities market is segmented on the basis of material, application, distribution channel, and region. By material, the bathroom vanities market is classified into stone, ceramic, plastic, wood, and others. Depending on the application, the market is categorized into commercial, and household and residential. According to the distribution channels used for the sale of bathroom vanities, the market is segmented into offline and online channels of sale.
Bathroom Vanities Market

---
By Material
The wood segment held the largest share of the global bathroom vanities market. In addition, wood reduces stress and has a calming effect on the human mind. It can be recycled, and reused, absorbs carbon dioxide, and is 100% biodegradable.
Ceramic bathroom vanities are the most commonly used types of bathroom vanities and the major bathroom vanities market share holders in 2021. Ceramic bathroom vanities are significantly durable and easy to install than other types of bathroom vanities on the market. Similarly, some contemporary ceramic vanity tops are larger, bolder, and occasionally even oddly shaped, for both aesthetic and functional reasons. Marble, granite, and onyx are all examples of stone bathroom vanities.
Because of their natural pattern, a diverse range of stones in bathroom vanities adds a distinct visual appeal and is one of the essential bathroom vanities market trends across th eglobe.. Furthermore, each stone is unique, and while marble is one of the preferred choices for maintaining the bathroom's neutral color scheme, marble in black is likely to become the room's defining focal point, thereby increasing market growth. One of the most popular materials for the bathroom vanities market is wood. Because of its inherent warmth and beauty, wood is one of the most popular materials for use in bathrooms. Because of its durability, lightweight, and cost-effectiveness, plastic is a popular material for making bathroom vanities. Metal, such as stainless steel, has a long lifespan, which is likely to contribute toward the growth of bathroom vanities. The household and residential segment accounted for the largest market share in terms of users of bathroom vanities in 2021. In commercial buildings, dual sink vanities are usually used for bigger common areas or shared bathrooms.
Bathroom Vanities Market

---
By Application
The household and retail segment is expected maintain its dominance during the forecast period. Due to its classic style, the freestanding bathroom vanity provides an exquisite appearance in the bathroom.
Due to their smooth integration into the bathroom's corner area, corner vanities are favored in the market. In addition, corner vanities are frequently chosen as the best way to include a sink and storage space in bathrooms with limited space. The best option in the market is typically a freestanding bathroom vanity, which is a cabinet with a self-supporting frame that stands on the floor and is frequently fixed to the wall for further stability. The freestanding bathroom vanity's traditional design gives the area a beautiful impression.
[DISTRIBUTIONCHANNELGRAPH]
The offline channels segment of bathroom vanities market size tended to be highest in 2021, however, the online channels segment is expected to experience the highest growth during the forecast period. Offline bathroom vanities sales channels have several advantages, including the ability to deliver and return products quickly. Customers can also visit furniture stores to inspect the quality of the products by touching them and comparing them to other alternatives. Furthermore, numerous stakeholders are involved in the offline bathroom vanities supply chain. Furthermore, offline stores offer bathroom vanity customization services. Direct-to-consumer is a growing market trend in the online bathroom vanities industry. A popular medium for purchasing bathroom vanities is the internet. This is due to the ease of availability and benefits such as product information, time-saving features, and the online platform's home delivery facility.
Bathroom Vanities Market

---
By Region
Asia-Pacific is expected to register the highest CAGR during the forecast period. Moreover, developing countries such as India and China are contributing to the Asia-Pacific bathroom vanities market growth.
Europe is the largest user of bathroom vanities industry in 2021 while the Asia-Pacific is expected to experience significant growth during the forecast period. Bathroom vanities are widely used in residential applications because of the numerous customization options available in Europe. Germany leads the bathroom vanities market in terms of revenue due to high penetration of bathroom vanities in the residential application sector.
Furthermore, the recent development of customizable bathroom vanities and manufacturing technology is expected to drive the bathroom vanities market growth. The increase in disposable income and the rise in popularity of materials such as wood, ceramic, and stone has resulted in an increase in demand for bathroom vanities, which is expected to drive the growth of the North American bathroom vanities market. Furthermore, strategic partnerships between bathroom furniture companies and interior designers, as well as an increase in the adoption of online distribution channels for numerous vanities, are driving the growth of the North American bathroom vanities industry.
The growing demand for bathroom vanities in residential applications, combined with lucrative design and pattern options, is driving bathroom vanities market growth in the Asia-Pacific region. Developing countries such as India and China are fueling the growth of the Asia-Pacific bathroom vanities market. During the forecast period, rapid industrialization and urbanization are expected to provide enormous opportunities for new entrants in the Asia-Pacific bathroom vanities market.
Governments in the Middle East, particularly Saudi Arabia, are focusing on real estate development through various residential and commercial projects that will eventually help to foster their economy. Furthermore, high investment in the tourism, healthcare, and education sectors has fueled the growth of the Saudi construction industry, which is boosting their market in the region.
Some of the major players analyzed in this bathroom vanities industry are FUAO SANITARYWARE PRIVATE LIMITED, Baden Haus S.P.A, Alya Bath, Masco Corporation, Master Brand Cabinets Inc., American Wood Mark Corporation, Silkroad Exclusive, virtu usa, Bath Sense, Native Trails, Inc.,  Greentouch Home, Strasser, and Bertch Cabinet, LLC.
Key Benefits For Stakeholders
This report provides a quantitative bathroom vanities market analysis of the market segments, current trends, estimations, and dynamics of the bathroom vanities market analysis from 2021 to 2031 to identify the prevailing bathroom vanities market opportunities.
The market research is offered along with information related to key drivers, restraints, and opportunities.
Porter's five forces analysis highlights the potency of buyers and suppliers to enable stakeholders make profit-oriented business decisions and strengthen their supplier-buyer network.
In-depth analysis of the bathroom vanities market segmentation assists to determine the prevailing market opportunities.
Major countries in each region are mapped according to their revenue contribution to the global market.
Market player positioning facilitates benchmarking and provides a clear understanding of the present position of the market players.
The report includes the analysis of the regional as well as global bathroom vanities market trends, key players, market segments, application areas, and market growth strategies.
 Bathroom Vanities Market Report Highlights
Aspects
Details
Market Size By 2031
USD 18.4 billion
Growth Rate
CAGR of 5.6%
Forecast period
2021 - 2031
Report Pages
267
Material

Wood
Others
Stone
Ceramic
Plastic

Application

Commercial
Household and Residential

  Distribution Channel

Offline Channels
Online Channels

By Region

North America (U.S., Canada, Mexico)
Europe (Germany, France, UK, Italy, Spain, Russia, Rest of Europe)
Asia-Pacific (China, Japan, India, Australia, Thailand, Malaysia, Indonesia, South Korea, Rest Of As)
LAMEA (Brazil, South Africa,, Saudi Arabia, UAE, Argentina, Rest of LAMEA)

Key Market Players
FUAO SANITARYWARE PRIVATE LIMITED, Alya Bath, Native Trails, Inc., Master Brand Cabinets Inc, Bath Sense, virtu usa, Baden Haus S.P.A, Silkroad Exclusive, Masco Corporation, American Wood Mark Corporation, Greentouch Home, Strasser, Bertch Cabinet, LLC.