Battery Racks Market Outlook - 2030
The global battery racks market was valued at $3.3 billion in 2020, and is projected to reach $4.7 billion by 2030, growing at a CAGR of 3.8% from 2021 to 2030. Battery racks are designed to accommodate various types of batteries in it, whether it is an open or closed type of battery, lead-acid (Pb), or nickel-cadmium (NiCd) battery for its horizontal or vertical placement. These battery racks are designed to be tolerant of earthquakes, racks are solid and rigid, manageable, and acid-resistant. Metal bars of the racks are laminated in plastic and provided a protective coating. These racks are manufactured with hinged components and possible customized features and include battery enclosure with cabling and series string for current protection and disconnects.
COVID-19 pandemic outbreak across the globe has affected the supply of raw material amid government imposed lock down measures owing to which the production of battery racks has been declined which eventually will decline the growth of the market in coming years.
The global demand for battery racks market is primarily driven by rise in demand for high performance battery storage systems in various industries and its applications in power storage, power generation, and telecommunication industries are expected to continue to drive the market revenue growth during the forecast period. Technological advancements, increase in number of small and medium-sized manufacturing industries, and rise in demand for battery racks to store and power various appliances, equipment, lighting systems, devices, and systems are other major factors that drive revenue growth of the global market.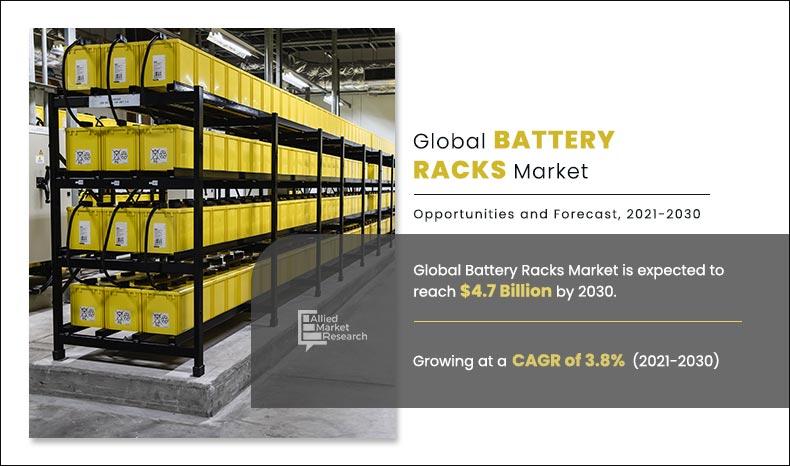 However, fluctuations in raw material prices are expected to hamper growth of the battery racks market during the forecast period. Furthermore, rise in demand for battery racks from emerging economies such as China and India and innovations in energy storage are expected to provide growth opportunities for the market during the forecast period.
The global battery racks market size is segmented on the basis of type, material, and application, and region. By type, it is analyzed across standard, seismic, relay, and VRLA. By material, it is segmented into steel, plastic, plastic coated, and others. By application, it is divided into power storage, power generation, telecommunication, and others. Region-wise, it is studied across North America, Europe, Asia-Pacific, and LAMEA.
The major key players operating in the global battery racks industry include Newton Instrument Co., Storage Battery Systems, LLC, EnviroGuard, Sakcett Systems, Inc., Specialized Storage Solutions, Tripp Lite, Emerson Electric Co., Luminous Power Technologies, Su-Kam Power Systems, and Huawei Technologies Co., Ltd.
Global battery racks market, by region
Asia-Pacific region accounted for a major market share in 2020. Steady growth in industrialization, rapid expansion across manufacturing industries, growth in telecommunications sector, and rise in demand for efficient battery storage racks are some key factors expected to continue to propel growth of the North America market. Technological advancements are another factor that further drives battery racks market growth due to steady development and launch of more advanced products. In addition, the region has registered highest revenue in 2020 as market players are adopting different strategies to expand product portfolio and increase revenue opportunities. Presence of some major players in countries in the region is also attributable to rapid revenue growth.
Global battery racks market, by type
The VRLA (Valve Regulated Lead Acid) battery rack segment accounted for a major share in the market in 2020 as VRLA battery racks require flexible and strong materials, which are deployed on adjustable rails, thereby making the units easy to install and move.
Global battery racks market, by material
The steel segment accounted for a major share in the battery racks market in 2020, owing to properties such as better strength and durability as well as compact design and sleekness as a result of limited need for extra material for reinforcing framework to bear loads of numerous heavy batteries.
Global battery racks market, by application
The power storage accounted for a major battery racks market share in 2020, owing to increase in deployment of power storage battery racks in large, medium, and small enterprises as well as for residential settings.
COVID-19 analysis:
According to the International Monetary Fund (IMF), owing to the outbreak of novel coronavirus (COVID-19), the global economy declined by 3.0% in 2020. Many countries are under strict lockdowns, which have affected supply of raw materials. Hence, owing to this, production activities of battery racks manufacturers have been halted. In addition, demand for battery racks from energy and telecommunication sectors has been declined amid their halted operations, owing to government-imposed lockdown measures, which is expected to hinder growth of the market during the forecast period.
Key benefits for stakeholders
The global battery racks market analysis covers in-depth information of major industry participants.
Porter's five forces analysis help analyze potential of buyers & suppliers and the competitive scenario of the industry for strategy building.
Major countries have been mapped according to their individual revenue contribution to the regional market.
The report provides in-depth analysis of the global battery racks market forecast for the period 2021–2030.
The report outlines the current global battery racks market trends and future scenario of the global market from 2020 to 2030 to understand the prevailing opportunities and potential investment pockets. 
Key drivers, restraints, & opportunities and their detailed impact analysis are explained in the global market study.
Key market segments
By Type
By Material
Steel
Plastic
Plastic Coated
Others
By Application
Power Storage
Power Generation
Telecommunication
Others
By Region
North America
Europe

Germany
France
Italy
Spain
UK
Rest of Europe

Asia-Pacific

China
Japan
South Korea
India
Australia
Rest of Asia-Pacific

LAMEA

Brazil
Saudi Arabia
South Africa
Rest of LAMEA