Battery Recycling Market Outlook-2030
The global battery recycling market size was valued at $11.1 billion in 2020, and is expected to reach $66.6 billion by 2030, registering a CAGR of 19.5% from 2021 to 2030. Battery recycling is referred to collection of lithium-ion batteries through various sources including automotive, industrial, consumer & electronics appliances and recovery of metals of element through recycling processes. The global market estimation includes revenue reported by selling these recovered metals or elements whether that goes into further battery recycling or other second usage applications. Reportedly, most metals recovered go into battery manufacturing only for the second use of batteries in low power applications.
The COVID-19 outbreak has impacted negatively on the global battery recycling market. This is attributed to temporary ban on the import & export and transportation activities, thereby disrupted the supply chain and battery demand from automotive and consumer electronics manufacturers.
Factors such as government regulations, environmental safety, and awareness among people are expected to drive growth of the global battery recycling market. However, improper separation of harmful materials used in battery, improper dismantling, and improper shredding are expected to hamper the battery recycling market growth during the forecast period. Factors such as aesthetic design of battery, accessible installation of batteries, and provision of protective layers to mitigate risk of fire and short circuiting are anticipated to make way for different growth opportunities in the global market.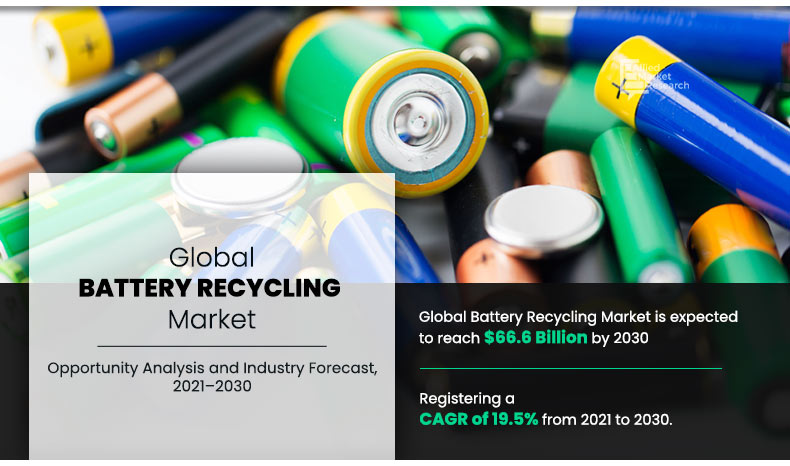 The global battery recycling market is segmented into chemistry, source, application, and region. By chemistry, the market is divided into lead–acid battery, lithium-ion battery, nickel-based battery, and other battery types. Further segmentation can be done on the basis of source into industrial batteries, automotive batteries, and customer & electronic appliances batteries. By application, the market is categorized into transportation, consumer electronics, industrial, and others. Region-wise, the market is studied across North America, Europe, Asia-Pacific and LAMEA.
The global battery recycling market covers in-depth information of the major industry participants. Some of the major players in the market include LI-CYCLE CORP., Accurec Recycling GmbH, Battery Solutions, Redwood Materials, Inc., Glencore International, Retriev Technologies, Umicore, Enersys, AkkuSer Oy, and Duesenfeld GmbH. Other players in the value chain of the market include Neometals Ltd., Primobius, Green Li-ion Pvt., Ltd., SungEel MCC Americas, Redux GmbH, and others.
Key players are adopting numerous strategies, such as technology launch, business expansion, agreement, partnership, and collaboration to stay competitive in the market. For instance, in May, 2021, Li-Cycle Corp. signed an agreement with Ultium Cells LLC (a joint venture of General Motors and LG Energy Solution). This agreement aimed at recycling of up to 100% of the scrap generated by battery cell manufacturing at Ultium's Lordstown, Ohio mega-factory
Battery Recycling Market

---
By Chemistry
Lead-Acid Battery is projected as the most lucrative segment.
Battery Recycling Market, By Chemistry
By battery chemistry, the lead acid battery segment held the largest market share in 2020, owing to the fact that lead-acid battery is highly profitable in terms of recycling, has low cost over other battery types, and its greater adoption as it is the first commercial battery in energy storage applications. On the other hand, lithium-ion battery recycling may gather great momentum during the forecast period in response to the growing efforts to develop patented recycling methods.
Battery Recycling Market

---
By Source
Industrial batteries is projected as the most lucrative segment.
Battery Recycling Market, By Source
On the basis of source, the industrial batteries segment registered highest market share of 51.3% during the forecast period, owing to the wide application included in the industrial segment starting from renewable energy integration to forklift batteries, and UPS systems. Therefore, batteries are collected largely from an industrial source for recycling.
Battery Recycling Market

---
By Application
Transportation Process is projected as the most lucrative segment.
Battery Recycling Market, By Application
By application, the transportation segment garnered the highest battery recycling market share in 2020. This is attributed to the growing adoption of electric & hybrid vehicles and increasing efforts to promote electrification in the overall automotive industry. In addition, rapid growth of EV industry across the developing economies is anticipated to fuel the market growth in the coming years.
Battery Recycling Market

---
By Region
Europe holds a dominant position in 2020 and would continue to maintain the lead over the forecast period.
Battery Recycling Market, By Region
Europe garnered highest growth rate in the global market in 2020, in terms of revenue, and is anticipated to maintain its dominance during the forecast period. This is attributed to numerous factors such as presence of huge consumer base and existence of key players in the region. Moreover, regulations toward environmental pollution and rapid growth of the electric vehicle industry in the region are anticipated to contribute toward growth of the market in Europe.
Covid-19 Impact On The Market
Lockdowns imposed due to the outbreak of COVID-19 pandemic resulted in temporary ban on import & export and manufacturing & processing activities across various industries, which decreased demand for batteries from various automotive and non-automotive end users. This resulted in decline in the market growth in the second, third, and fourth quarters of 2020. However, the battery recycling market is expected to recover by the 2nd quarter of 2021 as COVID-19 vaccination has started in various economies across the globe, which is expected to improve the global economy.
Key Benefits For Stakeholders
The report provides an extensive qualitative and quantitative analysis of the current battery recycling market trends and future estimations of the market from 2021 to 2030 to determine the prevailing battery recycling market opportunities.
A comprehensive battery recycling market analysis of the factors that drive and restrict the growth is provided.
Estimations and battery recycling market forecast are based on factors impacting the growth in terms of value.
Profiles of leading players operating in the market are provided to understand the global competitive scenario.
The report provides extensive qualitative insights on the significant segments and regions exhibiting favorable lithium-ion battery recycling industry growth.
 Battery Recycling Market Report Highlights
Aspects
Details
By Chemistry

Lead-Acid Based Battery
Lithium-Ion Based Battery
Nickel-Based Battery
Other Battery Types

By Source

Automotive Batteries
Industrial Batteries
Consumer & Electronic Appliance Batteries

By Application

Transportation
Consumer Electronics
Industrial
Others

By Region

North America (U.S., Canada, Mexico)
Europe (Germany, France, UK, Italy, Spain, Rest of Europe)
Asia-Pacific (China, Japan, India, Australia, South Korea, Rest of Asia-Pacific)
LAMEA (Brazil, Saudi Arabia, South Africa, Rest of LAMEA)