Beacons Management Software Market Statistics - 2024
The global beacons management software market size was valued at $1,979 million in 2017, and is projected to reach at $6,516 million by 2024, growing at a CAGR of 18.70% from 2018 to 2024. Increase in need for managing platform for beacons, growth in awareness about proximity marketing among the retailers, and development in the market for smart cities drive the market. However, limitations on beacons installation is expected to hamper the beacons management software market share during the forecast period.
Beacon management software is an inevitable software for a corporation or commercial space that has multiple beacons deployed. The placement of numerous beacons makes it difficult to analyze the features that are associated with the beacons. These features comprise the battery status of several beacons located in numerous physical locations. It also provides insights on the activities of visitors and their responses to the messages they obtain. This is used for proximity marketing in various industries for effectively promoting the target customers. The messages sent from the Bluetooth Low Energy (BLE) signals are customized according the marketing strategies of the companies by using the beacon management software dashboards.
Global Beacons Management Software Market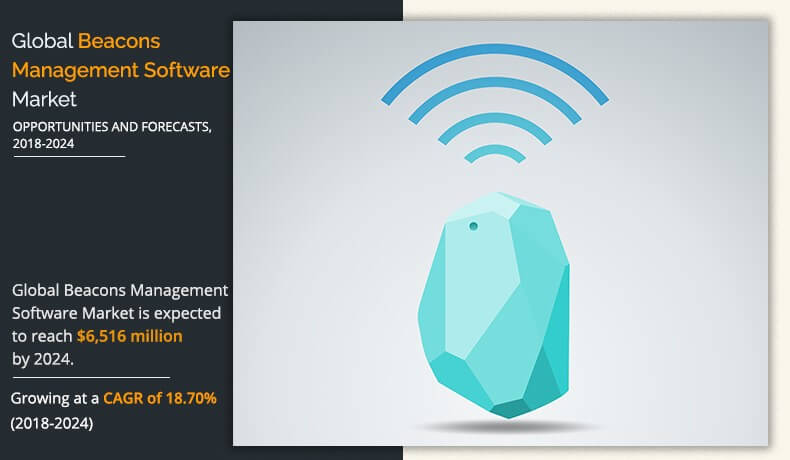 The growth in need for the platform to control and manage the mesh of deployed beacons across multiple physical locations especially in commercial and industrial buildings, growth in adoption of proximity marketing strategies among retailers, increased penetration of IoT, and increase in adoption of beacons across different industries are some of the major factors that propel the beacons management software market growth. Furthermore, rise in the development of smart city projects across the globe is expected to provide promising opportunities for market.
The retail segment led the beacons management software market in 2017 and is expected to dominate in the near future, however, the non-retail segment is expected to grow at a significant pace during the forecast period. Furthermore, North America is expected to dominate the overall global market during the forecast period, as it experiences the highest demand for beacons management software.
Global Beacons Management Software Market by Component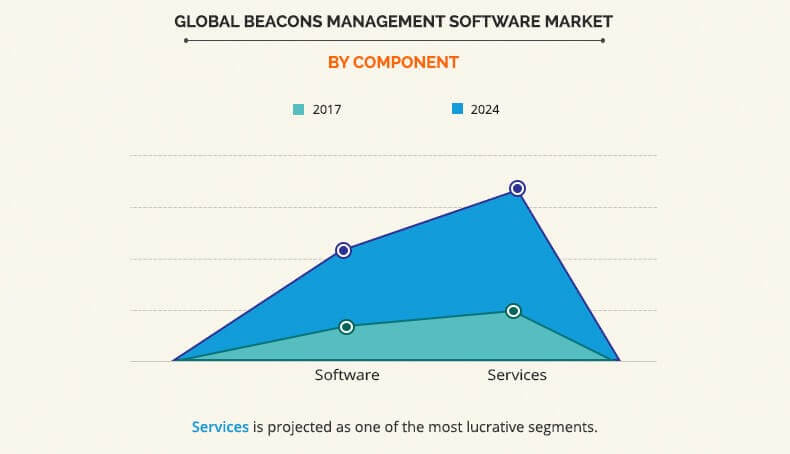 The report focuses on the growth prospects and restraints of the beacons management software market based on the analysis of regional trends. The study provides Porters Five Forces analysis of the industry to understand the impact of various factors such as bargaining power of suppliers, competitive intensity of competitors, threat of new entrants, threat of substitutes, and bargaining power of buyer on beacons management software market growth.
Segment Review
The global beacons management software market is segmented into component, end user, and region. Based on component, the market is classified into software and service. Based on end user, it is bifurcated into retail and non-retail. Based on region, it is analyzed across North America, Europe, Asia-Pacific, and LAMEA.
Global Beacons Management Software Market by End User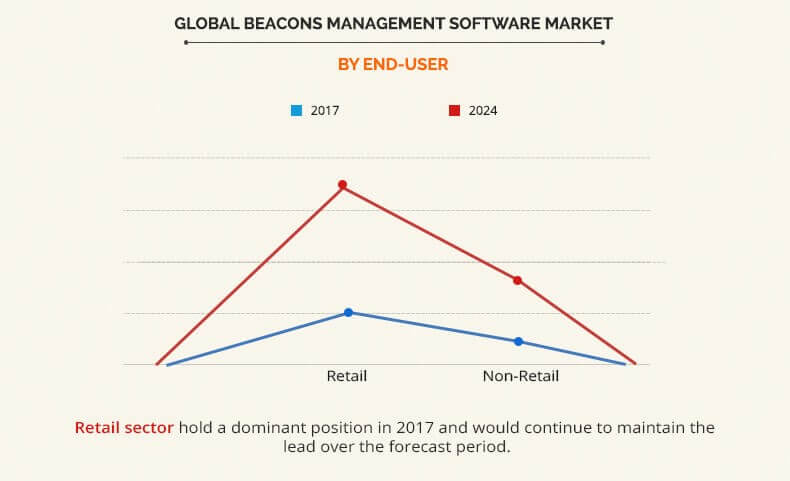 The global beacons management software market is dominated by key players such as Aruba by HP, Beaconinside GmbH, BlueCats, Estimote, Inc., Glimworm Beacons, Kontakt.io, MobStac, Inc., Quuppa Oy, Relution Inc., and Sensoro Co., Ltd.
Top Impacting Factors
Increased Need for Managing Platform for Beacons
The rise in implementation of beacons has amplified the number of beacons placement across different areas of store or company spaces for sending out the precise messages to target customers. Increase in the number of installed beacons complicates its management. Thus, companies find the need to use a platform, which facilitates management and control of deployed beacons. Beacons management software provides customization of the messages sent via beacons signals to a specific area. It also displays the beacons signal strength and battery status. In addition, it provides visitor analysis, as well.
Growth in Awareness About Proximity Marketing Among the Retailers
The increase in awareness of proximity marketing is witnessed in the retail sector due to the advancement of promotional strategies followed by major key players in the retail sector. Beacon technology provides a new micro-location level of promotion to reach the target audience where proximity is key. Retailers or wholesalers can engage customers through highly relevant content for shopping, based on their exact location and accumulation of relevant data for marketing as well as streamlining operations.
Limitations on Beacons Installation
Challenges in beacon location coverage due to limited coverage radius makes it difficult to decide where to position them to ensure that a specific area is adequately covered. It can send irrelevant notifications as beacon signals are easily reflected or absorbed and might get affected in numerous ways. Moreover, the beacons are useful only when the customers have switched on their Bluetooth, Wi-Fi, and installed the related application into their smartphone to receive the notifications. Owing to all these factors the deployment of beacons gets adversely affected causing low demand for beacon management software.
Evolving Market for Smart Cities
The widespread Internet of Things (IoT) penetration amongst all the sectors has enabled smart, automated, and efficient functioning across all the areas. At present, IoT is applied in building smart cities by connecting different data points from weather forecasts to public information to traffic information. Beacon infrastructure plays a significant role in generating the contextual and hyper-local data that is vital for building smart cities. Smart cities can install a network of low-cost beacons to form a private network for accumulating and sending data back to a centralized hub, which can be controlled by beacons management software. Beacons are also deployed in the smart city for providing public safety in remote locations as well as guiding the visually challenged citizens through beacon-enabled city app.
Key Benefits for Stakeholders:
This study includes the analytical depiction of the global beacons management software market along with current trends and future estimations to determine the imminent investment pockets.
The report presents information related to key drivers, restraints, and opportunities.
The current beacons management software market is quantitatively analyzed from 2018 to 2024 to highlight the financial competency of the industry.
Porters Five Forces analysis illustrates the potency of buyers & suppliers in the global beacons management software industry.
 Beacons Management Software Market Report Highlights
Aspects
Details
By Component
By End User
By Region

North America (U.S, Canada, Mexico)
Europe (Uk, Germany, France, Rest of Europe)
Asia-Pacific (China, India, Japan, Rest of Asia-Pacific)
LAMEA (Latin America, Middle East, Africa)

Key Market Players
ARUBA (HP), BEACONINSIDE GMBH, BLUECATS, ESTIMOTE, INC., GLIMWORM BEACONS, KONTAKT.IO, MOBSTAC, INC., QUUPPA OY, RELUTION INC., SENSORO CO., LTD