Behavior Analytics Market Research, 2031
The global behavior analytics market was valued at $1.2 billion in 2021, and is projected to reach $19.2 billion by 2031, growing at a CAGR of 32.4% from 2022 to 2031.
"The COVID-19 outbreak had significant impact on the growth of the behaviour analytics market owing to, the Covid-19 pandemic, propelled the requirements for behavior-based technologies like voice recognition & gait analysis, offering accurate solutions to identify people, both in-person & online, while resisting the spread of the virus. Furthermore, amidst the pandemic, the demand for behavioral analytics solutions widely progressed across the healthcare sector, too. It gave the market a significant boost and also showed signs of its growth."
Behavior analytics refers to the use of advanced technologies such as machine learning, artificial intelligence, and big data to analyze and understand human behavior. These technologies are used to identify patterns, trends, and anomalies in human behavior, to improve decision-making, optimize processes, and enhance security. Moreover, behavior analytics industry helps acquire, analyze, and effectively use consumer data. Understanding what motivates and inspires customers is an integral part of this process. Users of digital products, such as apps or websites, which collects and analyzes data from their behaviors. Using this data, firms can see precisely the engagement of their customers with the virtual experience and judge the enhancement of their digital offerings in the future. 
Integration of advanced analytics and machine learning algorithms into behaviour analytics and rise in investments in security solutions boost the global behavior analytics market growth. In addition, increase in insider security threats in organizations is positively impacting the growth of the behaviour analytics market. However, lack of awareness about advanced cyber-attacks and increase in security concerns hamper the behaviour analytics market growth. On the contrary, increase in demand for driver safety measures is expected to offer remunerative opportunities for expansion of the behaviour analytics market during the forecast period.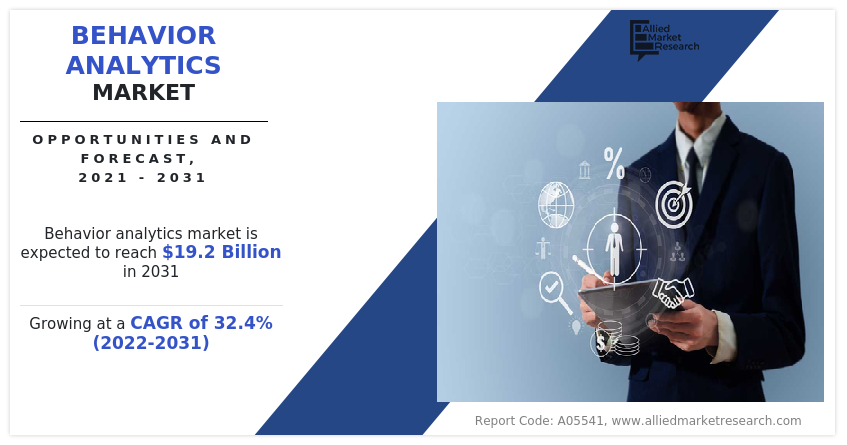 The behavior analytics market is segmented into Component, Deployment Mode and Industry Vertical.
The behavior analytics market is segmented on the basis of by component, deployment model, industry vertical, and region. On the basis of component, the market is categorized into solution and service. On the basis of deployment model, the market is fragmented into on-premise, and cloud. On the basis of industry vertical, it is classified into BFSI, retail and E-commerce, healthcare, IT and telecom, energy and utilities, government & defense, and others. On the basis of region, the market is analyzed across North America, Europe, Asia-Pacific, and LAMEA.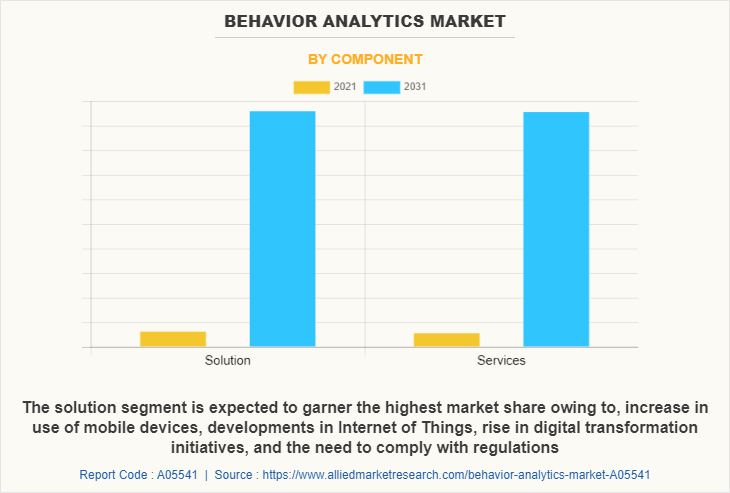 In terms of component, the solution segment holds the largest behavior analytics market size owing to rise in incidences of insider attacks across the globe. However, the service segment is expected to grow at the highest rate during the forecast period owing to, increase in need for organizations to understand and improve human behavior.
Behavior Analytics Market

---
By Region
Asia-Pacific countries are expected to adopt at a high rate owing to high internet penetration rate and large number of mobile phone and application users. .
Get more information on this report :
Request Sample Pages
Region wise, the behavior analytics market share was dominated by North America in 2020 and is expected to retain its position during the forecast period, owing to the presence of major players that offer advanced solutions and invest heavily in solutions such as 5G, IoT technologies. However, Asia-Pacific is expected to witness significant growth during the forecast period, owing to, increasing adoption of IoT and smart technologies use of mobile and web applications. 
The key players that operate in the behaviour analytics market are Exabeam ,Splunk Inc., IBM Corporation, Microsoft Corporation, Niara Inc., NTT Data Corporation, Oracle Corporation, SAP SE, TIBCO Software Inc., and Varonis Systems Inc. These players have adopted various strategies to increase their market penetration and strengthen their position in the behavior analytics industry. 
Digital Capabilities 
Behavioral analytics is an offshoot of business analytics that uses a mixture of data, technologies, and techniques that are focused on driving behavior-based insights and decision-making. Common technologies used in behavior analytics include machine learning algorithms, natural language processing (NLP) systems, data mining, data visualization, and predictive analytics. Machine learning algorithms are used to analyze massive amounts of data to identify patterns and trends that can be used to create predictive models. Natural language processing (NLP) systems are used to analyze unstructured data, such as text from social media. Data mining is used to find relationships between data points and to identify patterns in data. Data visualization is used to create graphical representations of data sets to make it easier to understand and analyze data. Predictive analytics is used to analyze data and create models that can be used to predict future outcomes. 
Key Benefits: 
The key benefits of behavior analytics include gaining a better understanding of customer preferences, identifying areas of customer engagement, improving customer retention, reducing customer churn, and increasing customer satisfaction. Behavior analytics can also help businesses identify trends in customer behavior, gain insights into customer preferences, and optimize business processes. Additionally, behavior analytics can help businesses increase efficiency, reduce costs, and improve customer service. 
Government Regulations: 
All well-governed industries should be able to demonstrate due diligence to ensure regulatory compliance in applicable fields, including IT. Organizations are increasing adoption of advance electronics heavily influenced by COVID-19. In addition, federal and state governments are improving their track plans for various privacy laws, which are applicable for data that are involved in their operations. For instance, the Gramm-Leach-Bliley Act not only covers banks but also securities firms and insurance companies, and companies providing many other types of financial products and services. For instance, in March 2022, U.S. and European Commission announce New Trans-Atlantic Data Privacy framework to put in place new safeguards to ensure that signals surveillance activities are necessary and proportionate in the pursuit of defined national security objectives. Furthermore, the GDPR Act imposed by the European Government mitigates the risk of cyber security and any potential data breaches. Emerging countries of Asia-Pacific are developing stringent regulations, which comprise privacy, government regulatory environment, and intellectual property protection. For Instance, in August 2018, NICE acquired Mattersight Corporation The finalization of this deal brings together the market's leading behavioral analytics and cloud innovators, empowering organizations to provide exceptional customer experience through deep understanding of the customer persona.  
End-user Adoption:  
With an increase in competition, major market players have started partnering with companies to expand their market penetration and reach. For instance, in October 2021, Atos, a leader in global edge AI partnered with Viisights software. This collaboration will allow Viisights' powerful behavioural video analytics to run on Atos Computer Vision Platform, providing users with unique insight and therefore to immediately detect and predict violent activity, suspicious activity, crowd behaviour, traffic monitoring, and much more to help authorities prevent harmful activities from escalating. For instance, in November 2022 ForMotiv, the leading provider of P&C and Life Behavioral Data Solutions partnered with Sapiens International Corporation, a leading global provider of software solutions for the insurance industry to create dynamic and adaptive experiences tailored to each individual. 
In addition, with further growth in investment across the world and the rise in demand for behaviour analytics, various companies have expanded their current product portfolio with increased diversification among customers. For instance, in September 2022, TransUnion launched TruValidate Device Risk with Behavior analytics to help reduce false positive applications that the firm said cost businesses billions. For instance, in July 2021, INRIX, Inc., a leader in mobility analytics launched INRIX IQ Location Analytics, a powerful new cloud-based LBS application that provides retailers, investors, and other business professionals the insights to open new stores, increase revenue, and maximize return on investment.  
Moreover, with increase in competition, major market players have started acquisition companies to expand their market penetration and reach. For instance, January 2023, Snowplow acquired Poplin Data for an undisclosed amount it allow Poplin Data's algorithmic attribution – a technique for marketing attribution. For instance, in November 2022, EY acquired Tao Leadership Limited (Tao), a consultancy, which focuses in driving fast-paced organizational transformation and culture change in businesses. In addition, Tao's technology platform combines organization network and behavioral science with analytics to help businesses around the world implement sustained and rapid behavioral change using a 12-week accelerated approach. Moreover, Tao brings three technologies to the EY organization – a dynamic organization network analysis and cultural analytics visualization engine; an analytics and behavior change platform that helps to reinforce positive workforce behaviors through heightened self-awareness; and a mobile app that captures anonymized feedback, which is then used by change practitioners to develop behavior-based action plans.  
Top Impacting Factors 
Integration of advanced analytics and machine learning algorithms into behaviour analytics 
Integration of advanced analytics and machine learning algorithms into behaviour analytics enables organizations to gain deeper insights into user behaviour identify patterns and trends, detect anomalies and malicious activities, and optimize customer experiences. By leveraging machine learning algorithms, organizations can gain a better understanding of user behaviour and uncover hidden patterns and correlations that might be missed by traditional analytics methods. Furthermore, advanced analytics and machine learning can be used to generate predictive models to anticipate user behaviour and provide more accurate and actionable insights. Such demands are driving the growth of the market.
Rising investments in security solutions   
Investments security solutions is an ever-evolving industry, and opportunities emerge regularly. The industry is expected to see new opportunities for international investment as well as new types of alternatives to invest in. In addition, in recent years, it's branched out into an international market, creating new opportunities to use strategies that have already run their course in the U.S. Moreover, a 2020 survey by Connection Capital found that 87% of the private investors surveyed were planning on maintaining or increasing their allocation to alternative investments over the next 12 months. Furthermore, many investors are using alternative investments, such as real estate, as safe haven investments. This asset class is providing many advantages of traditional safe haven investments including a lack of correlation to equities, lower volatility and strong performance through market cycles while offering the potential for much better returns than highly rated sovereign bonds. Therefore, investors are enabling security solutions to have a secure investment during the pandemic, which in turn is driving the growth of the market. 
KEY BENEFITS FOR STAKEHOLDERS  
The study provides an in-depth analysis of the global behavior analytics market forecast along with current & future trends to explain the imminent investment pockets. 

Information about key drivers, restraints, & opportunities and their impact analysis on global behavior analytics market trends is provided in the report. 
The Porter's five forces analysis illustrates the potency of the buyers and suppliers operating in the industry. 

The behavior analytics market analysis from 2022 to 2031 is provided to determine the market potential. 
 Behavior Analytics Market Report Highlights
Aspects
Details
Market Size By 2031
USD 19.2 billion
Growth Rate
CAGR of 32.4%
Forecast period
2021 - 2031
Report Pages
300
By Component
By Deployment Mode
By Industry Vertical

Retail and E-commerce
BFSI
Healthcare
IT and Telecom
Energy and Utilities
Government and Defense
Others

By Region

North America (U.S., Canada)
Europe (UK, Germany, France, Italy, Spain, Rest of Europe)
Asia-Pacific (China, Japan, South Korea, India, Australia, Rest of Asia-Pacific)
LAMEA (Latin America, Middle East, Africa)

Key Market Players
Oracle Corporation, TIBCO Software Inc., Niara Inc., Splunk Inc., Microsoft Corporation, IBM Corporation, Exabeam, SAP SE, Varonis Systems Inc., NTT Data Corporation