Behavioral Biometrics Market Outlook: 2025
Behavioral biometrics solution is used for the purpose of identification by examining activities of its users such as keystroke dynamics, signature verification, voice recognition, gesture recognition, and others. In this system, a biometrics system verifies a user's behavior against its profile built from a large number of physiological, cognitive, and contextual traits. This technology is anticipated to enhance data security among different end users, which will create lucrative opportunities for market expansion in the coming future. The global behavioral biometrics market size was valued at $720.50 million in 2017, and the behavioral biometrics market forecast is projected to reach $3,922.42 million by 2025, registering a CAGR of 23.71% from 2018 to 2025.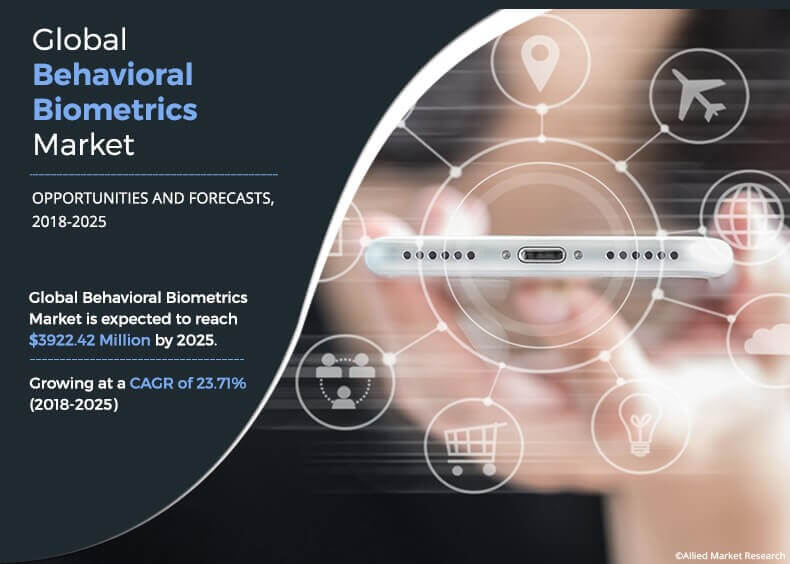 The voice recognition segment dominated the overall market in 2017, owing to significant adoption of voice biometrics solutions among users. Moreover, alarming need for foolproof security techniques for technology-driven systems has supplemented the growth of the segment. In addition, rise in popularity of voice assistants, such as Alexa and Google Assistant, as well as high degree of accuracy offered by these solutions have been playing a significant role in the market growth. However, the gait analysis segment is expected to exhibit the highest growth rate during the forecast period, owing to rise in investments in this technology.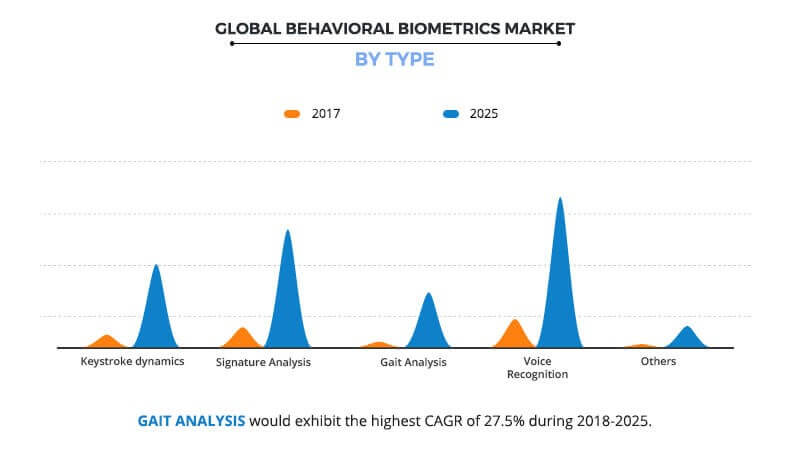 The BFSI segment dominated the global behavioral biometrics market in 2017, owing to significant adoption of behavioral biometrics solutions for anti-fraud purposes. However, the healthcare segment is expected to grow at the highest rate, due to the ongoing trend of digitalization of healthcare data among institutions, which augments the need for advanced behavioral biometrics solutions.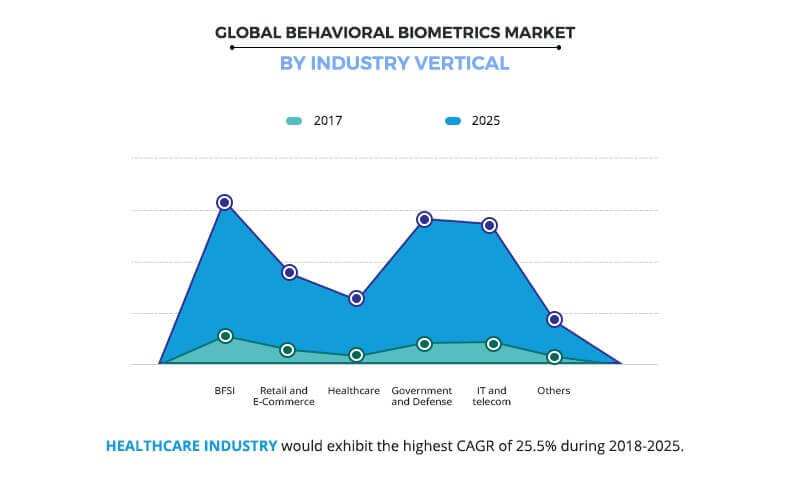 North America governed the overall behavioral biometrics market share, in terms of revenue, in 2017, owing to significant adoption of behavioral biometrics solutions supported by well-established BFSI industry and high ICT spending among organizations for data security solutions across the region. However, Asia-Pacific is expected to witness the highest growth rate during the forecast period, owing to factors such as rise in security spending among government organizations and development of the smartphones market in the emerging economies such as China, Japan, India, Australia, and South Korea.
The report focuses on the growth prospects, restraints, and trends of global behavioral biometrics market analysis. Moreover, the study includes the Porter's five forces analysis of the industry to understand the impact of various factors such as bargaining power of suppliers, competitive intensity of competitors, threat of new entrants, threat of substitutes, and bargaining power of buyers on the growth of the market.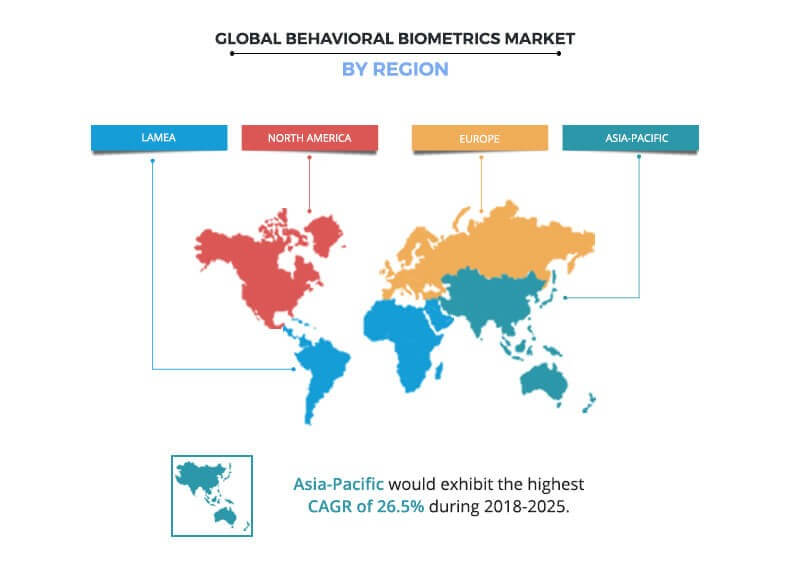 Segment review
The global behavioral biometrics market is segmented based on component, type, deployment model, application, organization size, industry vertical, and region. On the basis of component, the market is bifurcated into software and service.
Depending on type, it is segregated into keystroke dynamics, gait analysis, signature analysis, voice recognition and others. As per deployment model, it is divided into on-premise and cloud based. The applications covered in the study include identity proofing, continuous authentication, risk & compliance management, fraud detection & prevention, and others. By organization size, it is fragmented into large enterprises and SMBs. According to industry vertical, it is classified into BFSI, retail & e-commerce, healthcare, government & public sector, IT & telecom, and others. Region wise, it is analyzed across North America, Europe, Asia-Pacific, and LAMEA.
The key players operating in the global behavioral biometrics market include BehavioSec Inc., BioCatch, EZMCOM Inc., IBM Corporation, NEC Corporation, Nuance Communications, Inc., NuData Security Inc., Plurilock, Samsung SDS, and SecuredTouch Inc.
Top impacting factors
The growth of the global behavioral biometrics market is driven by rise in number of online transactions, development of IoT landscape, and surge in need for enhanced security systems. Furthermore, performance issues associated with behavioral biometrics solutions and lack of cyber security budget are expected to considerably impact the behavioral biometrics market growth during the forecast period. Moreover, the emergence of artificial intelligence in behavioral biometrics and expansion of the cloud-based solutions market are expected to affect the growth of the global behavioral biometrics market during the forecast period. These factors collectively provide opportunities for the market growth.However, each factor has its definite impact on the market.
Rise in number of digital transactions
Significant increase of online transactions has been recorded in the recent years, supported by several government initiatives. For instance, according to a study conducted by BNP Paribas, digital payments are expected to reach 726 billion by 2020, which will drive cashless transactions in the future. In addition, Amex reported about 40% growth in its online transactions. Increase in penetration of smartphones and rise in online shopping have led to surge in adoption of simple and secure online payment methods. However, increase in concerns toward security associated with these technologies hampers the growth of the market. The rate of online fraudulent activities is astounding 1 in 60 transactions globally, which makes passwords notoriously unsafe, in spite of a valid sign-in. Such rise in number of online transactions and threats associated with it have raised an urgent need for advanced biometric solutions, which prevent unauthorized access to user's information without their consent. As a result, rise in number of transactions and increase in fraudulent activities have driven the market growth.
Development of IoT landscape
Internet of Things (IoT) has been one of the most useful innovations in the last decades, leading to introduction of billions of IoT-based devices across the globe, which is further predicted to grow significantly in the upcoming years. The user authentication process should be more sophisticated, as the IoT landscape is evolving and getting complex. Having a plethora of devices in IoT ecosystem, they cannot be left relying on passwords for authentication, as it makes them susceptible to unauthorized access. Ubiquitous connectivity of IoT-based devices has created several security challenges, as these devices are facing advanced form of cyber threats, such as notorious Mirai botnet attacks, which make use of login vulnerabilities of unsecured IoT devices. Attackers target IoT devices such as network cameras and home routers for the initiation of DDoS attacks. According to the Symantec Corporation, IoT attacks reached 50,000 in 2017, experiencing a 600% rise in just one year from about 6,000 attacks in 2016. The biometric security is considered ideal for these threats, as it is less susceptible to hacking and authentication, and prevents unauthorized access. With growing penetration of IoT devices, organizations are now adopting advanced data security solutions such as behavioral biometrics technology for their business protection, thus driving the market growth.
Increased market of cloud-based behavioral biometrics
Cloud computing model has been widely adopted among business organizations, as it offers numerous benefits such as cost-efficiency and flexible infrastructure. Several organizations are now moving to cloud applications for streamlining storage of data, as they provide remote server access on the Internet, thus enabling access to infinite computing power. Moreover, the implementation of cloud-based model allows organizations to manage all applications simultaneously, as there is no invisibility with exceptionally challenging analytics functioning in the background. Various companies have focused on launch of several cloud-based behavioral biometric solutions. For instance, Plurilock launched behavioral biometric cybersecurity tools suite as a cloud-based solution, which is a dedicated product for user behavior analytics (UBA) use cases. Similarly, many companies have focused on developing cloud-based solutions, owing to surge in demand for biometrics as a service among their users. All these factors significantly contribute toward the growth and considered as one of the major global behavioral biometrics market opportunity.
Impact of covid-19 on Behavioral Biometric Market:
Contact biometrics such as vein pattern recognition and fingerprint recognition have taken a blow due to stringent government recognition regarding close-proximity interactions.
On the other hand, technologies such as voice recognition and gait analysis are expected to gain popularity.
Key Benefits for Behavioral Biometrics Market:
This study includes the analytical depiction of the global behavioral biometrics market trends and future estimations to determine the imminent investment pockets.
The report presents information related to key drivers, restraints, and opportunities.
The current market is quantitatively analyzed for the period of 2017–2025 to highlight the financial competency of the industry.
Porter's five forces analysis illustrates the potency of buyers & suppliers in the global behavioral biometrics industry.
 Behavioral Biometrics Market Report Highlights
Aspects
Details
By Component
By Type

Keystroke Dynamics
Gait Analysis
Signature Analysis
Voice Recognition
Others

By Deployment Mode
By Application

Identity Proofing
Continuous Authentication
Risk & Compliance Management
Fraud Detection & Prevention

By Organization Size
By Industry Vertical

BFSI
Retail & E-commerce
Healthcare
Government & Defense
IT & Telecom
Others

By Region

North America (U.S, Canada)
Europe (UK, France, Germany, Rest of Europe)
Asia-Pacific (China, India, Japan, Singapore, Rest of Asia-Pacific)
LAMEA (Latin America, Middle East, Africa)

Key Market Players
BEHAVIOSEC INC., BioCatch, EZMCOM Inc., IBM Corporation, NEC Corporation, Nuance Communications, Inc., NuData Security Inc., Plurilock, SAMSUNG SDS, SecuredTouch Inc.