Benzenoid Market Research, 2031
The global benzenoid market was valued at $764.40 million in 2021, and is projected to reach $1,333.10 million by 2031, growing at a CAGR of 5.8% from 2022 to 2031. Benzenoids are also called aromatic hydrocarbons. They are a type of chemical compounds with a minimum of one benzene ring in their structure. Most common aromatic hydrocarbons are benzenoids and some of them are trans-bicalicene, toluene, nitrobenzene, phenol, aniline, and others.   
The uncertainties caused by the global spread of the COVID-19 pandemic had little impact on the benzenoid market. This is primarily due to consistent demand from the personal care, flavor & fragrance, and other sectors. Furthermore, during the pandemic, demand for benzenoid increased rapidly in the healthcare and pharmaceutical sectors. This is because, during the COVID-19 pandemic, the demand for soaps and detergents increased dramatically due to their ability to reduce the risk of coronavirus infection. Because of regulations imposed by the governments of several countries, soap and detergent manufacturers were able to continue operations.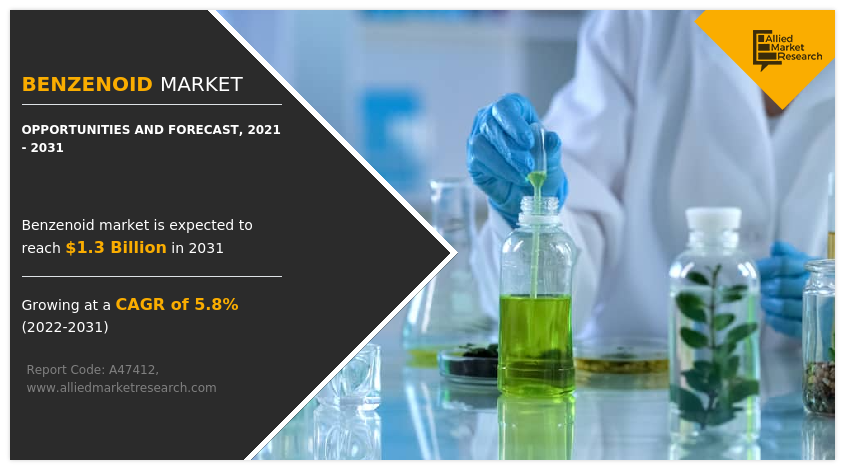 The substantial growth of the benzenoid market can be primarily attributed to increased demand from various applications including aroma chemicals, flavor, and fragrance sectors. Apart from the fragrance industry, benzenoid is extensively utilized in other industries such as pharmaceuticals, cosmetics, soaps, etc. Moreover, benzenoid use is important in fine fragrances and various consumer goods such as perfumes, hair oils, detergents, confectionaries, and beverages. Numerous products including specialty aroma chemicals, industrial fragrance compounds, customized fragrance compounds, and flavor compounds also frequently use benzenoid.  
The possibility of negative health impacts associated with the use of synthetic chemicals is likely to restrain the benzenoid market growth during the forecast period. Several research investigations have established that increased exposure to benzenoid may lead to cancer. Moreover, benzenoid is flammable and toxic.
The industry players are investing a lot of effort on the research and development of smart and unique strategies to sustain their growth in the market. These strategies include product launches, mergers & acquisitions, collaborations, partnerships, and refurbishing of existing technology. Business expansion along with R&D activities is anticipated to offer ample growth opportunities to benzenoid market players during the forecast period. Benzenoid is extensively used by specialty chemicals companies for manufacturing various fragrances and flavors. These manufacturers are using different strategies to increase their market share in the benzenoid industry. For instance, in December 2021, Firmenich SA, a Switzerland-based company, partnered with Jungle, a French company to encourage sustainable innovation in natural ingredients.
The key players profiled in this report include Jayshree Aromatics Pvt. Ltd., BASF SE, Firmenich SA, LANXESS, International Flavors & Fragrances, Inc., Valtris Specialty Chemicals, Eternis Fine Chemicals Ltd., Symrise AG, Sensient Technologies Corporation, and Givaudan.
The global Benzenoid market is segmented on the basis of type, application, and region. As per type, the market is sub-segmented into benzyl acetate, benzoate, chloride, salicylate, benzaldehyde, cinnamyl, and vanillin. By application, the market is classified into soaps and detergents, personal care, food and beverage, and household care. Region wise, the market is analyzed across North America, Europe, Asia-Pacific, and LAMEA.
The benzenoid market is segmented into Type and Application.
Benzoate held the highest revenue in 2021 and is anticipated to continue its dominating over the forecast period
By type, the benzoate sub-segment dominated the Benzenoid market share in 2021. Benzyl benzoate is an organic compound that is made from benzoic acid and benzyl alcohol. It is extensively used in numerous applications such as preservatives, solvents, fragrances, solvents, and plasticizers. Moreover, it is very effective as an insect repellent against bugs such as mosquitoes and ticks. Benzyl benzoate can be used for the treatment of lice and scabies. Benzyl benzoate in fragrances helps reduce the escape of fragrances and improves the lifespan of the perfume.Its use as a plasticizer makes the product less brittle. These factors are anticipated to drive the benzoate market growth during the analysis timeframe. These factors are predicted to expand the Benzenoid market size during the forecast period too.
Benzenoid Market

---
By Application
Soaps and Detergents is anticipated to grow at a fastest CAGR during the forecast period
By application, the soaps & detergents sub-segment accounted for highest market share in 2021. Benzenoid is used as an aromatic compound for the production of detergents and soaps. The COVID-19 outbreak has increased the significance of personal hygiene around the world. Increasing hygiene awareness has increased the demand for soaps to curb coronavirus transmission. People started washing their hands more often which has significantly increased the demand for soaps & detergents globally. These factors are predicted to expand the Benzenoid market forecast period. 
Benzenoid Market

---

By Region
Asia-Pacific held the highest market share in 2021
By region, Asia-Pacific region is expected to dominate the global benzenoid market during the forecast period. Asia-Pacific benzenoid market share is driven by high demand from the industries including personal care, cosmetics, and processed foods sectors. Also, high demand for unique flavor and fragrance blends is estimated to drive the benzenoid market size. China is one of the leading exporters of organic chemicals. In addition, Asia-Pacific regions such as Japan, South Korea, and China are the largest markets for cosmetics and one of the largest exporters of color cosmetics, hair care, sun care, deodorants, skincare, and others.
Impact of COVID-19 on the Global Benzenoid Industry
The COVID-19 pandemic halted numerous business activities worldwide, as many nations shutdown their ports, domestic transportation as well as airports while imposing stringent lockdowns and social distancing measures.
The COVID-19 outbreak has negatively impacted the demand for benzenoids.
Supply and demand for benzenoid have witnessed delays due to restriction on movement of goods, transportation, and import-export restrictions.
Key Benefits For Stakeholders
This report provides a quantitative analysis of the market segments, current trends, estimations, and dynamics of the benzenoid market analysis from 2021 to 2031 to identify the prevailing benzenoid market opportunities.
The market research is offered along with information related to key drivers, restraints, and opportunities.
Porter's five forces analysis highlights the potency of buyers and suppliers to enable stakeholders make profit-oriented business decisions and strengthen their supplier-buyer network.
In-depth analysis of the benzenoid market segmentation assists to determine the prevailing market opportunities.
Major countries in each region are mapped according to their revenue contribution to the global market.
Market player positioning facilitates benchmarking and provides a clear understanding of the present position of the market players.
The report includes the analysis of the regional as well as global benzenoid market trends, key players, market segments, application areas, and market growth strategies.
 Benzenoid Market Report Highlights
Aspects
Details
Market Size By 2031
USD 1.3 billion
Growth Rate
CAGR of 5.8%
Forecast period
2021 - 2031
Report Pages
230
Type

Benzyl Acetate
Benzoate
Chloride
Salicylate
Benzaldehyde
Cinnamyl
Vanillin

Application

Soaps and Detergents
Personal Care
Food and Beverage
Household Care

By Region

North America (U.S., Canada, Mexico)
Europe (Germany, UK, France, Spain, Italy, Rest of Europe)
Asia-Pacific (China, Japan, India, South Korea, Australia, Rest of Asia-Pacific)
LAMEA (Latin America, Middle East, Africa)

Key Market Players
BASF SE, firmenich sa, Jayshree Aromatics Pvt. Ltd., International Flavors & Fragrances, Inc., Lanxess, valtris specialty chemicals, Eternis Fine Chemicals Ltd, Symrise AG, Sensient Technologies Corporation, givaudan