The global bicycle market size was valued at $ 20,280.0 million in 2019. According to the bicycle market analysis the market is estimated to reach $ 28,667.3 million by 2027. The bicycle market forecasted a growing CAGR of 4.8% from 2021 to 2027. 
A bicycle is an eco-friendly mode of transportation, which is available in a rage of varieties such as cargo bikes, electric bikes, and mountain bikes. Bicycle is simple to operate and is considered as one of the safest modes for travelling. Furthermore, major bicycle associations include Go Out and Tour Somewhere, Easy Rider Bike Club, and Road Soldiers Cycling Club share a major motive to increase the interest of customers toward cycling. Thus, they are involved in hosting various sports tournaments, fun activities, bike rallies, and competitions, which motivates customers for bicycle use. Moreover, the trend in bicycle sports is gaining traction in in Europe and North America. This is attributed to the fact that majority of the tournaments such as Tour de France and LoToJa are held in these regions.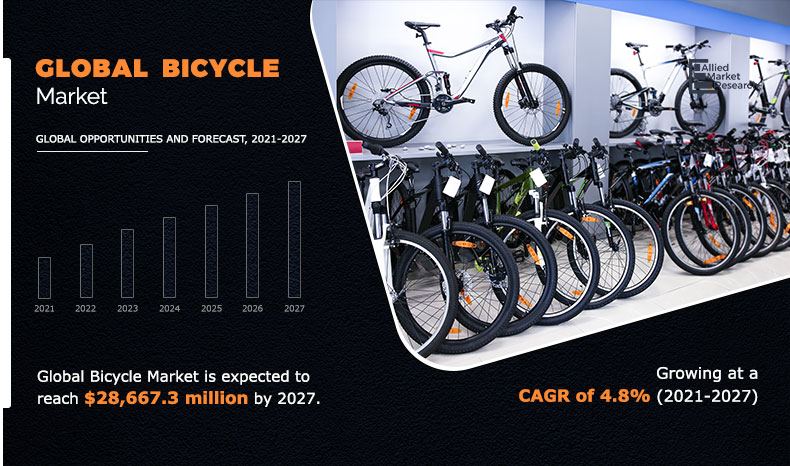 The bicycle market growth is majorly driven by rise in disposable income and surge in consumer spending on bicycle industry. Furthermore, in developed countries, the demand for electric bikes and cargo bikes is increasing significantly, as electric bikes are safe, easy to operate, and are low in maintenance. In addition, these bikes do not require a driving license, enable customers of various age groups drive these bikes, thereby fueling their demand, globally. However, cycling in unfavorable weather conditions is unsafe, which limits the use of bicycles. In addition, low durability of batteries in electric bikes limits the growth of the market. 
The outbreak of COVID-19 pandemic did not affect the bicycle market. The market instead witnessed notable growth during this global health crisis. This is attributed to rise in health consciousness among consumers and preference for bicycles as economical means of exercising and travelling short distances. Furthermore, implementation of stringent norms such as social distancing during the pandemic have enforced individuals to avoid gathering in gyms and travel thorough public transports, which, in turn, boosted the demand for bicycles. In addition, as bicycle saves fuel cost and the time spent in traffic, individuals prefer bicycle while going to office. 
Cargo Electric bike segment was the fastest growing segment.
Moreover, various bicycle sports events such as Tour de France, Vuelta a España, UCI Road World Championships, and Paris-Roubaix are increasingly being organized at a global level. These sports events motive athletes and regular citizens to adopt cycling. This notably contributes toward the growth of the global market. 
The bicycle market is segmented into type, sales channel, end user, and region. Depending on type, the market is categorized into cargo electric bike, non-cargo electric bike, cargo nonelectric bike, and non-cargo nonelectric bike. On the basis of sales channel, it is bifurcated into online platforms and physical stores. By end user, it is segregated into men, women, and kids. Region wise, it is analyzed across North America (U.S., Mexico, and Canada), Europe (Germany, UK, France, Italy, Spain, Russia, Netherlands, Sweden, and rest of Europe), Asia-Pacific (China, India, Japan, Australia, South Korea, Malaysia, Indonesia, and rest of Asia-Pacific), and LAMEA (Latin America, the Middle East, and Africa).
Bicycle Market

---
By Sales Channel
Online platforms was the fastest growing segment.
On the basis of end user, the kids segment is the major revenue contributor. Depending on the interests and trends among kids, manufacturers are launching bicycles with innovative ideas to attract them. For instance, manufacturers launch bikes with stickers of famous cartoon characters and movies. 
Along with innovation in the kids segment, manufacturers are covering the adult customer segment. They are upgrading and are focusing on technological advancements in bicycles such as integration of Bluetooth, GPS, more durable batteries, improvement in gear-shifting functionality, balancing ventilation, and aerodynamics. These technological advancements improve the driving experience of users. 
Bicycle Market

---
By End User
Kids was the fastest growing segment.
By type, the electric bikes segment dominated the market. This is attributed to the fact that the demand for electric bikes is increasing in major countries such as Japan, China, the U.S. and the Netherland. This is attributed to the fact that electric bikes make it easier to carry weight and travel around. As a result, the postal services are adopting electric bikes as a means of travelling. Moreover, these bicycles help to reach the destination on time and saves fuel cost and addition carriage of weight. Thus, this bicycle market trends leads to the increase in the expansion of bicycle market in these countries. 
Furthermore, to promote bicycle market share, governments of various countries are launching bike voucher scheme. In this scheme, the user is offered voucher up to £50 for repairing of the bike. In addition, the voucher can be used for opening a bicycle repair business. By this scheme, the accessibility of bicycle becomes easier to customers, which further promotes the growth of the global bicycle market. 
Europe was the dominant regional segment
Key Benefits For Stakeholders
The report provides a quantitative analysis of the current market trends, estimations, and dynamics of the market size from 2019 to 2027 to identify the prevailing opportunities.
Porter's five forces analysis highlights the potency of buyers and suppliers to enable stakeholders to make profit-oriented business decisions and strengthen their supplier–buyer network.
In-depth analysis and the bicycle market segments and the market size assist to determine the prevailing the bicycle market opportunity.
The major countries in each region are mapped according to their revenue contribution to the market. 
The market player positioning segment facilitates benchmarking and provides a clear understanding of the present position of the market players in the bicycle industry.
 Bicycle Market Report Highlights
Aspects
Details
By Type

CARGO ELECTRIC BIKE
NON-CARGO ELECTRIC BIKE
CARGO NONELECTRIC BIKE
NON-CARGO NONELECTRIC BIKE

By Sales Channel
By End User
By Region

NORTH AMERICA (US, CANADA, MEXICO)
EUROPE (GERMANY, UK, FRANCE, ITALY, SPAIN, RUSSIA, NETHERLANDS, SWEDEN, REST OF EUROPE)
ASIA-PACIFIC (CHINA, INDIA, JAPAN, AUSTRALIA, SOUTH KOREA, Malaysia, .Indonesia, Rest of Asia-Pacific)
LAMEA (LATIN AMERICA, MIDDLE EAST, AFRICA)

Key Market Players
ACCELL GROUP, CERVÉLO, DOREL INDUSTRIES INC., GIANT Bicycles, .MERIDA INDUSTRY CO., LTD., OLYMPUS BIKES, SCOTT SPORTS SA, SPECIALIZED BICYCLE COMPONENTS, INC., TREK BICYCLE CORPORATION, KONA BICYCLE COMPANY