Bifold Doors Market Overview:
Bifold Doors Market was valued at $9,779 million in 2016 and is expected to reach $13,929 million in 2023, growing at a CAGR of 5.2% from 2017 to 2023. Doors constitute a vital part of the infrastructure as they provide entry as well as exit points. Further, they provide insulation, separation of rooms, and protect the interiors of the house from external temperature conditions.
Bifold doors constitute a combination of panel doors logically hinged, leading to folding of the panels. This folding mechanism allows the doors to co-exist as door-walls systems, which enhances the visual appeal of the interiors. Bifold doors are applicable in patio doors, balcony doors, interior dividers, a combination of glass and wall systems, and store & restaurants front doors among others. They can also be used for large cabinets, in-built closets doors that require minimum opening and closing space, and suitable for replacement doors.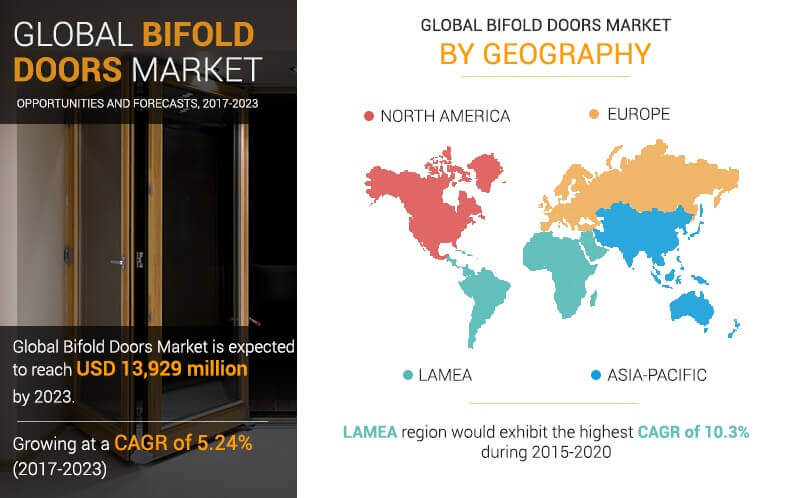 The demand for global bifold doors is driven by growth in demand for efficient doors that offer sufficient insulation as well as heat retention through the material of the panels. In addition, these doors are appealable as door-wall systems and require minimum changes in the architecture for maximizing the space. However, the high cost associated with these doors, owing to use of multiple panels for folding mechanism is expected to hinder the market growth. In addition, installation of bifold doors requires careful and precise hinges of panels to enable a proper folding mechanism; thus, they are usually difficult to set-up for do-it-yourself users.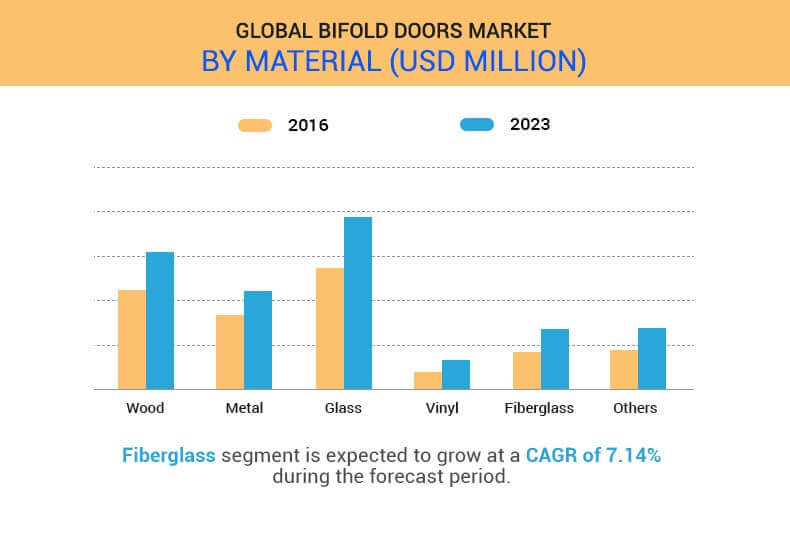 Segment Overview
The bifold doors find their application as patio doors, balcony doors, interior dividers, room separators, and as closet doors among others. The exterior bifold doors are expected to dominate the market share in the forecast period owing to significant adoption of energy efficient patio and balcony doors.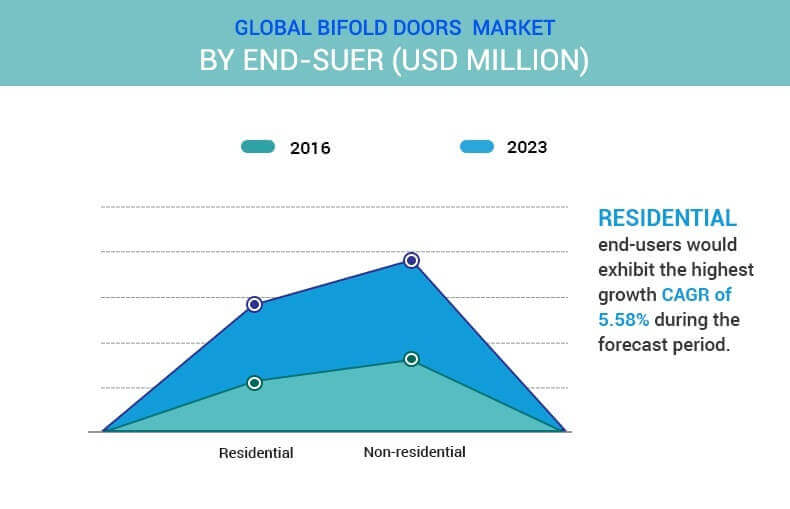 The bifold doors market is segmented on the basis of material, application, end user, and geography. On the basis of material, it is classified into wood, metal, glass, vinyl, fiberglass, and others (uPCV, PVC, and fiberboard). The applications covered in this study include interior doors and exterior doors. Based on the end user, the market is bifurcated into residential and nonresidential. Geographically, it is analyzed across North America, Asia-Pacific, Europe, and LAMEA.
The key players operating in the global bifold doors market are Andersen Corporation, BiFolds BiDesign Ltd., Chase Windows Co., Euramax Solutions Limited, JELD-WEN, Inc., Kloeber, Nana Wall Systems, Inc., Origin Frames Ltd., Pella Corporation, and The Bi-folding Door Company.
Market Segmentation
North America is expected to offer lucrative growth opportunities, thereby registering the highest growth rate, owing to increase in expenditure on home remodeling and rise in consciousness towards interior decorations.
Top Impacting Factors
Rapid urbanization globally and increase in disposable income are expected to boost the demand for bifold doors in the future. Further, growth in awareness among individuals towards interior designing and their propensity to spend on home remodeling are anticipated to fuel the demand. In addition, bifold doors offer a significant view of the outside, and subsequently enhance the visual appeal of the infrastructure in the individual's perception, especially in resorts and the hotel industry.       
However, the involvement of multiple hinges and panels for folding mechanism of bifold doors present a major challenge. As a result, they are usually challenging for do-it-yourself (DIY) users, which is projected to hinder this market. Moreover, the initial installation costs associated with bifold doors increase as the door size increases, impacting the growth further.  
Key Benefits
The study provides an in-depth analysis of the global bifold doors market and current & future trends to elucidate the imminent investment pockets.
Information about key drivers, restrains, and opportunities and their impact analysis on the market is provided.
Porter's Five Forces analysis illustrates the potency of buyers & suppliers operating in the industry.
The quantitative analysis of the global bifold doors market from 2017 to 2023 is provided to determine the market potential.
Bifold Doors Market Key Segments:
By Material
Wood
Metal
Glass
Vinyl
Fiberglass
Others
By Application
Interior Doors
Exterior Doors
By End User
Residential
Nonresidential
By Geography
North America
Europe

Germany
France
UK
Russia
Rest of Europe

Asia-Pacific

China
India
Japan
Rest of Asia-Pacific

LAMEA

Latin America
Middle East
Africa
Key Market Players
Andersen Corporation
BiFolds BiDesign Ltd.
Chase Windows Co.
Euramax Solutions Limited
JELD-WEN, Inc.
Kloeber
Nana Wall Systems, Inc.
Origin Frames Ltd.
Pella Corporation
The Bi-folding Door Company