The global bike rental market was valued at $2.1 billion in 2021, and is projected to reach $11.3 billion by 2031, growing at a CAGR of 18.5% from 2022 to 2031.
A bike rental or bike hire service is a transport service that offers convectional bikes or electric bikes for rent for an individual on a short-term basis for a price or free. Using rented bikes is an easy and convenient way to own a bike without paying maintenance costs. Users can pick up bikes around the city from multiple docked or dock-less stations and return them at another same system. Docks are special bike racks that lock the bike and only release it by computer control; while dock-less bike share does not require a docking station, bikes can be parked within a defined bike rack or along the sidewalk.
Owing to the COVID-19 outbreak, the bike rental industry has had a significant impact due to stay-at-home orders and limited business operations in countries across the world. This has resulted in decrease in demand for bike rental services in first quarter of 2020. For instance, according to Citi Bike general manager Laura Fox, lockdown imposed across the globe reduced the number of riders by 60% in first quarter of 2020 compared with the same in 2019. As people re-assess ground transportation options in the face of the COVID-19 pandemic, many are choosing isolated modes such as driving or biking over public transportation or ridesharing. For instance, according to Apple mobility data, in Boston, mass transit ridership was down 71% at the end of May 2020, while bike-share trips were down only 33%. Similarly, in the San Francisco Bay Area, public-transportation usage was down 75%, while bike-share was down only 10%. Likewise, New York City's mass transit ridership was down 77%, while bike-share was down only 4%.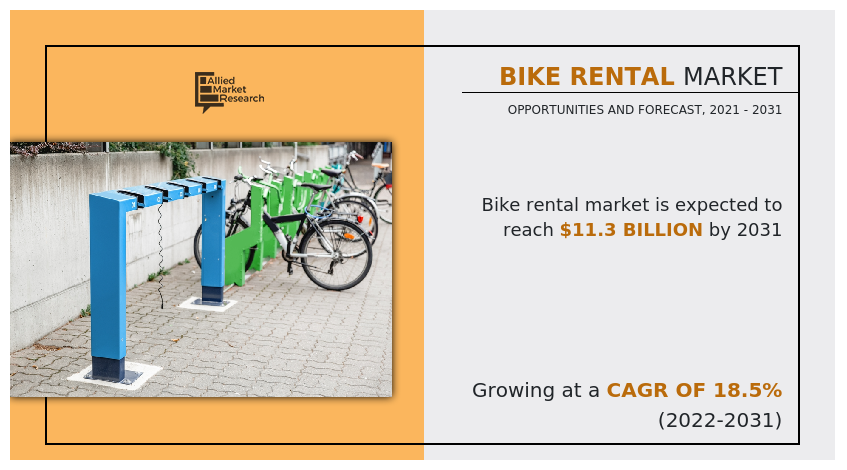 Currently, most of the players in this industry are using mobile applications that provide seamless service. For instance, in urban areas, the new app-based startups are strengthening their presence by giving app-based dockless bike rental/sharing services to working professionals and students for commuting needs. In 2020, Bolt Technology OÜ launched an electric bike-sharing service in Paris for daily commuters. The bike-sharing service platform "Bolt app" can access these electric bikes and be used like other free-floating vehicles. It can be unlocked by scanning a specific QR code. Hence, renting a bike has become easy and convenient after digitalization.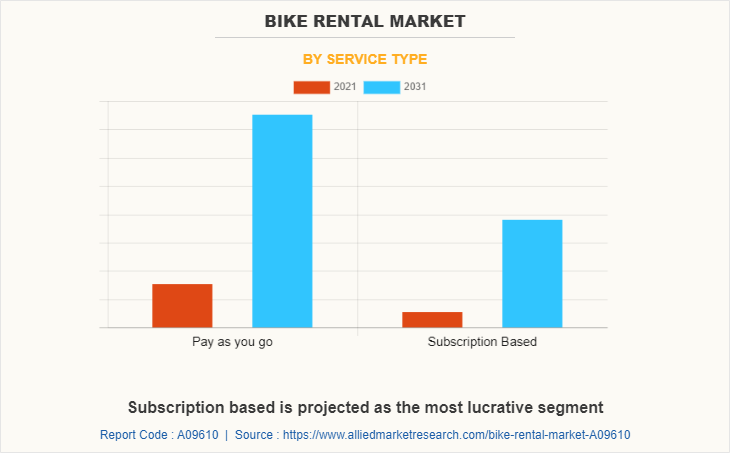 The factors such as rise in venture capital and strategic investments, increasing inclusion e-bikes in the rental fleet, and rise in demand for short-term rental services supplement the growth of the bike rental market. However, high initial investment cost and rise in bike vandalism & theft are the factors expected to hamper the growth of the market. In addition, technological advancement in bike rental system and increasing government initiatives for the development of rental-bike infrastructure creates market opportunities for the key players operating in the bike rental market.
The bike rental market is segmented into service type, propulsion, operational model, distance travelled and region. By service type, the market is divided into pay as you go and subscription based. By propulsion, it is fragmented into pedal and electric. By operational model, it is categorized into dockless and station based. By distance travelled, it is further classified into short trip (less than 5 km), medium trip (5 km to 15 km), and long trip (more than 15 km). By region, it is analyzed across North America, Europe, Asia-Pacific, and LAMEA.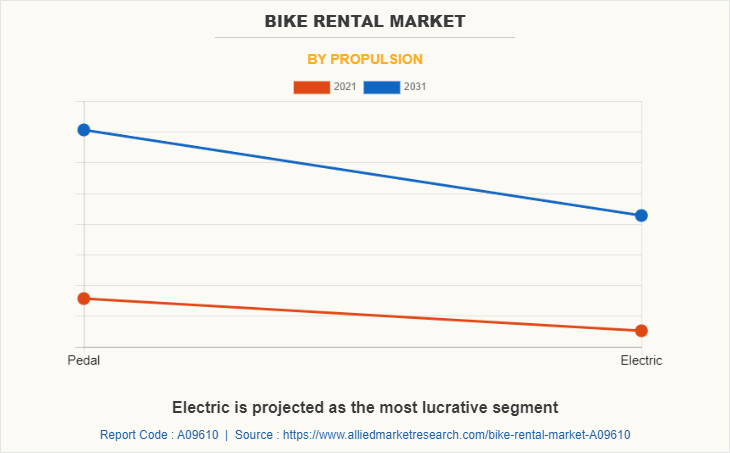 The leading players operating in the bike rental market are Bird Rides, Inc., Bolt Technology OÜ, Bounce, Cityscoot, Cooltra, Drivezy, Inc., Lime, Lyft, Inc., Nextbike GmbH, ONN Bikes, SG Bike Pte Ltd, Spin, Tembici, Uber Technologies Inc., Vogo Automotive Pvt. Ltd., VOI Technology, and Yulu Bikes Pvt Ltd.
Rise in venture capital and strategic investments
The significant rise in the preference for carpool and bike pool services among regular office commuters is the primary factor contributing to the growth of bike rental services. In addition, the increase in the services offered by the leading market players, including Uber and Ola, and the option to choose convenient pick-up and drop locations encourage consumers to opt for ride-hailing and ride-sharing services. Moreover, the significant rise in the number of multiple ride-hailing and ride-sharing services such as bike sharing and auto sharing services, even for short-distance travel, fuels the growth of the bike rental market. Also, several service providers offer various facilities, offers, and discounts such as monthly passes on rental bikes to reduce the expenses of daily commuters. For instance, in February 2022, Lime partnered with Revolut, a British financial services company, to offer up to 70% cashback on rides of Lime electric vehicles when users pay with Revolut. This encouraged the residents in the Australian region to make the shift towards sustainable mobility solutions offered by Lime. This will propel the demand for bike rental services during the forecast period.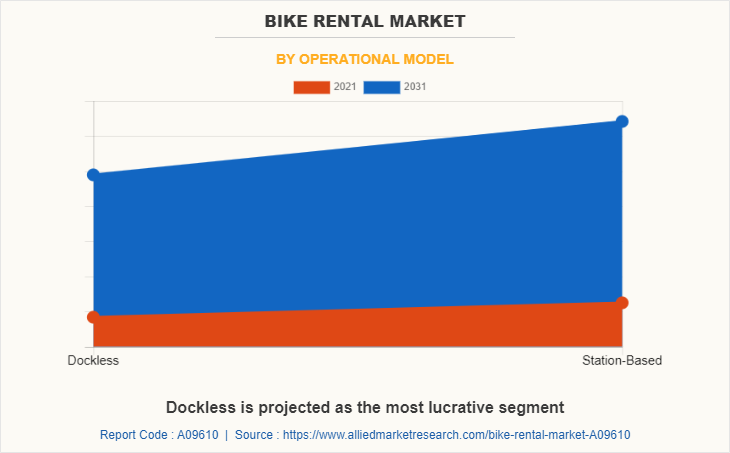 Increasing inclusion e-bikes in the rental fleet
The demand for e-bikes is increasing globally owing to their fast & flexible operations and zero carbon emissions. In addition, the rising consumer inclination toward using e-bikes as cost-effective & eco-friendly transport solutions is adding advantage to bike rental business expansion. Moreover, an e-bike is a preferred option, as it better fulfils the requirement for higher speed in short-distance commuting compared to a pedal-operated bike. Features such as higher speed, more convenience, effortless driving, and variable motor power per road conditions make e-bikes more preferred for sharing purposes. Furthermore, governments worldwide are taking various initiatives to promote the usage of e-bikes. For instance, most governments worldwide look forward to converting fuel vehicles into electric vehicles to tackle environmental issues. Also, several bike-sharing providers have started focusing on expanding their fleet of e-bikes to sustain the growing competition in the bike rental market. For instance, in June 2021, SG Bike Pte Ltd announced the launch of the S-100T 1st edition as its new flagship electric scooter. It featured a 500w motor and was a custom-designed built developed by Spin's in-house team, allowing it to perform in adverse environmental conditions. Thus, the increasing adoption of e-bikes in bike rental services propels the market growth.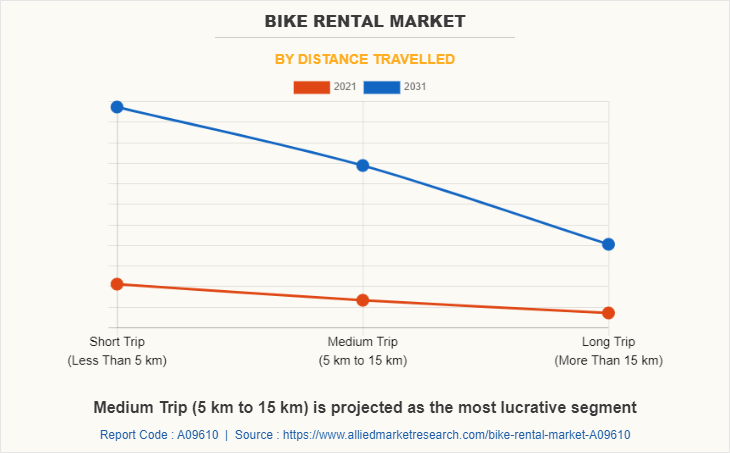 High initial investment cost
In order to grab more bike rental market share in the initial stage of market entry, each brand tends to put large numbers of rental bikes into cities. In addition, significant amounts of subsidies, such as free rides, cashback, and lottery entries, are given to customers as incentives to gain competitive edge. Moreover, the large amount of capital investment is required to setup the related infrastructure such as parking zones for free-floating bikes, docked bike stations network, recharging docks for e-bikes and others. For instance, electric bikes require battery charging or swapping facilities at bicycle docks. Therefore, the high initial investment cost to setup the bike rental services anticipated to hamper the market growth.
Technological advancement in bike rental system
Service providers are making large investments in technological innovations such as artificial intelligence (AI) and internet of thing (IoT) to offer reliable performance to commuters. In addition, integration of GPS technology, consumer-ready mobile payments and reducing the investment cost of locking & tracking systems for bikes have led to the introduction of dock-less bike rental system. Moreover, the integration of advanced technologies such as IoT and GPS trackers on bikes aid service providers to locate them in any region, eliminating the chances of theft incidents. For instance, in December 2020, Spin partnered with Drover AI, provider of AI-Powered IoT Solutions for Micro mobility fleets to Incorporate its pathpilot technology into the next generation of its e-scooter monitoring platform. Further, the platform is expected to be deployed in cities of the U.S., UK, and in other regions around the world in 2021. Furthermore, development of user-friendly smartphone applications also increases usability to the operator and customers. Thus, the technological advancement in bike rental system offering the future growth opportunities for the bike rental market.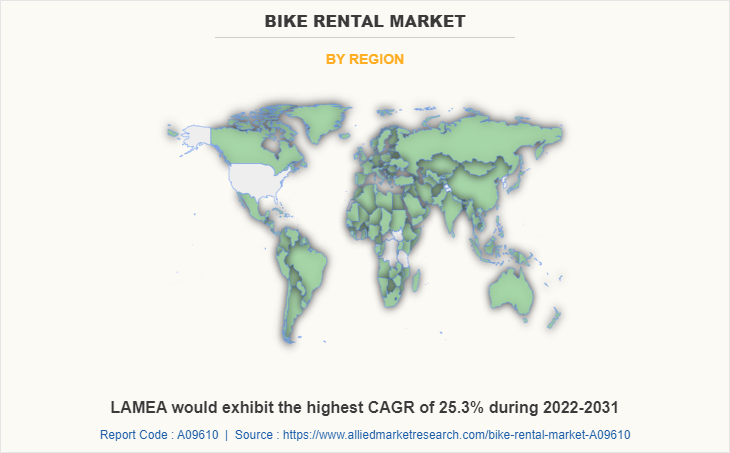 Key Benefits For Stakeholders
This study presents analytical depiction of the global bike rental market analysis along with current trends and future estimations to depict imminent investment pockets.

The overall bike rental market opportunity is determined by understanding profitable trends to gain a stronger foothold.

The report presents information related to the key drivers, restraints, and opportunities of

the global bike rental market with a detailed impact analysis.

The current bike rental market is quantitatively analyzed from 2022 to 2031 to benchmark the financial competency.

Porter's five forces analysis illustrates the potency of the buyers and suppliers in the industry.
 Bike Rental Market Report Highlights
Aspects
Details
By Service Type

Pay as you go
Subscription Based

By Propulsion
By Operational Model
By Distance Travelled

Short Trip (Less Than 5 km)
Medium Trip (5 km to 15 km)
Long Trip (More Than 15 km)

By Region

North America (U.S., Canada, Mexico)
Europe (UK, Germany, France, Italy, Spain, Russia, Rest of Europe)
Asia-Pacific (China, Japan, India, Australia, South Korea, Rest of Asia-Pacific)
LAMEA (Latin America, Middle East, Africa)

Key Market Players
Drivezy, Inc., Lime, Tembici, Nextbike GmbH, VOI Technology, Bounce, Cooltra, Spin, Vogo Automotive Pvt. Ltd., ONN Bikes, Bird Global Inc, Lyft, Inc., SG Bike Pte Ltd, Uber Technologies Inc., Bolt, Cityscoot, Yulu Bikes Pvt Ltd