The global bike sharing market size was valued at $6.6 billion in 2022, and is projected to reach $18.4 billion by 2032, growing at a CAGR of 11% from 2023 to 2032.
Report Key Highlighters:
The bike sharing market analysis study covers 16 countries. The research includes a segment analysis of each country in terms of value ($billion) for the projected period 2023-2032.
The study incorporated  research methodology aims to present a comprehensive outlook on global markets and aid key stakeholders & players in making well-informed decisions to accomplish their ambitious growth goals.
Over 1,500 product literatures, industry statements, annual reports, and other comparable materials from major bike sharing industry participants were reviewed to gain a better understanding of the market.
The  bike sharing market is fragmented, with several players including

Anywheel Pte. Ltd, Bird Rides, Inc, BIXI, Bond Mobility (Europe) AG, Lime, Lyft, Inc., Mobike, Nextbike GmbH, Spin, and Uber Technologies Inc. Also tracked key strategies such as acquisitions, product launches, developments, partnership, mergers, expansion etc. of the players operating in the bike sharing industry.
Bike sharing is a shared transport service in which conventional bikes or electric bikes are made available for shared use to individuals on a short-term basis for a price or free. Users may pick up bicycles around the city from multiple docked or dock-less stations and return them at another same system. Docks are special bike racks that lock the bike, and only release it by computer control, while dock-less bike share does not require a docking station, bikes can be parked within a defined bike rack or along the sidewalk. Bike sharing provides both locals and tourists an easy, low-cost, efficient means of transportation around cities. Bike sharing systems are often facilitated through mobile applications or membership cards, enabling users to locate and unlock bikes, track their usage, and make payments. The bike sharing market statistics has witnessed significant growth in recent years, driven by increasing urbanization, a focus on sustainable transportation options, and the popularity of shared mobility services.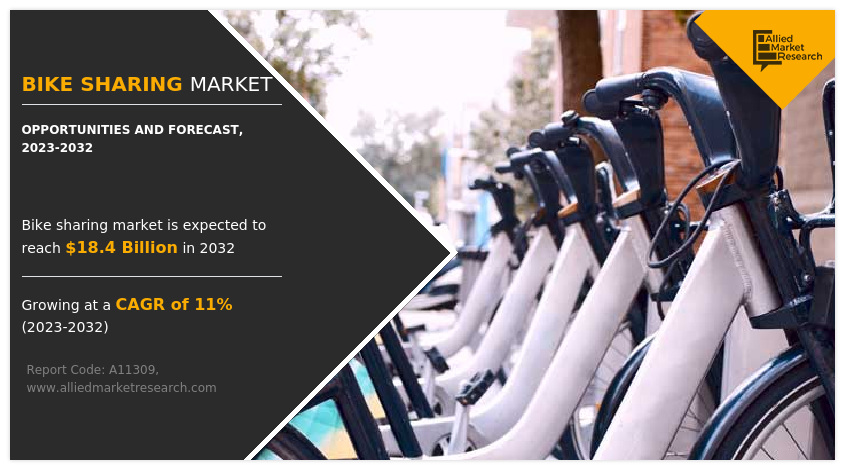 The bike sharing market offers several benefits, including reduced traffic congestion, improved air quality, enhanced accessibility, and healthier lifestyles. It provides an affordable and eco-friendly transportation option for short-distance commuting, sightseeing, and leisure activities. In addition, bike sharing market share may complement existing public transportation networks, offering first-mile and last-mile connectivity. However, high initial investment cost and rise in bike vandalism & theft are expected to hinder the market growth. Further, technological advancements in bike sharing systems are projected to offer lucrative opportunities for market growth during the forecast period.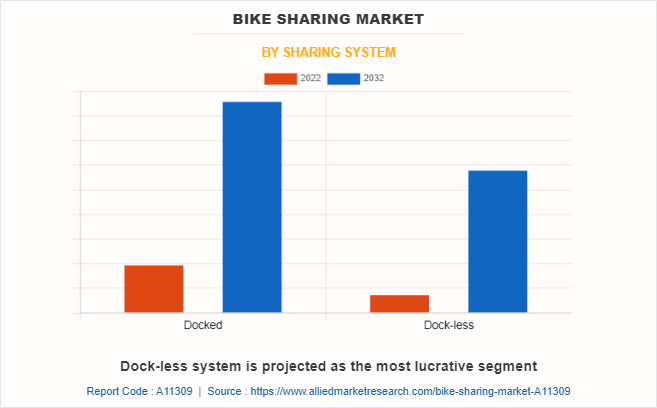 The bike sharing market is segmented on the basis of bike type, sharing system, and region. On the basis of bike type, it is bifurcated into traditional/convectional and e-bike. On the basis of sharing system, it is bifurcated into docked and dock-less. On the basis of region, the market is studied across North America, Europe, Asia-Pacific, and LAMEA.
The key players operating in the bike sharing market are Anywheel Pte. Ltd, Bird Rides, Inc, BIXI, Bond Mobility (Europe) AG, Lime, Lyft, Inc., Mobike, Nextbike GmbH, Spin, and Uber Technologies Inc.
Rise in venture capital and strategic investments
The significant rise in the preference for carpool and bike pool services among the regular office commuters is the primary factor contributing toward the growth of the ride hailing and ride sharing services. In addition, the increase in the services offered by the leading market players, including Uber and Ola, and the option to choose convenient pick-up and drop locations is encouraging the consumers to opt for ride hailing and ride sharing services and further boost its bike sharing market share. Moreover, a significant rise in the number of multiple ride-hailing and ride-sharing services such as bike sharing and auto sharing services even for short distance travel fuels the growth of the bike sharing industry. Furthermore, the ride sharing service providers are offering advantages such as affordable doorstep pick-up and drop, co-passenger information, and higher convenience as compared to the traditional transport service providers. This is expected to propel the demand for ride share services. In addition, several service providers offer various facilities, offers, and discounts such as monthly pass on shared ride to reduce the expenses of daily commuters and further boost bike sharing market trends.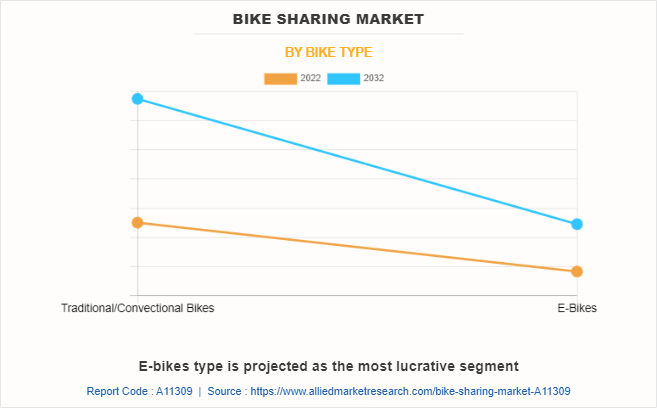 Increase in inclusion of e-bikes in the sharing fleet
There is an increase in demand for e-bikes across the globe owing to their fast & flexible operations and zero carbon emissions. In addition, the rise in consumer inclination toward the usage of e-bikes as a cost-effective & eco-friendly transport solution adds up to bike sharing expansion. Moreover, an e-bike is the preferred option, as it better fulfils the requirement for higher speed in short-distance commuting, when compared to a pedal operated bike. Features such as higher speed, more convenience, effortless driving, and variable motor power as per the road conditions make e-bikes more preferred for sharing purposes.
Furthermore, governments across the world have taken various initiatives to promote the usage of e-bikes. For instance, the majority of the governments across the world look forward to converting fuel vehicles into electric vehicles to tackle environmental issues. Furthermore, several bike sharing providers have started focusing on expanding their fleet of e-bikes to sustain the growth in competition in the bike sharing industry. For instance, in April 2023, Nike, Lyft, and the Portland Bureau of Transportation made a joint announcement to expand their bike fleet by adding 500 bikes. In addition, bike-sharing startups such as Mobike, Hellobike and Ofo announced plans to add electric bikes to its fleet. Increase in adoption of e-bikes in bike sharing services is propelling the market growth.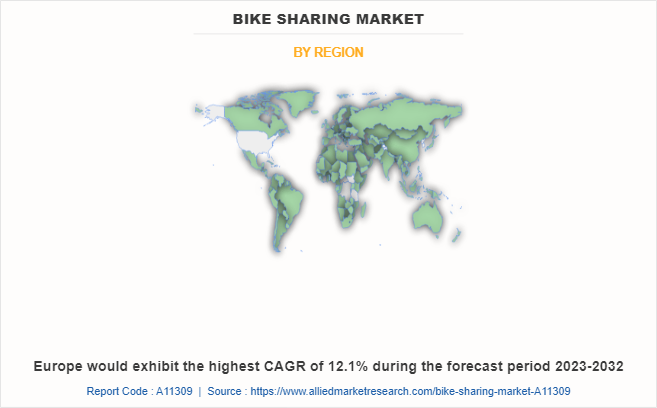 Rise in bike vandalism and theft
Theft and vandalism of bikes have been a significant issue around the world, where dock-less operations have grown exponentially. Several dock-less bike-sharing service providers have reported the instance regarding the theft of the dock-less bikes. For instance, Chinese bike share startup Mobike has admitted that more than 200,000 of its rent-by-app bicycles were lost to theft or vandalism in 2019.
Moreover, the growth in theft and vandalism of electric bikes force market players to pull out their operations in several countries across the world. For instance, in November 2021, Nextbike announced that it is anticipated to shut down the scheme in the UK after months of vandalism, theft, and threats against staff. A total of 260 bikes have been scrapped due to vandalism. Furthermore, in September 2021, Chandigarh public bike-sharing system was plagued by vandalism and theft since its launch in the city. According to reports, a total of 193 bikes were damaged, and in at least four instances, users even took the bikes to their homes. This has resulted in huge losses for the companies, which in turn, hinder growth for the bike sharing market trend.
Increase in government initiatives for the development of bike-sharing infrastructure
Various governments across the world are offering subsidies to service providers for developing stations and expanding their reach to many commuters. For instance, in 2018, Chinese Municipal governments subsidized the Public Bike Sharing Program (PBSP) development to encourage non-motorized transport and offer convenient, flexible, and low-cost mobility options. These services are majorly used in urban areas due to the rise in traffic congestion and increased fuel prices.
In addition, the government authorities have provided incentives for the adoption of environment-friendly transport solutions including bicycles and electric bikes, owing to growth in concerns related to the rise in environmental pollution. Moreover, the government has set up the bike charging infrastructure, dedicated bike lanes and parking zones. For instance, in June 2020, Pittsburgh unveiled a 10-year plan to significantly expand bike infrastructure in the city by more than 120 miles of new trails, bicycle lanes and other street improvements. Increase in government initiatives for the development of reliable bike-sharing infrastructure along with the proliferation of smart cities across the globe are anticipated to offer lucrative growth opportunities for bike sharing market.
COVID-19 cause a significant impact on shared mobility and more particularly on the use of shared bikes. Moreover, stay-at-home orders and limited business operations in countries across the world resulted in a decrease in demand for bike sharing services in the first quarter of 2020. For instance, according to Citi Bike general manager Laura Fox, lockdowns reduced the number of rides by 60% in the first quarter of 2020 compared with the same in 2019. However, the pandemic sparked a new bike sharing trend across the world. People chose bike sharing services to cover medium to short distances in view of health and safety concerns during the outbreak. Urban consumers have seen a rise in demand for bike sharing services for maintaining social distancing as well as an alternative to public transport. For instance, according to research firm ITDP, after re-opening, trips using dock-less bike systems in Guangzhou and Beijing increased 60% and 150%, respectively. Meanwhile, Europe-centered bike-share operator Nextbike reported a 35% year-over-year spike in ridership in May 2020. Also, in London, the transit authority projected a 10% increase in bike sharing. Moreover, Citi Bike bike-share system of New York City reported 67% increase in bike sharing rides after lifting restriction.
Recent Developments
In March 2023, MYBYK launched two electric bicycle variants, MYBYK Electric and MYBYK Electric Cargo. The MYBYK Electric model is designed to cater to the needs of both citizens and tourists, offering a solution for convenient first and last-mile connectivity. On the other hand, the MYBYK Electric Cargo model targets gig-workers and aims to address the last-mile delivery challenges they face.
In June 2022, Anywheel Pte. Ltd. expanded its business and started shared bike service in Ang Mo Kio, Pasir Ris, Punggol and Tampines. The expansion of areas covered by the firm comes after Anywheel secured approval from the Land Transport Authority (LTA) to double its fleet size to 30,000 shared bicycles.
In February 2020, Uber Technologies Inc. has launched its JUMP e-bikes in Auckland. This expansion has given Auckland residents more travel options to get from A to B without the use of a car. Further, it is a crucial piece of plan to bring together different modes of transport in the Uber app.
Key Benefits For Stakeholders
This report provides a quantitative analysis of the market segments, current trends, estimations, and dynamics of the bike sharing market analysis from 2022 to 2032 to identify the prevailing bike sharing market opportunities.
The market research is offered along with information related to key drivers, restraints, and opportunities.
Porter's five forces analysis highlights the potency of buyers and suppliers to enable stakeholders make profit-oriented business decisions and strengthen their supplier-buyer network.
In-depth analysis of the bike sharing market segmentation assists to determine the prevailing market opportunities.
Major countries in each region are mapped according to their revenue contribution to the global market.
Market player positioning facilitates benchmarking and provides a clear understanding of the present position of the market players.
The report includes the analysis of the regional as well as global bike sharing market trends, key players, market segments, application areas, and market growth strategies.
 Bike Sharing Market Report Highlights
Aspects
Details
Market Size By 2032
USD 18.4 billion
Growth Rate
CAGR of 11%
Forecast period
2022 - 2032
Report Pages
196
By Sharing System
By Bike Type

Traditional/Convectional Bikes
E-Bikes

By Region

North America (U.S., Canada, Mexico)
Europe (UK, Germany, France, Italy, Rest of Europe)
Asia-Pacific (China, Japan, India, South Korea, Rest of Asia-Pacific)
LAMEA (Latin America, Middle East, Africa)

Key Market Players
Bird Rides, Inc., BOND MOBILITY (EUROPE) AG, Lyft, Inc., TIER Mobility SE, MOBIKE, Uber Technologies Inc., BIXI, Lime, SPIN, Anywheel Pte. Ltd.