Bio-Based Polymer Market Overview:
The bio-based polymer market size was valued at $6,395.5 million in 2017 and is projected to reach $9,905.9 million by 2025, growing at a CAGR of 5.3% from 2018 to 2025. Bio-based materials are derived from plants and are biodegradable. Similarly, bio-based polymers are also derived from plants such as corn, sugarcane, vegetable oil, soybeans or cellulose, and others. These polymers are also known as next-generation polymers, which are used to reduce the use of fossil fuels. Cellulose and starch were the initially invented bio-based polymers used in the textile, packaging construction, and other applications.
Global bio-based polymer market is expected to grow significantly during the forecast period due to increase in demand for green chemicals across the globe. In addition, factor such as stringent regulatory policies on the consumption of synthetic polymers drives the growth of the global bio-based polymer market. European Union have proximity to large number of government regulatory bodies; therefore, synthetic polymers in Europe are witnessing sluggish growth rate and demand for bio-based polymers is rising significantly. Furthermore, favorable government initiatives toward bio-based polymers are expected to fuel the market growth. On the contrary, high prices associated with bio-based polymers are expected to restrain the market growth.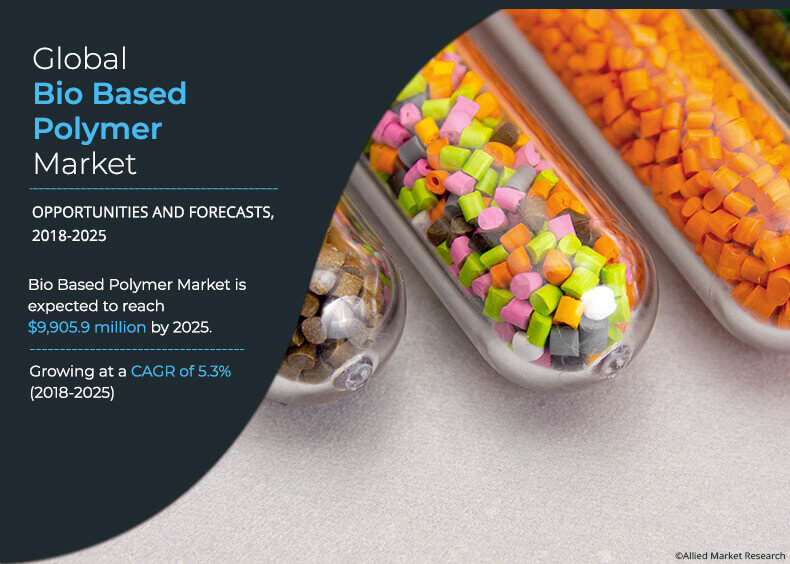 The bio-based polymer market is segmented based on type, application, and region. Based on type, it is categorized into polyethylene (PE), polyamide (PA), polylactic acid (PLA), polyethylene terephthalate (PET), and others that include starch blends, polyhydroxyalkanoates, poly (butylene adipate-co-terephthalate), polybutylene succinate, and others. By application, the market is divided into textile, automotive, industrial, agriculture, packaging, and others that include paper & paperboard, agriculture, and consumer goods. By region, the market is analyzed across North America, Europe, Asia-Pacific, and LAMEA.
The key players analyzed in this report are BASF SE, DowDuPont, PTT Global Chemical Public Company Limited, Arkema Group, Corbion, and Mitsubishi Chemical Holdings Corporation. Other prominent players in the bio-based polymer market comprise Teijin Limited, Kuraray Co., Ltd., Toray Industries, Inc., Bio-On, Novamont SpA, and Finasucre SA.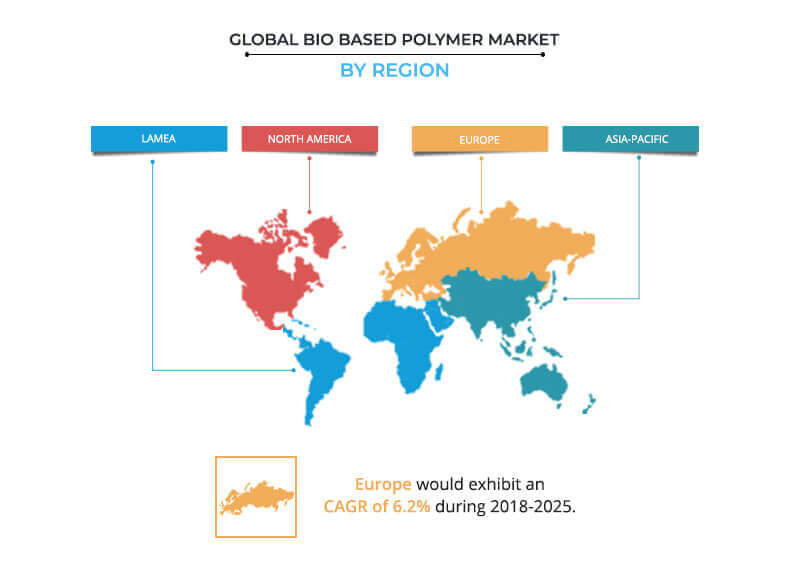 Asia-Pacific accounts for the major share in the global bio-based polymer market due to favorable government policies, abundance of raw material, and increase in demand for bio-based polymers from consumer goods segment. Dynamic textile production as well as consumption in this region is expected to further support the growth of the bio-based polymer market.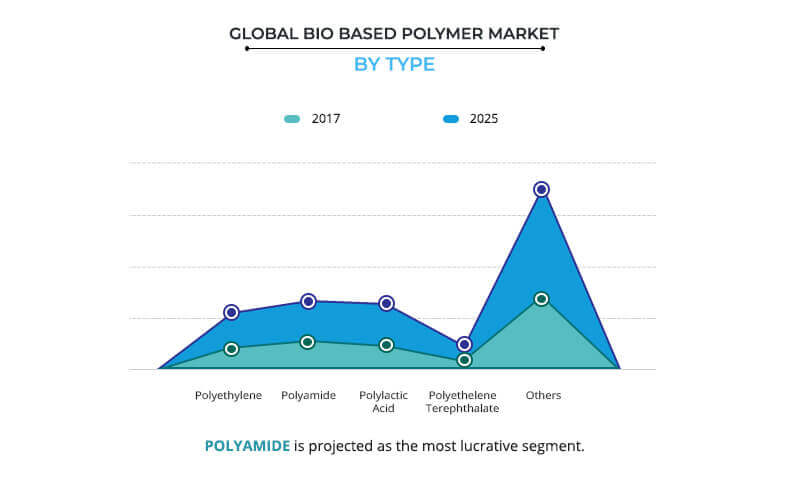 Based on type, polyethylene segment dominated the market in 2017 due to mass production as well as significant demand in end-use industries. With increase in oil prices, microbial polyethylene (PE) or green polyethylene (PE) is now being manufactured by dehydration of ethanol that is produced from microbial fermentation. Therefore, demand for bio-based polyethylene is growing at a faster pace.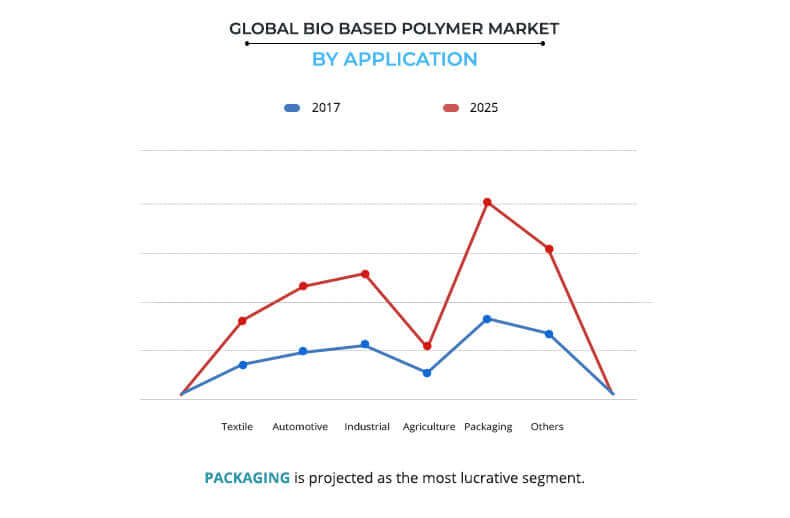 Based on application, packaging application segment contributed the highest share to the global market in 2017. Bio-based polymers offer a large range of packaging applications. Some of the packaging options are bags for compost, agricultural foils, horticulture, nursery products, toys, and textiles. Packaging made from biopolymers can be processed with all customary plastics processing technologies, without the use of special machinery; therefore, the demand for bio-based polymers is increasing in the packaging segment.
Key Benefits for Bio-Based Polymer Market:
Porters five forces analysis helps to analyze the potential of buyers & suppliers and the competitive scenario of the industry for strategy building.
It outlines the current trends and future scenario of the market from 2017 to 2025 to understand the prevailing opportunities and potential investment pockets.
Major countries in each region have been mapped according to their individual revenue contribution to the global/regional market.
The key drivers, restraints, and opportunities and their detailed impact analysis are elucidated in the study.
The profiles of the key players along with their key strategic developments are enlisted in the report.
 Bio-Based Polymer Market Report Highlights
Aspects
Details
By Type

Polyethylene (PE)
Polyamide (PA)
Polylactic acid (PLA)
Polyethylene terephthalate (PET)
Others

By Application

Textile
Automotive
Industrial
Agriculture
Packaging
Others

By Region

NorthAmerica (U.S., Canada, Mexico)
Europe (Germany, France, UK, Italy, Spain, Rest of Europe)
Asia-Pacific (China, Japan, India, Australia, South Korea, Rest of Asia-Pacific)
LAMEA (Brazil, Saudi Arabia, South Africa, Rest of LAMEA)

Key Market Players
NOVAMONT SpA, KURARAY CO., LTD., BASF SE, DOWDUPONT, CORBION, TORAY INDUSTRIES, INC., MITSUBISHI CHEMICAL HOLDINGS CORPORATION, TEIJIN LIMITED, BIO-ON, FINASUCRE SA, ARKEMA GROUP, PTT GLOBAL CHEMICAL PUBLIC COMPANY LIMITED