Global Bio-Alcohols Market Overview:
Bio-Alcohols market size was valued at $6,404 million in 2015, growing at a CAGR of 8.6% to reach $11,574 million by 2022. Bio-alcohols are preferred as automotive fuels to be utilized as additives or individually in engines. They can be used as a fuel additive in existing internal combustion engines without altering the distribution infrastructures. The current trend in bio-alcohols industry is the development of second generation biofuels that have the capability to interact with the existing engine infrastructure and are eco-friendly. Biocompatibility of these compounds has made it ideal for use in transportation and power generation applications.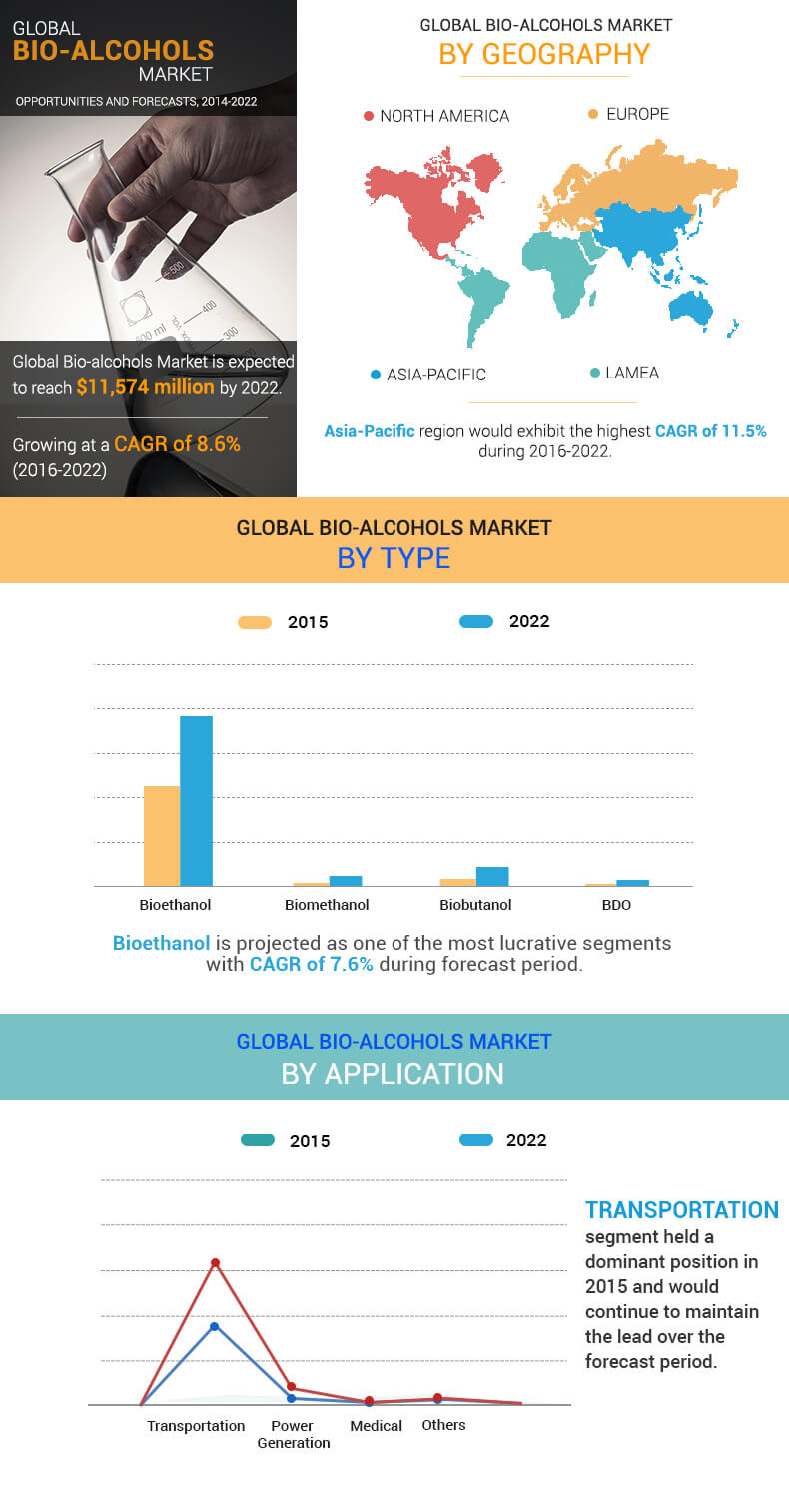 Based on the type, the market is segmented into bioethanol, biomethanol, biobutanol, and BDO. On the basis of application, the market is categorized into transportation, power generation, medical, and others. By raw materials, the market is divided into grains, sugarcane, industrial beets, biowaste, and others.
Demand for long-term energy security, especially from the emerging countries, and the eco-friendly nature of bio-alcohols are the factors that drive the growth of the market. However, consumption of food grains as feedstock is anticipated to hamper the market growth in the coming years due to increase in population. The volatile prices of crude oil is a major trend expected to create opportunities for bio-alcohols market.
Bio-alcohols Market: Top Investment Pockets
The global bio-alcohols market is segmented based on type sector into bioethanol, biomethanol, biobutanol, and BDO. The following figure represents the market potential of different types of bio alcohols. It is evident from the figure that the biomethanol type is the top investment pocket for the market, owing to the growth in consumption and increase in production of biomethanol from waste or biomass. Biobutanol is projected to be the second lucrative segment, owing to adaptability of production process from bioethanol plants and compatibility with existing automotive engines. The biomethanol type is expected to grow at a CAGR of 16.2%, in revenue terms, during the forecast period.
Asia-Pacific Bio-alcohols Market Analysis
Growth in automotive industry, increase in energy demand, and stable economic growth fuel the rise of the bio-alcohols market in Asia-Pacific. Emerging markets such as China, Thailand, and India are expected to show the highest increase in demand for eco-friendly bio alcohols. Demand for biofuels is estimated to be high from developing economy of Asia-Pacific. India already has the infrastructure to produce over 4000 Million liters of bioethanol from molasses. Inadequate supply and lower purchase price of ethanol has been a constraint to successfully achieve blending targets.
Major companies in bio-alcohols industry have adopted agreement, product launches, and expansions to sustain the intense competition in this market. The key players profiled in the report include BASF SE, BioAmber Inc., BP Biofuels, Cargill Inc., Cool Planet Energy Systems Inc., Fulcrum BioEnergy Inc., Genomatica Inc., Harvest Power Inc., Mitsubishi Chemical Corporation, Myriant Corporation, Raizen S.A., and Valero Energy Corporation.
Others players (not profiled in the report) active in bio-alcohols industry value chain include, Mascoma LLC, SGBio, Abengoa S.A., Gevo Inc., Butamax Advanced Biofuels LLC, Red Rock BioFuels LLC, Ginkgo Bioworks, Maverick Biofuels Inc., Algenol Biofuels, and ZeaChem Inc.
KEY BENEFITS FOR STAKEHOLDERS:
This report provides an extensive analysis of the current trends and emerging estimations & dynamics in the bio-alcohols industry.
The bio-alcohols market forecast and in-depth analysis for key segments between 2014 and 2022 is provided.
Competitive intelligence of leading manufacturers and distributors of bio-alcohols assists in understanding the competitive scenario across the geographies.
Comprehensive analysis of factors that drive and restrain the growth of the global bio-alcohols market is provided.
Extensive analysis of the bio-alcohols market is conducted by following key product positioning and monitoring the top competitors within the market framework.
Key market players are profiled and their strategies are analyzed, which provide a competitive outlook of the market.
Bio-alcohols market share by type, application, and raw material at all geographic levels are defined in this report
 Bio-alcohols Market Report Highlights
Aspects
Details
By Type

Bioethanol
Biomethanol
Biobutanol
BDO

By Application

Transportation
Power Generation
Medical
Others

By Row Material

Grains
Sugarcane
Industrial Beets
Biowaste
Others

By Geography

North America
U.S.
Canada
Mexico
Europe
Belgium
Germany
France
Italy
Spain
Rest of Europe
Asia-Pacific
China
Thailand
India
Rest of Asia-Pacific
LAMEA
Brazil
Argentina
South Africa
Rest of LAMEA

Key Market Players
BASF SE, BIOAMBER INC., BP BIOFUELS, CARGILL INC., COOL PLANET ENERGY SYSTEMS INC., E. I. DU PONT DE NEMOURS AND COMPANY, GENOMATICA INC., MITSUBISHI CHEMICAL CORP, MYRIANT CORPORATION, RAIZEN S.A.