Biobatteries Market Research, 2040
The global biobatteries market is estimated to be $140.8 million in 2030 and is projected to reach $295.5 million by 2040, growing at a CAGR of 7.8% from 2031 to 2040.
Key highlights of the report:
The biobatteries

market has been analyzed in terms of value (billion) covering more than 15 countries.

For growth prediction, we have looked into historical trends including present and future activities of key business players.

The report covers detailed profiling of the major market players.
The COVID-19 impact on the market was significantly limited. The industry itself is currently in its evolution phase. However, risen need for an alternative and sustainable source of energy has led to a decrease in the advancement of research activities in the industry. This indicates a positive recovery of the biobatteries market after the pandemic.
A battery is an electrical device that works to convert chemical energy into electrical energy. Biobatteries work on the same mechanism. The only difference is that they help convert organic compounds such as glucose into electrical energy. The base mechanism for biobatteries is that any organic compound consisting of glucose in it can be broken down by enzymes. During this breakdown, electrons and protons of the glucose are released which are thus used for generating electrical power.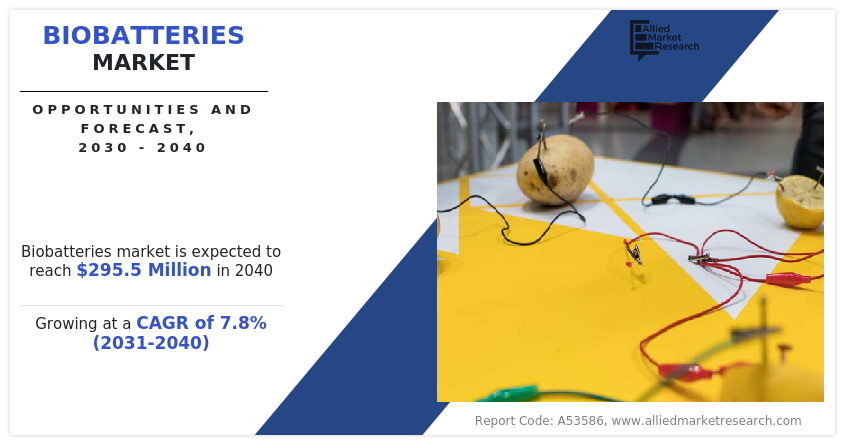 Biobatteries as the name suggests are made from biomatter and have four major compounds. These consist of an anode, cathode, electrolyte, and separator as any other battery. Anode terminal is at the top of the battery and the cathode terminal is at down. A separator is placed between the two terminals. The flow of electrons and protons generates electricity. The proton movement can be occurred due to the moving force which is known as current. The electron flow can be from anode to cathode whereas current flow can be from cathode to anode.
Glucose is used at the anode side whereas enzyme is used at the cathode side. Glucose gets broken down into electrons and protons. The flow of protons can travel to cathode side via a separator and the flow electrons can travel to cathode side via a mediator. Enzymes are utilized at cathode side which generates water by both protons as well as electrons traveled from the anode side. Here, the reaction of Oxygen reduction is being used here. The above reactions will generate electrons as well as protons in the system. Finally, electric energy will be generated. 
Present Scenario:
The biobatteries are currently in the development and experimental stage. Companies and research institutes are continuously looking for alternatives that can replace the existing batteries that prove to be hazardous in the longer run. The market for biobatteries has not developed yet as the product is not commercially available. The researchers are looking for enhanced biobatteries to make them practical and easy to use when compared to conventional batteries.
Energy firms and governments worldwide are pumping billions into new lithium operations, in a bid to mine enough of the mineral to power electric batteries needed for electronic devices and electric vehicles (EVs) around the globe, with demand set to rise sharply over the next decade and beyond. The global demand for lithium has soared in recent years as the manufacturing of lithium-ion batteries for electronic devices, such as mobile phones and laptops, and EVs has increased.
This is generally seen as a good thing, as it marks a gradual movement away from fossil fuel-powered cars in favor of less-polluting EVs. However, ditching one energy source and switching reliance to another is worrying; in this case, moving towards reliance on the metals and minerals that are powering green energy and related technology. As energy experts try to innovate ahead of further environmental degradation or the overreliance on yet another natural resource, biobatteries are gaining more attention.
These batteries use biological molecules to break down other biological molecules, releasing electrons in the process, and allowing energy to be stored in batteries made of organic compounds. The biobatteries market is primarily driven by environmental benefits as they are renewable and non-polluting. They are also available in abundance and can be used at room temperature.
Moreover, there is no leakage or chances of explosions in biobatteries. However, these batteries preserve less amount of energy and thus are not being used commercially yet. In-addition, these batteries cannot be used for long term and storage purposes. Meanwhile, surge in concern over toxic wastes produced from regular batteries is expected to encourage the market to look for environment-friendly alternatives, thus offering a huge growth opportunity for the growth of the biobatteries market.
Biobatteries charges almost 10 times faster than a conventional battery. They are capable of offering such a fast pace due to quick actions of the enzymes in comparison to other existing batteries. Moreover, they do not require any external power supply to complete the reaction for producing electrical power. This is due to the constant supply of glucose and/or sugar. Such advantages of the battery are capable of reducing production costs that are incurred in existing battery technologies and thus act as a driving factor for the market growth.
The biobatteries are purely made from organic compounds. From anode to cathode, every component of the battery is made up of organic material which is completely utilized and renewable. Moreover, these batteries do not produce toxic waste which can harm the environment. They are easy to dispose without causing any grave concern about carbon emissions. Such characteristics of the biobatteries also act as driving factor for the market growth. In addition, there is no fear of leakage or explosion in biobatteries and hence are safe to use.
Biobatteries offer several advantages when compared to existing battery technologies. However, they are not capable of preserving energy greater than other battery types. The currently developed biobatteries offer less energy preservation practically. This acts as a restraining factor for the biobatteries market growth. Meanwhile, there are experiments being conducted to prove the theoretical application of biobatteries that can achieve far greater energy preservation, but for the time being, practical batteries fall short on energy preservation.
The biobatteries market size is studied across type, application, and region
Biobatteries Market

---
By Type
The enzymatic bio-battery segment is projected to grow at the fastest pace.
By type, the biobatteries market is segmented into enzymatic bio-battery, sugar, microbial, and others (lemon, body fluid based bio-batteries, and cellulose-based bio-batteries). In the enzymatic biobattery, biochemical agents (enzymes) are utilized for a breakdown of a substrate. Enzymes are utilized at cathode side which generates water by both protons as well as electrons traveled from the anode side. The reaction of oxygen reduction is being used here.
A sugar battery is a newly invented type of biobattery that is fueled by maltodextrin and facilitated by the enzymatic catalysts. Sugar battery generates electric current by the oxidation of the glucose unit of maltodextrin. The oxidation of the organic compound produces carbon dioxide and electrical current. A total of 13 types of enzymes are planted in the battery so that the reaction goes to completion and converts most of the chemical energy into electrical energy.
The experimental results have shown that the sugar battery of the same mass can store at least two times, up to ten times more electrical energy than the traditional lithium-ion battery can. The sugar battery is expected to be the next general type of mobile electric power source and the possible power source for electric cars. But the sugar battery's output voltage (0.5V) is lower than that of the lithium-ion battery (3.6 V), which causes its electric power (the rate of electrical energy transfer) to be low.
There has been an interest in using bacteria to generate and store electricity. In 2013, researchers found that E. coli is a good candidate for a living bio-battery because its metabolism may sufficiently convert glucose into energy thus produce electricity. Another bacteria of interest is a newly discovered bacterium, Shewanella oneidensis, dubbed "Electric Bacteria" which can reduce toxic manganese ions and turn them into food. In the process, it also generates an electrical current, and this current is carried along tiny wires made of bacterial appendages called bacterial nanowires. This network of bacteria and interconnected wires creates a vast bacterial bio-circuit
Biobatteries Market

---
By Application
The medical implant segment is projected to grow at the fastest pace.
By application, the biobatteries market is divided into medical implants (pacemakers, insulin pumps), mobile phones/tablets, and small electric tools (power banks, remote sensing, toys, and spying devices). Several medical implants are required in the healthcare industry. Li-ion batteries are widely used in medical devices due to their longer life, less space occupation, their ability to provide better energy density, and good power density.
Lithium-ion batteries are prone to leakage and explosion which can prove fatal for the patient or the person with implants. Thus, replacing those batteries with biobatteries will lead to advancements in healthcare field benefitting several thousands of patients. In medicine, drug delivery wound healing, and biomarker monitoring could be executed more effectively using devices powered by biobatteries. Simple home disease-testing kits for serious maladies including cancer could be possible. As biobatteries operate satisfactorily at room temperature, lesser-developed countries without widespread refrigeration could be dramatically impacted by the availability of such tests.
From smartphones to laptops the use of portable technology is widespread – and synonymous with its use are the batteries that power them. The biobatteries offer quick charging which is the present demand for many mobile phones and tablets. Moreover, they are leakage-proof with no chance of explosion. The use of batteries can overall remove the chances of explosion from the equation with the rise in case of exploding mobile phone and tablets that pose a great threat to the well-being of the consumers. Such benefits are expected to lead the market growth for biobatteries in mobile phones and tablet applications.
Biobatteries Market

---
By Region
North America is projected to grow at the fastest pace.
Region-wise, the biobatteries market analysis is done across North America, Europe, Asia-Pacific, and LAMEA (Latin America, the Middle East, and Africa). The North America biobatteries market has the presence of many institutes that are working toward developing these battery technologies. Moreover, continuously developing technologies that are chemical batteries in many applications are projected to boost the biobatteries market share for the region. Such factors raise the need for biobatteries that are although at the development stage but are highly environment-friendly. The market growth was highly driven by the U.S. followed by Canada during the biobatteries market forecast period.
The key players operating in the biobatteries industry are Sony, Nexus, Panasonic Energy Co., Ltd., SEC Battery, and BeFC. 
Key Developments:
In 2007, Sony, a Japanese corporation, first published the theory of sugar battery which was based on the air-breathing and utilizes the oxygen as the oxidizing agent. The battery achieved the expected high energy density and reasonable output voltage.
A team at Virginia Tech recently demonstrated a small-scale practical system that works as a fuel cell that uses enzymes to extract electricity from glucose.
Two research scientists from Aalborg University (AAU) in Esbjerg, Denmark, have succeeded in developing a method for manufacturing batteries using biological material from mold.
Engineers from Colorado University, Boulder have developed an innovative bio-manufacturing process that uses a biological organism cultivated in brewery wastewater to create the carbon-based materials needed to make energy storage cells.

Nexus Power, Bhubaneswar has developed rechargeable, bio-organic, and bio-degradable batteries for electric two and three-wheeler from crop residue. For their purpose, they have used the crop residue and manufactured rechargeable energy-storing cells from this by applying a unique extraction and filtration process.
Key Benefits For Stakeholders
This report provides a quantitative analysis of the market segments, current trends, estimations, and dynamics of the biobatteries market analysis from 2030 to 2040 to identify the prevailing biobatteries market opportunities.
The market research is offered along with information related to key drivers, restraints, and opportunities.
Porter's five forces analysis highlights the potency of buyers and suppliers to enable stakeholders make profit-oriented business decisions and strengthen their supplier-buyer network.
In-depth analysis of the biobatteries market segmentation assists to determine the prevailing market opportunities.
Major countries in each region are mapped according to their revenue contribution to the global market.
Market player positioning facilitates benchmarking and provides a clear understanding of the present position of the market players.
The report includes the analysis of the regional as well as global biobatteries market trends, key players, market segments, application areas, and market growth strategies.
 Biobatteries Market Report Highlights
Aspects
Details
Market Size By 2040
USD 295.5 million
Growth Rate
CAGR of 7.8%
Forecast period
2030 - 2040
Report Pages
175
Type

Enzymatic Bio-Battery
Sugar
Microbial
Others

Application

Medical Implants
Mobile Phones and Tablets
Small Electric Tools
Toys
Others

By Region

North America (U.S., Canada, Mexico)
Europe (Germany, UK, France, Italy, Spain, Rest of Europe)
Asia-Pacific (China, Japan, India, South Korea, Australia, Rest of Asia-Pacific)
LAMEA (Brazil, Saudi Arabia, South Africa, Rest of LAMEA)

Key Market Players
Panasonic Energy Co. Ltd., Nexus, BeFC, Sony Corporation, SEC Industrial Battery International Ltd.