Biocides Market Outlook - 2027
The global Biocides Market size was valued at $12.7 billion in 2019, and is expected to reach $20.7 billion by 2027, registering a CAGR of 6.8% from 2020 to 2027.
Biocides are products or chemicals that combat pests or microorganisms. These are generally used to control and kill harmful and unwanted organisms such as mold, bacteria, algae, insects, and rodents. Biocides represent various products such as disinfectants, wood preservatives, rodenticides, antifouling agents (on boats), in-can preservatives, used in homes, and public places such as hospitals and industries. Biocide preservation applications are leading the market, accounting for the largest consumption of specialty biocides in both volume and value terms. Despite regulatory pressures, reducing the number of biocides depending on their concentrations in end products, blends of carefully selected biocidal active substances in optimal ratios, coupled with new technical advancements can provide improved preservation solutions without the need for cautionary labeling.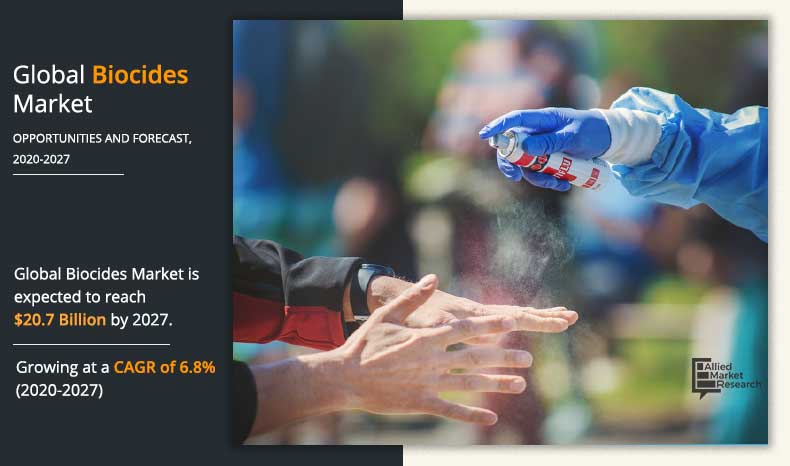 Presently, the global biocides market is witnessing significant opportunities due to increased focus of governments of various economies on the consumption of clean water. Biocides also find wide array of applications in a broad range of products such as antimicrobial coatings and food & pulp industry. Moreover, they control sulfate reducing bacteria and slime forming bacteria in oil well drilling, oil field processing, and gas storage equipment. Thus, emerging applications of biocides is another major factor anticipated to propel the growth of the global biocides market during the forecast period. In addition, growth in need for agrochemicals due to rise in demand for high-quality pest-free crops is another key aspect that drives the growth of the global market. However, environmental regulations on toxic biocides and variation in the prices of raw materials are expected to hinder the market growth during the forecast period.
The global biocides market is segmented on the basis of type, end-use industry, and region. Depending on type, the market is bifurcated into metallic compounds, halogen-based biocides, organic acids, sulphones, phenol-based biocides, and others. Based on end-use industry, the global biocides market is segmented into food & beverage, construction, agriculture, pharmaceutical, personal care, water treatment, paints & coatings, home care, and others. Region wise, the market is analyzed across North America, Europe, Asia-Pacific, and LAMEA.
The Biocides Market covers in-depth information of the major industry participants. Some of the major players in the market include Berkshire Hathaway, BASF SE, DuPont, Kerry, Solvay SA, Lonza Group AG, Lanxess AG, Thor Group Limited, Clariant AG, Corbion N.V., Kemin Industries, Inc., and Nouryon.
Other players in the value chain of the Biocides Market include Arkema SA, Troy Corporation, Ercros, SK Chemicals Ltd. Kemira OYJ, and others.
The key players are adopting numerous strategies such as product launch, business expansions, acquisition, and partnership to stay competitive in the global Market.
For instance, BASF increased the capacity for higher carboxylic acids from 55,000 metric tons to 68,000 metric tons per year. Carboxylic acids in these include Isononanoic Acid (INA) and 2-Ethylhexanoic Acid (2-EHA). EHA is also used as building blocks in certain formulations to produce plasticizers, PVC stabilizers, lubricants, biocides, cosmetics, and drying additives for coatings.
In addition, Lanxess acquired Itibanyl Produtos Especiais Ltd. (IPEL). It is one of the Brazil's leading biocide manufacturers. With this acquisition LANXESS is reinforcing its role as one of the world's leading antimicrobial active ingredients and formulations manufacturers.
Biocides Market, by Type
By type, the halogen-based biocide segment holds the largest market share, owing to increase in demand from oil & gas sector, chemical, pulp & paper, and other industries. In addition, increase in awareness toward waterborne diseases increase the demand for treated water, which in turn drives the growth of the Biocides Market for halogen-based biocides during the forecast period.
Halogen-Based Biocides is projected as the most lucrative segment.
Biocides Market, by End-Use Industry
On the basis of end-use industry, the agriculture segment has garnered the highest market share. This is attributed to increase in demand for crop protection and enhancement applications in the agriculture sector. In addition, rise in awareness toward biocidal products among farmers fuels the growth of the Biocides Market during the forecast period.
Biocides Market

---
By End Use Industry
Agriculture is projected as the most lucrative segment.
Biocides Market, by Region
Asia-Pacific has garnered the highest biocides market share in 2019, in terms of volume as well as revenue, and is anticipated to maintain its dominance throughout the forecast period. This is attributed to the presence of key players and huge consumer base in the region. In addition, more than 60% of the total market share in terms of value is from the highest biocide production countries such as China and India.
Biocides Market

---
By Region
Asia-Pacific holds a dominant position in 2019 and would continue to maintain the lead over the forecast period.
Key Benefits For Stakeholders
The report provides an extensive qualitative and quantitative analysis of the current Biocides Market trends and future estimations of the market from 2020 to 2027 to determine the prevailing opportunities.
A comprehensive Biocides Market analysis of the factors that drive and restrict the growth of the Market is provided.
Estimations and Biocides Market forecast are based on factors impacting the growth of the market, in terms of both value and volume.
Profiles of leading players operating in the Biocides Market are provided to understand the global competitive scenario.
The report provides extensive qualitative insights on the significant segments and regions exhibiting favorable market growth.
 Biocides Market Report Highlights
Aspects
Details
Type

Oxidizing Biocides
Non-Oxidizing Biocides

Application

Water treatment
Personal care
Wood preservation
Paints and coating

By Region

North America (UNITED STATES, CANADA, MEXICO)
Europe (FRANCE, GERMANY, ITALY, SPAIN, UNITED KINGDOM, Russia, Rest of Europe)
Asia-Pacific (CHINA, JAPAN, INDIA, SOUTH KOREA, AUSTRALIA, Rest of Asia Pacific)
LAMEA (Brazil, South Africa,, Saudi Arabia, UAE, Rest of LAMEA)

Key Market Players
Lonza AG, DuPont, LANXESS, Ecolab, BASF, Kemira OJY, Solvay, Nouryon, Solenis, Veolia