Biodegradable Mulch Film Market Overview:
Biodegradable mulch films are organic mulching materials derived from plants and animals, offering benefits such as weed control, maintenance of soil structure, and prevention of crops from soil contamination. The global biodegradable mulch film market was valued at $33,699 thousand in 2016, and is projected to reach $62,039 thousand by 2023, registering a CAGR of 9.3% from 2017 to 2023.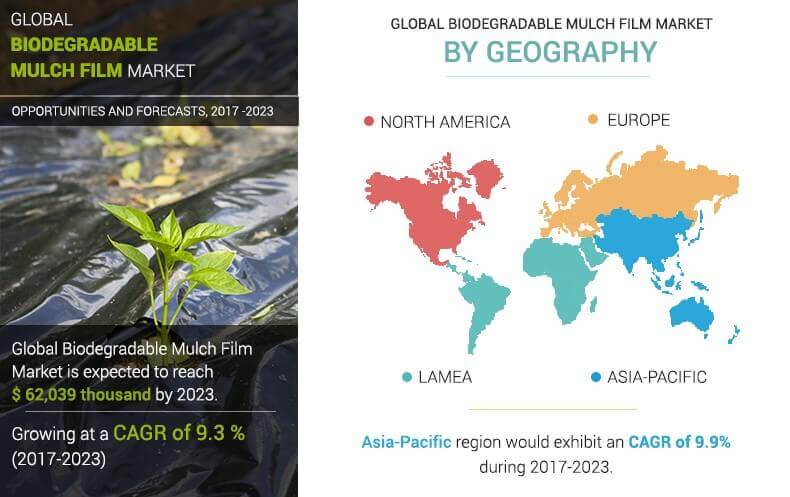 Rapid growth of biodegradable mulch films market is driven by the harmful effects caused by use of inorganic mulching materials on the environment and stringent government regulations regarding the acceptance of gas emission level by inorganic mulching materials. However, high installation cost of biodegradable mulch film restricts the market growth. Nevertheless, growing global population, resulting in high demand for crop production is expected to offer growth opportunities for mulching technique.
The global biodegradable mulch film market is segmented based on raw material type, crop type, and region. Based on raw material type, it is divided into starch, polylactic acid, polyhydroxyalkanoate, and others. Fruits & vegetables, grains & oilseeds, and flowers & plants are the various crop types considered in this report. Region wise, the market is analyzed across North America, Europe, Asia-Pacific, and LAMEA.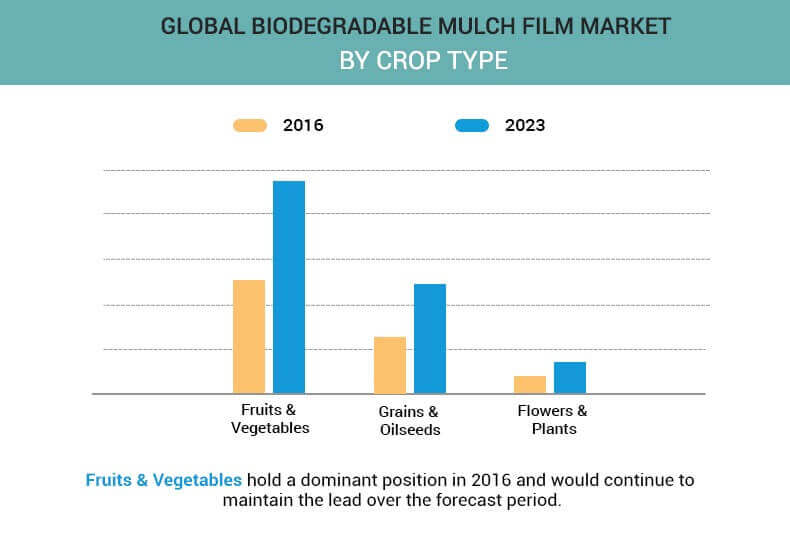 Asia-Pacific is expected to witness the highest growth rate in the global biodegradable mulch film market, owing to increased demand for crop production from economies such as India, China, South Korea, and others. In addition, increase in the environmental concerns due to the use of inorganic mulching technique is expected to increase the demand for biodegradable mulch film market.
Top Investment Pockets
The biodegradable mulch film market in India is anticipated to be the most lucrative market for manufacturers soon, owing to the increasing population leading to increased demand for quality food. Latin America is also projected to offer growth opportunity for the manufacturers due to growing population.
Segment Review
In 2016, the starch segment accounted for the highest share in 2016, registering a CAGR 9.2% from 2017 to 2023. Starch-based biodegradable mulch films are expected to register significant growth as it is less expensive compared to other raw materials, and is also abundantly available.
LAMEA Review
The biodegradable mulch film market in LAMEA is estimated to be the largest in the Brazil region and is estimated to attract manufacturers during the forecast period. Growing population resulting in upsurge in demand for crop production is the major driving factor in the region.
The key players operating in this market are BASF SE, Biobag International As, RKW Group, AEP Industries Inc., Dow Chemical Company, British Polyethylene Industries Plc, Armando Alvarez Group, Al-Pack Enterprises Ltd., Novamont, and Xinfu Pharmaceutical.
The other key players in the value chain (not profiled in this report) include AB Rani Plast Oy., Kingfa Sci & Tech Co Ltd., Ira Agrotech & Research Pvt. Ltd., The Barbier Group, and Saurya Poly Pack.
Key Benefits for Stakeholders
The report provides an in-depth analysis of the current trends, drivers, and dynamics of the global biodegradable mulch film market to elucidate the prevailing opportunities and tap the investment pockets.
It offers qualitative trends and quantitative analysis from 2016 to 2023 to assist stakeholders to understand the market scenario.
In-depth analysis of the key segments demonstrates the market potential of the biodegradable mulch film industry.
Competitive intelligence of the industry highlights the business practices followed by key players across various geographies and prevailing market opportunities.
Key players and their strategies & developments are profiled to understand the competitive outlook of the market.
 Biodegradable Mulch Film Market Report Highlights
Aspects
Details
By Row Material

Starch
Polylactic Acid (PLA)
Polyhydroxyalkanoate (PHA)
Others

By Crop Type

Fruits & Vegetables
Grains & Oilseeds
Flowers & Plants

By Geography

North America
Germany

Germany
UK
France
Italy
Russia
Rest of Europe

Asia-Pacific

China
India
Japan
South Korea
Australia
Rest of Asia-Pacific

LAMEA

Brazil
Argentina
South Africa
Rest of LAMEA

Key Market Players
AEP INDUSTRIES INC., AL-PACK ENTERPRISES LTD., ARMANDO ALVAREZ GROUP, BASF S.A., BIOBAG INTERNATIONAL AS, RPC BPI GROUP (BRITISH POLYETHYLENE INDUSTRIES PLC), NOVAMONT S.P.A., THE DOW CHEMICAL COMPANY, RKW GROUP, ZHEJIANG HANGZHOU XINFU PHARMACEUTICAL CO., LTD.