Bioethanol Market Overview:
The global bioethanol market was valued at $5,652 million in 2015, and is expected to reach $9,544 million by 2022, growing at a CAGR of 7.6% from 2016 to 2022. Bioethanol, an alternative to petrol, is a biofuel obtained from natural sources such as sugarcane, maize, and corn. Food crops are used to produce bioethanol; however, with the introduction of second- & third-generation biofuel technologies, the dependence on food crops for producing bioethanol has decreased. The manufacturers' focus is more on using agricultural & forest residues and energy crops such as miscanthus, switchgrass, sugarcane bagasse for producing bioethanol.
The factors driving global bioethanol market are rise in environmental concerns that leads to inclination of manufacturers towards bioethanol production, blending mandates by regulatory bodies such as EPA (Environmental Protection Agency), and abundant raw material availability. However, high investment cost of cellulosic ethanol and issues about use of food crops for fuel production are expected to hamper the bioethanol market growth during forecast period. Moreover, development of second- & third-generation biofuels are expected to create innumerable growth opportunities in the bioethanol market.
Bioethanol Market Segmentation
The global bioethanol market is segmented based on raw material, type, blend, generation, and geography. Based on raw material, it is classified into grains, sugarcane, industrial beets, and others that includes cereals, hemp, switchgrass, algae, and several others. Based on  type, it is categorized into corn-based ethanol (wet milling & dry milling), sugarcane-based ethanol, cellulosic ethanol, and others. On the basis of blend, it is divided into E10, E20 & E25, E70 & E75, E85, and others. On the basis of generation, it is classified into first generation, second generation, and third generation. Based on application, it is classified into transportation, power generation, medical, and others that includes industrial applications.
Top Investment Pocket
Transportation segment is anticipated to be the top investment pocket, owing to the rise in adoption of bioethanol as a transportation fuel and blending mandates by several regulatory bodies, such as Renewable Energy Directive (EU RED) and Renewable Fuel Standard (EPA RFS). In addition, with the rise in population and disposable income, the number of transportation vehicles is also increasing. According to the Energy Information Administration (EIA), the number of vehicles is expected to reach 1.7 million by 2035. Moreover, the liquid fuel consumption is expected to be the highest by the transportation sector, accounting nearly 73% of the total. The liquid fuel consumption is expected to reach 21.9 million gallons per day in 2035 from 19.1 million barrels per day in 2009. Thus, such high demand for bioethanol from the transportation industry is creating several growth opportunities.
Top Investment Pockets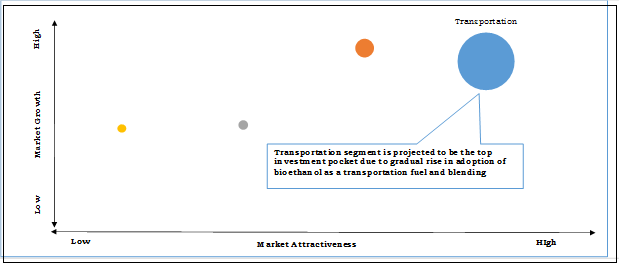 Geography Review
Geographically, the market is analyzed across North America, Europe, Asia-Pacific, and LAMEA. North America dominated the market in 2015, with over two-thirds share of global ethanol market, owing to the regulatory blending mandates and large number of manufacturing companies in the U.S. Asia-Pacific is expected to grow with the highest rate during the forecast period, caused by the increase in production capacities in China, Thailand, and India.
Bioethanol Market, By Geography, 2015 & 2022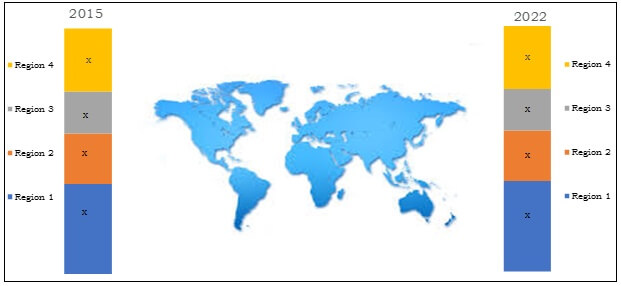 Italy Review
Italy is expected to witness the highest CAGR in the European bioethanol market, owing to the rapid increase in production capacity of first- & second-generation bioethanol. Major companies like Mossi & Ghisolfi and TPG are increasing their production capacity by setting up new plants and are also actively involved in other developmental activities such as, joint ventures and agreements.
Italy Bioethanol Market, 2014-2022 ($Million)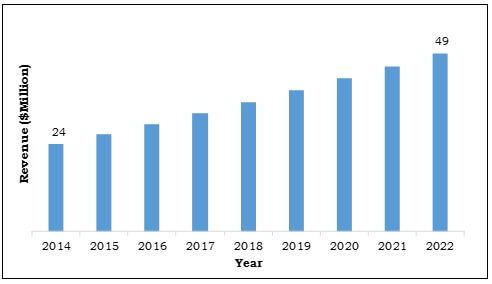 Key players operating in the bioethanol market include E. I. du Pont de Nemours and Company, POET LLC., Valero Renewable Fuels Company LLC., BP plc, CropEnergies AG, Archer Daniels Midland Company, Abengoa Bioenergy, BlueFire Ethanol Fuels Inc., Petrobras, and Royal Dutch Shell PLC.
Other major players in the bioethanol market (not included in the report) are Green Plains Renewable Energy, Inc., Absolute Energy, LLC. Aemetis, Inc., The Andersons, Inc., Flint Hills Resources, Cargill Inc., Myriant Corporation, Fulcrum BioEnergy Inc., Cool Planet Energy Systems Inc., and BioAmber Inc.
Key Benefits
This report provides a detailed study of bioethanol market trends and forecast from 2014 to 2022, which assist to identify the prevailing market opportunities.
In-depth coverage of the global market, that includes drivers, restraints, and opportunities, helps professionals to understand the market behavior in a better way.
It includes market share analysis in terms of raw material, type, blend, generation, and application globally.
Detailed study of the strategies of key leaders, partnerships, and acquisitions in the market is provided.
Porter's Five Forces analysis examines the competitive structure of the market and assists strategists in better decision-making.
 Bioethanol Market Report Highlights
Aspects
Details
By Row Material

Grains
Sugarcane
Industrial Beets
Others

By Type

Corn-based Ethanol
Sugarcane-based Ethanol
Cellulosic Ethanol
Others

By Blend

E10
E20 & E25
E70 & E75
E85
Others

By Generation

First Generation
Second Generation
Third Generation

By Application

Transportation
Power Generation
Medical
Others

By Geography

North America
Europe
Asia-Pacific
LAMEA

Key Market Players
ABENGOA BIOENERGY, ARCHER DANIELS MIDLAND COMPANY, BP PLC, BLUEFIRE ETHANOL FUELS INC., CROPENERGIES AG, E. I. DU PONT DE NEMOURS AND COMPANY, PETROBRAS, POET LLC, ROYAL DUTCH SHELL PLC, VALERO RENEWABLE FUELS COMPANY LLC