Biomarkers Market Overview:
Global Biomarker Market for Diagnostic Applications is expected to garner $30.6 Billion Globally by 2020, registering a CAGR of 16% during the forecast period 2013 to 2020.
The demands of diagnostic markets are increasing. Where conventional diagnostic tools were focused on producing accurate and consistent results, today's market demand extend to early diagnosis with accurate and consistent results. There are significant challenges in presenting accurate results in the early stage of diseases, especially in case of cancer. Diagnostic biomarkers are minimally or non-invasive tools. Biomarkers, integrated with key imaging and data management technologies, is meeting the market expectations; however, has set backs too. Biomarkers are used in imaging technology to provide clear imaging of oncology tumors and other problems and also eliminate chance of radiation exposure during imaging through CT scan and MRI scan.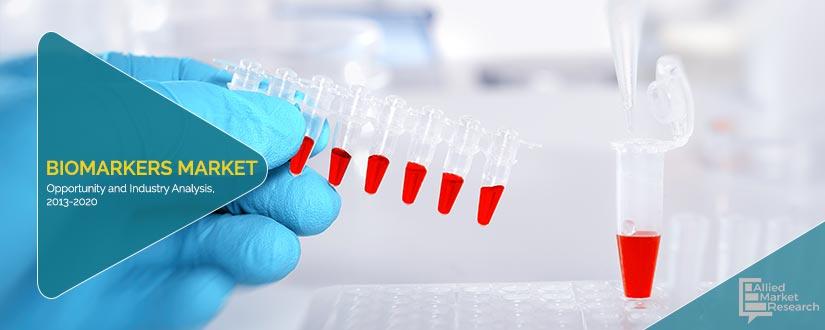 Omics, proteomics, meta-bolomics technologies are used in biomarkers discovery and disease diagnosis. Biomarkers are used in risk assessment, molecular diagnostic, disease diagnosis, DNA fingerprinting and other molecular applications. Biomarkers enable pharmaceutical companies to analyze and discover novel drugs as demand for cost effective and efficient treatment dose is increasing. Biomarkers are used in drug validation and testing, sample preparation and assay development to eliminate complexity in discovery and development of novel drugs.
The biomarker market in this report includes the application of biomarkers in the diagnosis (molecular diagnosis and disease diagnosis), drug validation, drug development, risk assessment, drug formulation and forensic applications. Technologies that immensely make use of biomarkers such as Omics, imaging technologies, bioinformatics and personalized medicines are also included in the study. The report however excludes the application of biomarkers in the clinical trials, research and other environment biomarkers. This report focuses keenly on the market assessment of diagnostic biomarkers across its extensive application segments.
Segment Review:
Diagnostic biomarkers are divided in two major types which include biomarkers of exposure and biomarker of disease. Biomarkers of exposure are an emerging technology of identifying the hazardous chemical level in individual body. These biomarkers enable the diagnosis of abnormal activities to calculate the pre-disease condition. Biomarkers of disease are used in identification of disease condition and also help in validation of clinical trials for novel drug.
Biomarkers market revenues share by segment, 2012 and 2020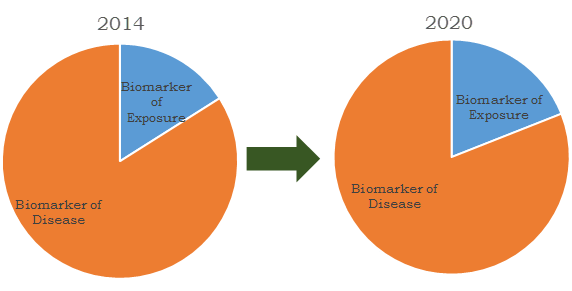 Diagnostic biomarker market is growing with development of technologies in clinical laboratory tests, imaging exams, and in recent years biomarker tests are impacting the clinical management of patients. Biomarkers are identified conventionally by analyzing the science of pathophysiology and epidemiology, which derive insensitive and nonspecific markers. Diagnostic biomarker technology is expected to transform the scenario of clinical research, medical practice and drug development, as technological advances are changing from conventional approach of pathophysiology/epidemiology to biomarker studies such as genomics and proteomic. The amount of information provided by the biomarker helps in pharmaceutical drug development, diagnosis of critical diseases, and in clinical trial of drugs. The diagnostic biomarker technology provides simple diagnostic treatments to pathologists to perform faster, accurate disease identification, which enables physician to prescribe better treatments for those diseases.
Though as on today there are immense developments in infrastructure for data sharing and analysis such as bioinformatics, the utility is not to its best. Furthermore, there is no standard regulatory framework globally. For example, countries in the European Union and other regions have their own set of regulations, which may be a bigger challenge in conducting transnational research and data sharing. However, the role of biomarkers is increasing with its crucial application in diagnosis of fatal diseases such as cancer and cardiovascular diseases. Biomarkers in these cases enable early diagnosis and are of immense importance in designing effective treatments and progress. Reimbursement issues are being solved with the intervention of regulatory authorities, which is expected to propel the growth of the market for diagnosis at commercial level.

Asia Pacific Market Review:
Heart diseases are the leading cause of death in worldwide and Asia Pacific has the significant share especially in coronary heart disease. Diagnosis for cardiovascular disease is done through conventional methods such as clinical observation, electrocardiogram (ECG) findings. According to data published by ministry of health in China, about 203 million people are suffering from cardiovascular diseases and this number is expected to increase by 73% in 2030. Projected trends in blood pressure, increased cholesterol and active smoking are also increase the number of CVD by an additional 23% which denotes 21.3 million cardiovascular events. Demographic changes such as aging population and lesser younger people is the main driver for increased CVD disease. Biomarker market is expected to increase its presence as biopharmaceutical companies are investing more in Asian countries for drug discovery and development since market for health care process is more in Asia Pacific region. Application of biomarkers in drug discovery and development process, personalized medicine, molecular diagnosis, and diagnosis of other diseases are increases the interest of research based pharmaceutical company to develop novel biomarkers.
KEY BENEFITS OF THE REPORT
The report offers an assessment and ranking of the factors that favor the biomarkers market growth and those factors which act as a hindrance for the growth of the market
Forecast period for estimating biomarkers market size is from 2013 to 2020. Two historic years include 2011 and 2012
The report identifies top investment pockets and offers an analysis of top winning strategies for diagnostic biomarker industry.
The report analyses the various strategies adopted by some of the key companies in the industry.
The report tracks and analyses key innovations and patents for biomarkers in the last five years
BIOMARKERS MARKET KEY SEGMENTS
Diagnostic Biomarkers Market is segmented as follows: 
BY TYPES
Biomarker of Exposure
Biomarker of Diseases
BY APPLICATIONS
Risk Assessment
Development of Molecular Diagnostic
Disease Diagnosis
Drug Discovery and Development
Drug Formulation
Forensic Application
Others (DNA Fingerprinting and Others)
BY SERVICES
Sample Preparation
Assay Development
Biomarker Validation and Testing
Other Services
 BY GEOGRAPHY
North America
Europe
Asia-Pacific
Row (Rest of World)
KEY AUDIENCES
Pharmaceutical companies
Government & Private research institutes
Academic institutes
Medical device manufacturing companies
 Biomarkers Market Report Highlights
Aspects
Details
By TYPES

Biomarker of Exposure
Biomarkers of Disease

By APPLICATIONS

Risk Assessment
Development of Molecular Diagnostic
Disease Diagnosis
Drug Discovery and Development
Drug Formulation
Forensic Application
Others (DNA Fingerprinting and Others)

By SERVICES

Sample Preparation
Assay Development
Biomarker Validation and Testing
Other Services

By GEOGRAPHY

North America
Europe

France
Germany
Italy
Spain
UK
Russia
Rest of Europe

Asia-Pacific

China
Japan
India
South Korea
Australia
Thailand
Malaysia
Indonesia
Rest of Asia-Pacific

LAMEA

Brazil
South Africa
Saudi Arabia
UAE
Argentina
Rest of LAMEA

Key Market Players
Abbott Laboratories, Inc., Roche Diagnostics Limited, Ge Healthcare, Bio-Rad Laboratories, Siemens AG, Agilent Technologies Inc., Aushon Biosystem, Eisai Co. Ltd., Thermo Fisher Scientific Inc., Epistem Ltd.