Biomass Gasification Market Research, 2031
The global biomass gasification market was valued at $88.0 billion in 2021 and is projected to reach $188.5 billion by 2031, growing at a CAGR of 8% from 2022 to 2031.
Report Key Highlighters:
The report offers biomass gasification market size in terms of value ($million) and volume (MWh)
The report offers detailed insights for four major regions covering 16 countries, where segmental level analysis and trends are provided for each of these countries 
The report offers patent landscape details by country, company, and year
The biomass gasification market was heavily impacted by the pandemic. The market was gaining traction in the pre-COVID-19 scenario as general awareness about the benefits of the process was being advocated on large scale to the general public. However, post-COVID-19, the ongoing projects took a hit as they were halted mid-ways or altogether discarded. Moreover, the planned projects suffered delays which can be attributed to a disrupted supply chain, delays in government approvals, and a lack of budget.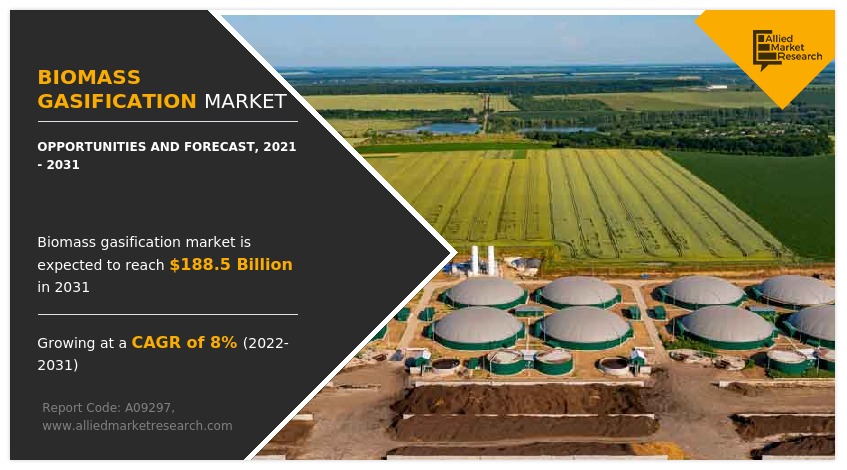 Biomass is organic matter that is obtained from plants and animals. It is a renewable source that can be used for generating energy. It is capable of providing energy in form of heat as well as electricity upon burning and later turning the heat into electricity. Gasification is a process in which organic and fossil fuels are converted into gases. It is carried out through a controlled amount of oxygen and steam without any combustion. This process is carried out at high temperatures without allowing the matter to burn or combust. Biomass gasification is a process where biomass obtained from organic matter is converted into gases such as carbon dioxide, hydrogen, and carbon monoxide in a controlled environment. This process is carried out through different gasifiers. Carbon monoxide hence produced reacts with water in a water-gas shift reaction and produces more hydrogen and carbon dioxide from which hydrogen is further used as fuel.
The reaction occurs during the combustion of biomass.
C6H12O6 + O2 + H2O → CO + CO2 + H2 + other species
The carbon monoxide produced reacts with water to produce more hydrogen and carbon dioxide.
CO + H2O → CO2 + H2 (+ small amount of heat)
Biomass gasification is gaining momentum owing to several factors, one of them being a municipal solid waste. MSW consists of biomass such as paper, cardboard, wood chippings, leaves, and leather products, and non-biomass products such as plastic, glasses, and metal. There are several concerns linked to municipal solid waste (MSW). Handling and managing MSW has raised so many questions as disposing of such huge amounts of waste, directly and indirectly, impacts the earth's environment. According to the U.S. Energy Information Association (EIA), in 2018, a total of 12% of total MSW was burnt in waste-to-energy biomass gasification plants. MSW is used for producing energy which has led to increased contribution from the source in the biomass gasification market. It acts as a driving factor for the biomass gasification market growth.
Key driving factors:
Other than MSW, wood & wood processing wastes are major sources of biomass gasification. The wood waste from firewood, pellets, sawdust, lumber and furniture wastes, and other such are burnt for producing energy through gasification and thus act as another factor for driving biomass gasification industry growth. Apart from the above-mentioned sources, corn, soybeans, sugar cane, switchgrass, woody plants, algae, and crop and food processing residues, are used to produce biofuels through the biomass gasification process.
Municipal waste management practices are being implemented across several countries. This helps in reducing MSW from ending up in landfills or being incinerated which further causes carbon emissions and adds to environmental pollution. The waste contains organic matter from daily household and other activities. It has high organic concentration and thus on combustion produces a significant amount of gas and heat energy that can be used for generating electricity
The biomass gasification plants were limited and only used in industrial or residential setups that too on a small scale. However, rising investment and awareness about the various benefits and incentives have led to increasing in biomass gasification demand. Moreover, producing hydrogen through biomass gasification is also considered one of the cleanest and greenways, thus encouraging the biomass gasification market. Thus this has led to an increase in the commercialization of the process and thus encourages market growth.
While the energy needs of the world are increasing day by day, fossil fuel reserves are decreasing rapidly. Fossil fuels are finite sources and thus will cease to exist one day. The coal-based nuclear power plants and other applications of coal have led to increased extraction of coal. This leads to higher carbon emissions throughout the coal extraction value chain which is right from mining to burning. Similarly, oil and gas also are finite sources of energy and are being explored and extracted rapidly to meet energy needs. However, since the sources are depleting at such a high pace, other options for obtaining energy are being explored and invested in. Renewable sources are being preferred and biomass being such a resource, is being explored and researched. Thus, the biomass gasification market is driven by rapidly depleting fossil fuels
Key restraining factors:
Biomass gasification plants require high costs for installation. The equipment involved is heavy and costly. Moreover, labor charges for the same are high as well. This leads to escalated prices for constructing and maintaining the gasification plants. This acts as a restraint to biomass gasification market growth. This discourages the overall biomass gasification market share in the primary energy market. Moreover, the market is negatively impacted by disinterest from investors. Meanwhile, technological advancements in gasification technologies offer minimal to no tar production during the gasification process to offer biomass gasification market opportunities.
Key opportunities:
Biomass gasification has been used for several decades for producing heat and energy for use in various residential and industrial applications. However, the existing technologies for gasification are limited in efficiency and have a questionable carbon-neutral claim. Research and development in enhancing the technology with maximum output and clean energy production is the need of the hour. Thus, advancement in gasification technologies for biomass will open wide opportunities for the biomass gasification industry growth
The biomass gasification market size is studied based on Gasifier type, Application, and Source.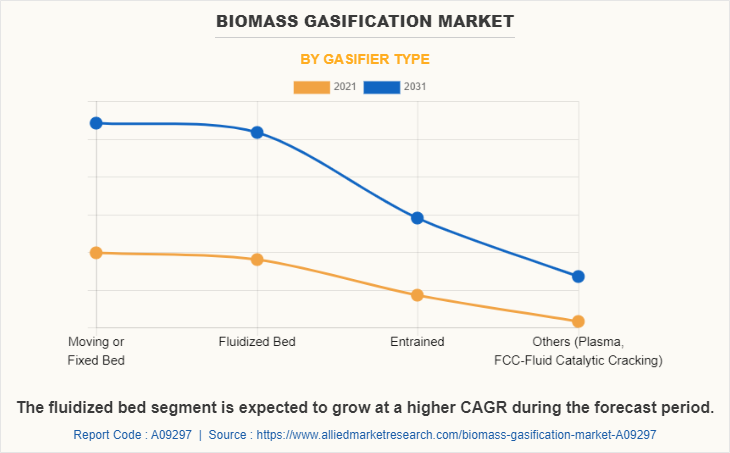 Based on gasifier type, the market is segmented into moving or fixed bed, fluidized bed, entrained, and others. The moving or fixed bed gasifiers garnered the highest market share as they are able to handle heterogeneous feedstock like MSW and so have a use for waste-to-fuel or waste-to-power. However, fluidized bed gasifiers are expected to grow at a higher CAGR during the projection period. Fluidized bed gasifiers are generally of about two types bubbling and circulating. Both the gasifiers have fluidization velocities of low and high, and dense beds.
The fluidized bed gasifiers can be operated at higher temperatures which offer advantages for producing heat and gases such as hydrogen and methane. These gasifiers are suitable for fuels, chemicals, and hydrogen production. Entrained-flow gasifiers typically exhibit the following characteristics such as fuel flexibility that is they can accept a variety of solid feedstocks. It has large oxidant requirements and can either be oxygen or air-blown, but most commercial plants are oxygen blown. It requires uniform temperature within the reactor and is used in slagging operations. It has high carbon conversion, but low cold gas efficiency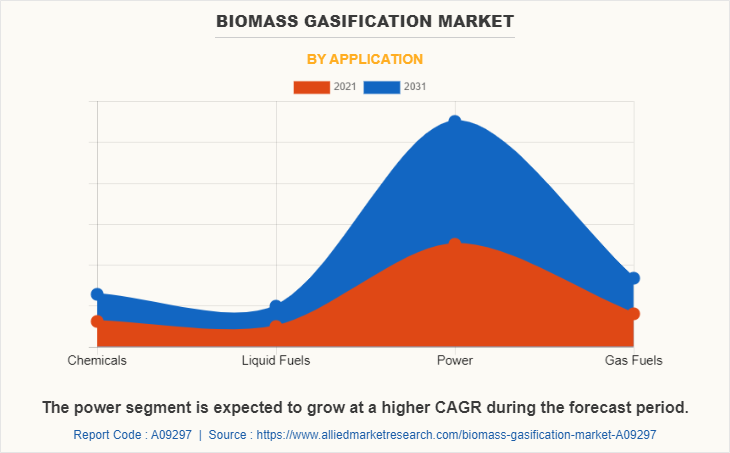 Depending on the application, the market is divided into chemicals, liquid fuels, power, and gas fuels. The power application dominated the market share and is expected to grow at a higher CAGR during the projection period. This can be attributed to the fact that the power sector is actively working on an energy transition from coal-based to economical and environmentally friendly options, biomass is expected to grow its contribution with increased advancements in gasification technology. The electric power sector uses wood and biomass-derived wastes to generate electricity for sale to the other sectors. Biomass energy provided about 4.8 quadrillions Btu and is equal to about 5% of total U.S. primary energy consumption. The U.S. had a total of 9% consumption of biomass energy in the power sector for the year 2021.
Since the power sector is actively working on an energy transition from coal-based to an economical and environmentally friendly option, biomass is expected to grow its contribution with increased advancements in gasification technology. Through gasification, several by-products are obtained that can be converted into liquid fuels. Such liquid fuels are used in the aviation, aerospace, and transportation sectors. Since carbon emissions have tremendously increased in the last few decades, curing them has gained momentum across the globe. Many government and market players are actively investing in environment-friendly options to reduce carbon emissions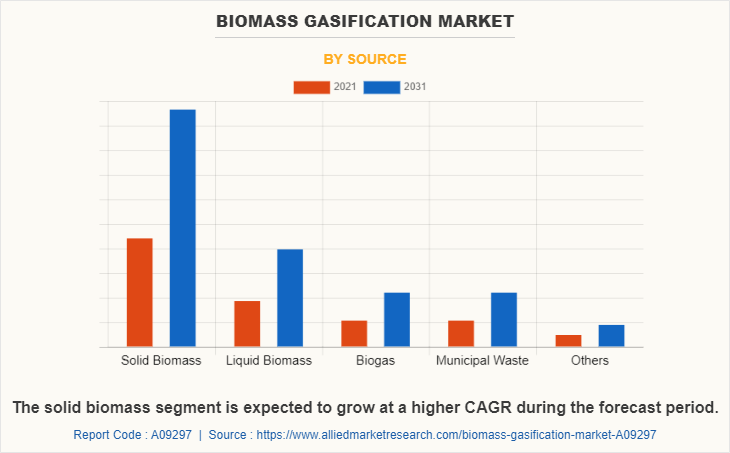 On the basis of source, the market is further classified into solid biomass, liquid biomass, biogas, municipal waste, and others. Solid biomass dominated the market share and is expected to maintain its dominance during the forecast period. This can be attributed to the fact that solid biomass can be harvested for bioenergy without negatively impacting the health and stability of forest ecological structure and function. Liquid biomass refers to organic biomass that is obtained from either animal or plant sources. For example, rapeseed oil, palm oil, tallow, and tall oil are considered liquid biomass.
For countries like India where the rural sector is still not able to access primary energy benefits, biomass gasification schemes by the Indian government under Decentralized Energy Systems of India (DESI) harness electricity for economic activities. MSW is combusted in biomass gasification plants at large scale. The MSW is first segregated and later on subjected to combustion in the gasification plants. Many countries use waste-to-energy plants to capture the energy in MSW. The use of waste-to-energy plants in some European countries and Japan is relatively high.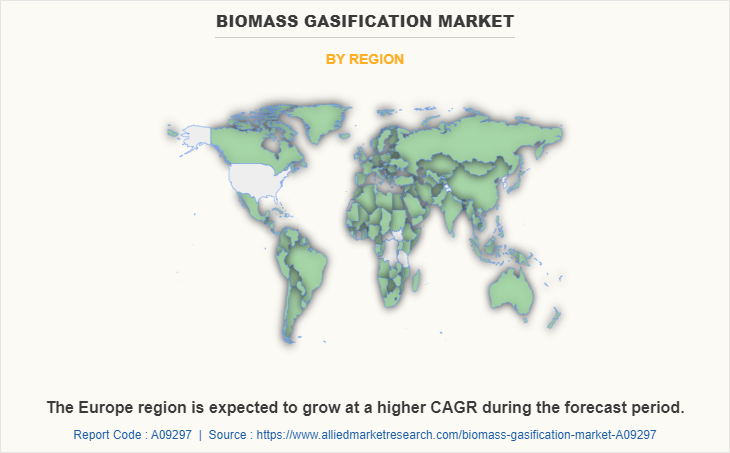 Region-wise, the biomass gasification market is analyzed across North America, Europe, Asia-Pacific, and LAMEA (Latin America, the Middle East, and Africa). Europe region has the presence of major industry players which contributed towards its dominance in the market share for 2021. It is expected to continue so as it is actively working on its energy shift towards renewable sources for primary energy production which will act as a strong driving factor for the market growth. Europe is 90% dependent on imported fossil gas and offers no significant support to ensure the fast deployment of renewable gases.
The biomass gasification market is majorly driven by China and India. There are several government policies that encourage the growth of the biomass gasification market. For instance, in India government offers customs duty exemption/reduction on parts of biomass-operated electricity generators, excise duty exemption on parts of biomass-operated electricity generators, and exemption in central sales tax. Such incentives encourage market growth for biomass gasification. LAMEA region showed relatively slower growth and garnered a low share of the market revenue for biomass gasification. Slow growth in the region was owing to the lack of technology. Moreover, higher installation costs also add up to several restraining factors of the market. However, technological advancements and government incentives offer opportunities for market growth during the projection period.
The key players in the biomass gasification industry are Beltran Technologies, Inc., Vaskiluodon Voima Oy, EQTEC plc, Chanderpur Works Private Limited, Ankur Scientific Energy Technologies Pvt. Ltd., Infinite Energy Pvt. Ltd., Valmet Corporation, KASAG Swiss AG, Göteborg Energi AB, and Thyssenkrupp AG.
Recent developments in the market:
In May 2022, Valmet Corporation opened a new plant in Sweden. The facility is aimed to increase research and development activities in biomass treatment. Moreover, this will help the company to cater to biofuels and bio-energy demand.
In April 2021, EQTEC plc acquired a waste-to-energy plant in Italy. It re-commissioned the plant which will feed on straws and forest waste from local forests and farms to produce bio-energy through gasification which will provide electricity to the local community.
Key Benefits For Stakeholders:
This report provides a quantitative analysis of the market segments, current trends, estimations, and dynamics of the biomass gasification market analysis from 2021 to 2031 to identify the prevailing biomass gasification market opportunities.
The market research is offered along with information related to key drivers, restraints, and opportunities.
Porter's five forces analysis highlights the potency of buyers and suppliers to enable stakeholders to make profit-oriented business decisions and strengthen their supplier-buyer network.
In-depth analysis of the biomass gasification market forecast assists to determine the prevailing market opportunities.
Major countries in each region are mapped according to their revenue contribution to the global market.
Market player positioning facilitates benchmarking and provides a clear understanding of the present position of the market players.
The report includes an analysis of the regional as well as global biomass gasification market trends, key players, market segments, application areas, and market growth strategies.
 Biomass Gasification Market Report Highlights
Aspects
Details
Market Size By 2031
USD 188.5 billion
Growth Rate
CAGR of 8%
Forecast period
2021 - 2031
Report Pages
337
By Gasifier type

Moving or Fixed Bed
Fluidized Bed
Entrained
Others (Plasma, FCC-Fluid Catalytic Cracking)

By Application

Chemicals
Liquid Fuels
Power
Gas Fuels

By Source

Solid Biomass
Liquid Biomass
Biogas
Municipal Waste
Others

By Region

North America (U.S., Canada, Mexico)
Europe (France, Germany, Italy, Spain, UK, Rest of Europe)
Asia-Pacific (China, Japan, India, South Korea, Australia, Rest of Asia-Pacific)
LAMEA (Brazil, Saudi Arabia, South Africa, Rest of LAMEA)

Key Market Players
Vaskiluoto Voima Oy, Thyssenkrupp AG, KASAG Swiss AG, Goteborg Energi AB, EQTEC plc, Valmet Corporation, Infinite Energy Pvt. Ltd., Ankur Scientific Energy Technologies Pvt. Ltd., Chanderpur Works Private Limited, Beltran Technologies, Inc.