The biosensors market was valued at $17,500.0 million in 2018 and is expected to reach $38,600.2 million by 2026, registering a CAGR of 10.4% from 2019 to 2026. Biosensors are medical devices that are primarily used to sense or detect the presence or concentration of biological substances, such as a biomolecule or a microorganism. They are analytical devices that can convert a biological response into an electrical signal. Biosensors majorly comprise three parts, including a component that identifies an analyte and produces signal, a signal transducer, and a reader device. Biosensors find their applications in food & beverages, environmental monitoring, home care diagnostics. and various nanomechanical biosensors. In addition, biosensor applications are also widely dominant in the field of plant biology to study metabolic processes.
Significant rise in chronic diseases such as diabetes across the globe, surge in biotechnology R&D, and increased demand for home care devices are the major factors that drive the biosensors market growth. In addition, considerable increase in preference of biosensors in glucose monitoring devices contributes to the market growth. However, high cost associated with these devices and lack of inclination toward adoption of new treatment devices are the major factors anticipated to hamper the market growth. On the contrary, technological advancements in biosensors to make them portable and easy to handle is anticipated to create lucrative opportunities in the future.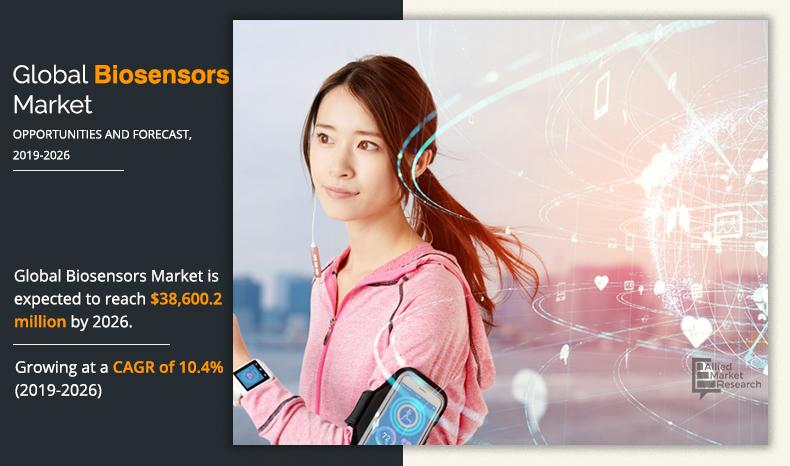 Global Biosensors Market Segmentation
The market is segmented on the basis of product, technology and region. Based on product, the global biosensors market is divided into wearable biosensors and nonwearable biosensors. Based on technology, the market is classified into electrochemical biosensors, optical biosensors, piezoelectric biosensors, thermal biosensors and nanomechanical biosensors. Region wise, it is analyzed across North America, Europe, Asia-Pacific, and LAMEA.
Product segment review
By product, the non-wearable biosensors segment accounted for majority of the biosensors market share in 2018 and is expected to exhibit a prominent growth rate in the near future, owing to upsurge in use of these sensors in nonclinical applications for real-time on-site monitoring of various production processes. In addition, other applications of these biosensors include environmental monitoring, soil quality monitoring, water quality monitoring, toxins of defense interest and various others.
Biosensors Market

---
By Product
Nonwearable Biosensors segment is projected as one of the most lucrative segment.
Technology segment review
Based on technology, the electrochemical biosensors dominated the biosensors market in 2018 and is anticipated to maintain its dominance in coming years. This is attributed to its accurate sensitivity, and faster response. Furthermore, electrochemical biosensors can be easily integrated in labs-on-chips (LOCs) to obtain better point-of-care (POC) analytical platforms.
Biosensors Market

---
By Technology
Electrochemical Biosensors segment holds a dominant position in 2018 and would continue to maintain the lead over the forecast period.
Region segment review
North America held the largest share in the biosensors market in 2018, followed by Europe. The factors that drive the overall growth of the North America biosensors market include increasing government funds for conducting research toward development of advanced biosensors for various applications. Moreover, surge in use of biosensors in this region for monitoring food quality parameters is anticipated to contribute to the market growth. Moreover, rise in demand for POC technologies in North America, focus on rapid, simple, accurate, portable, and low-cost analytical instruments propel the market growth for biosensors market in the region. However, Asia-Pacific is anticipated to grow at the highest rate during the forecast period. This is attributed to increase in biotechnology R&D in this region. The major factors that drive the growth of the biosensors market in Asia-Pacific include increase in per capita income in many countries, rise in government initiatives for improvement of the healthcare sector, and surge in focus of leading manufacturers on expanding their geographic presence in emerging Asia-Pacific countries to capture high growth opportunities in the market.
Biosensors Market

---
By Region
North America segment holds a dominant position in 2018 and would continue to maintain the lead over the forecast period.
Comprehensive competitive analysis and profiles of major market players such as Some of the key players of the market include Abbott Laboratories, AgaMatrix Holdings LLC, DowDupont Inc. (DuPont de Nemours, Inc.), F. Hoffmann-La Roche Ltd., General Electric (Biacore, Inc.), LifeScan, Inc., Medtronic Plc., Nova Biomedical, PHC Holdings Co., Ltd. (Ascensia Diabetes Care Holdings AG) and Siemens Healthcare. are provided in this report.
Key Benefits For Stakeholders
The biosensors market share and analysis is based on a comprehensive analysis of key developments in the Biosensors industry.

The development strategies adopted by the key market players are enlisted to understand the competitive scenario of the global biosensors market.

The study provides an in-depth analysis of the market trends to elucidate the imminent investment pockets.

The global biosensors market trends are studied from 2018 to 2026.

Information about key drivers, restrains, and opportunities and their impact analysis on the biosensors market size is provided.

Porter's five forces analysis illustrates the potency of buyers and suppliers operating in the industry.

The quantitative analysis of the global biosensors market from 2019 to 2026 is provided to determine the market potential.
Key Market Segments
By Product
Wearable Biosensors
Non- Wearable Biosensors
By Technology
Electrochemical Biosensors
Optical Biosensors 
Piezoelectric Biosensors
Thermal Biosensors
Nanomechanical Biosensors
By Region
North America
Europe

Germany
France
UK
Italy
Rest of Europe

Asia Pacific

Japan
China
India
Rest of Asia-Pacific

LAMEA

Brazil
Saudi Arabia
South Africa
Rest of LAMEA