Biotech Ingredients Market Outlook - 2021–2028
The global biotech ingredient market size was valued at $51.3 billion in 2020, and is anticipated to generate $75.3 billion by 2028. The market is projected to experience growth at a CAGR of 4.8% from 2021 to 2028.
Biotech ingredients are chemical compounds that are similar to compounds found in nature. These ingredients have similar structure to that of natural ones and are produced through several complex processes. Genetic engineering, recombinant DNA technology, hybridoma technology, and gene transfer are some technologies that are used to produce these compounds. These ingredients are experiencing rapid growth from personal care, aromatic, and herbal products, which drives growth of the biotech ingredients market.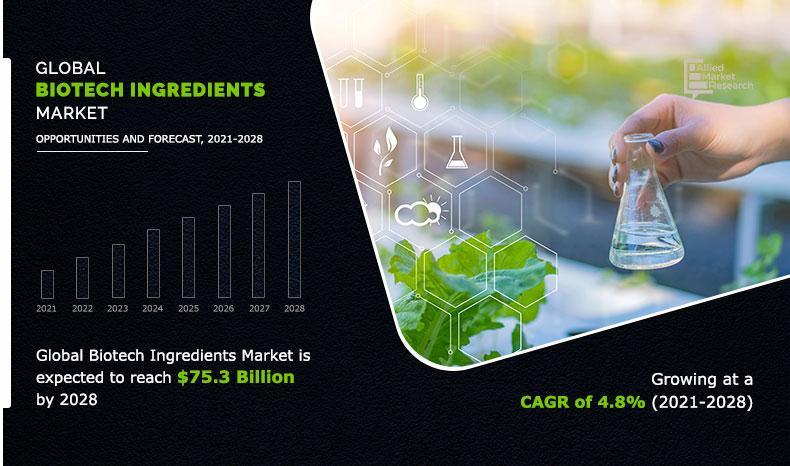 There is a notable shift in demand from synthetic ingredients to biotech ingredients. This is attributed to rise in awareness in consumers regarding harmful effects of synthetic products. In-addition, rise in use of generic medicines has also led to rise in demand for organic or herbal generics, i.e., generics made from biotech ingredients, which propels the market growth. Moreover, growth in use of biotech ingredients in the food and beverages industry also significantly acts as growth driver for the biotech ingredients market growth. However, limited availability of raw material acts as restraint for the biotech ingredients market growth. 
The biotech ingredient market is segmented on the basis of type, product, application, and region. Depending on type, the market is bifurcated into active pharmaceutical ingredients (API) and Biosimilars. By product, it is categorized into monoclonal antibodies, vaccines, hormones & growth factors, cytokines, fusion proteins, therapeutic enzymes, and blood factors. By expression systems, it is divided into mammalian expression systems, microbial expression systems, yeast expression systems, plant expression systems, and insect expression systems. Region-wise, it is analyzed across North America, Europe, Asia-Pacific, and LAMEA (Latin America, Middle East, and Africa).
The key players operating in the market are Pfizer Inc., Novartis International AG, Merck & Co., Teva Pharmaceutical Industries Ltd., Mylan, Inc., Boehringer Ingelheim, Sanofi, AbbVie, Eli Lilly and Company, and  AstraZeneca plc. The players in the market have adopted several strategies, such as product launch and business expansion, to sustain the market competition.  
Biotech Ingredients Market, by Type
On the basis of type, the APIs segment garnered highest biotech ingredients market share in 2020, owing to increase in use of generic medicines in the wake of pandemic, especially herbal immunity boosters. The APIs segment garnered the highest market share for year 2020 owing to increased use of generic medicines in the wake of pandemic especially herbal immunity boosters. However, biosimilars are expected to dominate the market during the forecast period. This is owed to the fact that they are used abundantly as both finished as well as raw material for many generics as well as patent medicines and other products. 
Biotech Ingredients Market, by Product
Depending on product, the monoclonal antibodies segment dominated the biotech ingredients market share for 2020, owing to growing demand for organic and herbal medicines for various diseases. However, hormones & growth factors segment is projected to grow at higher CAGR during the forecast period. this can be attributed to owing to increasing health and hormonal problems that arise from current lifestyles.
Biotech Ingredients Market, by Expression Systems
On the basis of expression systems, the microbial expression systems segment dominated the market share in 2020 owing to low cost of production and simple procedure. However, mammalian expression systems segment is expected to grow at faster pace during the forecast period owing to use in production of antibodies and therapeutic proteins. 
Biotech Ingredients Market, by Region
By region, the biotech ingredient market analysis is done across North America, Europe, Asia-Pacific, and LAMEA. Europe region dominated the market in 2020 on account of large consumer base, end-use sectors, and favorable support from government. Asia-Pacific is expected to grow fastest forecast period owing to presence of large bio-pharmaceutical companies in the countries such as China, India, Japan, and South Korea. In-addition the region also has a rich history of using herbal medicines that also adds to its rich expertise in the biotech ingredients. 
COVID-19 Impact Analysis
The outbreak of COVID-19 pandemic had led to partial or complete shutdown of production facilities, which do not come under essential goods, owing to prolonged lockdown in major countries such as the U.S., China, Japan, India, and Germany. It has led to either closure or suspension of their production activities in most industrial units across the globe. Furthermore, the global economy was deeply impacted by implementation of lockdown, as many activities came to halt. The biotech ingredients market saw a decline in its growth as the pandemic progressed. This can be attributed to the fact that research and development activities were halted as funds were being directed for sustaining economic unrest by many players. Moreover, supply demand chain for raw materials was disrupted that only added to already scarce availability pertaining in the market. 
Key Benefits For Stakeholders
The report provides an in-depth analysis and biotech ingredients market forecast along with the current and future market trends.
This report highlights the key drivers, opportunities, and restraints of the biotech ingredients market along with the impact analyses during the forecast period.
Porter's five forces analysis helps analyze the potential of the buyers & suppliers and the competitive scenario of the biotech ingredients industry for strategy building.
A comprehensive analysis of the factors that drive and restrain the market growth is provided.
The qualitative data in this report aims on biotech ingredients market trends, dynamics, and developments.
The biotech ingredients market size is provided in terms of revenue.
Key Market Segments
By Type
Active Pharmaceutical Ingredients
Biosimilars
By Product
Monoclonal Antibodies 
Vaccines 
Hormones and Growth Factors 
Cytokines
Fusion Proteins
Therapeutic Enzymes
Blood Factors
By Expression Systems
Mammalian Expression Systems
Microbial Expression Systems
Yeast Expression Systems
Plant Expression Systems
Insect Expression Systems
By Region
North America
Europe

Germany
France
UK
Italy
Spain
Rest of Europe

Asia-Pacific 

China
Japan
India
Australia
South Korea
Rest of Asia-Pacific 

LAMEA

Brazil
South Africa
Saudi Arabia
Rest of LAMEA 
Key Players
Pfizer Inc.
Novartis International AG
Merck & Co.
Teva Pharmaceutical Industries Ltd.
Mylan, Inc.
Boehringer Ingelheim
Sanofi
AbbVie
Eli Lilly and Company
AstraZeneca plc