Bitumen Emulsifiers Market Research, 2031
The global bitumen emulsifiers market was valued at $128.4 million in 2021 and is projected to reach $184.4 million by 2031, growing at a CAGR of 3.6% from 2022 to 2031. Bitumen emulsifiers are surfactants that are used to stabilize bitumen emulsions. They increase the bitumen emulsifier's characteristics to inhibit bitumen separation from water and improve emulsion stability. The construction sector is the primary end-use industry for bitumen emulsifiers. Bitumen emulsifiers are used for producing cold mix asphalt, which is used for mending potholes, constructing roads, and paving driveways. The increase in demand for bitumen emulsifiers industry in the construction sector, and the rise in popularity of cold mix asphalt are the primary drivers of the bitumen emulsifiers market size.
The outbreak of the COVID-19 pandemic has negatively impacted the bitumen emulsifiers market. Immediate lockdown worldwide, shortages of skilled & unskilled laborers, and volatility in raw material prices resulted in delaying of road construction businesses and maintenance activities further hampering the bitumen emulsifiers industry. Additionally, massive investments contributed by governmental authorities to construct new roads and repair activities came to a standstill position resulting in delaying projects worldwide.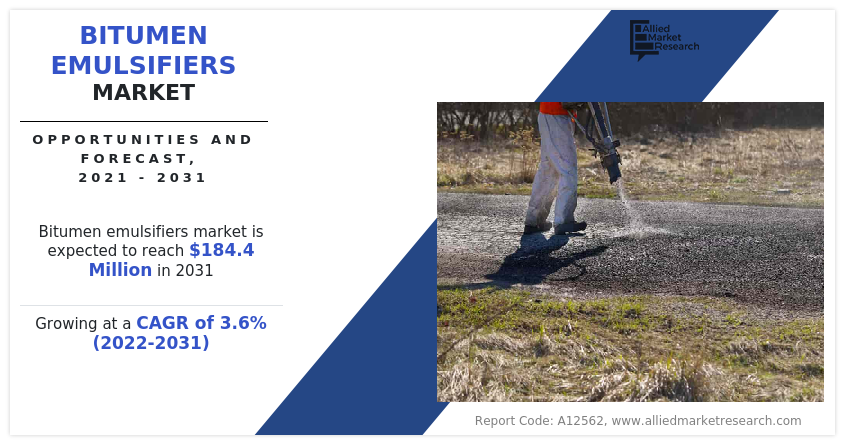 A significant barrier to the market for bitumen emulsifiers is the high price of its products. The bitumen emulsifier's overall cost is raised by the expensive raw materials required for its production. The extensive manufacturing process is another challenge for the bitumen emulsifiers market growth. A competent team is required for the difficult bitumen emulsifier production process. Therefore, new competitors find it difficult to sustain in the sector.
The economic growth of the bitumen emulsifier market ultimately benefits from the development of infrastructure. The expansion of the bitumen emulsifier market is a result of the construction of new roads in developing countries due to urbanization and the management of already-existing highways in developed and developing countries. The U.S. has the largest road system in the world, followed by China and India. The U.S. has a network of about 4.4 million kilometers of paved roads, with bitumen emulsifiers being used for both new construction and maintenance activities. According to Indian government figures, about 30 kilometers of new roads are constructed every day.
The key players profiled in the report include Indian Oil Corporation, British Petroleum, Chevron Texaco Corporation, JX Nippon Oil & Energy Corporation, Royal Dutch Shell Plc, Total S.A., Nynas AB, Marathon Oil Company, and China Petrochemical Corporation.
The bitumen emulsifier market is segmented on the basis of surface charge, setting time, application, and region. By surface charge, the market is divided into anionic, cationic, and non-ionic. By setting time, the market is classified into the rapid setting emulsion, medium setting emulsion, and slow setting emulsion. By application, the market divided into binder, roofing, and others. By region, the market is analyzed across North America, Europe, Asia-Pacific, and LAMEA.
The bitumen emulsifiers market is segmented into Surface Charge, Setting Time and Application.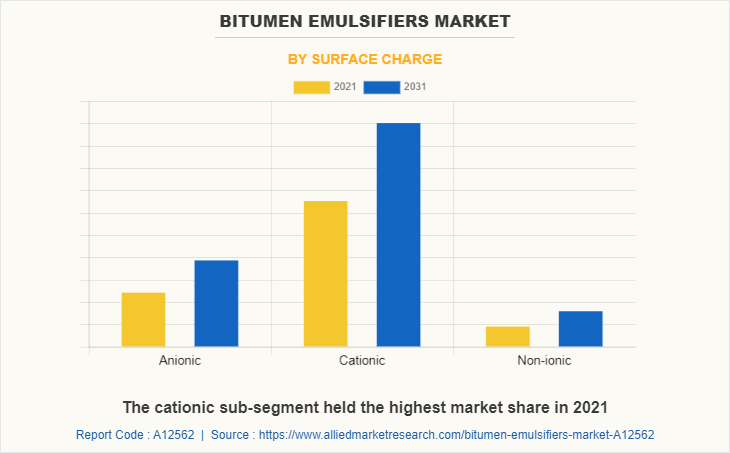 By surface charge, the cationic sub-segment dominated the market in 2021. The cationic emulsifier is also expected to exhibit significant growth during the forecasted period. For different types of road and building construction and maintenance tasks, a cationic emulsion of bitumen is a popular choice and a preferred bitumen emulsifier product. Cationic bitumen emulsifiers are suitable for use with bitumen emulsions because the majority of the components used with them are negatively charged. These factors are projected to drive the growth of cationic emulsifiers in the bitumen emulsifiers market share.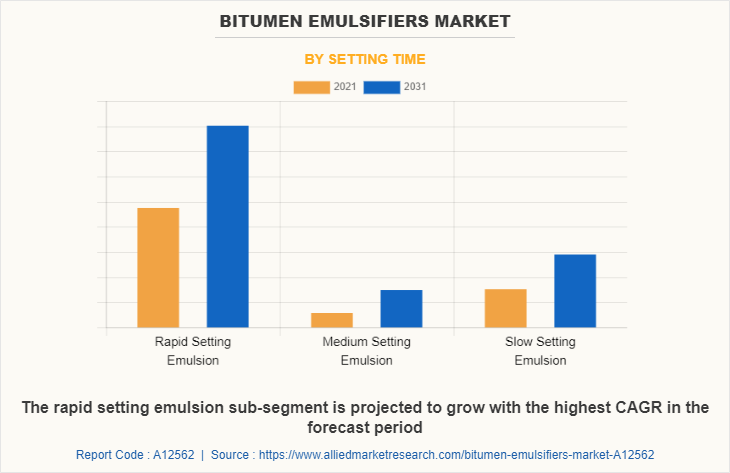 By setting type, the rapid setting emulsion sub-segment dominated the global bitumen emulsifier market share in 2021. Manufacturers of rapid setting bitumen emulsion primarily develop this quick bitumen emulsion for fixing coat applications. When rapid setting emulsion comes into contact with construction aggregate, it starts to degrade straight away. This speeds up the setting process and removes any flaws or stains from the road. The rapid setting emulsion is a water-based bitumen and aggregate emulsion. It is well recognized for its speed and is employed as a fantastic road solution. This emulsion is prominent for its quick setting time and thin consistency.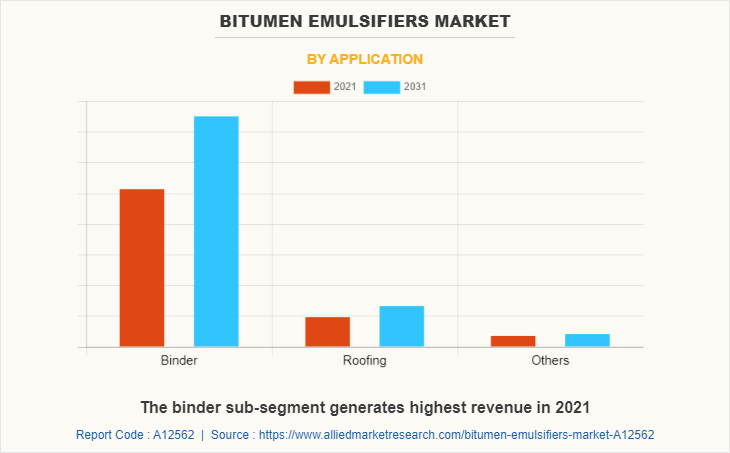 By application, the binder sub-segment dominated the global bitumen emulsifier market share in 2021. The bituminous binder should be fluxed/fluidified with a flux or plasticizer to reduce its viscosity, such as one based on solvents derived from petroleum, petrochemicals, or carbochemicals (such as light petroleum solvents like kerosene, oils from coal, or from petroleum), or one of natural origin based on renewable and non-toxic vegetable and animal fatty substances. At the user's preference, these bituminous binders, include 0.5% to 35% of fluxing agent by weight, ideally between 0.5% and 10% based on the total weight of the binder.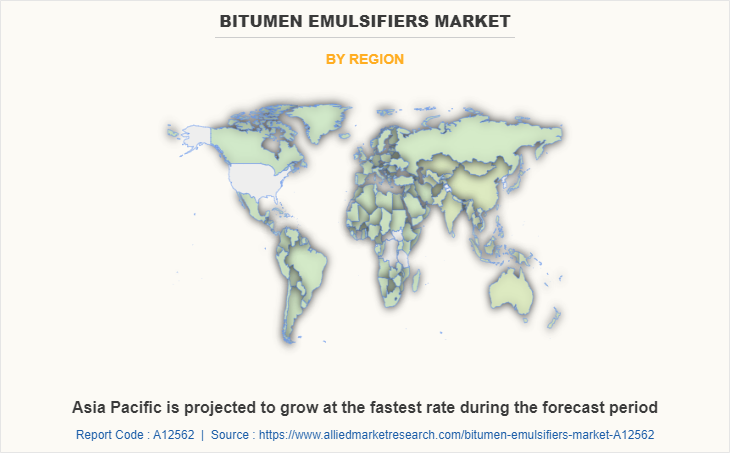 By region, Asia-Pacific dominated the global market in 2021 and is projected to remain the fastest-growing region during the forecast period. Due to the expansion of new infrastructure projects, particularly in developing countries, the bitumen emulsifier market is experiencing strong growth in the region. The bitumen emulsifier market share is anticipated to have significant growth opportunities in Asia-Pacific as the developing countries in the region are witnessing continuous demand for construction activities.COVID-19 has negatively impacted various industries such as chemicals that have led to a drastic decline in chemical sales. As bitumen is widely used in chemical and raw material manufacturing, there was a significant reduction in the bitumen emulsifier market demand globally.
Impact of COVID-19 on the Global Bitumen Emulsifier Industry
China is the leading producer and exporter of raw materials such as cationic required for bitumen emulsifier production. However, China being the epicenter of the coronavirus pandemic, its export was affected, leading to a decline in bitumen emulsifier production.

Sales of bitumen emulsifiers are directly proportional to the demand from end-use industries namely chemicals, materials, and others. However, the demand for bitumen emulsifiers

in the chemicals industry was greatly affected owing to import-export restrictions, closed borders, and supply chain disruptions due to the outbreak of the COVID-19 pandemic.

The economic slowdown has affected the setup of new bitumen emulsifier projects across the world as the majority of government funding was diverted toward the construction sector owing to the rapid spread of COVID-19, impacting the market to the great extent.
Key Benefits For Stakeholders
This report provides a quantitative analysis of the market segments, current trends, estimations, and dynamics of the bitumen emulsifiers market analysis from 2021 to 2031 to identify the prevailing bitumen emulsifiers market opportunities.
The market research is offered along with information related to key drivers, restraints, and opportunities.
Porter's five forces analysis highlights the potency of buyers and suppliers to enable stakeholders make profit-oriented business decisions and strengthen their supplier-buyer network.
In-depth analysis of the bitumen emulsifiers market segmentation assists to determine the prevailing market opportunities.
Major countries in each region are mapped according to their revenue contribution to the global market.
Market player positioning facilitates benchmarking and provides a clear understanding of the present position of the market players.
The report includes the analysis of the regional as well as global bitumen emulsifiers market trends, key players, market segments, application areas, and market growth strategies.
 Bitumen Emulsifiers Market Report Highlights
Aspects
Details
Market Size By 2031
USD 184.4 million
Growth Rate
CAGR of 3.6%
Forecast period
2021 - 2031
Report Pages
300
By Surface Charge

Anionic
Cationic
Non-ionic

By Setting Time

Rapid Setting Emulsion
Medium Setting Emulsion
Slow Setting Emulsion

By Application
By Region

North America (U.S., Canada, Mexico)
Europe (Germany, UK, France, Spain, Italy, Rest Of Europe)
Asia-Pacific (China, Japan, India, South Korea, Australia, Rest Of Asia-Pacific)
LAMEA (Brazil, Saudi Arabia, United Arab Emirates, South Africa, Rest Of LAMEA)

Key Market Players
RX Marine International, Xinxiang Tongda Road New Technology Co. Ltd., Croda International Plc., Nouryon, Arkema Group, Evonik Industries, Tristate Asphalt LLC, Kao Corporation, RAHA Bitumen Co., T-Pave International Pte Ltd.
Kao Corporation, T-Pave International Pte Ltd, Jiangxi SIMO Biological Chemical Co. Ltd.