Bitumen Market Research, 2032
The global bitumen market was valued at $53.7 billion in 2022, and is projected to reach $75.3 billion by 2032, growing at a CAGR of 3.5% from 2023 to 2032.
Bitumen has been around for more than 100 years and yet is one of the most adaptable products and is still used in the construction industry. Bitumen can be reused and recycled into many other products. The interface of tires and road surfaces is part of the environmental challenge. Better maintained roads require lower energy needed by a vehicle and so will reduce vehicle carbon emissions.
Bitumen is an oil-based substance and semi-solid hydrocarbon product produced by removing the lighter fractions (such as liquid petroleum gas, petrol, and diesel) from heavy crude oil during the refining process. Composition of bitumen includes carbon (87-92%), hydrogen (6-8%), sulfur (~5%), nitrogen (1%), and oxygen (1%). It possesses physical properties such as adhesion, water resistance, hardness, and viscosity.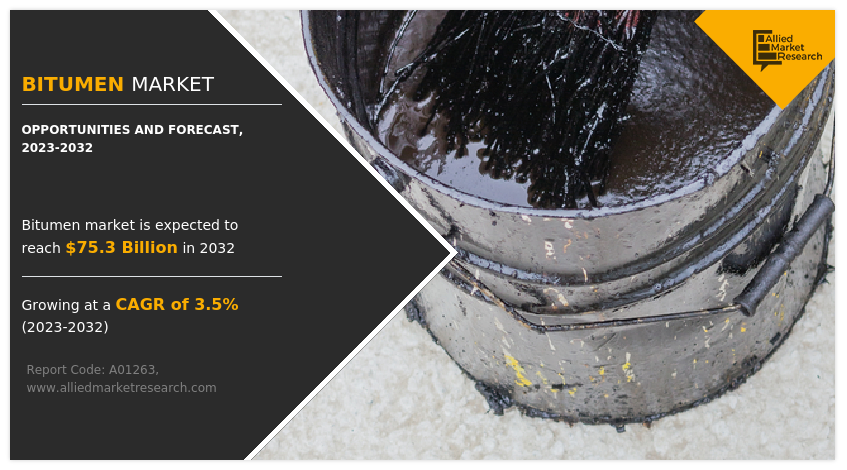 Bitumen is highly viscous, i.e., it has a thick and sticky consistency. This property allows it to bind aggregates together and form a cohesive mixture in road construction. The viscosity of bitumen can be modified by heating or adding certain additives to achieve the desired flow characteristics. Bitumen has excellent waterproofing properties. It forms a barrier that prevents water penetration, making it ideal for roofing materials and waterproofing membranes. Its ability to resist water damage helps protect structures from moisture-related issues. Bitumen exhibits strong adhesive properties, enabling it to bond various materials together. It is commonly used as an adhesive in the construction industry for applications such as asphalt pavement, pavement repairs, and the production of asphalt shingles. Bitumen is known for its durability and long lifespan. It has excellent resistance to wear, and tear caused by traffic loads, making it suitable for high-traffic areas.
Petroleum-derived is non-renewable and not a sustainable product. There has been extensive research toward developing a sustainable substitute for asphalt as a result of consumers' growing awareness of the detrimental effects that some petroleum products have on the environment and human health. Bio-asphalt is a non-petroleum-based binder made from biomass, such as molasses, starch, trees, cellulose, and natural latex as well as other sustainable sources.
Increased road construction activities in developing regions
An increase in road construction activities fuels the demand for bitumen. Bitumen is processed into asphalt for road construction. Asphalt is a mixture of rock aggregates and bitumen. Bitumen serves as a binding agent and improves the stability of asphalt. Depending on the type of bitumen or composition of the mixture used, asphalt roads can be made suitable for regions with different climatic conditions or various levels of operational demands.
Asphalt is also used for airport runways, parking decks, and working areas in ports. In addition, India's recently passed budget includes expenditure on the development of National Highways, including projects relating to expressways, two-lane widening of highways, under the National Highways Development Project, six-lane widening of crowded stretches of the Golden Quadrilateral, a special program for the development of road connectivity in Naxal affected areas, development of Vijayawada—Ranchi road, and for providing last mile connectivity, which is anticipated to drive the growth of the bitumen market. Furthermore, bitumen adhesive is widely used in the construction industry for roofs.
It is a cold-applied adhesive for bonding bituminous roofing felts to asphalt, felt, metal, and concrete. Bitumen adhesive possesses physical properties such as toughness, flexibility, and forms adhesive and cohesive film, and provides good UV resistance. Growth in the construction industry due to rapid urbanization and the launch of government initiatives such as "Housing for All" which includes construction of houses for urban poor is expected to drive the growth of the bitumen market across the country. However, human health & environmental issues associated with bitumen, fluctuation in international crude oil prices, and an increase in the use of an alternative for bitumen such as concrete in roadway construction applications restrain the growth of the market in this region.
The bitumen market is segmented into type, end-use industry, and region. The types covered are paving grade bitumen, oxidized bitumen, polymer-modified bitumen, bitumen emulsions, and others. By end-use industry, the market is classified into road construction, waterproofing, and others. Region-wise, it is analyzed across North America, Europe, Asia-Pacific, and LAMEA.
Major players operating in the bitumen market are Asphalt & Bitumen West Co., RAHA Bitumen, Inc., Exxon Mobil Corporation, Royal Dutch Shell, Sinopec, NYNAS AB, GOIL PLC, TOTAL ENERGIES, Gazprom and Hindustan Petroleum Corporation Limited.
The other players operating in the bitumen market include Indian Oil Corporation Ltd., Bharat Petroleum Corporation Ltd., Oil & Natural Gas Corporation Ltd., Total India, Tiki Tar Industries India Ltd., Agarwal Industries Corporation Ltd., Juno Bitumix Pvt Ltd., Universal Bituminous Industries Pvt. Ltd., and Swastik Tar Industries.
Paving-grade bitumen has garnered more than two-thirds of the market share in 2022 and is projected to grow at a CAGR of 3.3% during the forecasted period. Rapid urbanization and population growth, particularly in emerging economies, have led to a significant increase in infrastructure development. Governments are investing in the construction and expansion of roads, highways, airports, and other transportation networks to meet the growing demand for efficient transportation. Paving grade bitumen is a crucial component in road construction, and the surge in infrastructure projects has resulted in increased demand for bitumen.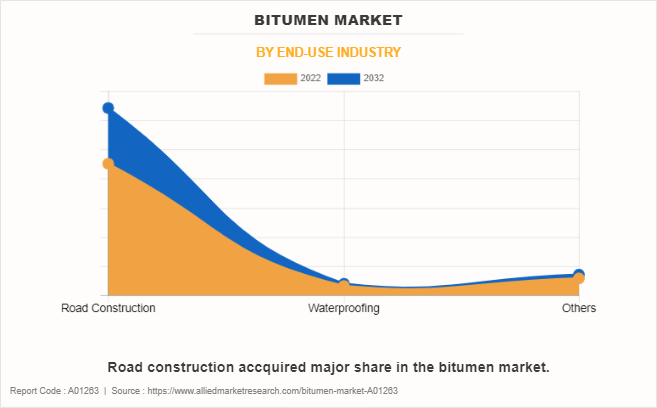 The road construction segment has garnered more than three-fourths of the market share and is projected to grow at a CAGR of 3.7% during the forecasted period. Roads are an important mode of transport across the globe. Many emerging economies, particularly in Asia and Africa, have seen a surge in road construction projects in the past couple of decades. Nations like China and India have massively invested in improving their infrastructure to support their burgeoning populations and growing economies. International institutions like the World Bank and Asian Development Bank provide significant funding for road construction projects, especially in developing nations. Their investments often aim to facilitate trade, connectivity, and socio-economic development.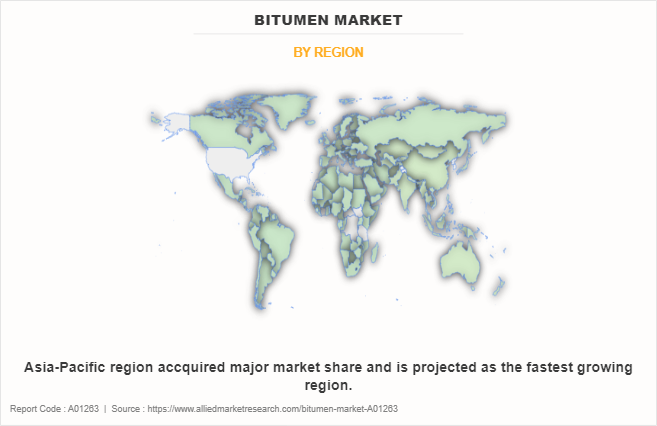 Asia-Pacific has garnered more than two-fifths of the market share and is projected to grow at a CAGR of 3.7% during the forecast period. China continues its rapid urbanization and industrialization processes, there's an ever-increasing need for roads, highways, and modern infrastructure. Bitumen is a primary component of road construction. China's relentless urbanization and infrastructural development have amplified its demand for bitumen. As the world's most populous country and the second-largest economy, China's focus on constructing highways, airports, and urban roads underscores its priority to bolster both intra and inter-city connectivity. Bitumen, with its primary use as a binder in road asphalt, is fundamental to this vision. This increasing demand is also influenced by China's Belt and Road Initiative (BRI), a monumental infrastructural project spanning numerous countries. This initiative, aiming to enhance trade routes and connectivity, involves extensive road and infrastructure development, naturally pushing the bitumen demand even higher.
Key Benefits For Stakeholders
This report provides a quantitative analysis of the market segments, current trends, estimations, and dynamics of the bitumen market analysis from 2022 to 2032 to identify the prevailing bitumen market opportunities.
The market research is offered along with information related to key drivers, restraints, and opportunities.
Porter's five forces analysis highlights the potency of buyers and suppliers to enable stakeholders to make profit-oriented business decisions and strengthen their supplier-buyer network.
An in-depth analysis of the bitumen market segmentation assists in determining the prevailing market opportunities.
Major countries in each region are mapped according to their revenue contribution to the global market.
Market player positioning facilitates benchmarking and provides a clear understanding of the present position of the market players.
The report includes an analysis of the regional as well as global bitumen market trends, key players, market segments, application areas, and market growth strategies.
 Bitumen Market Report Highlights
Aspects
Details
Market Size By 2032
USD 75.3 billion
Growth Rate
CAGR of 3.5%
Forecast period
2022 - 2032
Report Pages
212
By Type

Paving Grade Bitumen
Oxidized Grade Bitumen
Polymer Modified Bitumen
Bitumen Emulsions
Others

By End-use Industry

Road Construction
Waterproofing
Others

By Region

North America (U.S., Canada, Mexico)
Europe (Germany, France, UK, Spain, Italy, Rest of Europe)
Asia-Pacific (China, Japan, India, South Korea, Australia, Rest of Asia-Pacific)
LAMEA (Brazil, Saudi Arabia, South Africa, Rest of LAMEA)

Key Market Players
Royal Dutch Shell, Hindustan Petroleum Corporation Limited, GOIL PLC, Exxon Mobil Corporation., NYNAS AB., TotalEnergies, RAHA Bitumen, Inc., sinopec, Gazprom, Asphalt & Bitumen West Co .
Analyst Review
According to the CXOs of the leading companies, infrastructure investment, especially in emerging markets, has a direct correlation with bitumen demand. As governments allocate funds to improve or expand road networks, the need for bitumen surges. Regions such as Southeast Asia, Africa, and parts of Latin America, which are currently experiencing rapid urbanization and infrastructural development, are expected to be significant consumers. Technological advancements pose both opportunities and challenges. While there are innovations that make bitumen application more efficient, the push for sustainable and environment-friendly construction materials might reduce its demand in the long run. Innovations such as cold mix asphalt, which requires less energy and is more eco-friendly, might replace traditional bituminous products. The geopolitical landscape also plays a crucial role. Countries with vast oil reserves, such as Canada with its oil sands, or nations like Venezuela and Russia, can impact global supply chains. Sanctions, trade wars, or regional conflicts can disrupt supply, affecting pricing and availability. In addition, environmental concerns cannot be overlooked. With the global shift towards sustainability, alternatives to bitumen might gain traction. This push, often driven by policy and public sentiment, can drive companies to look for greener alternatives.