Bleaching Clay Market Research, 2031
The global bleaching clay market was valued at $0.9 billion in 2021, and is projected to reach $1.7 billion by 2031, growing at a CAGR of 6.9% from 2022 to 2031.
The new Food and Agriculture Organization projections for oilseeds and derived products for 2019 indicate a tightening supply-demand situation as a result of the ongoing COVID-19 pandemic, which is causing a significant contraction in production. Stocks remained tight in 2020-21, according to preliminary projections. However, growing awareness related to health and sustainable development has surged production of refined and vegetable oil during the COVID-19 pandemic which in turn has increased the demand for bleaching clays products.
Bleaching clay also known as bleaching earth is a type of adsorbent clay that is used for removing the coloring matter from liquids (such as oils). The global bleaching clay market growth is driven by escalating demand for bleaching clay for vegetable oil purification and growing demand for acid-activated bleaching clay. The increase in trend of consuming vegetable oils regularly for the health of the heart and various other benefits has strengthened the demand and production of vegetable oils.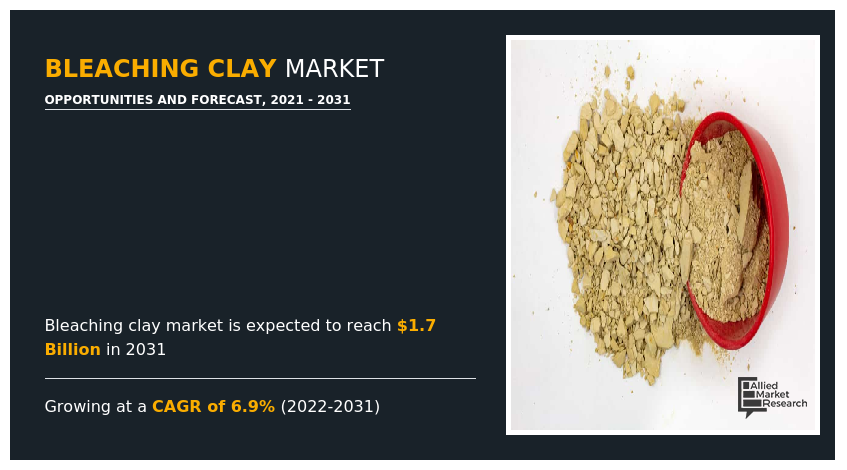 In addition, government's initiation and investment in the vegetable oil production has led the key manufacturers to increase their production capacities for vegetable oil. Bleaching clay plays a significant role in refining the vegetable oil. It is used to remove sludge, contaminants, phospholipids, sulfuric acid, free fatty acids, sulfonic acid, and traces of metal in oils for the consumption and increase in the commercial trade purposes.  For instance, according to a report published by OECD-FAO Agricultural Outlook in the year 2019, the global demand for vegetable oil is projected to expand by 28 million tons by 2028, which is likely to hamper high inventories and support vegetable oil prices over the outlook period.  This is anticipated to boost the demand for bleaching clay in refining vegetable oil market.
However, fluctuations in the prices and unavailability of raw materials will pose a major challenge to the growth of the bleaching clay market. Furthermore, the requirement of huge expenditure for research and development activities and for setting up new manufacturing plants for bleaching clays products such as mineral clays, attapulgite, bentonite, and sepiolit, and others further decreases the bleaching clay market growth rate. In addition to this, Environmental Health and Safety (ESH) guidelines regarding extraction and refinement of oil and fats will dampen the market growth. These factors together may hamper the growth of the bleaching clay market during the forecast period.
On the contrary, the emergence of biofuels as a sustainable energy source is the key market trend for the growth of bleaching clays during forecast period. In addition, the demand for biodiesel has increased owing to rising oil prices, policies to reduce greenhouse gas emission, increase in energy security, and other.  For instance, according to an article published by (IEA) International Energy Agency in the year 2021, the global demand for biofuels is set to grow by 41 billion liters, or 28%, from 2021 to 2026. Bleaching clays are used predominantly in biodiesel especially in the palm oil refinery to remove coloring matters, soap, oxidized compounds and polymers, gums, metals (iron, nickel), and other impurities. This is projected to witness high growth rate for bleaching clays; thus, creating remunerative opportunities for the market.
The bleaching clay market is segmented on the basis of product type, application, and region. On the basis of product type, the market is categorized into activated bleaching clay and natural bleaching clay. The applications covered in the report include industrial oil, mineral oil & wax, vegetable oil & animal fat. Region wise, the market is studied across North America, Europe, Asia-Pacific, and LAMEA.
The major companies profiled in this report include AMC (UK) Ltd., Arkema S A, Ashapura Perfoclay Ltd, Clariant AG, DuPont, EP Minerals, U.S. Silica Company, HRP Industries, Musim Mas, Oil Dri Corporation of America, Qingdao Qiancheng Minerals Co., Ltd., Refoil Earth Pvt. Ltd., Sinoma Attapulgite Clay Co. Ltd., Taiko Group of Companies, The W Clay Industries Sdn., and Tianjin Yuanjing Bentonite Minchem Co. Ltd.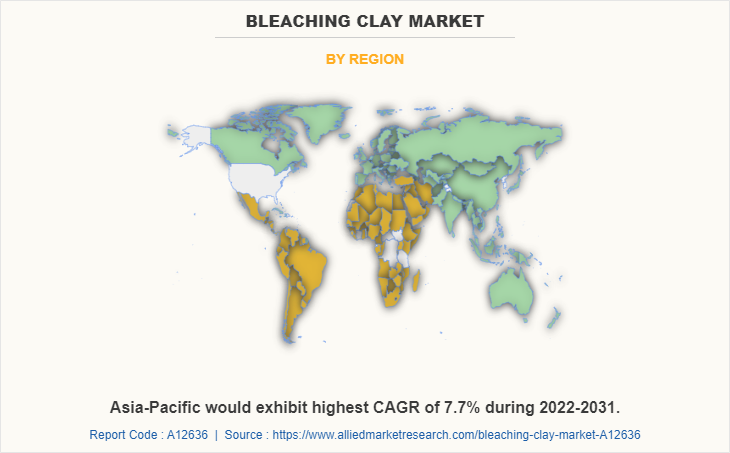 The Asia-Pacific bleaching clay market accounted for 39% of the global bleaching clay market share in 2021, and is projected to grow at the highest CAGR of 7.7% during the forecast period. Mineral oil and waxes tend to contain phospholipids, metal traces and other impurities that further increasing risk of contamination. Metal traces such as potassium, calcium, iron, aluminum, and copper in mineral oils and waxes tend to degrade the quality of the products. FAME and HVO are two refinement process used during purification of mineral oil and wax products. Use of bleaching clay along with use of traditional FAME and HVO purification techniques enhancing the removal of trace elements and other associated contaminants in mineral oils and wax products. Demand for wax and wax products across China is growing owing to rise in production and growing demand for wax products. The demand for bleaching is growing owing to factors such as high industrial output, import & export, consumer consumption and capital investment. This factor drives the demand for bleaching clays market across Asia-Pacific.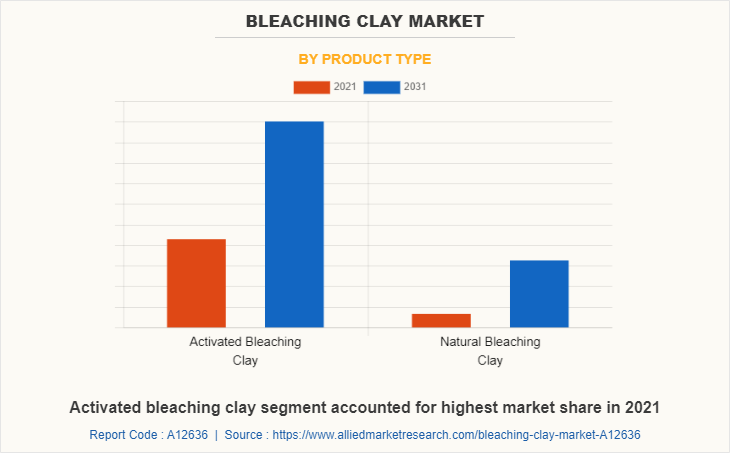 In 2021, the activated bleaching clay product type was the largest revenue generator, and is anticipated to grow at a CAGR of 6.8% during the forecast period. Edible oil tend to contain pigments, dyes, and other contaminants that tend to degrade the quality, shelf life, odor, and taste of the edible oil. Activated bleaching clay are widely used for absorption of these contaminants as this bleaching clay has high contaminants absorption capacity. Use of activated bleaching clay for purification and refining of edible oil and fats is the key market trend. Edible oil plays a crucial role and is active ingredient used in food industry and nearly 157 million tons of edible oil is consumed globally. Moreover, edible oil key manufacturers are investing towards production of edible oil that is extracted from seeds and fruits. This type of edible oil is rich in nutrient, has longer shelf life, and can be used with diverse culinary food application further drives the demand for edible oil. However, edible oil producers are inclined towards new technologies that tend to improve the efficacy of these edible oil. Edible oil production includes several refinement stages in order to eliminate impurities, dyestuffs, and other residuals that tend to degrade the quality of edible oil. Thus, edible oil manufacturers tend to use high absorption capacity material such as activated bleaching clay as it plays decisive role in refining edible oils drives the demand of the global market.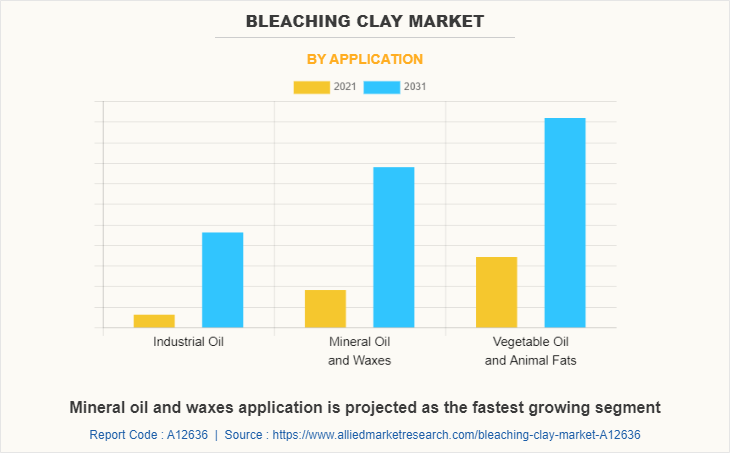 By application, the vegetable oil & animal fat application dominated the global market in 2021, and is anticipated to grow at a CAGR of 6.7% during the forecast period. Bleaching clay is used for purification of vegetable oil and animal fat owing to its ability to eliminate contaminants present in these oils. Vegetable oil & animal fats tend to contain chlorophylls, carotenoids and other pigments that tend to degrade the color and odor of the products. Thus, these need to be removed or eliminated during production and purification process. In addition, removal of oxidation compounds and undesirable fatty acids in the vegetable oil is also important as these products tend to affect shelf life of vegetable oils. Bleaching clays are capable of eliminating these contaminants and escalates the absorption of trace components that tend to effect efficiency of the refining process. Majority of vegetable oil is lost during refining process owing to minimal oil retention on the filter cake. Use of natural bleaching clay minimizes the loss of vegetable oil during refining process and improves filtration rate.
Key Benefits For Stakeholders
This report provides a quantitative analysis of the market segments, current trends, estimations, and dynamics of the bleaching clay market analysis from 2021 to 2031 to identify the prevailing bleaching clay market opportunities.
The market research is offered along with information related to key drivers, restraints, and opportunities.
Porter's five forces analysis highlights the potency of buyers and suppliers to enable stakeholders make profit-oriented business decisions and strengthen their supplier-buyer network.
In-depth analysis of the bleaching clay market segmentation assists to determine the prevailing market opportunities.
Major countries in each region are mapped according to their revenue contribution to the global market.
Market player positioning facilitates benchmarking and provides a clear understanding of the present position of the market players.
The report includes the analysis of the regional as well as global bleaching clay market trends, key players, market segments, application areas, and market growth strategies.
 Bleaching Clay Market Report Highlights
Aspects
Details
By Product Type

Activated Bleaching Clay
Natural Bleaching Clay

By Application

Industrial Oil
Mineral Oil and Waxes
Vegetable Oil and Animal Fats

By Region

North America (U.S., Canada, Mexico)
Europe (Germany, U.K., France, Spain, Italy, Rest of Europe)
Asia-Pacific (China, India, Japan, South Korea, Australia, Rest of Asia-Pacific)
LAMEA (Brazil, Saudi Arabia, South Africa, Rest of LAMEA)

Key Market Players
Tianjin Yuanjing Bentonite Minchem Co. Ltd., Clariant AG, Taiko Clay Marketing Sdn Bhd, Refoil Earth Pvt. Ltd., EP Minerals, Musim Mas, AMC (UK) Ltd., Ashapura Perfoclay Limited (APL), Oil-Dri Corporation of America, HRP industries, The W Clay Industries Sdn Bhd, Arkema S.A., DuPont, Sinoma Attapulgite Clay Co. Ltd., Qingdao Qiancheng Minerals Co. Ltd.
AMCOL Specialty Minerals, Others