Bleisure Travel Market Research, 2032
The global bleisure travel market size was valued at $315.3 billion in 2022, and is projected to reach $731.4 billion by 2032, growing at a CAGR of 8.9% from 2023 to 2032.
Numerous companies operating in the global business travel market are trying to provide well-managed and cost-effective programs to customers with the rise in demand for business travel management. Hence the growth of the market is likely to propel in the forecast year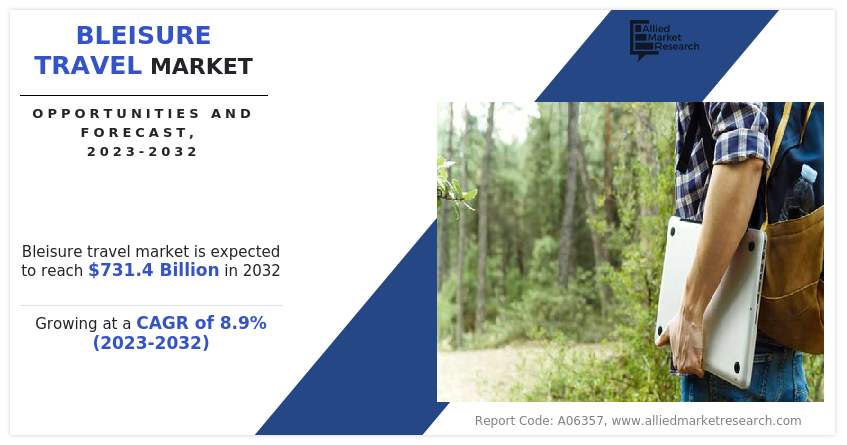 Travel that combines both work and pleasure is referred to as bleisure. It typically takes the form of business travelers who decide to extend their holiday to engage in recreational activities. These pastimes include sightseeing, unwinding, hiking, going to amusement parks, or going to events. 
With more competition, business employees typically put in longer hours to earn more. Additionally, such intense competition leads to staff stress and burnout. It can result in both mental health issues like depression, anxiety, and insomnia as well as physical health issues including chronic pain, heart issues, and hypertension. Additionally, burnout can cause a variety of symptoms, such as irritability, mood swings, weariness, and reduced productivity. It might lead to employees seeking medical care or taking sick days, both of which can be costly for a company. To sustain mental health among employees worldwide, there is a growing demand for work-life balance. Furthermore, by creating a work environment that prioritizes work-life balance, employers can save money and maintain a happier, more productive staff. Additionally, one of the emerging trends to balance work and wellness is to travel for business. The bleisure travel market is therefore projected to grow due to demand from major employers around the globe in the bleisure travel market forecast period.. 
The adoption of digital solutions for everyday travel planning chores like choosing a destination and creating an itinerary, booking flights and other modes of transportation, hotels and other accommodations, or developing offers that are as specifically tailored to the needs of customers as possible, as well as taking virtual tours of potential destinations before making a decision are all examples of digital transformation in the travel industry. The travel industry is at the cutting edge of technological advancement and is continuously evolving because of new technology. The Digital Transformation Initiative (DTI) of the World Economic Forum estimates that between 2016 and 2025, the travel, tourism, and aviation sectors will spend up to $305 billion on digitization procedures. The $700 billion in gains from digital transformation will also benefit society and customers. Additionally, it is anticipated that this process will move $100 billion in value from well-established businesses to their new digital competitors. Therefore, integrating technology into leisure travel tends to encourage growth everywhere. 
The hospitality business, a substantial subset of the hospitality industry, is made up of the four main sectors of food and beverage, travel and tourism, housing, and recreation. For instance, the F&B industry includes restaurants, bars, and food trucks; the travel and tourism industry also include travel agents; the housing industry covers everything from hotels to hostels; and the recreation industry includes leisure pursuits like sports, wellness, and entertainment. Even though all these hospitality industries are interlinked and dependent on one another, many of them are evolving quickly because of new technologies and changing consumer attitudes. With the growth of the world economy, the hospitality sector has seen significant growth on a global scale. The world economy increased at a rate of more than 3% yearly, according to the World Bank, before the global epidemic hit in 2019–2020. Due to the pent-up demand at the beginning of the pandemic, the global economy grew by 5.5% in 2021. However, it is estimated that this growth slowed down to 4.1% in 2022 and 3.2% in 2023 before returning to pre-pandemic levels. The hospitality and tourism industries benefitted from this exceptional growth by seeing an increase in travel demand and the number of hotel nights accessible to leisure travelers around the world. 
For any journey that takes place outside of the country where the organization is based, personnel who are on the recipient's official travel roster will incur additional costs for housing, meals, incidentals, and other relevant expenses. According to Google data, the usual nightly rate for a five-star hotel in New York City in April and May is between $523 and $999. In Paris, the range is wider, from $707 to $1,382. Late April is the conclusion of the season in St. Barts, where high-end hotels typically cost up to $1,451. Additionally, leisure travelers frequently remain longer than necessary on work trips. Therefore, because of the additional costs, corporates are probably not going to pay for these excursions, which limits the bleisure travel industry. 
Only 14% of businesses that allowed staff members to spend vacation days while travelling for work in 2014 had explicitly specified this necessity in their corporate travel policy, according to the Skift Bleisure Travel Report. Businesses that do not document their leisure travel rules run the risk of noncompliance and escalating expenditure. Businesses that regularly struggle to keep personnel travel expenses under control can find it difficult to implement bleisure standards. Utilizing corporate travel management software with effective spending control capabilities is essential for businesses to prevent non-compliance. Additionally, companies with restricted employee travel budgets could find it challenging to include leisure travel policies in their work travel plans. Travel managers must set up services that ensure that business travel will always be affordable if they want their organization to keep enjoying the positive return on investment in travel. Therefore, the expansion of leisure travel is projected to be constrained in the forecast term due to a lack of sufficient documentation and policies. 
Businesses spend more than $300 billion on business travel each year, 20% of which is spent on air travel. 12% of airline passengers are business travelers, and they generate billions of dollars in revenue, up to 75% of profit on some routes. Therefore, business travelers are a key demographic. Additionally, businesses are aware that visitors want a connected and seamless experience, one that allows them to stop sorting through endless options and find the amazing experiences they seek. Many travel organizations are adopting a platform business model and condensing their processes in order to manage the entire client journey. Because of this, working with corporations in the leisure travel industry is expected to increase demand. 
Connectivity and infrastructure have become one of the primary concerns of the twenty-first century and have come to define the modern economy. This is reflected in the need for resources to be used to link communities, economies, and countries. in the Asia-Pacific alone globally. But there are still a lot of requirements. By 2030, the Asia-Pacific region will need to invest about $26 trillion, according to the Asian Development Bank (ADB), while the OECD and McKinsey Global Institute (MGI) predict that the global demand for infrastructure investment will range from $4.7 trillion to $6.0 trillion annually. The allocation of the world's GDP to infrastructure and real estate is around 20 percent. Due to decaying infrastructure, expanding populations, and demands for economic development, governments want increased investment for power, transportation, and other systems that promote recovery and growth. Additionally, expanding infrastructure is anticipated to promote global growth. 
Segmental Overview 
The bleisure travel market is segmented on the basis of employee, age group, industry and region. By employee, the bleisure travel market is classified into executive, middle management and entry level employee. Depending on age group, the market is categorized into millennial, generation X, and others. By industry, it is categorized into government and corporate. By region the market is analyzed in North America, Europe, Asia Pacific and LAMEA.  
By Employee 
Depending on the employee, the middle management segment dominated the bleisure travel market share in 2022, garnering around two-fifths of the market share; moreover, the middle management is expected to grow at the highest CAGR of 9.2% from 2023 to 2032. In addition, the largest group consists of middle managers, who earn an average of close to $80,000 annually and are between the ages of 36 and 54 years. They often are from the IT industry and account for a large share of the bleisure travel market growth . There are times when the whole workforce of a corporation will congregate in one location for a few days or possibly a few weeks of work and play. This is referred to as a whole team retreat. Men are more likely to travel for leisure than women are, while a U.S. survey found that men take more business trips than women do.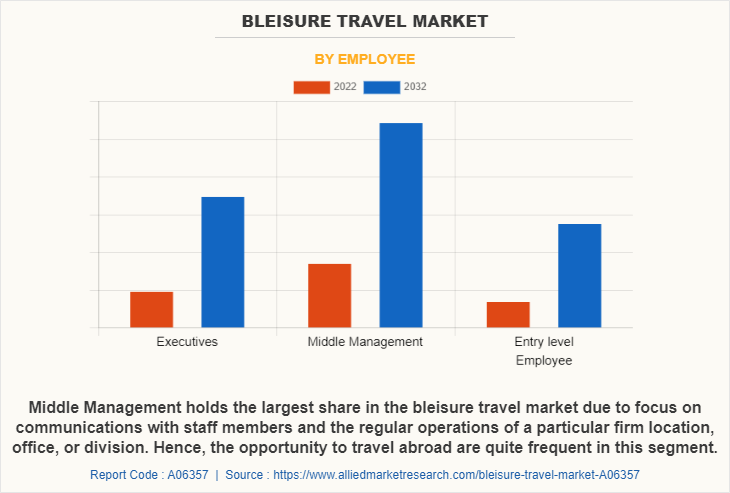 By Age Group 
Depending on the age group, the millennial segment dominated the bleisure travel industry in 2022, garnering around two-fifths of the market share. Moreover, the millennial segment is expected to grow at the highest CAGR of 9.1% from 2023 to 2032. In addition, millennials are no longer solely associated with starting new fads or travelling to exotic locales. Instead, they explore the significance and purpose of each place they visit, discover the locals' traditions, and interact with locals. Millennials are individuals who are passionate employees, compulsive shoppers, and experienced partygoers. They venture out for both fun and profit. They typically have employers who both permit and pay for their trip. As a result, it is projected to increase the bleisure travel market demand across the globe.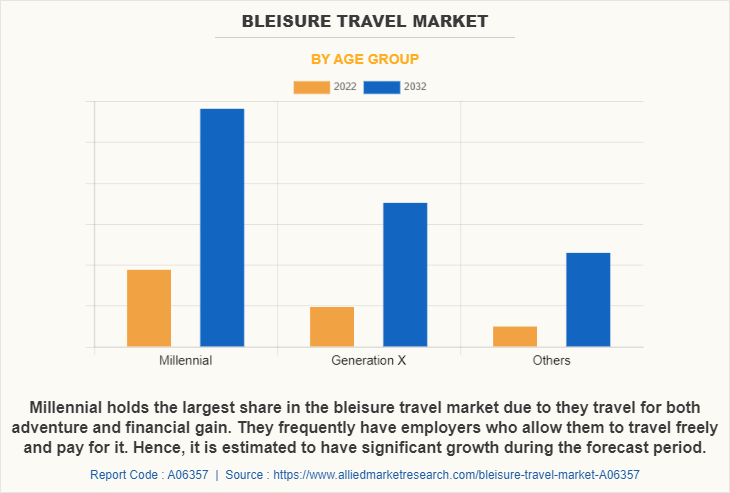 By Industry 
Depending on the industry, the corporate segment dominated the market in 2022, garnering majority of the market share, Moreover, the corporate segment is expected to grow at the highest CAGR of 9.0% from 2023 to 2032. In addition, bleisure travel is becoming more popular as business travelers combine their trip for business with their personal time off. Due to technology, the line between work and play has blurred their leisure time.  Hence, the demand for work-life balance among employees is expected to propel the expansion of bleisure travel across the globe.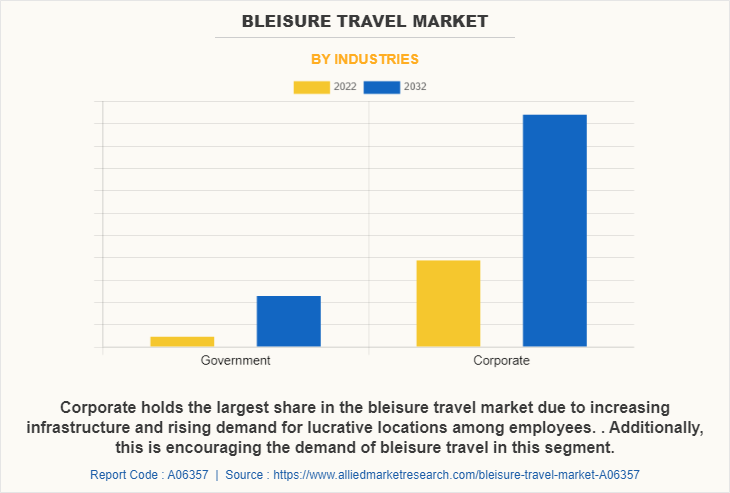 By Region 
Region wise, Europe dominated the market in 2022, garnering a market share of 30.09%. The high penetration of leisure travel in the European market has prompted businesses to introduce innovative tactics in this cutthroat industry. Factors including low inflation, rise in domestic demand, support in monetary policies, growth of the labor market, and sustained economic growth are projected to boost the business travel industry. Additionally, the market growth has been bolstered by the surge in smart device use and the increase in internet penetration. Additionally, the drop in airfares stimulates the expansion of the industry in Europe. Significant factors driving the bleisure travel market in Europe are the rise in working-age populations, rise in disposable income, the presence of more billionaires on the continent, as well as a rise in travel enthusiasts among Europeans.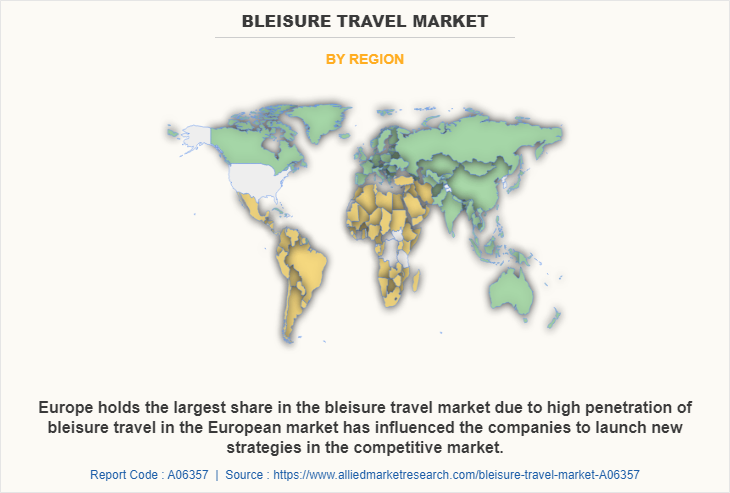 Competitive Analysis 
Some of the major players analyzed in this report are Bleisure Travel Company, BCD Group, Booking Holdings, Fareportal, Expedia Group, Airbnb, Flight Centre Travel Group, Wexas Travel, TravelPerk, TravelBank and FCM Travel Solution. 
Some Examples of Product Launch in the Global Bleisure Travel Market 
Some Examples of Expansion in the Global Bleisure Travel Market 
In February 2023, BCD Travel partnered with Amadeus to initiate multiple projects on travel opportunities including bleisure travel.  

In October 2022, BCD Travel partnered with Sabre to facilitate the innovation and growth in the bleisure travel. 
Key Benefits For Stakeholders
This report provides a quantitative analysis of the market segments, current trends, estimations, and dynamics of the bleisure travel market analysis from 2022 to 2032 to identify the prevailing bleisure travel market opportunities.
The market research is offered along with information related to key drivers, restraints, and opportunities.
Porter's five forces analysis highlights the potency of buyers and suppliers to enable stakeholders make profit-oriented business decisions and strengthen their supplier-buyer network.
In-depth analysis of the bleisure travel market segmentation assists to determine the prevailing market opportunities.
Major countries in each region are mapped according to their revenue contribution to the global market.
Market player positioning facilitates benchmarking and provides a clear understanding of the present position of the market players.
The report includes the analysis of the regional as well as global bleisure travel market trends, key players, market segments, application areas, and market growth strategies.
 Bleisure Travel Market Report Highlights
Aspects
Details
Market Size By 2032
USD 731.4 billion
Growth Rate
CAGR of 8.9%
Forecast period
2022 - 2032
Report Pages
410
By Age Group

Millennial
Generation X
Others

By Industries

Government
Corporate

Sub Type

Technology
Healthcare
Public Administration
Manufacturing
Others

By Employee

Executives
Middle Management
Entry level Employee

By Region

North America (U.S., Canada, Mexico)
Europe (Germany, UK, France, Italy, Spain, Switzerland, Rest of Europe)
Asia-Pacific (China, India, Japan, South Korea, Australia, Rest of Asia-Pacific)
LAMEA (Brazil, South Africa, UAE, Argentina, Rest of LAMEA)

Key Market Players
BCD Group, Expedia Group Inc., Fareportal, Travelator, Inc., Cvent Inc., TravelPerk S.L.U., Booking Holdings, Inc., Wexas Travel, Flight Centre Travel Group Limited, Airbnb, Inc.
Analyst Review
According to the top CXOs, Europe is projected to witness the largest share during the forecast period owing to the growing penetration of adventure activities in the region. The major emerging markets include the U.S., the UK, Germany, France, and others. The population summed up with a significant demand, rising disposable income, huge investment, and penetration of Bleisure travel are the important factors that propel the growth of bleisure travel markets. Moreover, emerging markets are highly influenced by western culture, and hence, there is an increase in outdoor activities such as hiking and other amenities slowly becoming part of the culture in growing markets such as India and Brazil. Furthermore, Asia-Pacific is the leading destination for tourists, and food and lodging is the highest revenue generator in the tourism industry. Therefore, the growing penetration of outdoor activities as well as corporate establishments is expected to fuel the growth of the winter activities market in emerging nations.  
One of the primary drivers for the increase in demand for bleisure travel is the increased demand for tourism across the globe. Many new market players are expected to enter the bleisure travel forecast period, attracted by profitable growth and high-profit margins.   
Another factor that influences the demand for bleisure travel is the rise in demand for work life balance across the globe. Consequently, the demand for bleisure travel has seen a multifold increase in forecast years, especially in the developed countries of North America and Europe regions including but not limited to the U.S., Canada, The UK, and Germany. Hence, the growth of bleisure travel is expected across the globe during the forecast period.