Blow Molding Machine Market Research, 2030
The global blow molding machine market size was valued at $4,654.5 million in 2020, and is projected to reach $6,878.6 million by 2030, registering a CAGR of 3.8% from 2021 to 2030. Blow molding machine is used for molding hollow plastic products, including plastic bottles, plastic tubes, and other commodities. The molding process comprises melting of plastic followed by introduction of compressed air to pass through the parison. Main applications of blow molding machine include manufacturing of water bottles, soft drink bottles, wide mouth jars, plastic cans, and other containers used across the industry.
The COVID-19 pandemic has increased the demand for blow molding machines, owing to rise in production of sanitizers and other cleaning products.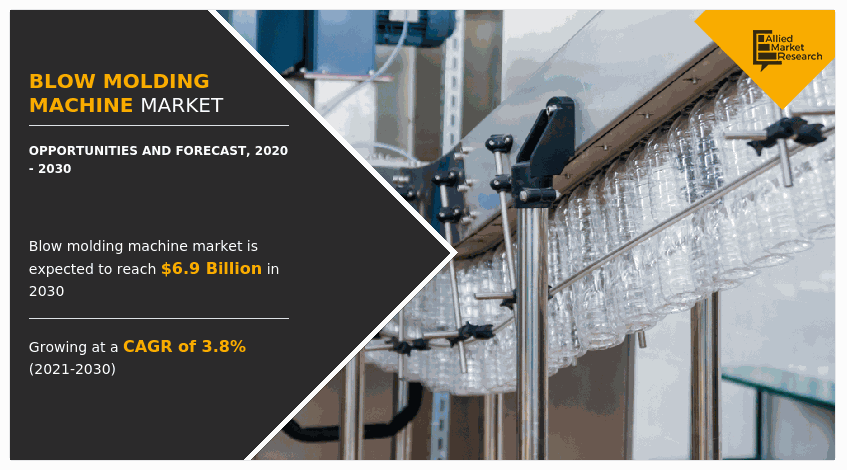 Packaging industry experiences growth in the recent times, due to increase in industries involved in packaged products, such as food & beverages industry and pharmaceuticals industry. This increases the demand for blow molding machines by the manufacturers of bottles, tubes, and other such packaging components. Thereby, driving the blow molding machine market growth. Furthermore, availability of various blow molding machines in different capacities makes it suitable for use in production of small as well as large plastic products. Thus, blow molding machines are extensively used for manufacturing products with capacity as small as a few of milliliter to thousand-liters. Introduction of advanced technologies enables the blow molding process to be more energy-efficient along with less wastage of raw materials. In addition, integration of latest computer-based technologies and software enables an efficient automation that reduces the labor cost while keeping the productivity higher.
Major players in the industry focus on launching of high-performance blow molding machines and development of new technologies for blow molding machines. For instance, in June 2021, Meccanoplastica, a leading provider of blow molding machines launched a MiPet Combi stretch blow molding solution, which integrates a blower, filler, and capping machine. In addition, new machines use only 30% of the occupied space, owing to its compactness. Furthermore, companies all across the globe aim at developing technologies for a sustainable future. For instance, in April 2019, Nissei ASB Machine Co., Ltd. leading manufacture of machines and molds for injection stretch blow molding of PET and other plastics processing machines, unveiled its latest "Zero Cooling" technology. This technology improves quality and strength of the bottle which helps in reducing its weight while exponentially increasing the productivity. The feature of reduction in weight helps the company to fulfill its commitments toward environment safety.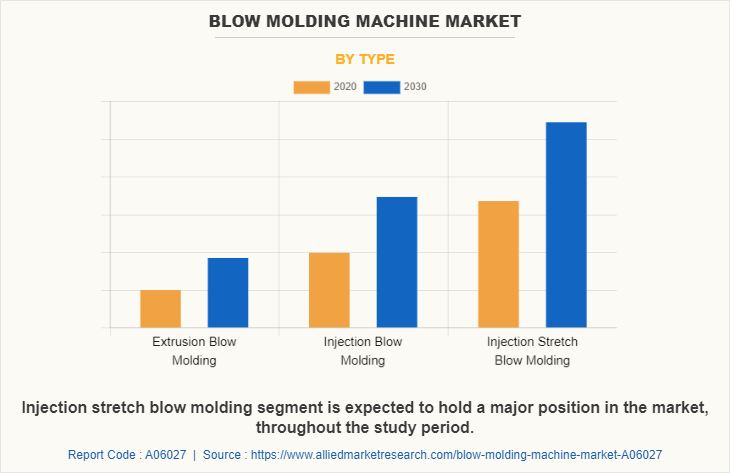 The novel coronavirus has rapidly spread across various countries and regions, causing an enormous impact on the lives of people and the overall community. It began as a human health condition and has now become a significant threat to global trade, economy, and finance. The COVID-19 pandemic halted the production of many components of blow molding machine market, due to lockdown. Economic slowdown initially resulted in reduced spending on new molding machineries by various players in the end user industry. Furthermore, the number of COVID-19 cases is expected to reduce in future as the vaccine for COVID-19 is introduced in the market. This has led to the reopening of blow molding machine manufacturing companies at their full-scale capacities. This is expected to help the market to recover by the start of 2022. Blow molding machines manufacturers must focus on protecting their staff, operations, and supply networks to respond to urgent emergencies and establish new methods of working post pandemic.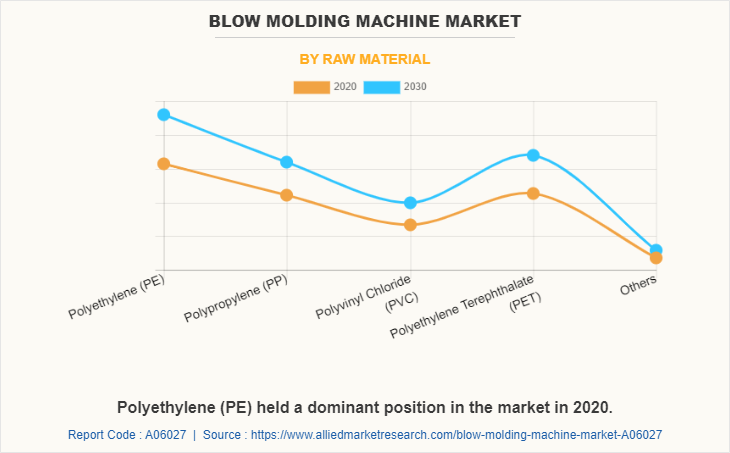 Furthermore, the growth of automotive sector has significantly boosted the demand for plastic fluid storage solutions that are widely used in vehicles across the globe, thereby increasing the use of blow molding machines for manufacturing such components. In addition, rise in construction sector drives the demand for blow molding machines.
The blow molding machine is segmented on the basis of type, raw material, application and region. By type, the market is categorized into injection blow molding, extrusion blow molding, and injection stretch blow molding. On the basis on raw material, the market is categorized into polyethylene (PE), polypropylene (PP), polyvinyl chloride (PVC) polyethylene terephthalate (PET) and others. Depending on application, it is categorized into packaging, automotive, construction, and others. Region wise, the market is analyzed across North America, Europe, Asia-Pacific, and LAMEA. Asia-Pacific has the largest blow molding machine market share in 2020, accounting for the highest share, and is anticipated to maintain this trend throughout the blow molding machine market forecast period. This is attributed to rapid growth of manufacturing industry.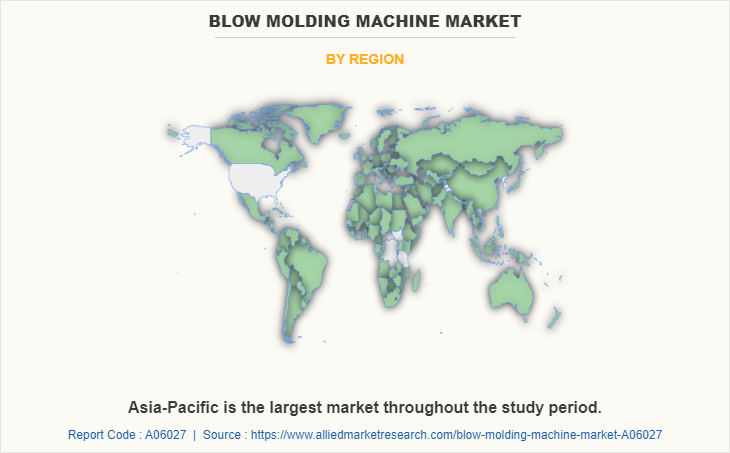 COMPETITION ANALYSIS
The key companies profiled in the blow molding machines report include Blow Enterprises, Chia Ming Machinery Co., (Chia Ming) Ltd, Golfang Mfg. & Development Co., Ltd., Jagmohan Pla-Mach Pvt. Ltd., Jiangsu Victor Machinery Co., Ltd., Jomar Corporation, Nissei Asb Machine Co., Ltd., Polymechplast Machines Ltd., Sumitomo Heavy Industries, Ltd., and The Japan Steel Works, Ltd.
Key Benefits For Stakeholders
This report provides a quantitative analysis of the market segments, current trends, estimations, and dynamics of the blow molding machine market analysis from 2020 to 2030 to identify the prevailing blow molding machine market opportunity.
The market research is offered along with information related to key drivers, restraints, and opportunities.
Porter's five forces analysis highlights the potency of buyers and suppliers to enable stakeholders make profit-oriented business decisions and strengthen their supplier-buyer network.
In-depth analysis of the blow molding machine market segmentation assists to determine the prevailing market opportunities.
Major countries in each region are mapped according to their revenue contribution to the global market.
Market player positioning facilitates benchmarking and provides a clear understanding of the present position of the market players.
The report includes the analysis of the regional as well as global blow molding machine market trends, key players, market segments, application areas, and market growth strategies.
 Blow Molding Machine Market Report Highlights
Aspects
Details
By Type

Extrusion Blow Molding
Injection Blow Molding
Injection Stretch Blow Molding

By Raw Material

Polyethylene (PE)
Polypropylene (PP)
Polyvinyl Chloride (PVC)
Polyethylene Terephthalate (PET)
Others

By Application

Packaging
Automotive
Construction
Others

By Region

North America (U.S., Canada, Mexico)
Europe (Germany, Italy, France, Spain, Rest of Europe)
Asia-Pacific (China, Japan, India, Indonesia, Rest Of Asia Pacific)
LAMEA (Latin America, Middle East, Africa)

Key Market Players
Nissei ASB Machine Co. Ltd., Polymechplast Machines Ltd., Blow Enterprises, Chia Ming Machinery Co, Jagmohan Pla-Mach Pvt. Ltd., Jiangsu Victor Machinery Co., Ltd., The Japan Steel Works, Ltd., Sumitomo Heavy Industries, Ltd., Jomar Corporation, Golfang Mfg. & Development Co., Ltd.