COVID-19
Pandemic disrupted the entire world and affected many industries.
Get detailed COVID-19 impact analysis on the Boat Davits Market
Request Now !
A boat davit is a device used on a ship to raise, support, and lower the boats. This device is majorly used to lower an emergency life boat from the ship, and also to clean the boat from saltwater.
The global boat davit market is driven by the developments in the boating industry and rise in sales of boats. According to the survey of boating industry in 2015, 77% of the respondents, which included boat dealer, manufacturers, marine owners, and others, stated that their revenue is expected to increase in 2015, wherein more than 50% of the respondents expected their revenue to increase by 10% in 2016.
According to the National Marine Manufacturers Association, the unit sales of new boats was expected to increase between 6% and 7% in 2016. However, high price of boat davits is expected to hinder the market growth. Moreover, the expanding disposable income and increasing boating activity are expected to create major opportunities for the market.
The report segments the boat davit market based on product, application, and geography. The product segment includes H-bar design, X-bar design, heavy design, and others. The market based on application is divided into sailboat, powerboat, dinghy, and others. Geographically, it is analyzed across North America (U.S., Canada, and Mexico), Europe (UK, Germany, France, Italy, Spain and rest of Europe), Asia-Pacific (India, China, Japan, Australia, South Korea, Taiwan, and rest of Asia-Pacific), and LAMEA (Brazil Turkey, Saudi Arabia, South Africa, and rest of LAMEA).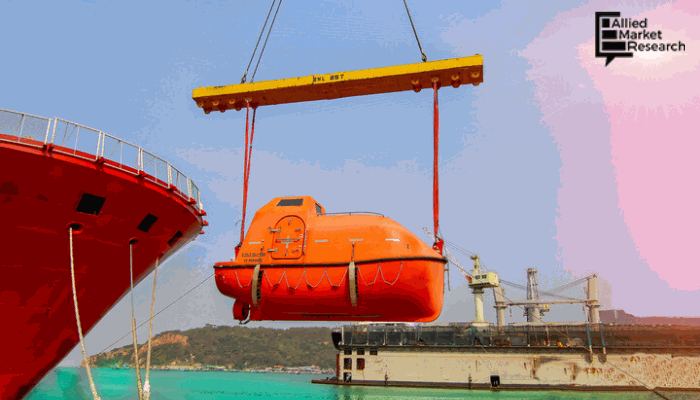 Key players profiled in the report include Forespar (U.S.), FGM Technology (Italy), Tecnometalli (Italy), Hi-Tide (U.S.), Magnum (U.S.), Spencer Carter (UK), Lunmar Boat Lifts (U.S.), Boat Lift Warehouse (U.S.), Davit Master (U.S.), and Kato Marine (U.S.).
Key Benefits
This study provides an in-depth analysis of the global boat davits market, in terms of value, to elucidate the imminent investment pockets.
A detailed impact analysis of the current trends, regional boat davits market, and future estimations are outlined to single out profitable areas.
In addition, key drivers, restraints, and opportunities through 20172023 are explained to identify the prevailing market opportunities.
Porters Five Forces analysis highlights the potency of suppliers & buyers in the competitive market to facilitate efficient business planning.
Boat Davits Market Key Segmentation:
By Product
H-bar Design
X-bar Design
Heavy Design
Others
By Application
Sailboat
Powerboat
Dinghy
Others
By Geography
North America
Europe

Germany
France
UK
Italy
Spain
Rest of Europe

Asia-Pacific

Japan
China
Australia
India
South Korea
Taiwan
Rest of Asia-Pacific

LAMEA

Brazil
Turkey
Saudi Arabia
South Africa
Rest of LAMEA
Key Players in the Value Chain:
Forespar (U.S.)
FGM Technology (Italy)
Tecnometalli (Italy)
Hi-Tide (U.S.)
Magnum (U.S.)
Spencer Carter (UK)
Lunmar Boat Lifts (U.S.)
Boat Lift Warehouse (U.S.)
Davit Master (U.S.)
Kato Marine (U.S.)
CHAPTER 1 INTRODUCTION
1.1. REPORT DESCRIPTION
1.2. KEY BENEFITS
1.3. KEY MARKET SEGMENTS
1.4. RESEARCH METHODOLOGY
1.4.1. Secondary research
1.4.2. Primary research
1.4.3. Analyst tools & models
CHAPTER 2 EXECUTIVE SUMMARY
2.1. CXO PERSPECTIVE
CHAPTER 3 MARKET OVERVIEW
3.1. MARKET DEFINITION AND SCOPE
3.2. KEY FINDINGS
3.2.1. Top investment pockets
3.2.2. Top winning strategies
3.3. MARKET SHARE ANALYSIS, 2016
3.4. PORTER'S FIVE FORCES ANALYSIS
3.5. MARKET DYNAMICS
3.5.1. Drivers
3.5.2. Restraints
356.3. Opportunities
CHAPTER 4 BOAT DAVITS MARKET, BY PRODUCT TYPE
4.1. OVERVIEW
4.1.1. Market size and forecast
4.2. H-BAR DESIGN
4.2.1. Key market trends
4.2.2. Growth factors and opportunities
4.2.3. Market size and forecast
4.3. X-BAR DESIGN
4.3.1. Key market trends
4.3.2. Growth factors and opportunities
4.3.3. Market size and forecast
4.4. HEAVY DESIGN
4.4.1. Key market trends
4.4.2. Growth factors and opportunities
4.4.3. Market size and forecast
4.5. OTHERS
4.5.1. Market size and forecast
CHAPTER 5 BOAT DAVITS MARKET, BY APPLICATION TYPE
5.1. OVERVIEW
5.1.1. Market size and forecast
5.2. SAILBOAT
5.2.1. Market size and forecast
5.3. POWERBOAT
5.3.1. Market size and forecast
5.4. DINGHY
5.4.1. Market size and forecast
5.5. OTHERS
5.5.1. Market size and forecast
CHAPTER 6 BOAT DAVITS MARKET, BY GEOGRAPHY
6.1. OVERVIEW
6.2. NORTH AMERICA
6.2.1. Key market trends
6.2.2. Key growth factors and opportunities
6.2.3. Market size and forecast
6.2.3.1. U.S. market size and forecast
6.2.3.2. Canada market size and forecast
6.2.3.3. Mexico market size and forecast
6.2.4. North America Boat Davits Market by Product Type
6.2.5. North America Boat Davits Market by Application Type
6.3. EUROPE
6.3.1. Key market trends
6.3.2. Key growth factors and opportunities
6.3.3. Market size and forecast
6.3.3.1. Germany market size and forecast
6.3.3.2. France market size and forecast
6.3.3.3. UK market size and forecast
6.3.3.4. Italy market size and forecast
6.3.3.5. Spain market size and forecast
6.3.3.6. Rest of Europe market size and forecast
6.3.4. Europe Boat Davits Market by Product Type
6.3.5. Europe Boat Davits Market by Application Type
6.4. ASIA-PACIFIC
6.4.1. Key market trends
6.4.3. Key growth factors and opportunities
6.4.3. Market size and forecast
6.4.3.1. Japan market size and forecast
6.4.3.3. China market size and forecast
6.4.3.3. Australia market size and forecast
6.4.3.4. India market size and forecast
6.4.3.5. South Korea market size and forecast
6.4.3.6. Taiwan market size and forecast
6.4.3.7. Rest of Asia-Pacific market size and forecast
6.4.4. Asia-Pacific Boat Davits Market by Product Type
6.4.5. Asia-Pacific Boat Davits Market by Application Type
6.5. LAMEA
6.5.1. Key market trends
6.5.3. Key growth factors and opportunities
6.5.3. Market size and forecast
6.5.3.1. Brazil market size and forecast
6.5.3.3. Turkey market size and forecast
6.5.3.3. Saudi Arabia market size and forecast
6.5.3.4. South Africa market size and forecast
6.5.3.5. Rest of LAMEA market size and forecast
6.5.4. LAMEA Boat Davits Market by Product Type
6.5.5. LAMEA Boat Davits Market by Application Type
CHAPTER 7 COMPANY PROFILES
7.1. FORESPAR
7.1.1. Operating business segments
7.1.2. Business performance
7.1.3. Key strategic moves and developments
7.2. FGM TECHNOLOGY
7.2.1. Operating business segments
7.2.2. Business performance
7.2.3. Key strategic moves and developments
7.3. TECNOMETALLI
7.3.1. Operating business segments
7.3.2. Business performance
7.3.3. Key strategic moves and developments
7.4. HI-TIDE
7.4.1. Operating business segments
7.4.2. Business performance
7.4.3. Key strategic moves and developments
7.5. MAGNUM
7.5.1. Operating business segments
7.5.2. Business performance
7.5.3. Key strategic moves and developments
7.6. SPENCER CARTER
7.6.1. Operating business segments
7.6.2. Business performance
7.6.3. Key strategic moves and developments
7.7. LUNMAR BOAT LIFTS
7.7.1. Operating business segments
7.7.2. Business performance
7.7.3. Key strategic moves and developments
7.8. BOAT LIFT WAREHOUSE
7.8.1. Operating business segments
7.8.2. Business performance
7.8.3. Key strategic moves and developments
7.9. DAVIT MASTER
7.9.1. Operating business segments
7.9.2. Business performance
7.9.3. Key strategic moves and developments
7.10. KATO MARINE
7.10.1. Operating business segments
7.10.2. Business performance
7.10.3. Key strategic moves and developments