Body Dryer Market Outlook - 2026
The body dryer market size was valued at $2,641.5 thousand in 2018, and is projected to reach $3,424.0 thousand by 2026, growing at a CAGR of 3.4% from 2019 to 2026.Body dryer is an air blowing electric appliance (similar to a hand dryer or hair dryer) used in drying an individual's complete body after bathing or swimming, substituting the use of a towel. The appliance is available in two variants, wall mounted and on floor.
The report focuses on the growth prospects, restraints, and trends of the global body dryer market analysis. Improved lifestyle of consumers has shifted their preference toward luxury & premium products such as body dryers. In addition, enhanced convenience offered especially for disabled people makes the appliance a necessity for sanitation. Moreover, increase in consciousness of consumer toward personal hygiene boosts the growth of the body dryers market. However, the product is perceived as luxury over hygiene; thus, its high cost limits its adoption. In addition, wide availability of alternatives such as cloth & disposable towels hampers the body dryer market growth.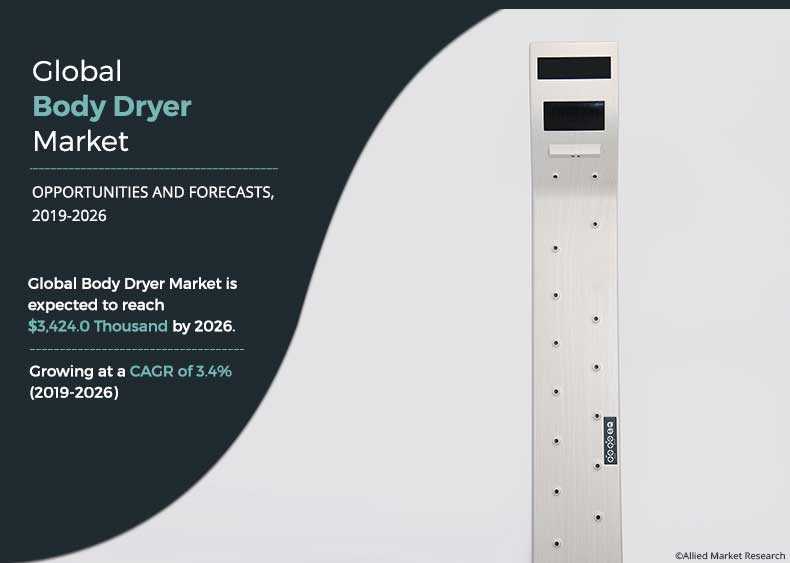 Get more information on this report : Request Sample Pages
Conversely, increase in awareness of body dryers, technical advancements, and wide availability of the product are anticipated to improve the penetration of body dryers during the forecast period.
North America and Europe are among the most urbanized regions with nearly 81% and 80% urban population, respectively. Africa and Asia have comparatively lower urban population shares, with 40% and 48%, respectively. As per the WHO and other organizations, Africa and Asia are the major regions that are expected to witness rapid urbanization trend and are projected to account for 56% and 64% urbanization rate, respectively, by 2050. India and China are the two major countries with increasing urban population and potential market for construction, which in turn boosts the adoption of various home products, including body dryers.
The global body dryer market is projected to witness significant growth during the forecast period, owing to change in lifestyle, intense competition in the hospitability sector, and increase in disposal income.
Improvement in economic condition and growth in disposable income are the two key factors that propel the body dryer industry growth. After the 2009 economic crisis in Europe and the economic crisis in China, the world economy witnessed a standstill. Almost all the countries in the world were affected by it. However, strong recovery from the crisis resulted in robust economic growth, especially in developing economies, and has led to increase in disposable income. In addition, disposable income of individuals in Europe and Asia-Pacific witnessed high growth, thus driving the growth of the body dryer market.
Possession of advanced technological appliances & products has become an essential lifestyle statement for consumers in the recent years. With technological advancements, bathroom fixtures have witnessed a significant evolution in the last few years. Smart bathrooms have showcased an inclination in terms of demand generated by nonresidential and residential buildings, especially in urban areas.
Factors such as rise in construction activities of residential & commercial buildings, increase in concerns related to health & hygiene, and availability of abundant raw materials propel the growth of the body dryer market. In addition, inclination of consumers toward healthy lifestyle, surge in urbanization, and rise in shift from conventional products to branded products have supplemented the growth of the global body dryer market.
Moreover, new technological developments in the product adds to the product portfolio of the existing players to remain competitive in the body dryer market. Through these developments, companies try to reduce the noise level in their products and minimize the bacterial spread in the washrooms. Customers over the globe prefer quieter and highly efficient body dryers, which consume less time.
Value chain of hand dryer features various raw material suppliers, manufacturers, product assemblers, distributors, and end users. Each of these players share a specific value at their point of operation, which in turn contributes to the competitive value of the product. Owing to high degree of competition among the body dryer market players, companies would reduce their prices thereby enhancing their worldwide body dryer market share. The value chain of body dryers starts from supply of materials that are used for designing the body dryer, such as body material, control circuitry, wires, heater, sensor, and indicators & switches.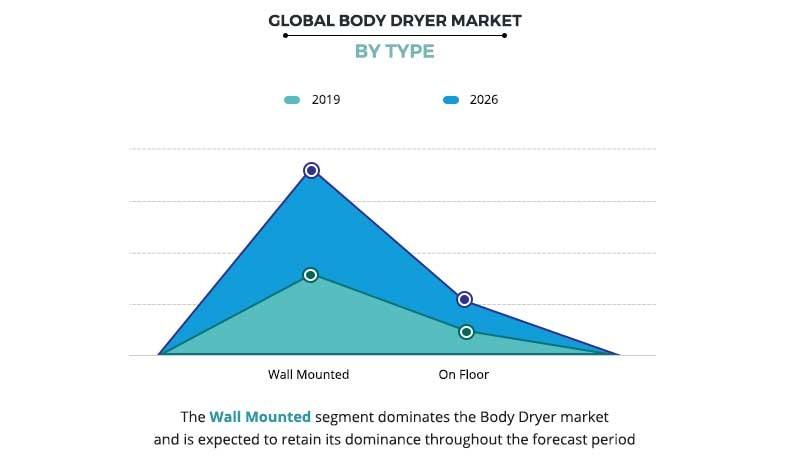 Get more information on this report : Request Sample Pages
Currently, body dryers are available in two variants, that is, wall mounted and on floor. The wall mounted body dryer segment dominates the global body dyer market, and is projected to maintain this trend during the forecast period. This is attributed to the convenience offered by wall mounted body dryers to disable or aged people.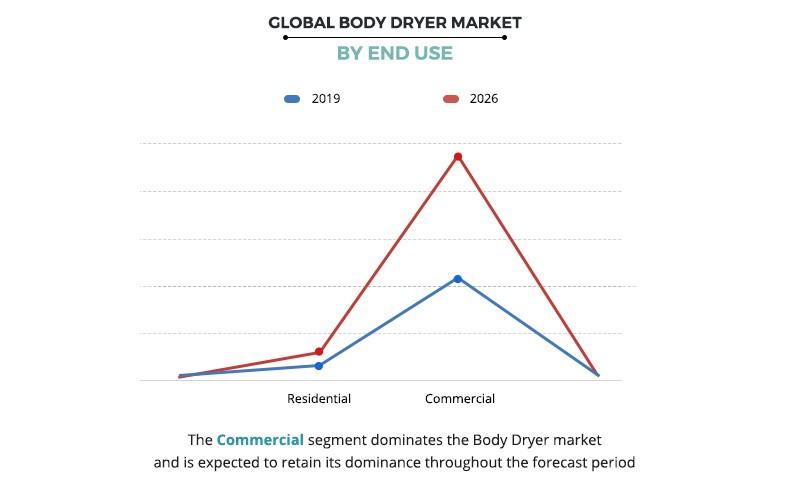 Get more information on this report : Request Sample Pages
Body dryer finds its applications in both residential sector and as well as commercial sectors such as recreational centers, hotels, hospitals, and others. Currently, the commercial sector dominates the body dryer market, however, with the growth of the luxury housing sector, body dryers are gaining popularity.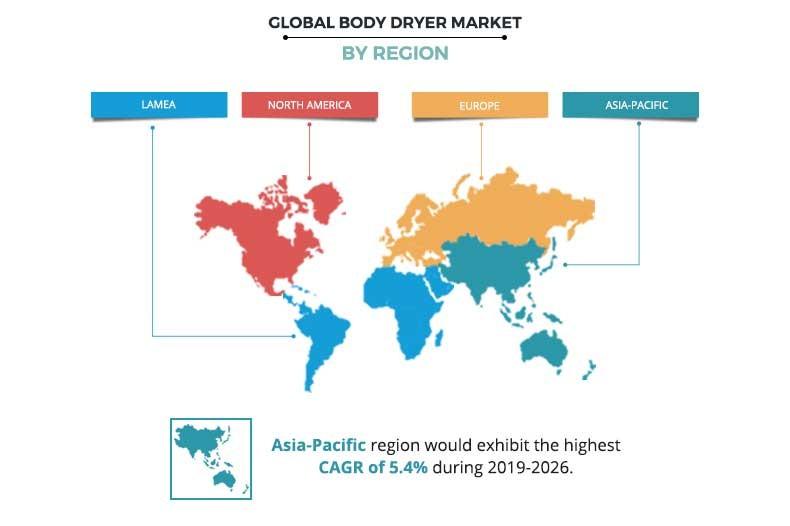 Get more information on this report : Request Sample Pages
As per region, the body dryer market share is analyzed across North America, Europe, Asia-Pacific, and LAMEA. The penetration of body dryers is high across North America, followed by Europe. However, the growth of the body dryer market in Asia-Pacific is majorly driven by rise in consumer spending on health and hygiene.
The demand for body dryers is expected to grow substantially in the near future, due to rise in investments in commercial spaces and core projects, such as airports, hospitals, hotels, and construction projects. Moreover, owing to their versatility and pleasant appearance, body dryers are gaining increased popularity, thus driving the overall body dryer market growth.
The report offers a comprehensive analysis of the key players such as Avant Innovations, Dolphy India Private Limited, Full Body Dryer LLC, Haystack Dryers, Indiegogo, Inc., Kingkraft, Orchids International, Regal Care Shower Trays Ltd., Tornado Body Dryer, LLC, and Valiryo. Detailed, current and future body dryer industry trends are outlined to determine the overall attractiveness of the body dryer market.
Key Benefits for Body Dryer Market:
This study presents the analytical depiction of the body dryer market trends and future estimations to determine the imminent investment pockets.
A detailed analysis of the body dryer market segments measures the potential of the market. These segments outline the favorable conditions for the market forecast.
Body dryer market forecast offers information related to key drivers, restraints, and opportunities.
The current market is quantitatively analyzed from 2019 to 2026 to highlight the financial competency of the industry.
Porter's five forces analysis illustrates the potency of buyers & suppliers in the industry.
 Key Market Segments & Key Market Players
Segments
Sub-segments
By Type


By End User


By Region

North America
Europe

Germany
France
UK
Rest of Europe

Asia-Pacific

Japan
China
Australia
Rest of Asia-Pacific

LAMEA

Latin Americ
Middle East
Africa



Key Market Players

Avant Innovations
Dolphy India Private Limited
Full Body Dryer LLC
Haystack Dryers
Indiegogo, Inc.
Kingkraft
ORCHIDS INTERNATIONAL
Regal Care Shower Trays Ltd.
Tornado Body Dryer, LLC.
Valiryo