Bone Grafts and Substitutes Market Overview:
The global bone grafts and substitutes market was valued at $2,652.6 million in 2020, and is projected to reach $3,362.6 million by 2028, registering a CAGR of 4.3% from 2021 to 2028. Bone grafts are implantable materials, which promote bone healing, bone formation, and osseous reconstruction due to their osteoconductive, osteogenic, and osteoinductive properties. They are used in sports, trauma, plastic, facial, and spinal surgeries. In addition, they can be used to fill voids in case of absence of bones or help in provision of structural stability. Bone grafting is a surgical procedure for replacing a missing or defected bone with a material (bone graft) from a patient's own body, cadaver, animals, or a different person. It finds its application in wound healing, complex fracture treatment, and others.
The growth of the global bone grafts and substitutes market is driven by factors such as rise in incidence of musculoskeletal disorders, development of biocompatible synthetic bone grafts, technological advancements in medical field leading to a shift from autograft to allograft, and increase in demand for dental bone grafts. However, higher costs of surgeries and ethical issues related to bone grafting procedures are anticipated to limit the bone grafts and substitutes market growth. Conversely, increase in focus of key players toward R&D activities in bone grafts & their substitutes and upsurge in demand for orthopedic procedures among geriatric population are expected to provide lucrative opportunities for the market players in the future.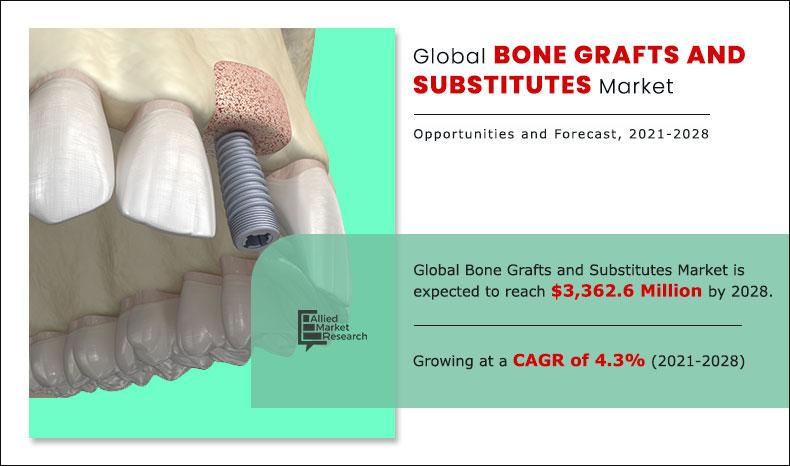 COVID-19 Impact
The overall impact of COVID-19 pandemic is likely to remain fairly negative for medical devices companies in the bone grafts & substitutes industry. Companies are facing a set-back, owing to the lockdown, which has led to disruptions in the supply chain activities across the globe. Moreover, key players in the industry are facing issues with regard to the availability of human resource for manufacturing bone grafts & substitutes at production facilities. In addition, end users such as hospitals and clinics reported decline in patient visits due to the lockdown restrictions implemented worldwide. However, this situation is expected to improve as government has started relaxing norms around the world for resuming business activities. Moreover, the demand for bone grafts & substitutes is likely to increase post recommencing the elective surgeries and procedures in the near future.
Product Segment Review
By product, the bone grafts and substitutes market can be categorized into allografts, bone grafts substitute and cell-based matrices. The allografts are further bifurcated into machined allografts and demineralized bone matrix. The bone graft substitutes segment is further classified into bone morphogenic proteins (BMP) and synthetic bone grafts. The bone graft substitutes segment is expected to dominate the market during the forecast period. This is attributed to increase in prevalence of bone and joint disorders. In addition, these bone graft substitutes are used in varied applications such as bone replacement, posttraumatic skeletal conditions, and other bone-related problems. Moreover, advancements in bone graft materials and development of innovative products fuel the bone grafts and substitutes market growth.
Bone Grafts and Substitutes Market

---
By Type
Bone Graft Substitutes segment held a dominant position in 2020 and would continue to maintain the lead over the forecast period.
Application Segment Review
By application, the bone grafts and substitutes market is segmented into spinal fusion, trauma, craniomaxillofacial, joint reconstruction and dental bone grafting. The spinal fusion segment is anticipated to be the largest growing segment over the analysis period. Spinal fusion is a condition in which a solid bridge is formed in between two vertebral segments of the spine. This bridge stops the movement in that area of spine. Bone graft and its substitutes provide the environment for the formation of this solid bridge. There has been a significant increase in the need of bone grafts for spinal fusion, owing to rise in incidence of spinal disorders and presence of a wide range of products for spinal fusion. Bone grafts and substitutes such as demineralized bone matrix and tricalcium phosphate are used as graft extenders that have capability of replacing need of autograft in spinal fusion. Autografts are best suited grafts for spinal fusion; however, the risk of chronic pain reduces their usage to a certain extent. Moreover, rise in incidence of patients suffering from rheumatoid arthritis, osteoarthritis, and other joint disorders fuels the demand for joint reconstruction procedures. Availability of specialized products such as vascularized free bone grafts and structural bone grafts, including femoral head grafts have further increased the usage of bone grafts in joint reconstruction applications.
Bone Grafts and Substitutes Market

---
By Application
Spinal fusion segment is projected as one of the most lucrative segment.
Region segment review
North America is leading the global bone grafts and substitutes market owing to upsurge in geriatric population coupled with bone related disorders and deformities. For instance, as per the report published by Centers for Disease Control and Prevention (CDC), in 2017, around 60% of the elderly population in the U.S. suffered from spinal disorders. The European bone graft and substitutes market is predicted to witness stable growth throughout the forecast period with the rise in popularity of bone graft & substitutes products over autografts, and shifting trend toward minimally invasive surgeries. Asia-Pacific is expected to witness highest market growth rate, driven by growth in population, increase in affordability, and improvement in healthcare facilities in the region.
Bone Grafts and Substitutes Market

---
By Region
North America was holding a dominant position in 2020 and would continue to maintain the lead over the analysis period.
List Of Key Companies
Arthrex Inc.
Baxter International Inc.
Integra Life Sciences Holdings Corporation
Johnson & Johnson (DePuy Synthes)
Medtronic Plc.
Musculoskeletal Transplant Foundation
NuVasive Inc.
Stryker Corporation
Xtant Medical Holdings Inc.
Zimmer Biomet Holdings, Inc.
Key Benefits For Stakeholders
This report provides a detailed quantitative analysis of the current bone grafts and substitutes market trends and forecast estimations from 2020 to 2028, which assists to identify the prevailing market opportunities. 
An in-depth market analysis includes analysis of various regions, which is anticipated to provide a detailed understanding of the current trends to enable stakeholders formulate region-specific plans.
A comprehensive analysis of factors that drive and restrain the growth of the global is provided.
The projections in this report are made by analyzing the current trends and future bone grafts and substitutes market potential from 2021 to 2028, in terms of value.
An extensive analysis of various regions provides insights that are expected to allow companies to strategically plan their business moves.
Key market players within the bone grafts and substitutes market are profiled in this report and their strategies are analyzed thoroughly, which helps in understanding competitive outlook of the bone grafts & substitutes market.
Key Segments Covered in the Report
By Product
Allografts

Machined allografts
Demineralized bone matrix

Bone Grafts Substitutes

Bone morphogenic proteins (BMP) 
Synthetic bone grafts

Cell based matrices
By Application
Spinal fusion
Trauma 
Craniomaxillofacial 
Joint reconstruction
Dental bone grafting
By Region
North America
Europe

Germany
France
Italy
Spain
UK
Rest of Europe

Asia-Pacific

Japan
China
India
Australia
Rest of Asia-Pacific

LAMEA

Brazil
Israel
Saudi Arabia
South Africa
Rest of LAMEA