Bone Replacement Market Overview:
The global bone replacement market size was valued at $14,318.10 million in 2020, and is projected to reach $25,208.50 million by 2030, registering a CAGR of 5.90% from 2021 to 2030. Bone replacement products are essential to fill the gap or replace the entire section after an accident or after tumor removal, which includes the implants made from metal, ceramic, plastic, and combination of materials.
Furthermore, bone replacement products are widely used when bone grafting is not possible. Moreover, improved mobility, improved quality of life, and cost-effectiveness of bone replacement procedures are major advantages offered by bone replacement products as compared to non-operative treatments. Moreover, the need of bone replacement or reconstruction is increasing continuously, owing to rise in traumatic injuries and growth in geriatric population. As per NCBI, in 2018, it has been estimated that more than 200 million people are suffering from osteoporosis. According to recent statistics from the International Osteoporosis Foundation, worldwide, 1 in 3 women over the age of 50 years and 1 in 5 men will experience osteoporotic fractures in their lifetime. These statistics clearly showcase the growing need for bone replacement in the current scenario.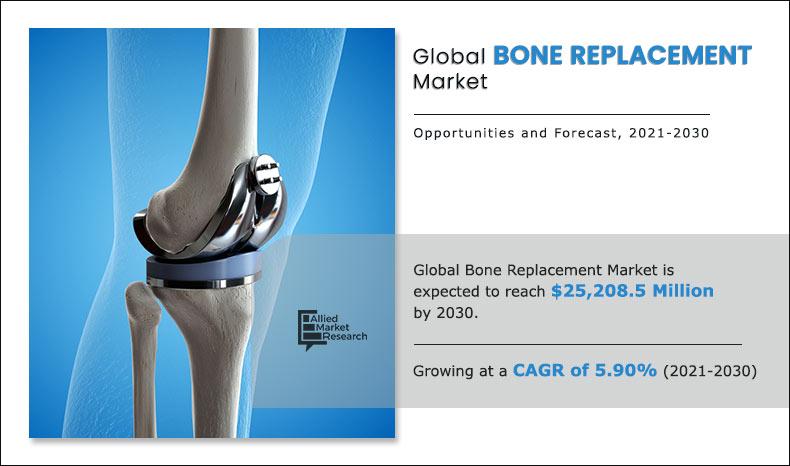 Rise in number of road accidents, growth in geriatric population, and technological advancements in bone graft devices drive the market growth. According to the Association for Safe International Road Travel, about 20 to 50 million people across the globe suffer from injuries such as fracture and bone dislocation annually. Thus, the growing rate of road accidents will escalate bone replacement business in the forthcoming years. However, high cost of bone replacement surgeries and ethical issues related to bone grafting procedures act as major restraints of the market. Presence of large patient pool and increase in medical needs provide lucrative opportunities for the growth of the market. Furthermore, as per WHO, the geriatric population in developing countries is projected to increase by 250% between 2010 and 2050 as compared to 71% in developed countries. This is expected to increase the patient population in these regions, thereby fueling the bone replacement market growth.
The outbreak disrupted and has forced several industries to halt their activities temporarily, including several subdomains of healthcare. Similarly, the bone replacement industry was impacted negatively. Major key players in the market were facing supply chain interruptions and the demand for products was significantly reduced. 
In 2020, hospitals and clinics experienced a notable decline in surgical procedural volumes worldwide as healthcare systems redirected their resources to meet the rise in requirements of COVID-19 patients. In addition, public health bodies across the world have suggested rescheduling or suspending elective surgeries throughout the pandemic phase. In addition, several orthopedic elective procedures, including spine, hip replacement, and knee replacement were halted. For instance, with the onset of pandemic, NHS hospitals in the UK postponed all non-urgent surgeries for three months in an attempt to free-up resources. Similarly, the American College of Surgeons and the U.S. federal government advised the hospitals and clinics to delay elective procedures within the country. This is expected to have a negative impact on the market growth. 
On the contrary, surgeons, patients, and medical societies are continuously assessing the risks of elective surgeries in the existence of infectious diseases, which is anticipated to have a positive impact on the demand for bone replacement products and the number of procedures performed in future.
Bone Replacement Market Segmentation  
The global bone replacement market is segmented on the basis of product type, material, age group, and region. Based on product type, the market is categorized into hip, knee, and extremities. The hip segment is further divided into fixed bearing implants, hybrid total hip implants, mobile bearing total hip implants, and total hip implant fixation (cemented or cementless). The knee segment is bifurcated into partial knee replacement (PKR) and total knee replacement (TKR). The extremities segment is classified into upper extremities (shoulder, elbow, hand & wrist replacement) and lower extremities (foot and ankle replacements). In terms of material, the market is divided into allografts, autografts, synthetic materials and bone morphogenic proteins (BMPs). By age group, it is classified into <45 years, 45-64 years, and 65+ years. Region-wise the market is studied across North America, Europe, Asia-Pacific, and LAMEA.
Bone Replacement Market

---
By Prodcut Type
Knee prodcut type segment holds a dominant position in 2020 and would continue to maintain the lead over the forecast period.
Segment Review
By product type, the knee segment will grow at immense pace during the forecast period, owing to increase in prevalence of arthritis coupled with rise in knee injuries. Additionally, growing geriatric population will further propel knee replacement surgeries, thus boosting the market growth.
Based on material, the allografts segment is anticipated to become the fastest-growing segment during the forecast duration. Currently, there is an increase in demand for allografts primarily due to their exclusive characteristics such as they help reduce pain, restore mobility, and may also help patients regain their normal functions. Allograft differs from autografts in a manner that these are derived from an individual other than the recipient of the graft. These can also be used as a substitute to autograft, as these exhibit higher osteoconductive properties.
Bone Replacement Market

---
By Material Type
Allografts segment is projected as one of the most lucrative segment.
Snapshot of North America Bone Replacement Market  
North America is projected to account for a major share of the global bone replacement market during the forecast period. The market in the region is anticipated to grow in future, owing to the presence of large portion of geriatric population. According to the U.S. Census Bureau, the U.S. has a huge population of around 47.8 million with people of age above 60 years and the number is projected to reach 98.2 million by 2060. Geriatric population is more prone toward bone disorders, leading to higher demand for bone replacement surgery, resulting in lucrative business growth opportunity in the future.
The key bone replacement market players profiled in the report include AK Medical Holdings Limited (AK Medical), B. Braun Melsungen, Colfax Corporatio, Exactech Inc., Johnson & Johnson (Depuy Synthes), Smith & Nephew Plc, Stryker Corporation, United Orthopedic Corporation, Waldemar Link GmbH & Co. Kg, and Zimmer Biomet Holdings, Inc.
Bone Replacement Market

---
By Region
Asia-Pacific region would exhibit the highest CAGR of 7.2 % during 2021-2030.
Key Benefits For Stakeholders
The study provides an in-depth analysis of the global bone replacement market along with the current trends and future estimations to elucidate the imminent investment pockets.
A comprehensive analysis of the factors that drive and restrict the bone replacement market growth is provided in the report.
Comprehensive quantitative analysis of the industry from 2020 to 2030 is provided to enable the stakeholders to capitalize on the prevailing bone replacement market opportunities.
Extensive analysis of the key segments of the industry helps understand the materials and products of bone replacement used across the globe.
Key market players and their strategies have been analyzed to understand the competitive outlook of the bone replacement market.
Key Market Segments
Product Type
Hip

Fixed Bearing Implants
Hybrid Total Hip Implants
Mobile Bearing Total Hip Implants
Total Hip Implant Fixation 

Knee

Total Knee Replacement
Partial Knee Replacement

Extremities

Upper Extremities 
Lower Extremities
By Material
Allografts
Autografts
Synthetic Materials
Bone Morphogenic Proteins (BMPs)
By Age Group
<45 Years
45-64 Years
65+ Years 
By Region
North America
Europe

Germany
France
UK
Italy
Spain
Rest of Europe

Asia-Pacific

Japan
China 
Australia
India
South Korea
Rest of Asia-Pacific

LAMEA

Brazil
Saudi Arabia
South Africa
Rest of LAMEA