Bottled Water Market Research, 2031
The global bottled water market was valued at $301.7 billion in 2021, and is projected to reach $515.3 billion by 2031, growing at a CAGR of 5.5% from 2022 to 2031.
The bottled water market has been positively impacted due to the pandemic outbreak owing to supply chain disruptions. Moreover, owing to the rising concerns regarding contamination among consumers followed by rising awareness of health and hygiene practices, demand for packaged water increased during COVID-19. The demand for packaged water is expected to witness higher growth during the upcoming years.
Bottled water is packaged drinking water that is purified and free from contamination. It is available in plastic and glass water bottles, and is the most convenient way for the body to fulfill its hydration needs, being easily available in nearby retail stores and supermarkets.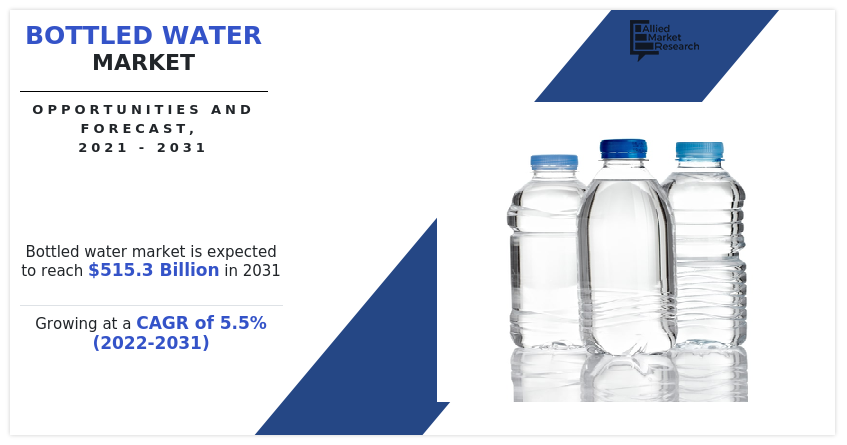 Increase in awareness about waterborne diseases, such as malaria, typhoid, diarrhea, food poisoning, and others have surge the demand for bottled water. Furthermore, increase in concern regarding various health-related issues, such as gastrointestinal diseases, neurological disorders, and reproductive problems surge the need for clean and hygienic bottled water. This may propel the growth of the bottled water market during the forecast period. Moreover, factors such as rise in urban population, increase in disposable income, improvement in standard of living, and emergence of eco-friendly materials for bottles are crucial factors responsible for the growth of the bottled water market.
However, increase in attempts to reduce the environmental pollution caused by the improper disposal of plastic water bottles is expected to hinder the market growth.
On the contrary, increase in demand for flavored bottled water owing to its fruit essence and artificial sweeteners contents surge the popularity of flavored bottled water among consumers. Moreover, they are also considered as a healthy alternative over normal sugary drinks. This is anticipated to increase the sales of flavored bottled water; thus creating remunerative opportunities for the market.
The bottled water market analysis is done on the basis of type and region. Depending on type, the market is divided into carbonated water, flavored water, still water, and functional water. Region-wise, the market is analyzed across North America, Europe, Asia-Pacific, and LAMEA.
The major companies profiled in this report include, Danone, Hangzhou Wahaha Group CO, Ltd., Icelandic Glacial, Nestlé, Niagara Bottling, LLC., Nongfu Spring., Norland International, PepsiCo, The Coca-Cola Company, and VOSS of Norway AS.
Bottled Water Market

---
By Region
Asia Paciic is the fastest growing region
Get more information on this report :
Request Sample Pages
The Asia-Pacific bottled water market size is projected to grow at the highest CAGR of 7.0% during the forecast period, and accounted for 27.0% of the bottled water market share in 2021. This is attributed to increase in demand for bottled water in countries, such as China, India, Japan, Australia, and others. China is the largest consumer of bottled water followed by countries, such as India and Japan. Furthermore, manufacturers across the globe find Asia-Pacific as an attractive market, owing to cheap labor cost, low cost of setting up manufacturing units, and low cost of bottled water. These factors drive the bottled water market in this region.
Bottled Water Market

---
By Product Type
Still bottled water is the most lucrative segment
Get more information on this report :
Request Sample Pages
In 2021, the still water segment accounted for the largest revenue share of 64.3% in 2021 and is projected to grow at a CAGR of 5.4% during the forecast period. This is attributed to the rapid shift toward healthy drinking practices where still water type bottled water is mostly preferred by consumers owing to its cheap rates. This factor is escalating the growth of this segment in the global market.
IMPACT OF COVID-19 ON GLOBAL BOTTLED WATER MARKET
The novel coronavirus COVID-19 is an incomparable global pandemic that has spread to over 180 countries and caused huge losses of lives and the economy around the globe.
The bottled water market has been positively impacted due to rising concerns related to hygiene.
In addition, several bottled water manufacturing companies have had to expand their operations due to fulfilling the rising demand, primarily in the developed nations. This has increased the production rate of bottled water.
However, more than 100 countries have locked their international borders for transportation and non-essential trade activities, which have faced reduction in the use of bottled water.
In 2020, bottled water prices were higher in Asia-Pacific. The price rise was due to continuous regional demand trends and tight product availability. Firm downstream demand for bottled water and stronger upstream costs are expected to sustain the price gain.
However, the lift of restrictions post-COVID-19 scenario may further enhance the performance of the bottled water market owing to the increase in demand for bottled water among food outlets and restaurants.
Furthermore, consumers are becoming more aware of health and hygiene practices, which in turn is expected to enhance the demand for bottled water post the COVID-19 pandemic.
Key Benefits For Stakeholders
This report provides a quantitative analysis of the market segments, current trends, estimations, and dynamics of the bottled water market analysis from 2021 to 2031 to identify the prevailing bottled water market opportunities.
The market research is offered along with information related to key drivers, restraints, and opportunities.
Porter's five forces analysis highlights the potency of buyers and suppliers to enable stakeholders make profit-oriented business decisions and strengthen their supplier-buyer network.
In-depth analysis of the bottled water market segmentation assists to determine the prevailing market opportunities.
Major countries in each region are mapped according to their revenue contribution to the global market.
Market player positioning facilitates benchmarking and provides a clear understanding of the present position of the market players.
The report includes the analysis of the regional as well as global bottled water market trends, key players, market segments, application areas, and market growth strategies.
 Bottled Water Market Report Highlights
Aspects
Details
Product Type

Flavored Bottled Water
Still Bottled Water
Carbonated Bottled Water
Functional Bottled Water

By Region

North America (U.S., Canada, Mexico)
Europe (Germany, United Kingdom, France, Spain, Italy, Rest of Europe)
Asia-Pacific (China, India, Japan, South Korea, Australia, Rest of Asia-Pacific)
LAMEA (Brazil, Saudi Arabia, South Africa, Rest of LAMEA)

Key Market Players
PepsiCo Inc., Nestle Waters, The Coca Cola Company, HANGZHOU WAHAHA GROUP CO., LTD., Danone, Icelandic Glacial Inc., Niagara Bottling, LLC, Nongfu Spring, Norland International, VOSS of Norway AS