Brain Monitoring Market Overview:
Brain monitoring devices are used to monitor and diagnose neurological conditions by exploring the structure and function of the brain. This process involves the use of several brain monitoring devices such as electroencephalography devices, intracranial pressure monitors, and magnetoencephalography to track brain functions. In addition, these devices help monitor neural and electrical activity in the brain. At present, there is an increase in the demand for electroencephalography devices among healthcare providers. The global brain monitoring market generated $3,850 million in 2017, and is projected to reach $6,595 million by 2025, growing at a CAGR of 6.9% from 2018 to 2025.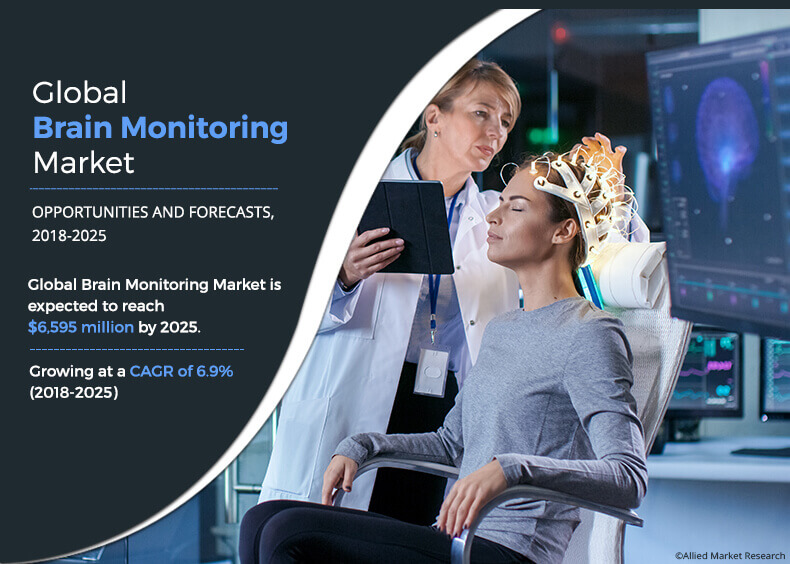 The global brain monitoring market is expected to register substantial growth in the near future, owing to the increase in the geriatric population and rise in prevalence of neurological disorders. In addition, technological advancements are expected to boost the market growth during the forecast period. However, stringent government regulations and unfavorable reimbursement policies are expected to hamper the market growth during the forecast period. Conversely, untapped markets in the developing countries is expected to offer remunerative opportunities for market players. The impact of the driving factors is expected to surpass that of the restraints.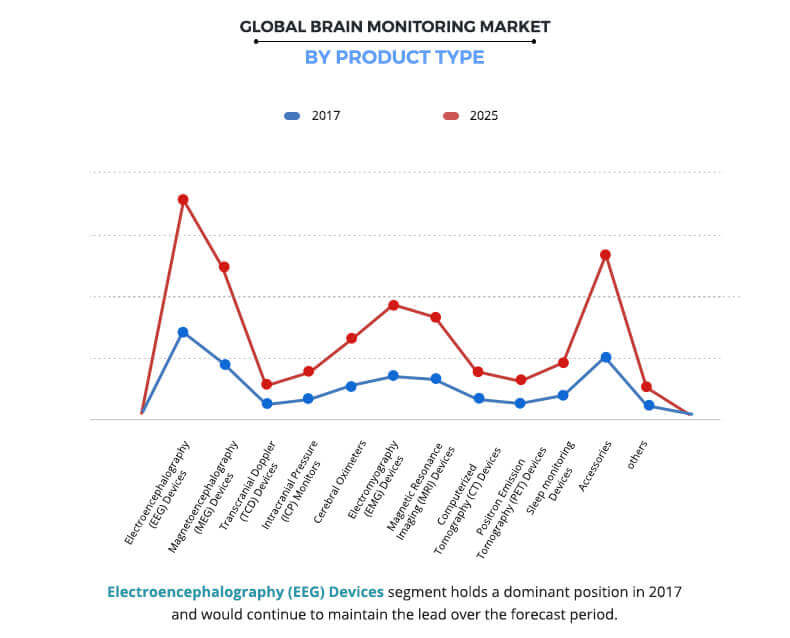 Product Type segment review
Based on product type, the market is segmented into electroencephalography (EEG) devices, magnetoencephalography (MEG) devices, transcranial Doppler (TCD) devices, intracranial pressure (ICP) monitors, cerebral oximeters, magnetic resonance imaging (MRI) devices, computerized tomography (CT) devices, positron emission tomography (PET) devices, sleep monitoring devices, electromyography (EMG) devices, and accessories. The accessories segment is further classified into electrodes, sensors, pastes & gels, caps, cables, batteries, and others.
The EEG segment was the major revenue contributor in 2017 and is anticipated to remain dominant during the forecast period, owing to the increase in demand for advanced imaging techniques and rise in investments by device manufacturers. Furthermore, surge in demand for diagnosis of critical disorders such as epilepsy has further influenced companies to focus on the development of brain monitoring EEG devices.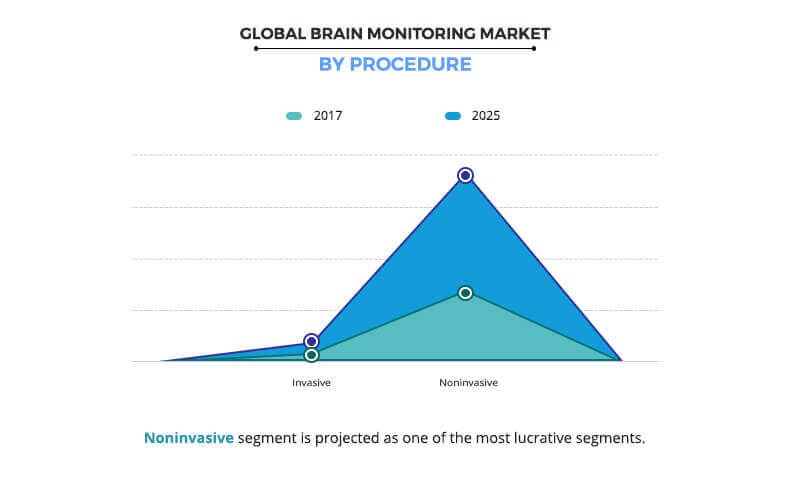 Procedure segment review
Depending on procedure, the market is categorized into invasive and non-invasive. The non-invasive segment is projected to show fastest growth during the forecast period, due to rise in incidences of traumatic brain injuries, high acceptance rate of minimally invasive devices, and low risk of mortality. This increases the demand for these products that propels the market growth.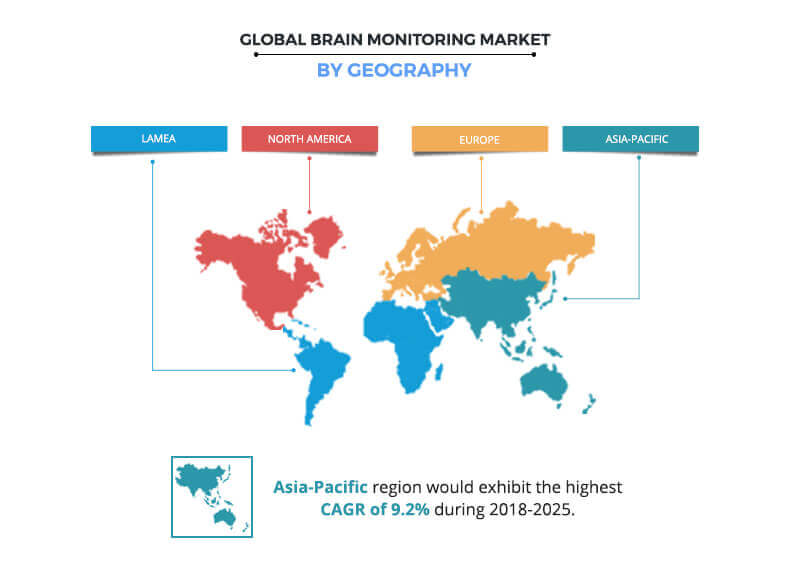 Region segment review
Based on region, the brain monitoring market is analyzed across North America, Europe, Asia-Pacific, and LAMEA. Asia-Pacific is expected to grow at the highest CAGR during the study period, as it offers lucrative opportunities for the market players, due to increase in number of geriatric population and people suffering from chronic diseases and rise in purchasing power of countries in the region.
The report provides a comprehensive analysis of the key players operating in the global brain monitoring market. These players include Advanced Brain Monitoring, Inc., CAS Medical Systems, Inc., Compumedics Ltd., General Electric Company (GE Healthcare), Koninklijke Philips N.V. (Philips Healthcare), Medtronic Plc., Natus Medical Incorporated, Neural Analytics, Inc., and Siemens AG.
The other players include Cadwell Laboratories, Neurosoft Limited, Elekta A.B., InfraSacn, Inc., and BrainScope Company, Inc., and others.
Key Benefits for Brain Monitoring Market:
This report provides a detailed quantitative analysis of the current market trends and future estimations from 2018 to 2025, which assists to identify the prevailing market opportunities.
An in-depth analysis of various regions is anticipated to provide a detailed understanding of the current trends to enable stakeholders formulate region-specific plans.
A comprehensive analysis of the factors that drive and restrain the growth of the global brain monitoring market is provided.
An extensive analysis of various regions provides insights that are expected to allow companies to strategically plan their business moves.
Brain Monitoring Key Market Segments:
Product Type
Electroencephalography (EEG) Devices
Magnetoencephalography (MEG) Devices
Transcranial Doppler (TCD) Devices
Intracranial Pressure (ICP) Monitors
Cerebral Oximeters
Magnetic Resonance Imaging (MRI) Devices
Computerized Tomography (CT) Devices
Positron Emission Tomography (PET) Devices
Sleep Monitoring Devices
Electromyography (EMG) Devices
Accessories

Electrodes
Sensors
Pastes and Gels
Caps
Cables
Batteries
Others
By Procedure
By Application
Epilepsy
Dementia
Parkinson's Disease
Huntington's Disease
Headache Disorders
Stroke
Traumatic Brain Injuries
Sleep Disorders
Other Diseases
By Region
North America
Europe

Germany
France
Spain
Italy
UK
Rest of Europe

Asia-Pacific

Australia
Japan
India
China
Rest of Asia-Pacific

LAMEA

Brazil
Saudi Arabia
South Africa
Rest of LAMEA
 Brain Monitoring Market Report Highlights
Aspects
Details
By PRODUCT TYPE

Electroencephalography devices (EEG)
Magnetoencephalography devices (MEG)
Transcranial Doppler devices (TCD)
Intracranial pressure monitors (ICP)
Cerebral oximeters
Electromyography devices
Magnetic resonance imaging devices (MRI)
Computerized tomography devices (CT)
Positron emission tomography devices (PET)
Sleep monitoring devices
Accessories

Electrodes
Sensors
Paste & Gels
Caps
Cables
Batteries
Others

Other brain monitoring devices

By PROCEDURE
By APPLICATION

Epilepsy
Dementia
Parkinson's Disease
Huntington's Disease
Headache Disorders
Stroke
Traumatic Brain Injuries
Sleep Disorders
Other Diseases

By Region

North America (U.S., Canada, Mexico)
Europe (France, Germany, Italy, Spain, UK, Russia, Rest of Europe)
Asia-Pacific (China, Japan, India, South Korea, Australia, Thailand, Malaysia, Indonesia, Rest of Asia-Pacific)
LAMEA (Brazil, South Africa, Saudi Arabia, UAE, Argentina, Rest of LAMEA)

Key Market Players
SIEMENS AG, GENERAL ELECTRIC COMPANY (GE HEALTHCARE), CAS MEDICAL SYSTEMS, INC., KONINKLIJKE PHILIPS N.V. (PHILIPS HEALTHCARE), NATUS MEDICAL INCORPORATED, MEDTRONIC PLC., COMPUMEDICS LTD., ADVANCED BRAIN MONITORING, INC., NEURAL ANALYTICS, INC., NIHON KOHDEN CORPORATION