Brazil And Mexico Oleochemicals Market Overview:
The Brazil and Mexico oleochemicals market was valued at $521.2 million in 2017, and is projected to reach $782.3 million by 2025, growing at a CAGR of 5.2% from 2018 to 2025.
Oleochemicals are majorly derived from natural raw materials based on plant sources or animal fat. Activated carbon is often used to purify, decolorize, and deodorize the fatty acids and derived chemicals. Oleochemicals are biodegradable and exhibit low toxicity, and thus are environment-friendly. These products are viewed as natural, green, organic, safe, renewable, and biodegradable by the scientists and consumers. A wide variety of food and beverages are composed of oleochemicals. Salad and cooking oils, salad dressings, margarines, deep frying oils, chocolate fats, fats for infant nutrition, and vegetable fats for dairy products are some of the widely available products that are based completely on fats and oils. Furthermore,     the major application of oleochemicals has been making soaps and detergents. Lauric acid, which is used to produce sodium lauryl sulfate and compounds, is utilized to make soaps and detergents.
The major driving factor that is responsible for the growth of the Brazil and Mexico oleochemicals market is increase in demand for biodegradable products and sustainable solutions. Furthermore, government regulations for the use of environmental-friendly products and replacement of petroleum-based products by oleochemicals have fueled the market growth. However, volatile prices for important oil and fats have hindered the market growth. On the contrary, emerging applications of oleochemicals, such as the use of biopolymers and bio-lubricants, is expected to make future opportunities for the market growth.
The Brazil and Mexico oleochemicals market is segmented based on type and application. On the basis of type, Brazil and Mexico oleochemicals market is divided into fatty acid, fatty alcohol, glycerol, and others. By application, it is categorized into pharmaceutical, personal care & cosmetics, food & beverage, home care (soap & detergent), animal feed, and others.
The companies profiled in this report are IOI Group, BRAIDO, EMERY OLEOCHEMICALS, Musim Mas Holdings Pte. Ltd, Baerlocher GmbH, CREMER OLEO GmbH & Co. KG, MATERIA HNOS S.A.C.I.F, Wilmar International Ltd, QUIMIC, and Godrej.
Brazil and Mexico oleochemicals market, by type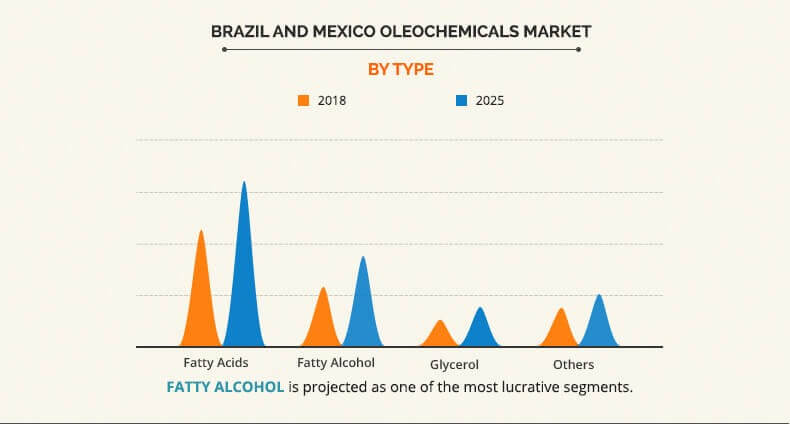 The fatty alcohol segment is projected to be the most lucrative segment, owing to increase in consumption of fatty alcohols in surfactant-based industries, such as cosmetics, soaps, detergents, and personal care products. In addition, pure & midcut fatty alcohols have been increasingly used in Mexico and Brazil to manufacture sodium laureth sulfate (SLS), linear alkylbenzene sulfonate (LAS), and sodium lauryl ether sulfate (SLES), which are the key ingredients in various personal care products, such as lotions, shampoos, dishwashing liquids, and others.
Brazil and Mexico oleochemicals market, by application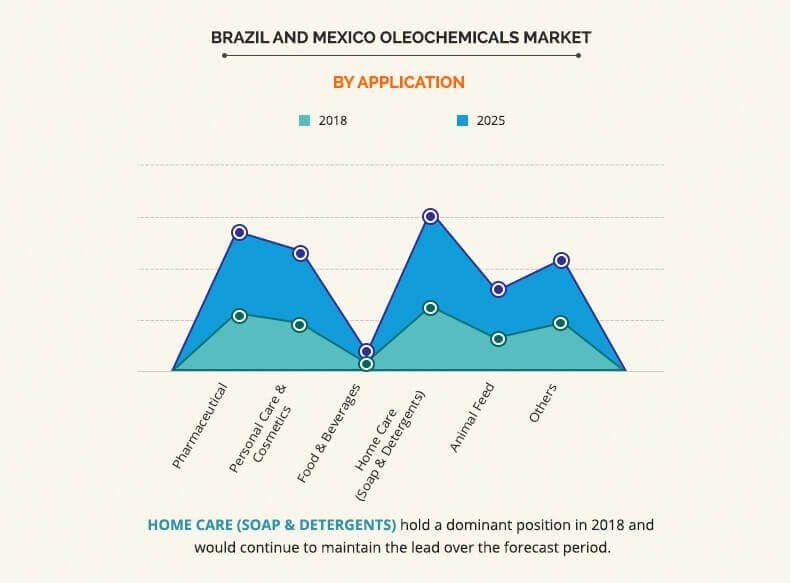 The home care (soap & detergent) segment by application holds a dominant position during the forecast period, owing to development of the textile industry, and rise in penetration of washing machines is expected to fuel the demand for soaps and detergents in Brazil and Mexico. Furthermore, rise in healthcare awareness boosts the demand for soaps and detergents, as essential sanitizing products. As a result, the demand for oleochemicals is predicted to increase, thereby supplementing the growth of the market.
Key Benefits
This report provides an extensive analysis of the current and emerging market trends and dynamics of the Brazil and Mexico oleochemicals market.
An in-depth analysis of Brazil and Mexico is conducted by constructing the market estimations for key segments between 2017 and 2025 to identify the prevailing opportunities.
The report assists to understand the strategies adopted by the companies for market expansion.
This study evaluates the competitive landscape to understand the market scenario across various regions.
An extensive analysis is conducted by following key player positioning and monitoring the top competitors within the market framework.
Brazil And Mexico Oleochemicals Market Key Segments:
By type
Fatty acid
Fatty alcohol
Glycerol
Others
By application
Pharmaceutical
Personal care & cosmetics
Food & beverages
Home care (soap & detergent)
Animal feed
Others
By Country