Brazil Dental CAD/CAM Materials & Systems Market Overview:
The Brazilian Dental CAD/CAM Materials & Systems Market was valued at $30 million in 2016, and is expected to reach $65 million by 2023, growing at a CAGR of 11.5% from 2017 to 2023. Computer-aided design/computer-aided manufacturing (CAD/CAM) technology is employed for manufacture and design of a range of products, dental prosthetics being one of them. In dentistry, CAD/CAM is used to manufacture dental restorations such as crowns, crown lays, veneers, inlays & onlays, fixed bridges, dental implant restorations, dentures, orthodontics, and even full-mouth reconstruction. The use of this in dentistry is on a continuous rise as it ensures sufficient strength of restorations, maintains natural appearance, and increases the accuracy and speed of creating tooth restorations.
The growth of the Brazilian dental CAD/CAM materials & systems market is driven by factors such as rise in incidence of teeth loss, increase in edentulous population, due to rise in geriatric population, oral diseases, and other risk factors that lead to tooth loss. In addition, technological advancements in dental CAD/CAM technology, growth in awareness for dental care, and increase in geriatric population in Brazil stimulate the growth of the dental CAD/CAM materials & systems market in Brazil. However, high cost of devices and low reimbursements are expected to hamper this market growth. Upsurge in demand for dental cosmetic surgeries in Brazil is expected to provide numerous opportunities for market expansion during the forecast period.
Top Impacting Factors: Brazil Dental CAD/CAM Materials & Systems Market Segmentation

Top Investment Pockets
The Brazilian dental CAD/CAM materials & systems market is segmented based on material into glass ceramics, alumina-based ceramics, lithium disilicate, zirconia, and other materials. The glass ceramics, lithium disilicate, and zirconia segments are lucrative areas of investment in this market. Zirconia has high flexural strength (comparable with metals) and excellent biocompatibility. Therefore, zirconia is a potential investment area in the Brazilian dental CAD/CAM market.
Top Investment Pockets in Brazil Dental CAD/CAM Materials & Systems Market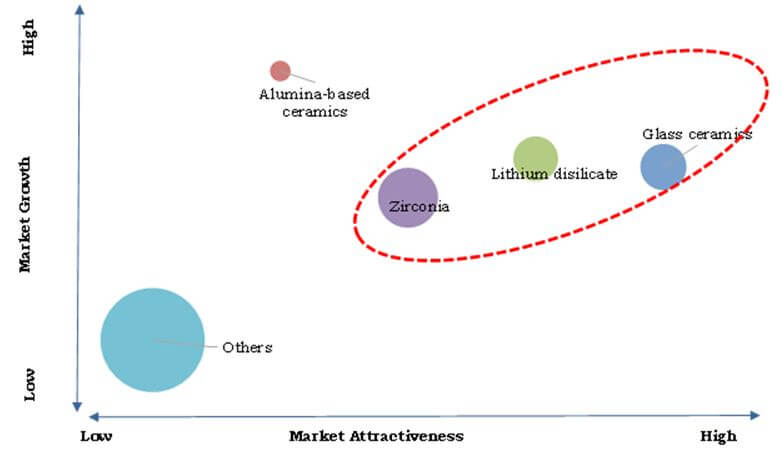 Top Winning Strategies
The key players in the market have focused on development and launch of new and innovative products in Brazil to complement their dental CAD/CAM offerings in the country. In addition, the major players have focused on acquisitions, and agreements to enhance their presence in Brazil.
Top Winning Strategies (Nature & Type) in Brazil Dental CAD/CAM Materials & Systems Market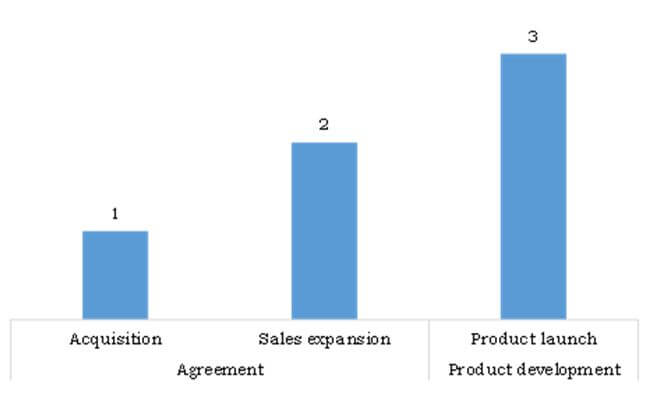 The list of key players profiled in this report include 3M Company, Amann Girrbach AG, Danaher Corporation, Dental Wings Inc., Dentsply Sirona Inc., Institut Straumann AG, Ivoclar Vivadent AG, PLANMECA OY, Zimmer Biomet Holdings, Inc., and ZIRKONZAHN GMBH.
Other key players in the value chain include ALIGN TECHNOLOGY, INC., 3Shape A/S, Carestream Dental LLC, and SHINING 3D TECH.
Key Benefits:
The study provides an in-depth analysis of the market with current trends and future estimations to elucidate the imminent investment pockets.
It offers a quantitative analysis from 2016 to 2023, which is expected to enable the stakeholders to capitalize on prevailing market opportunities.
Product and material segmentation analysis helps in understanding the various types of devices and materials used to manufacture CAD/CAM restorations.
Key players are profiled and their strategies are analyzed thoroughly, which helps in understanding competitive outlook of the market.
 Brazil Dental CAD/CAM Materials & Systems Market Report Highlights
Aspects
Details
By Product

Dental CAD/CAM Materials

Glass Ceramics
Alumina-based Ceramics
Lithium Di-silicate
Zirconia
Others

CAD/CAM Systems

Key Market Players
3M COMPANY, AMANN GIRRBACH AG, DANAHER CORPORATION, DENTAL WINGS INC., DENTSPLY SIRONA INC., INSTITUT STRAUMANN AG, IVOCLAR VIVADENT AG, PLANMECA OY, ZIMMER BIOMET HOLDINGS, INC., ZIRKONZAHN GMBH