The bread maker market was valued at $426.1 million in 2019, and is projected to reach $817.4 million by 2027, growing at a CAGR of 7.4% from 2021 to 2027.
Bread makers are small electrical equipment used to make variety of breads using raw materials. They are commonly used by families for household use and by some small food service operators to bake their own loaves.Household users use these bread makers to avoid going out to buy bakery items, while food service operators use them to give fresh breads to their customers.
The global bread maker market is witnessing significant growth, owing to development of the global electronic industry and growth in digitalization. In addition, rise in dual working families and increase in number of working women are some of the major factors that drive demand for bread makers.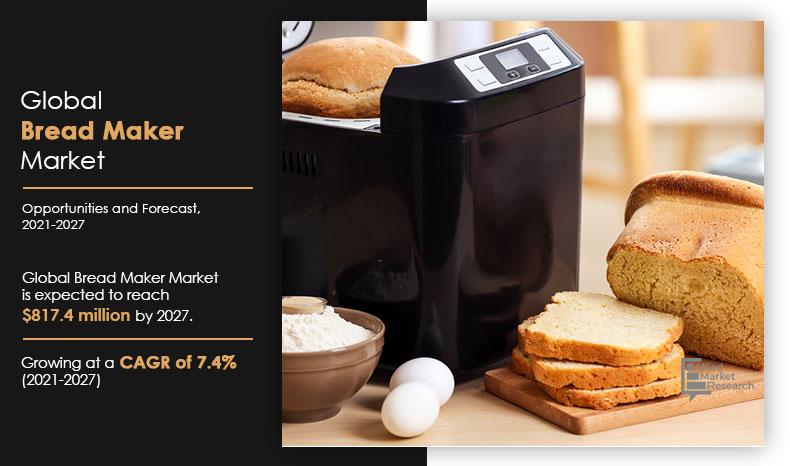 Increase in consumer preference toward fully automatic bread makers has been witnessed, owing to ease of connection and simple design compared to conventional semi-automatic bread makers. Further, surge in disposable income and improvement in living standards supplementsthe growth of bread maker industry. Increase in disposable income leads to high standards of living. Moreover, rise in demand for home baked products and increase in working population boost the market growth. In addition, demand forbread makers is also expected to rise due to arrival of various latest technologies such as smart functioning and multi program features in bread makers. Customers are looking for addition of smart technologies and easilyoperative facilities in bread makers, which is expected todrive growth of the bread maker market and provide lucrative bread maker market opportunities.
All smart and AI powered bread makersare more expensive than conventional products. They alsoincrease inventory cost of products to meet needsof more smart features and AI enabled machines; this increases overall cost of production as well as cost of products.
Bread Maker Market

---
By Producty Type
Horizontal loaf segment is expected to dominate the market throughout the forecast period.
Countries in Asia-Pacific and LAMEA have witnessed substantial economic growth over past few years. This has increased number of working people; thereby,increasing demand for small kitchen appliances by working parents.
The global bread maker market forecast is based on the segmentation done on the basis of product type,application, distribution channel, and region. Dependingon product type, the market is categorized into horizontal loaf and vertical loaf. Among these, the vertical loaf segment accounted for a higher value share in 2019, owing to surge in demand for vertical loaves from customers.On the basis of application, the market is divided into food service and household.The household segment accounted for a higher value share in 2019, owing to the rise in demand for bread makers from families for household applications. On the basis of distribution channel, the bread makers market is categorized into specialty stores, supermarkets/hypermarkets, E-commerce, and others. The supermarkets/hypermarkets segment witnessed highest revenue of the bread makers market in 2019, owing to rise in number of supermarkets in both urban and rural areas worldwide. Moreover, availability of different types of kitchen equipment in these stores is the major factor thatboosts growth of bread makers through hypermarkets and supermarkets.
Bread Maker Market

---
By Application
Food Service segment is expected to grow at a highest CAGR of 8.6% during the forecast period.
North America and Europe are known to be the dominant regions in the bread maker market share. North America has witnessed higher rate of traction for different types of automatic bread makers, owing to their increased demand from busy parents. Some of the key macroeconomic factors such as rise in internet penetration rate and surge in per-capita income also play an important role in contributing toward overall bread maker market growth.
However, Asia-Pacific is expected to exhibit significant growth in the future, owing to rise in demand for different types of bread makers from customers. In addition, the region has witnessed considerable surge in number of millennials, who are the forefront customers of advanced technological gadgets and digital systems. Therefore, rise in millennial population is anticipated to offer remunerative opportunities for the market bread maker marketanalysis and growth.
Bread Maker Market

---
By Distribution Channel
E-Commerce segment is expected to grow at a highest CAGR of 10.8% during the forecast period.
The key players profiled in the report include Breville Group Ltd., Koninklijke Philips N.V., Newell Brands Inc., Panasonic Corp., Siroca Inc., Spectrum Brands Holdings Inc., Stanley Black & Decker Inc., Zojirushi Corp,Sana Products s.r.l., and Cuisinart.
Bread Maker Market

---
By Region
North America dominates the market in 2019 and is expected to grow with a CAGR of 5.9% during the forecast period
Covid-19 Impact On The Bread Maker Industry
With sudden outbreak of the COVID-19 pandemic, majority of countries have imposed lockdowns and curfews, which has highly impacted lifestyles, health & wellbeing, and sports and outdoor activities, thereby affecting growth of the bread maker industry to some extent.  Any delay in resumption of normal life would impact sales of products such as air conditioners, refrigerators, TVs, and other large appliances. Some of the impacts caused by the COVID-19 pandemic on the industry are as follows:
Although the pandemic had a significant negative impact on sales due to retail shutdowns, increase in focus on at-home experiences drove sales recovery in May and June. 
Sales of appliances were mainly driven in these months by the enforced need to eat at home, clean at home, and groom at home. 
The appliances that experienced growth in demand include microwave ovens, bread makers, dishwashers, vacuum cleaners, beard trimmers, and multi-grooming kits. 
The need of small and large appliances have impacted the overall trends regarding choice of consumers in COVID-19 pandemic for performance; simplification, health hygiene, and borderless shopping positively.
Key Benefits For Stakeholders
The report provides an extensive analysis of the current and emerging bread maker market trends and opportunities in the bread maker market.
The report provides detailed qualitative and quantitative analysis of current trends and future estimations that help evaluate the prevailing market opportunities.
A comprehensive analysis of the factors that drive and restrict the growth of the market is provided.
An extensive analysis of the bread maker market size is conducted by following key product positioning and monitoring the top competitors within the market framework.
The report provides extensive qualitative insights on the potential segments or regions exhibiting favorable growth.
 Bread Maker Market Report Highlights
Aspects
Details
By Product Type

HORIZONTAL LOAF
VERTICAL LOAF

By Application
By Distribution Channel

SPECIALTY STORES
SUPERMARKETS/HYPERMARKETS
E-COMMERCE
OTHERS

By Region

NORTH AMERICA (US, CANADA, MAXICO)
EUROPE (FRANCE, ITALY, GERMANY, UK, SPAIN, REST OF EUROPE)
ASIA-PACIFIC (CHINA, INDIA, JAPAN, AUSTRALIA, REST OF ASIA-PACIFIC)
LAMEA (BRAZIL, SOUTH AFRICA, ARGENTINA, REST OF LAMEA)

Key Market Players
BREVILLE GROUP LTD., KONINKLIJKE PHILIPS N.V., NEWELL BRANDS INC., PANASONIC CORP., SIROCA INC., SPECTRUM BRANDS HOLDINGS INC., SAMSUNG ELECTRONICS CO. LTD., SONY CORPORATION, CUISINART, SANA PRODUCTS S.R.L.