Breast Biopsy Market Research, 2030
The global breast biopsy market was valued at $658.17 million in 2020, and is projected to reach $1,082.44 million by 2030, growing at a CAGR of 5.1% from 2021 to 2030.Breast biopsies are most typically used to diagnose breast cancer, although they can also be used to check for other diseases that are discovered through a physical examination. The Breast Biopsy market may be segmented using a variety of approaches.Breast biopsies are commonly done with fine needle aspiration biopsy, which is one of the least invasive procedures available and leaves no scarring. A needle is introduced through the dermal tissue of the breast to remove tissue. The other method involves using ultrasound radiation to guide the biopsy, which is also known as stereotactic needle biopsy in conjunction with a mammogram. During this treatment, the ultrasound monitor guides the needle to the target spot in the breast. Stereotactic mammography uses images acquired from various angles to pinpoint the site of the breast tumor, as well as where the needle will be put to get a breast biopsy sample.
Breast biopsy is a diagnostic process that is used to see if a small sample of breast tissue removed is malignant or not. It is thought to be one of the most effective ways for cancer detection. About 70-80 percent of biopsies are determined to be cancer-free, although they may reveal characteristics that predispose to mammary carcinoma. When a person experiences symptoms such as a breast lump, sore breast, breast dimpling, peeling of the breast, and nipple discharge, a breast biopsy is indicated. Invasive surgical procedures for breast biopsy have been found to be ineffective since they are uncomfortable and subject the patient to the psychological burden of false positive referrals.
The impact of COVID-19 on the breast biopsy market was fairly negative in the starting of 2021 due to worldwide lockdowns which lead to drop in number of breast cancer checkups.
The World Health Organization (WHO) on January 30, 2020 declared COVID-19 flare-up a general wellbeing crisis of international concern. Coronavirus has impacted around 210 countries across the globe. Owing to the COVID-19 pandemic, state run administrations across the globe declared inescapable lockdowns as well as friendly distancing measures to forestall breakdown of the healthcare structure. States have additionally given constraints and preventions on undertaking and elective surgeries. These obstructions continue to influence the growth of different industries, and the quick effect of the episode changes starting with one industry then onto the following. The scattering, production, and store network have been impacted due to lockdowns across the globe.
The pandemic of COVID-19 has a detrimental impact on market growth. The pandemic had a number of negative consequences for breast cancer biopsy services. Owing to lockdowns in several nations to prevent the spread of COVID-19, hospitals, clinics, and diagnostic facilities were unable to deliver biopsy services. The repercussions of delayed cancer detection owing to COVID-19 were investigated in a study undertaken in the UK and published in The Lancet Oncology in March 2021. The study looked at data from over 100,000 people with breast, colorectal, esophageal, or lung cancer. Owing to the lack of availability to screening services, the study found that 1- and 5-year cancer survival rates are anticipated to be severely reduced as a result of the pandemic
The factors that contribute to the breast biopsy market growth are increased sensitivity of women to mammary cancer in all countries, as well as awareness campaigns and screenings done in their favor. The biopsy market growth market has benefited from the broad and intensive research environment, which has contributed in the development of more accurate and minimally invasive procedures for early identification of mammary cancer. Governments have also tried to create a stable and comprehensive environment for cancer research, which has aided the development of these diagnostic technologies. In addition, advantageous reimbursements have significantly enhanced the health of this sector. The incidence of adverse effects and infections after the biopsy impedes the growth of these diagnostic instruments.
The breast biopsy market is segmented on the basis of product, image guided technology, end user, and region. On the basis of product, it is categorized into vacuum-assisted biopsy (VAB), core needle biopsy (CNB), and fine needle aspiration biopsy (FNAB). By image guided technology, it is classified into MRI-guided biopsy, ultrasound guided biopsy, mammography guided stereotactic biopsy, CT-guided biopsy, and others. On the basis of end user, it is bifurcated into clinic diagnostic centers and hospitals. By region, it is analyzed across North America (U.S., Canada, and Mexico), Europe (Germany, France, UK, Italy, Germany, Russia, Spain, and rest of Europe), Asia-Pacific (Japan, China, India, Australia, Singapore, Philippines, and rest of Asia-Pacific), and LAMEA (Brazil, Turkey, Israel, Saudi Arabia, South Africa, and rest of LAMEA)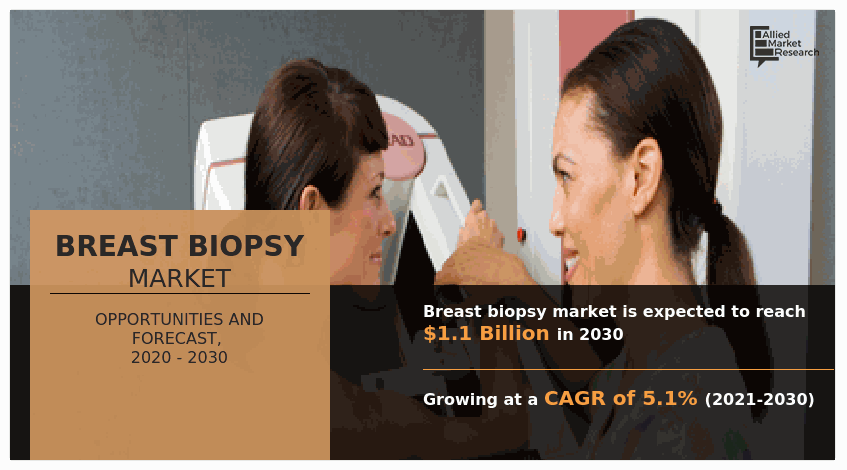 Get more information on this report : Request Sample Pages
On the basis of product, the market is divided into biopsy needles, guidance systems, biopsy tables, localization wires, assay kits, liquid biopsy instruments, and others. By type, the market segments include needle breast biopsy (core needle biopsy (CNB), fine-needle aspiration biopsy (FNAB), and vacuum-assisted biopsy (VAB). Under product type segment, core biopsy is acquired the largest breast biopsy market size and is also the fastest growing segment, as with core biopsy, a larger tissue sample can be obtained that is regarded to draw better architectural information regarding the cancerous presence.
Breast Biopsy Market

---

By Product
Core biopsy is regarded as the largest and fastest growing segment
On the basis of image guided technology, the market is fragmented into ultrasound-guided biopsy, MRI-guided biopsy, mammography guided stereotactic biopsy, CT-guided biopsy, and other image guided breast biopsy. In addition, breast biopsy has application across early cancer screening, therapy selection, treatment monitoring, and recurrence monitoring. Among all reliable techniques provided under the image guided technology segment, the ultrasound guided breast biopsy segment acquired the largest breast biopsy market size and is also the fastest growing segment, as it is a faster method than MRI & liquid biopsy and avoids need for ionizing radiation exposure and helps in better & reliable determination of tissue samples that can denote whether the lump is benign or malignant.
Breast Biopsy Market

---
By Image Guided Technology
Ultrasound Guided Breast Biopsy

segment is regarded to be the largest and fastest growing segment
By end user, hospitals & clinics was the largest segment in 2020 due to the rise in number of breast cancer checkups in these acilities. Furthermore, other factors that contributed to the growth of the market were presence of highly skilled satff in these facilties which are technical experts in the treatment and daignosis of breast cancer. 
Breast Biopsy Market

---
By End User
Hospitls & Clincs segment acquired the largest share in 2020
In 2020, North America held the major share (%) in terms of revenue in the global breast biopsy market, and the region is also projected to maintain its dominance over the forecast period from 2021 to 2027. The major economies of the region including the U.S. and Canada are the major revenue contributors to the regional market value. The region has a potential medical tourism market, which supports the dominating regional market value.
Furthermore, Asia Pacific is anticipated to experience the fastest growth over the forecast period from 2021 to 2027. The rapidly developing economies of the region have invested in infrastructural development in the healthcare sector that propels the market growth.
Breast Biopsy Market

---

By Region
North America held the major share in terms of revenue
The list of key players included in the report include Becton, Dickinson & company, Hologic, Inc., Cell-Signalling Technology, Danaher, QIAGEN, Illumina, Fujifilm, Medtronic, Bio-rad and Thermo Fisher Scientific Corp
The other players in the value chain include Zenalux Biomedical, Inc., F. Hoffmann-La Roche Ltd., OncoCyte Corporation, Laboratory Corporation of America Holdings (Labcorp), Scion Medical Technologies, Planmed Oy, Aurora Imaging Technology Inc., Carestream Health, Cardinal Health, and PerkinElmer.
Key Benefits For Stakeholders
This report provides a quantitative analysis of the market segments, current trends, estimations, and dynamics of the breast biopsy market analysis from 2020 to 2030 to identify the prevailing breast biopsy market opportunities.
The breast biopsy market forecast is studied for years 202 to 2030. 
The market research is offered along with information related to key drivers, restraints, and opportunities.
Porter's five forces analysis highlights the potency of buyers and suppliers to enable stakeholders make profit-oriented business decisions and strengthen their supplier-buyer network.
In-depth analysis of the breast biopsy industry segmentation assists to determine the prevailing market opportunities.
Major countries in each region are mapped according to their revenue contribution to the global market.
Market player positioning facilitates benchmarking and provides a clear understanding of the present position of the market players.
The report includes the analysis of the regional as well as global breast biopsy market trends, key players, market segments, application areas, and market growth strategies.
 Key Market Segments
By Product

Vacuum Assisted Biopsy
Core Needle Biopsy
Fine Needle Aspiration Biopsy

By Image Guided Technology

Mri Guided Breast Biopsy
Ultrasound Guided Breast Biopsy
Mammography Guided Stereotactic Biopsy
Ct Guided Biopsy
Other Image Guided Breast Biopsy

By End User

Hospitals And Clinics
Diagnostic Centers

By Region

Europe

Germany
U.K.
Italy
France
Spain
Rest of Europe

Asia-Pacific

Japan
China
Australia
India
South Korea
Rest of Asia-Pacific

North America
LAMEA

Brazil
Saudi Arabia
South Africa
Rest of LAMEA
 
Key Market Players
Ethicon Endo Surgery
Intact Medical Corporation
Galini SRL
Hologic Inc.
Leica Biosystems Nussloch GmbH
C. R. Bard, Inc.
Becton and Dickinson Company
Argon Medical Devices
Cook Medical Incorporated
Encapsule medical Devices LLC.