The global bristle brush market size was valued at $24.4 billion in 2020, and is projected reach $41.4 billion by 2030, registering a CAGR of 5.4% from 2021 to 2030. The synthetic segment led in terms of bristle brush market share in 2020 and is expected to retain its dominance throughout the forecast period.
A bristle brush is a type of brush that is made of an arrangement of short spiky bristles made from nylon, plastic, or fur from animals like boars, squirrels, minks, and more. Bristle brushes utilized for personal use like hair brushes, beard brushes, and makeup brushes have softer bristles so that the skin of the person using these brushes is protected and safe. The same is the case for brushes used for grooming animals however, these brushes can have an increased number of bristles or thicker bristles to better groom the animals thick fur. Home care and other use brushes generally have harder bristles as they are used for scrubbing floors and surfaces, and to remove tough stains from utensils in case of dish washing brushes. Synthetic bristle brushes are widely accepted across all regions due to easy availability through multiple channels.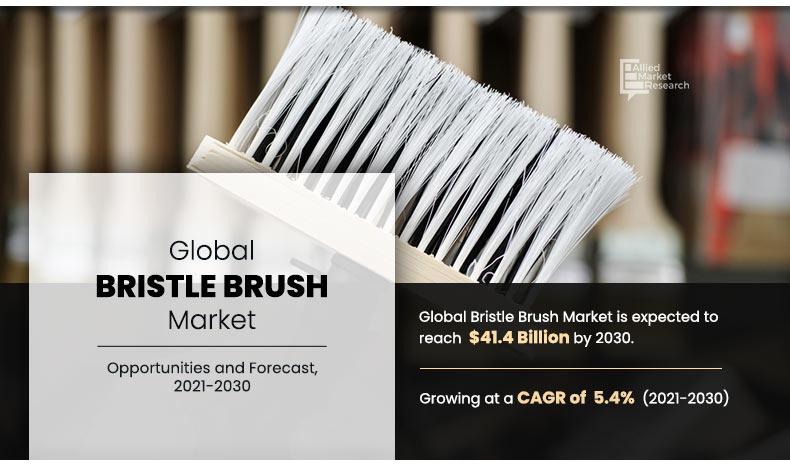 Bristle brush are now being extensively used in our day to day lives. Ranging from personal care products such as tooth brush, hair brush to other utilities such as shoe brush, kitchen brush, lavatory brush, etc. New innovations in personal care products have provided impetus to the growing market. Introduction of hybrid electric brush straighteners that straighten the hair while brushing with the use of heating elements have gained traction in the market. On the similar lines brushes with gyro motors have also been made that massage the head and scalp while brushing is now trending especially amongst millennial population.
Innovations like wireless hair straightening brush, wireless hair curling, wireless head massaging brush etc., are likely to provide growth impetus as well as opportunities for expansion to the bristle brush industry in the coming years.
Segment review
The global bristle brush market is segmented on the basis of nature, application, sales channel, and region. Based on nature, the global market is bifurcated into synthetic and natural bristles. By application the market is segmented into personal care, home care, pet care, and others. Based on sales channel the global market is studied across supermarket/hypermarket, convenience/brand stores, specialty stores, and online channels. The global market is also studied across North America, Europe, Asia-Pacific, and LAMEA.
By nature, the market is divided into natural and synthetic. Synthetic bristle brushes are the most popular type of bristle brushes. The demand for natural brushes is affected by the concerns regarding the sourcing of animal fur and bristles, as a result the synthetic segment is likely to grow with highest CAGR during the forecast period.
Depending on application, the bristle brush market is divided into personal care, pet care, home care, and others. Home care leads in terms of market share, closely followed by personal care segment. Home care segment is poised to grow with highest CGR during the forecast period owing to novel innovations across the regions.
Depending on the sales channel, the global market is further segmented into supermarket/hypermarket, convenience stores, specialty stores, and online channels. Supermarkets/Hypermarket is the most preferable mode of purchase for bristle bushes, however, the online channel is expected to grow with highest CAGR during the forecast period owing to high convenience deliver to door services and availability of large number of options to choose from.
The report focuses on the bristle brush market growth prospects, restraints, and opportunities of the global market. The study provides Porter's five forces analysis to understand the impact of various factors such as competitive intensity of competitors, bargaining power of suppliers, threat of substitutes, threat of new entrants, and bargaining power of buyers operating in the market.
Some of the major players profiled for in the bristle brush market analysis include Ancol Pet Product Limited, Colgate Palmolive Company, Ghd, Koninklijke Philips N.V., L'Oréal S.A., Panasonic Corporation, PetEdge, Revlon, Inc., The Procter & Gamble Company, and VEGA. Other prominent players analyzed in the report are Global Bristles Manufacturing, Cocker-Weber Brush Company, Hongda Animal By-Products, Baoding Yongtaishing Bristle & Brush, Gordon Brush, Zhili Bristle, Liberty Industries, and Atlantic Equipment.
Covid-19 Impact Analysis
The global bristle brush market was not significantly impacted by the covid-19 pandemic. 
Bristle brush remains essential items used for personal care, home care and pet care. 
However, first few months witness supply chain disruptions for the manufacturers that significantly dependent on China for raw material sourcing. 
New technologies are being leveraged by engaged stakeholders such as artificial intelligence, Internet of Things, 5G, robotics, digital supply networks to strengthen supply chains.
Key Benefits For Stakeholders
The report provides an extensive analysis of the current and emerging bristle brush market trends and opportunities.
The report provides detailed qualitative and quantitative analysis of the current trends and future estimations that help evaluate the prevailing bristle brush market opportunities in the market.
The bristle brush market forecast is offered along with information related to key drivers, restraints, and opportunities.
The market analysis is conducted by following key product positioning and monitoring the top competitors within the market framework.
The report provides extensive qualitative insights on the potential and niche segments or regions exhibiting favorable growth.
Bristle Brush Market Segments
By Nature
By Material
Personal Care
Pet care
Home care
Others
By Sales Channel
Supermarket/Hypermarket
Convenience/Brand stores
Specialty stores
Online channels
By Region
North America
Europe

UK
Germany
France
Italy
Spain
Rest of Europe

Asia-Pacific

China
Japan
India
Australia
South Korea
Rest of Asia-Pacific

LAMEA

Brazil
Argentina
Saudi Arabia
United Arab Emirates
South Africa
Rest of LAMEA