The global brow gel market size was valued at $264.9 million in 2021 and is estimated to reach $431.7 million by 2031, registering a CAGR of 5.2% from 2022 to 2031.
Brow gel is a color cosmetic product that helps to enhance appearance of eye brows. Brow gels have become one of the most essential cosmetic products as brow gel helps in concocting of eye brows. Brow gels help to change color of eye brows and also help to give them different shapes, eye brow gels helps to darken eye brows and exaggerate the looks of eye brows. Many different types of brow gels are available in market that are used for different purposes; brow gels have long lasting effects on eye brows and they are water as well as sweat proof. Brow gel market has shown a significant growth in last few years as it is widely used by peoples for routine make up. Rapid rise in opening of beauty parlors and beauty shops is key factor in growth of brow gel market and expected to be more inclining during the forecast period.
The adoption of aggressive marketing tactics by major businesses is on the rise since they assist customers become more aware of brands and the presence of products. They also use well-known models and celebrities to promote their brands because of their enormous fan bases and significant influence over consumer demand and preferences. Celebrities promote brands and improve customer awareness of specific brands, which helps to increase product sales. Global brow gel market growth is mostly due to leading players' increased adoption of aggressive marketing tactics.
As people's concerns with face appearances have increased, consumers are increasingly more knowledgeable about beauty goods. With the help of brow gels, people can modify the color of brows and give them attractive contours. The long-lasting effects of brow gels aid to prevent melting down of the eyebrow makeup.
[COVIDIMPACTSTATEMENT]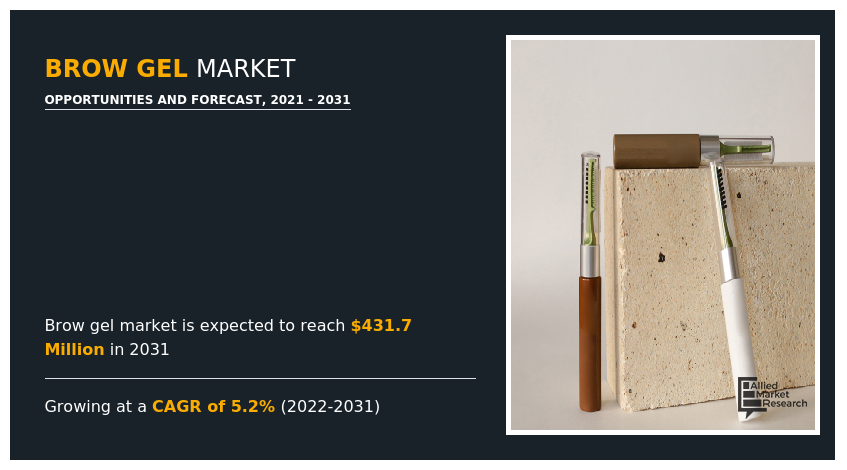 According to the brow gel market analysis, the brow gel market is segmented into price point, distribution channel and region. By price point, it is segregated into economy and premium. On the basis of distribution channel, the market is categorized into hypermarkets/supermarkets, specialty stores, online sales channel and others.  On the basis of region, it is analyzed across North America (the U.S., Canada, and Mexico), Europe (UK, Germany, France, Russia, Italy, Spain and Rest of Europe), Asia-Pacific (China, Japan, India, Australia & New Zealand, South Korea, ASEAN and Rest of Asia-Pacific), and LAMEA (Brazil, South Africa, Turkey, Saudi Arabia and Rest of LAMEA).
According to the brow gel market trends, on the basis of price point, the economy segment was the highest contributor to the market, with $189.3 million in 2021, and is estimated to reach $302.2 million by 2031, at a CAGR of 5.0% during the forecast period. Brow gel that are available in the market are often high-end cosmetics. By considering the pricing analysis of brow gel economic prices are considered which can affordable by the mass population. The population of developing nations does not afford high-end brow gel. As a result, many settle for economy-cost eye makeup products or stop using products altogether due to the scarcity of economy priced brow gel. Thus, manufacturers are designing eye makeup products including brow gel at economy prices to target the population of under-developed nations and acquire market share in such regions. Thus, above factors are likley to propel the brow gel market demand through economy segment during the forecast period.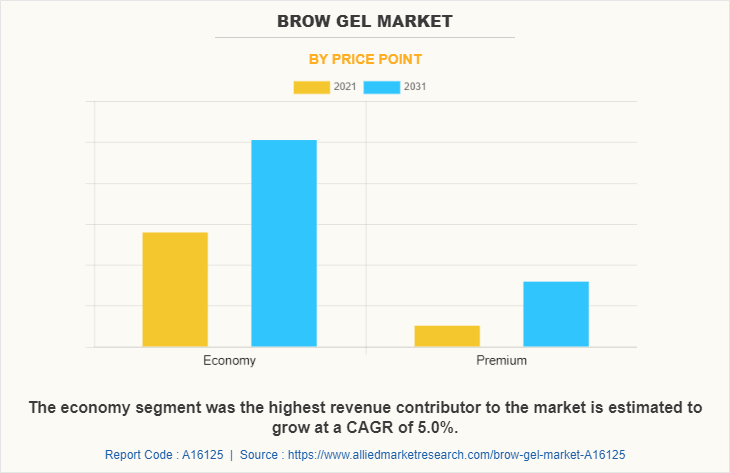 According to distribution channel, the online sales channel segment was the significant contributor to the market, with $44.1 million in 2021 and is expected grow at a CAGR of 6.8% during the forecast period. E-commerce is a virtual store where goods & services do not require any physical space and are sold through websites or applications. Easy accessibility and heavy discounts & offers on cosmetics & skin care products provided by these online platforms boost the growth of the skin care market in Asia-Pacific. In addition, ecommerce is gaining popularity among customers, due to convenience in shopping, continuous service, and a wide range of choice. Thus, sale of skin care products through online stores has witnessed significant increase during the last few years.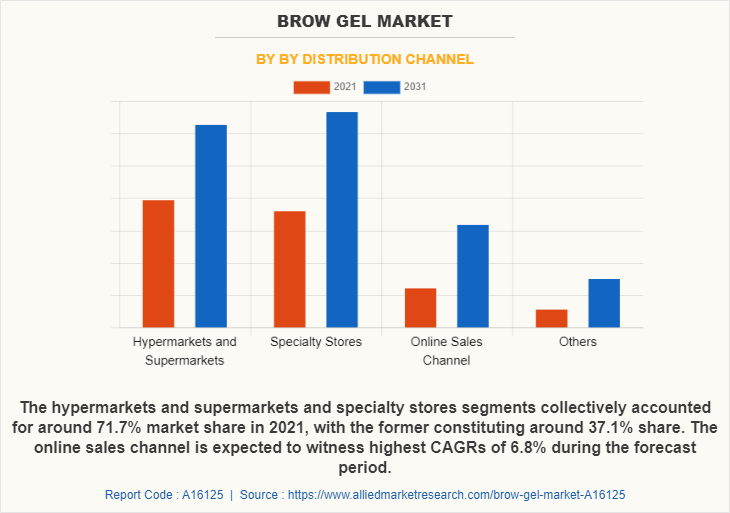 According to the brow gel market opportunities, region wise, North America garnered the major brow gel market share in 2021, and is expected to maintain its market share throughout Brow Gel market forecast period. The demand for cosmetics in the US is supported by an expanding Hispanic population and an increase in the popularity of luxury eye makeup products. The color cosmetics market in North America is also driven by changes in lifestyle. However, due to the existence of large players with powerful distribution networks and loyal customer base, there are extremely few opportunities for new businesses to enter the market and grab consumers' attention. Potentially innovative natural brow gel products could be offered on the North America brow gel market by new entrants. New entrants to the North American brow gel industry may provide cutting-edge natural brow gel products. Thus, above mentioned factors are likely to support for the growth of the North America brow gel market during the forecast period.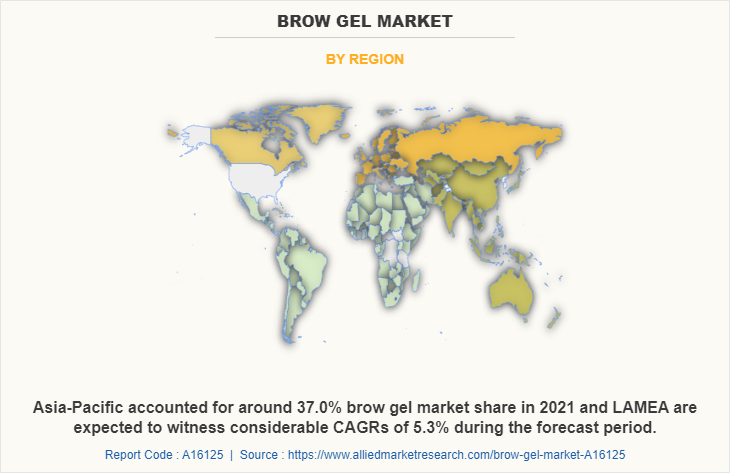 The players operating in the global brow gel industry have adopted various developmental strategies to expand their market share, increase profitability, and remain competitive in the market. The key players profiled in this report L'ORÉAL S.A., Revlon, Inc., Avon, Oriflame Holding AG, Christian Dior SE, GUERLAIN, Relouis Bel LLC, Anastasia Beverly Hills, Huda Beauty and Maybelline New York.
Key Benefits For Stakeholders
This report provides a quantitative analysis of the market segments, current trends, estimations, and dynamics of the brow gel market analysis from 2021 to 2031 to identify the prevailing brow gel market opportunities.
The market research is offered along with information related to key drivers, restraints, and opportunities.
Porter's five forces analysis highlights the potency of buyers and suppliers to enable stakeholders make profit-oriented business decisions and strengthen their supplier-buyer network.
In-depth analysis of the brow gel market segmentation assists to determine the prevailing market opportunities.
Major countries in each region are mapped according to their revenue contribution to the global market.
Market player positioning facilitates benchmarking and provides a clear understanding of the present position of the market players.
The report includes the analysis of the regional as well as global brow gel market trends, key players, market segments, application areas, and market growth strategies.
 Brow Gel Market Report Highlights
Aspects
Details
By Price Point
By Distribution Channel

Hypermarkets and Supermarkets
Specialty Stores
Online Sales Channel
Others

By Region

North America (U.S., Canada, Mexico)
Europe (Rest of Europe, UK, Germany, France, Russia, Italy, Spain)
Asia-Pacific (China, Japan, India, Australia And New Zealand, South Korea, Asean, Rest of Asia-Pacific)
LAMEA (Brazil, South Africa, Turkey, Saudi Arabia, Rest of LAMEA)

Key Market Players
Avon, Maybelline New York, GUERLAIN, Anastasia Beverly Hills, L'ORÉAL S.A., Revlon, Inc., Oriflame Holding AG, Huda Beauty, Christian Dior SE, Relouis Bel LLC