Brushless DC Motors Market Research, 2030
The global brushless dc motors market size was valued at $33.2 billion in 2020, and is projected to reach $72.2 billion by 2030, growing at a CAGR of 8.1% from 2021 to 2030.The global brushless DC motors market volume was 1,32,684 thousand units in 2020, and is projected to reach 3,58,321 thousand units by 2030, registering a CAGR of 10.3% from 2021 to 2030. A motor is used to convert electrical energy into mechanical energy. BLDC motors have three coils on the stator and can control maximum rotational force known as torque. It can be easily controlled as compared to brushed DC motors using feedback mechanism to deliver desired rotation speed and torque.
The COVID 19 outbreak has affected the growth of the brushless DC motor industry owing to the lockdown measure in the countries and delay in production and manufacturing of brushless DC motor which are utilized in healthcare, automotive, HVAC, and other industries.
Brushless DC motors offer excellent controllability and high efficiency and are widely used in many applications such as automotive, power tools, and HVAC industries. Brushless DC motors has power saving advantage over other motor types. Compared to a conventional motor, brushless DC motors ensure less wear & tear and reduces the overall maintenance cost.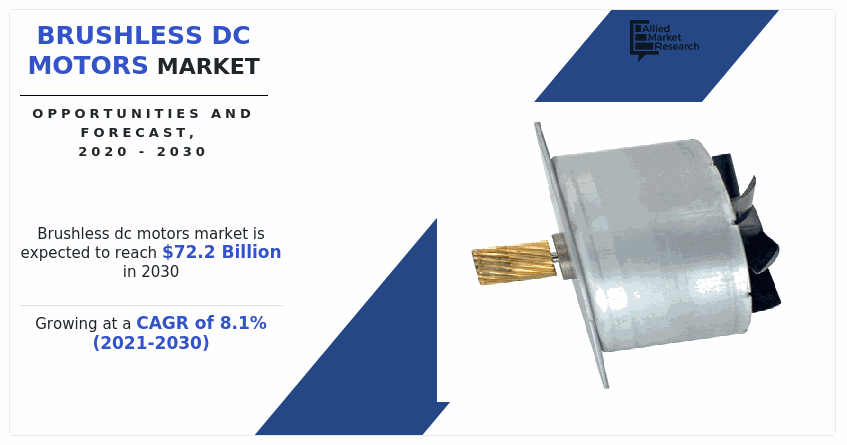 The ability to save energy and increase the operating efficiency of an equipment drives growth of the brushless DC motors market. These motors combine high efficiency and dependability, making them cost-effective in a wide range of applications, including HVAC industry, power tools, and automotive. These motors are thermally durable, low-maintenance, and work at low temperatures, which reduces the chance of spark. Furthermore, the brushless DC motors market is growing, owing to rise in automobile manufacturing and number of BLDC motors used in vehicles. In automobile, BLDC motors are used in vehicle powertrain systems, safety fittings, and chassis. Moreover, increase in features such as motor seat, doors, wipers, and adjustable mirrors boosts demand for BLDC motors.
In addition, the automotive industry in Asia-Pacific is expanding with significant rate, hence such factor provide lucrative growth opportunities in the brushless DC motors market. For instance, according to the International Trade Administration, domestic vehicle production in China is expected to reach 35 million by year 2025. Furthermore, in March 2021, the government of China invested $60 billion to support the electric vehicle sector. Such factors are expected to create growth opportunities for brushless DC motors during the forecast period.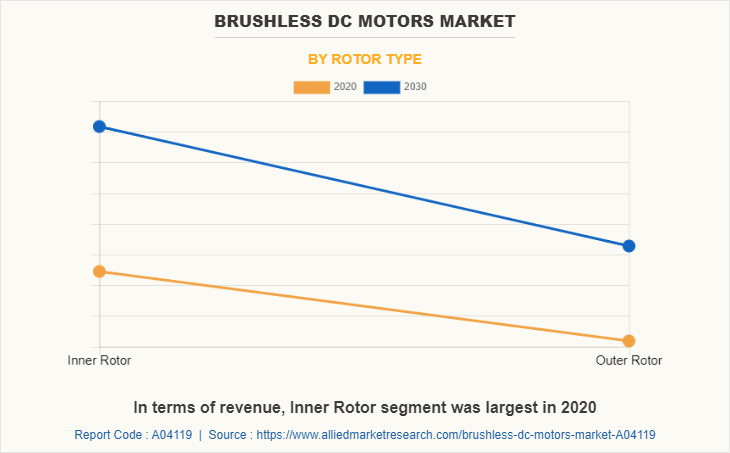 Brushless DC motors consists of two rotor types, namely, inner rotor and outer rotor. The inner rotor segment occupies the maximum market share. However, the outer rotor segment is expected to grow at a fast pace during the forecast period. Inner brushless It has features such as rotating shaft, which has a small moment of inertia, ability to reduce the size of the main unit, and capability to work under high temperature.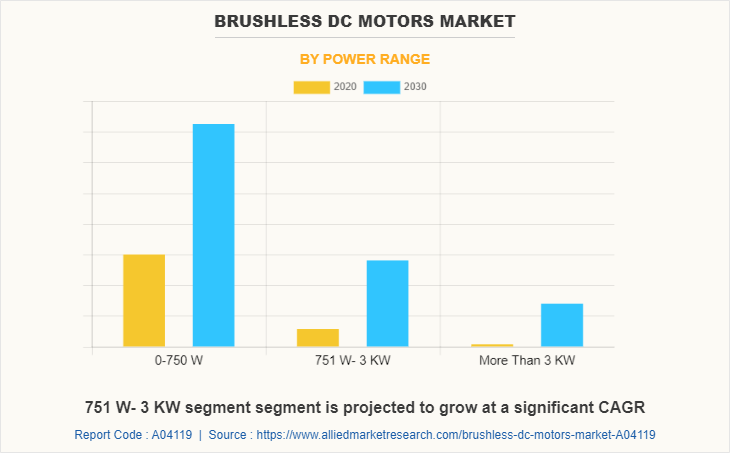 On the basis of power range, the 0-750 W segment registered highest revenue in 2020. Brushless DC motors are used to roll-up or -down vehicle windows and to adjust seats electronically. In addition, brushless DC motors are used in electric vehicles, owing to their low maintenance, high efficiency, high operating speeds, compact size, and no brush sparking.
The novel coronavirus (COVID-19) rapidly spread across various countries and regions in 2019, causing an enormous impact on lives of people and the overall community. It began as a human health condition and has now become a significant threat to global trade, economy, and finance. The COVID-19 pandemic halted production of many products in the brushless DC motor market, owing to lockdowns. Furthermore, the number of COVID-19 cases reduced with safety majors taken by governments and with introduction of vaccine for COVID-19. This is further expected to lead to re-initiation of the manufacturing industry at its full-scale capacities, which, in turn, is expected to aid the brushless DC motors market share to completely recover by the mid-2022. 
On the basis of region, Asia-Pacific was the largest revenue generating region in 2020. Increase in government investments in the automotive sector and rise in manufacturing of vehicles led to brushless DC motors market growth in this region.
The market is segmented on the basis of rotor type, power range, speed, end user, and region. On the basis of rotor type, the market is divided into inner rotor and outer rotor. On the basis of power range, it is segmented into 0-750 W, 751 W- 3 kW, and more than 3 kW. On the basis of speed, it is segmented into less than 500 RPM, 501 RPM to 2000 RPM, 2001 RPM to 10,000 RPM, and more than 10,000 RPM. On the basis of end user, it is divided into industrial machinery, automotive, healthcare, HVAC industry, power tools, and others. Region wise, the market analysis is conducted across North America (the U.S., Canada, and Mexico), Europe (the UK, France, Germany, Italy, Spain, and Rest of Europe), Asia-Pacific (China, Japan, India, Australia, South Korea, and Rest of Asia-Pacific), and LAMEA (Brazil, Argentina, GCC, South Africa, and Rest of LAMEA).
Competition Analysis
The key players that operating in the global brushless DC motors industry are Allied Motion Technologies Inc., AMETEK Inc., Arc Systems Inc., Buhler Motor GmbH, Faulhaber Group, Johnson Electric Holdings Limited, Maxon motors AG, MinebeaMitsumi Inc., Nidec Corporation, Oriental Motor Co. Ltd., and Robert Bosch GmbH
Key Benefits For Stakeholders
 Brushless DC Motors Market Report Highlights
Aspects
Details
By Rotor type
By Power range

0-750 W
751 W- 3 KW
More Than 3 KW

By Speed

Less Than 500 RPM
501 To 2000 RPM
2001 To 10,000 RPM
More Than 10,000 RPM

By End user

Industrial Machinery
Automotive
Healthcare
HVAC Industry
Power tools
Others

By Region

North America (U.S., Canada, Mexico)
Europe (Germany, France, U.K., Italy, Spain, Rest of Europe)
Asia-Pacific (China, India, Japan, South Korea, Australia, Rest of Asia-Pacific)
LAMEA (Brazil, Argentina, Gcc, South Africa, Rest of LAMEA)

Key Market Players
Robert Bosch GmbH, MinebeaMitsumi Inc., Ametek Inc., Nidec Corporation, Allied Motion Technologies Inc., Maxon motors AG, Faulhaber Group, Johnson Electric Holdings Limited,, Arc Systems Inc, Buhler Motor GmbH, Oriental Motor Co. Ltd