The global bus HVAC market was valued at $0.97 billion in 2021, and is projected to reach $1.83 billion by 2031, growing at a CAGR of 6.8% from 2022 to 2031.
COVID-19 has presented the world with an unprecedented economic, humanitarian, and healthcare challenge. Lockdown measures have helped to contain the spread of coronavirus, but exacted an immense economic toll. On the business side, the automotive sector is one of the hardest hit sectors. Following the pattern witnessed in countries where COVID-19 spread earlier, lockdown measures and other restrictions have impacted the automotive industry. Furthermore, coronavirus has introduced unexpected challenges within the automotive sector. However, with the relaxation of lockdown measures and the consequent opening of markets across the world, the demand for bus HVAC is anticipated to grow considerably in the near future.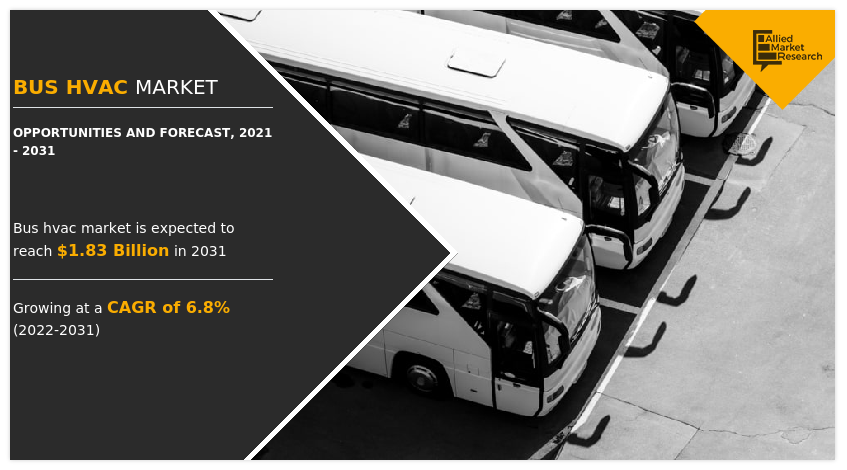 The bus HVAC market is segmented into Sales Channel, Input, Type and Vehicle Type.
A heating, ventilation, and air conditioning (HVAC) system in a vehicle is used to control the internal temperature of the vehicle cabin. It includes three subsystems, namely, heating, cooling, and air conditioning, that work together to provide purified air to the vehicle cabin, ensuring thermal comfort to drivers and passengers. It controls the air temperature, inspects the moisture content in the air, and eliminates excessive humidity from the circulating air. Well-established companies, such as Audi, Mercedes, and BMW, focus on customized and consumer-friendly HVAC systems. For instance, the BMW 6 Series supports automatic air conditioning, including air distribution for driver and passengers, fogging sensor, and automatic climate control system.
The bus HVAC unit consists of the primary component unit that includes compressor, condenser, evaporator, pressure regulating devices, orifice tube, thermal expansion valve, receiver-drier, and accumulator. The compressor is considered the core component of the overall automobile HVAC system. It is a belt driven pump, which is attached to the engine. The compressor helps in compressing and transferring refrigerant gas. A condenser is used to help radiate heat and is normally located in front of the vehicle. When the hot compressed gases are introduced on the top of a condenser, they are cooled instantly and after the cooling is complete, they condense and exit from the bottom of the condenser as a high-pressure fluid. An evaporator is a heat absorber component of the HVAC system. The main purpose of an evaporator is to remove the heat from inside the vehicle and dehumidify the environment within it. Pressure regulating devices are meant for controlling the evaporator temperature by regulating the refrigerant pressure and flow into the evaporator.
Bus HVAC Market

---

By Sales Channel
OEM segment is projected as the most lucrative segment
The bus HVAC market is segmented into type, vehicle type, sales channel, input, vehicle type by propulsion and region. By type, it is further divided into automatic, and manual. By vehicle type, the Bus HVAC industry is segmented into intercity buses that are subdivided into 9m, 10m, and 12m; coach buses that are further segmented into 9m, 10m, and 12m; school buses that are further segmented into 9m, 10m, and 12m, and transit buses that are further segmented into 9m, 10m, and 12m. By sales channel, the market is segmented into original equipment manufacturers, and aftermarket. Region-wise, the bus heating, ventilation, and air conditioning (HVAC) market is analyzed across North America, Europe, Asia-Pacific, and LAMEA.
Some of the prominent players operating in the global bus HVAC market include Coachair Pty Ltd., Denso Corporation, Eberspächer Gruppe GmbH & Co. KG, Grayson Thermal Systems, Zhengzhou Guchen Industry Co., Ltd., Internacional Hispacold Sa, Japan Climate Systems Corporation, Konvekta AG, MAHLE GmbH, Mobile Climate Control, Inc., Sanden Holdings Corporation, Subros Limited, SUTRAK Corporation, Trane Technologies PLC, Valeo, and Webasto Group.
Bus HVAC Market

---

By Input
Electric Powered HVAC segment is projected as the fastest growing segment
Increase in demand for thermal system and automatic climate control features in heavy vehicles
The fleet owners have increased their focus on installing HVAC systems to achieve thermal comfort in the cabin of heavy commercial vehicles. The HVAC system is installed to guarantee that the driver, as well as the passenger and cargo, have an ambient temperature environment. Not only does HVAC contribute to improved temperature conditions, but it also increases air conditioning efficiency, and decreases fuel usage.
Efficient HVAC systems guarantee optimum temperature levels for vehicles, which can contribute to greater comfort for passengers, fuel efficiency, and so on. The logistics industry has increased the use of effective HVAC systems in commercial heavy vehicles to boost vehicle efficiency and minimize operating costs. For instance, the partnership of XL Fleet Corp. and eNow Inc. for electrifying cooled trailers was announced in July 2021. Under the partnership, solar-based solutions are expected to be provided to help fleets save expenses and operate auxiliary batteries for the HVAC, liftgates, and other car systems operations. In addition, the growth of the vehicle HVAC market is boosted by increase in development and adoption of automated air-conditioning units, which adjust cabin temperature automatically, independent of the outside/ambient air temperature and humidity. An increase in thermal comfort demand and rise in automated HVAC adoption are projected to drive the growth of the bus HVAC market.
Automatic segment is projected as the most lucrative segment
Increase in demand for electric buses
Electric buses are in high demand across the globe due to rise in demand for fuel-efficient, high-performance, and low-emission buses as well as strict government restrictions and regulations regarding vehicle emissions. The U.S., Germany, France, and China have enacted strict government emission rules and regulations, requiring automobile manufacturers to adopt modern technology to tackle high emission levels in vehicles.
Technological developments, as well as strong government measures to encourage the use of electric buses, provide the industry with attractive growth opportunities. For instance, in September 2019, Keolis was given a new contract to manage and repair the Netherlands' largest fleet of electric buses.
The deal is expected to also cover the operation and maintenance of 300 electric buses in the Dutch provinces of Gelderland, Overijssel, and Flevoland, and will last for two decades beginning in December 2020. The electric buses also include modern automotive technology including intelligent climate management systems, which help regulate the cabin temperature and humidity levels at specified settings. Furthermore, due to recent increase in gasoline and diesel costs, demand for fuel-efficient buses has witnessed growth. This is due to depletion of fossil fuel reserves and increase in desire of businesses to maximize profits from these reserves. The expansion of the bus HVAC market is aided by the growth in demand for electric buses
Bus HVAC Market

---

By Vehicle Type
Intercity buses segment is projected as the most lucrative segment
Environmental effects of refrigerants used in HVAC system
The refrigerant plays a crucial role in vehicle HVAC system. The vehicle HVAC system uses various coolants/refrigerants such as hydrofluorocarbon (HFC) refrigerant, chlorofluorocarbon (CFC) refrigerants, hydrofluoro-olefins (HFO) refrigerants for enhanced cooling performance. However, these refrigerants are harmful to environmental sustainability, may lead to ozone depletion, and exhibit global warming potential (GWP).
Moreover, these refrigerants affect the air quality, ecosystem, and consumer health & safety. Thus, various government authorities are implementing stringent regulatory framework to minimize environmental pollution and global warming. For instance, the U.S. Environmental Protection Agency (EPA) has come up with Significant New Alternatives Policy (SNAP) regulations. According to these regulations, in the U.S., the use of HFC-134a refrigerant in new light-duty vehicles is prohibited. Moreover, retrofitting CFC-12 MVAC systems is regulated under the Significant New Alternatives Policy (SNAP) program. Under SNAP, all flammable refrigerants, except HFC-152a and HFO-1234yf, are listed as unacceptable for use in new and retrofit HVAC systems. Furthermore, in 2017, in Europe, the European Union (EU) came up with the EU Directive on Mobile Air Conditioning (MAC Directive), which mandated the use of refrigerant with a GWP below 150 for light-duty vehicles. Such directives are expected to be implemented in the heavy commercial vehicle segment. Thus, vehicle manufacturers need to redesign their HVAC systems with environment-friendly refrigerants, which is anticipated to affect the growth of the heavy commercial vehicle market.
Development of intelligent transport system
Intelligent Transportation Systems (ITS) were devised in response to rise in need for services related to various modes of transportation and traffic management. The ITS allows users to be better informed and to use the transportation network in a safer, more coordinated, and smarter manner.
The technologies used in intelligent transportation systems range from basic management systems such as thermal management, vehicle navigation, traffic signal control systems, container management systems, variable message signs, automatic number plate recognition, or speed cameras, for automatic incident detection and vehicle state detection. The development of intelligent transport system across the world has boosted the growth of transportation and logistics services. The developments in the transportation industry further increases the sales of heavy commercial vehicle such as buses worldwide. The evolution of automotive technologies has facilitated the development of intelligent transport systems.
Moreover, adoption of sophisticated technologies encourages the integration of advanced automotive technology, such as automatic HVAC systems and climate control into heavy commercial vehicles, to support the infrastructure of intelligent transportation networks. The bus HVAC industry is projected to experience growth during the forecast period due to sheer advancement of intelligent transportation systems.
Bus HVAC Market

---

By Region
LAMEA is projected as the fastest growing region during 2022-2031
Key Benefits For Stakeholders
This report provides a quantitative analysis of the market segments, current trends, estimations, and dynamics of the bus hvac market analysis from 2021 to 2031 to identify the prevailing bus hvac market opportunities.
The market research is offered along with information related to key drivers, restraints, and opportunities.
Porter's five forces analysis highlights the potency of buyers and suppliers to enable stakeholders make profit-oriented business decisions and strengthen their supplier-buyer network.
In-depth analysis of the bus hvac market segmentation assists to determine the prevailing market opportunities.
Major countries in each region are mapped according to their revenue contribution to the global market.
Market player positioning facilitates benchmarking and provides a clear understanding of the present position of the market players.
The report includes the analysis of the regional as well as global bus hvac market trends, key players, market segments, application areas, and market growth strategies.
 Bus HVAC Market Report Highlights
Aspects
Details
Sales Channel
Input

Engine Powered HVAC
Electric Powered HVAC

Type
Vehicle Type

Intercity Buses
Coach Buses
School Buses
Transit buses

By Region

North America (U.S., Canada, Mexico)
Europe (Germany, U.K., France, Italy, Russia, Rest of Europe)
Asia-Pacific (China, Japan, India, South Korea, Rest Of Asia Pacific)
LAMEA (Latin America, Middle East, Africa)

Key Market Players
Coachair Pty Ltd., Denso Corporation, Eberspächer Gruppe GmbH & Co. KG, Grayson Thermal Systems, Honeywell International Inc., Internacional Hispacold SA, Konvekta AG, MAHLE GmbH, Mobile Climate Control, Inc., Sanden Holdings Corporation, Subros Limited, SUTRAK Corporation, Trane Technologies Plc, Valeo, Webasto Group, Zhengzhou Guchen Industry Co., Ltd., Sidwal Refrigeration Industries Pvt. Ltd