The global butterfly needle sets market size is $166.60 million in 2019, and is expected to reach $320.02 million by 2027, registering a CAGR 8.20% from 2020 to 2027.
A butterfly needle is a device used to draw blood from an access vein or deliver intravenous (IV) therapy through a vein. These needles comprise hypodermic needle bilateral flexible wings and a connector, which is attached to a vacuum tube or collection bag to draw blood from an infusion pump. In addition, butterfly needles are advantageous to patients with bleeding disorders, such as hemophilia or von Willebrand disease. For instance, in the U.S., 17,757 people were diagnosed with hemophilia in 2018.Further, phlebotomists regularly use butterfly needles to obtain blood samples for complete blood counts (CBC), cholesterol tests, diabetes monitoring, STD screens, and other blood-based tests. These needles are also commonly used in blood banks for people who are there for blood donation. These needles are much easier to use and are less painful for patients. Thus, it reaches more body surface and tolerates more patient movement.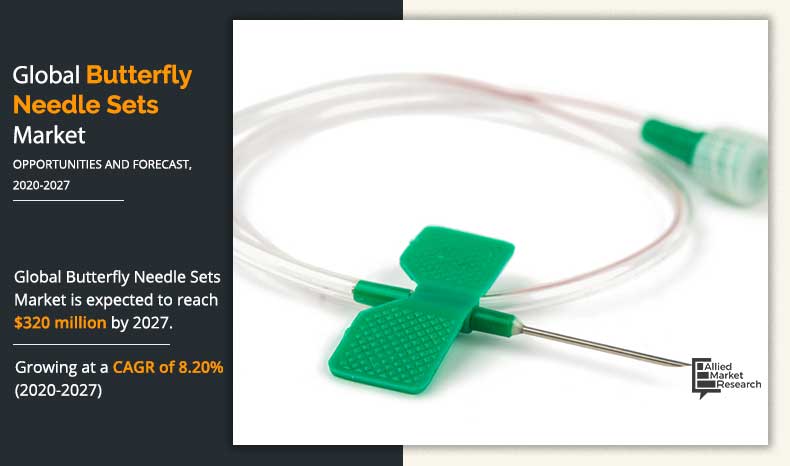 The coronavirus disease (COVID-19) suddenly spread across the globe. Further, the increase in the severe acute respiratory syndrome coronavirus 2 (SARS-CoV-2) induced respiratory failure leading to COVID-19 disease, which has fueled the intensive care units (ICU) globally. Despite of that it has resulted in the several risks related to blood supply. For instance, there are several cases in which specific viral RNA could be detected in the serum from patients with COVID-19 and these findings suggested that blood donation may be an unexplored route of transmission. For instance, in March 20, 2020, WHO Guidance for National Blood Services on Protecting the Blood Supply during Infectious Disease Outbreaks. This has provided general guidance on the development of national plans to respond to any emerging infectious threats to the sufficiency or safety of the blood supply. Therefore, this resulted in the low impact of Covid-19 on the growth of butterfly needles market.
Major factors that drive the butterfly needle sets market growth are rise in prevalence of chronic diseases globally such as cancer, intravenous therapy, cardiovascular diseases, and bleeding disorders. In addition, need for managing long term medications and drug infusions are some of the other factors that boost growth of the market. However, lack of product innovations and regulatory standards and guidelines are required to be followed by phlebotomists hamper the market growth. Moreover, safety and convenience provided by these needles and treatments associated with butterfly needle, the market is expected to grow compared to the substitute products. In addition, in 2019, intraosseous needle trials were conducted for neonates (new born children), which has opened opportunities for new applications offer opportunities for the market growth during the forecast period.
Global Butterfly Needles Set Market Segmentation  
The global butterfly needle blood collection set butterfly needle sets market is segmented on the basis of application, end user, and region. By application, it is segmented into blood transfusion, venipuncture, IV rehydration, and delivery of medications.  By end user, it is segmented into hospitals, blood bank, and others. Region wise, the market is categorized into North America, Europe, Asia-Pacific, and LAMEA. These regions are further analyzed on the basis of respective countries. 
Butterfly Needle Sets Market

---
By Application
Blood Transfusion segment holds a dominant position in 2019.
Segment Review
On the basis of application, the blood transfusion segment dominated the butterfly needles set market, value in 2019, and its dominance in the market is expected to continue throughout the forecast period. This is attributed to increase in anemia and bleeding disorders such as hemophilia and cancer. In addition, rise in chemotherapy and geriatric patients whose veins are fragile and difficult to access leads to boost the blood transfusion segment in butterfly needle sets market growth. 
Butterfly Needle Sets Market

---
By End User
Blood Bank segment is projected as one of the most lucrative segment.
On the basis of end user, the blood donation segment dominated the butterfly needles set market in 2019, and is expected to continue its growth during the forecast period. Owing to increase in use of butterfly needles in blood donation banks & camps, and rise in population who are interested in blood donation.
Butterfly Needle Sets Market

---
By Region
Asia-Pacific region would exhibit the highest CAGR of 9.3% during 2019-2027.
In 2019, Asia-Pacific accounted for largest butterfly needle sets market of the butterfly needles market and is expected to remain the highest revenue-generating region during the forecast period, owing to widespread adoption of butterfly needles, large pool of patients suffering from cancer and cardiovascular diseases, and rise in demand for blood transfusion. In addition, owing to rise in number of blood donors and increase in patient population across the region are further expected to boost the Asia-Pacific butterfly needle sets market. Further, North America was the second highest revenue-generating with a value $49.98 million in 2019 for butterfly needle sets market. Owing to as in 2018, around 17,757 people were diagnosed with hemophilia. In addition, Growth in healthcare awareness and well-established healthcare infrastructure and major key players for butterfly needles are expected to boost the growth of the market in North America for this market.
The global butterfly needles set market is highly competitive, and prominent players have adopted various strategies for garnering maximum butterfly needle sets market share. These include collaboration, product launch, partnership, and acquisition. Major players operating in the market include Braun Melsungen AG, Becton, Dickinson and Company, Nipro Corporation, Cardinal Health, Inc., Medline Industries, Inc., Terumo Corporation, Kawasumi Laboratories, Inc., ISOMed, and BioMatrix S.r.l.
Key Benefits For Stakeholders
This report entails a detailed quantitative analysis along with current and future global butterfly needles set monitoring devices butterfly needle sets market trends from 2019 to 2027 to identify the prevailing opportunities along with the strategic assessment.
The butterfly needles set butterfly needle sets market forecast is studied from 2019 to 2027. 
The butterfly needle sets market size and estimations are based on a comprehensive analysis of key developments in the industry.
A qualitative analysis based on innovative products facilitates strategic business planning.
The development strategies adopted by the key market players are enlisted to understand the competitive scenario of the market.
 Butterfly Needle Sets Market Report Highlights
Aspects
Details
By Application

Blood transfusion
Venipuncture
IV rehydration
Delivery of medications

By End User

Hospitals
Blood banks
Others

By Region

North America (U.S., Canada, Mexico)
Europe (Germany, Uk, France, Italy, Spain, Rest of Europe)
Asia-Pacific (India, China, Japan, Australia, South Korea, Rest of Asia-Pacific)
LAMEA (Brazil, Saudi Arabia, South Africa, Rest of LAMEA)

Key Market Players
KAWASUMI LABORATORIES, INC. (KAWASUMI LABORATORIES AMERICA, INC.), BECTON, DICKINSON AND COMPANY, CARDINAL HEALTH INC., NIPRO CORPORATION (NIPRO MEDICAL CORPORATION), BRAUN MELSUNGEN AG, SMITH'S GROUP PLC, TERUMO CORPORATION (TERUMO MEDICAL CORPORATION), ISOMED, BIOMATRIX S.R.L., MEDLINE INDUSTRIES, INC.