Cable Drum Market Outlook - 2026
The global cable drum market size was valued at $547.3 million in 2018, and is projected to reach $767.5 million by 2026, registering a CAGR of 4.1% from 2019 to 2026. Cable drum is an object, which is round in shape and carries different types of wires or cables such as optic fiber, electrical, and other wire products. Different materials used for cable drums include plastic, plywood, wood, and steel. Wooden drums are manufactured from resinous wood and carries heavy loads. Discarded wooden drums are obtained at cheaper prices and are used furniture. 
As compared to other type of drums, plywood drums are cheaper and are used extensively by commercial electricians and the building industry for carrying wires. Plywood drums are made from Poplar ply or birch; they are both light-weight and strong. In normal situations, plywood drums are destroyed, once they are used. Plastic drums are mostly manufactured from recycled plastic and are used for light weight cables. Presently, the offshore industry is using steel drums in place of traditional wooden drums for carrying cables and wires. Steel drums are more durable and costlier compared to wooden drums. However, due to lower cost of wooden drums, their usage is preferred in conventional land-based industries.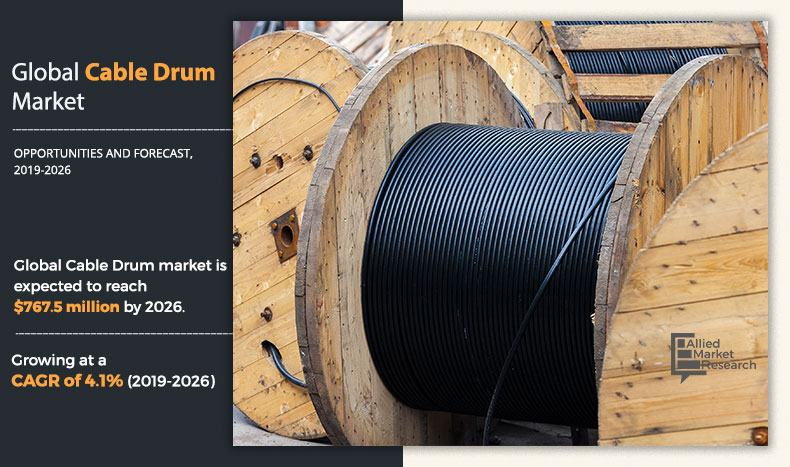 Industrial automation cables are largely required in automotive and manufacturing industries. These cables include VFD cables for drive circuits portable power & cord products, industrial ethernet cables, instrumentation & control cables, and industrial communication cables for protocols. Automation in the modernization and expansion of existing industrial facilities drives the growth of the market. 
Use of cables and wires in telecommunication, infrastructure, and energy sectors experience a rapid growth all over the globe due to the introduction of 4G and 5G technologies. This drives the growth for the global cable drum market. Rise in investments made by private sector companies as well as governments in infrastructural development projects create demand for cable reels. However, transportation cost of cable drums is a major concern for the cable drum market because of its size, which  is expected to restrict the growth of the global cable drum market.
Cable Drum Market

---
By Material
Plastic segment is projected to grow at a significant CAGR
Furthermore, supply of electricity is quite unpredictable in rural areas; hence, governments of various Asian countries encourage urbanization. Rapid urbanization leads to increase in infrastructure investments, change in lifestyle, and improvement in economic conditions. This, in turn, results in large-scale government investments that subsequently boost the demand for cable drums across various sectors. For instance, in February 2019, China planned to build the world's biggest supergrid to interconnect six regional grids to expand its power distribution system. Similarly, the government of India introduced Accelerated Power Development and Reforms Programme (APDRP) and Deendayal Upadhyaya Gram Jyoti Yojana (DDUGJY) to enhance its power distribution sector in rural areas.
Cable Drum Market

---
By Mechanism
Motorized segment holds dominant position in 2018
The durability of steel drums is more than other drum types. Steel drums can be reused; therefore, are in high demand in offshore industries. Wooden drums and plywood drums are light in weight and inexpensive, which reduces the cost of transportation to some extent. Plastic drums are manufactured from recycled plastic and are small in size, therefore, are mostly used for light weight applications. In addition, plastic drums are inexpensive as they are manufactured from recycled plastic.
Cable Drum Market

---
By Region
Europe holds a dominant position in 2018 and Asia-Pacific is expected to grow at a moderate rate during the forecast period.
The global cable drum market is segmented on the basis of material, mechanism, and region. By material, it is divided into wood, plywood, plastic, and steel. By mechanism, it is bifurcated into manual and motorized. Region wise, it is analyzed across North America, Europe, Asia-Pacific, and LAMEA. The focus on digitalization in countries like and China India  boosts the demand for fiber optics and other cables, which ultimately propels growth of the cable drums market.
Competition Analysis
The key market players profiled in the report of the cable drum market include Hildebrandt Group, Schwabe GmbH, Cable Equipements, Conductix-Wampfler, Coxreels, Nicoletti, Bryant Unlimited, Hannay Reels, and Svenssongroup. The major players operating in the global market offer a variety of new products to strengthen their market outreach and sustain the stiff competition in the market. 
For instance, Bryant Unlimited offers steel cable drums, sturdy cable reel, marcaddy cable drums, skeleton cable drums, and spare drums. Similarly, Coxreels offers spring driven reels, EZ coil reels, hand crank reels, motorized reels, and accessories for industries such as automotive, construction, aviation, marine, transportation, and utilities.  
Key Benefits for Stakeholders:
The report provides an extensive analysis of the current and emerging cable drum market trends and dynamics.  
In-depth cable drum market analysis is conducted by constructing estimations for the key segments between 2018 and 2026. 
Extensive analysis of the cable drum market is conducted by following key product positioning and monitoring of top competitors within the market framework.
A comprehensive analysis four major regions is provided to determine the prevailing opportunities.
The market forecast analysis from 2018 to 2026 is included in the report.
Key market players operating in the market are profiled in this report and their strategies are analyzed thoroughly, which helps understand the competitive outlook of the cable drum industry. 
Global Cable Drum Market Segments:
By Material
By Mechanism
By Region
North America
Europe

Germany
France
Italy
UK
Rest of Europe

Asia-Pacific

China
India
Japan
South Korea
Rest of Asia-Pacific

LAMEA

Latin America
Middle East 
Africa
Key Players
Bryant Unlimited
Cable Equipements
Conductix-Wampfler
Coxreels
Hannay Reels
Hildebrandt Group
Nicoletti
Schill GmbH & Co. Kg.
Schwabe GmbH
Svenssongroup