Cable Glands Market Outlook - 2025
The global Cable Glands market was valued at $1,763.0 million in 2017, and is projected to reach $2,841.9 million by 2025, growing at a CAGR of 6.1% from 2018 to 2025. A cable gland, also known as sealing gland or strain relief, allows the facilitation of barrier penetration while simultaneously offering sealing protection. It can be used with probes, wires, power, and signaling cables. Cable gland is used for electrical power, control, instrumentation, information, and broadcast communications links.
Factors such as upgrade and renewal of existing networks, owing to government regulations, surge in the construction industry among developing countries, rise in energy demand levels globally, increase in population, and growth in real estates are expected to drive the growth of the Cable Glands market in the near future. However, volatile raw material prices and high fragmentation of the market are some of the probable factors that restrict the market growth. The raw materials used to develop cable glands include copper alloy, iron alloy, plastics, and others. The unstable prices of these essential ingredients have negatively affected the growth of the global cable glands market. Thus, volatile nature of raw material prices increases the cost of cable glands production, thereby restricting the market growth.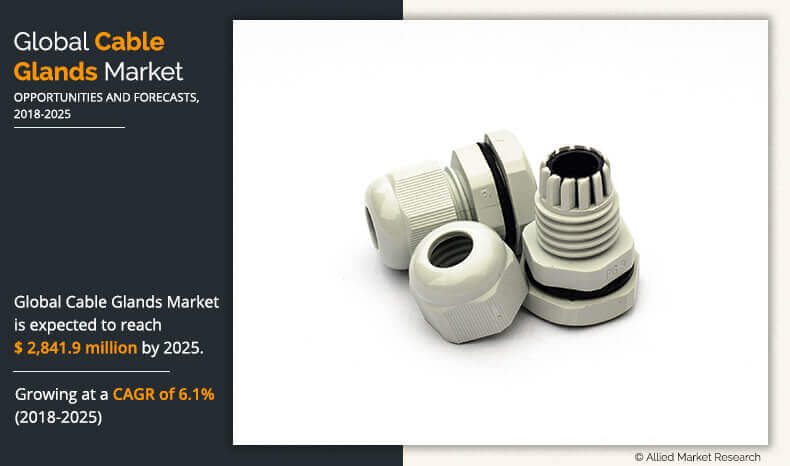 Continuous demand for energy and power in the developed and developing or underdeveloped countries present a major opportunity for market expansion. Some of the emerging regions, such as Romania, Bulgaria, Laos, and other regions, require investment to develop their industrial sectors. Financing in such developing regions would help in growth of the respective country's economy. Therefore, the investments made in such untapped regions for the growth in their economic sectors are expected to present lucrative opportunities for the overall market.
Based on type, the global Cable Glands market is segmented into industrial and hazardous. Based on cable type, the market is also divided into armored and unarmored. Based on material, it is categorized into brass, nylon/plastic, stainless steel, and others. Based on end user, it is divided into oil & gas, mining, aerospace, manufacturing & processing, chemical, and others. The global Cable Glands market is also analyzed across North America, Europe, Asia-Pacific, and LAMEA.
Key players responsible for increasing the cable glands market size include Hubbell Incorporated, Emerson Electric Co., Amphenol Corporation, 3M, Eaton Corporation PLC, ABB Ltd., Cortem Group, Bartec Group, CMP Products Limited, and Jacob GmbH. In order to stay competitive in the market, these market players are adopting different strategies such as acquisition, merger, product launch and partnership. In an instance, Amphenol GEC, a division of Amphenol corporation offered new cable protection line of products that protects cable harnesses in virtually any environment. The new product line includes conduits, cable glands, tubing, and braided jackets. Furthermore, CMP Products launched its new TruSeal range that includes polymer, metallic and EMC cable glands at the OSEA exhibition in Singapore. This has helped the company in increasing its product portfolio in Cable Glands.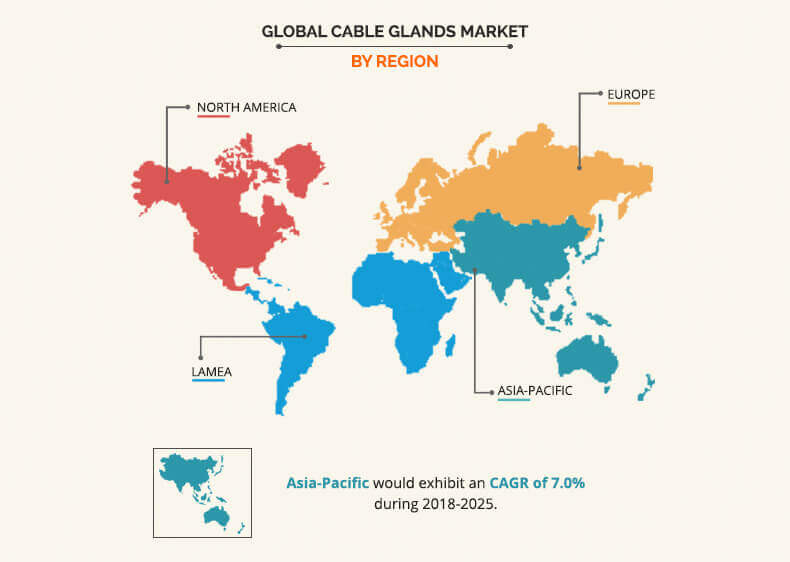 Global Cable Glands Market Share, by Region
Asia-Pacific is one of the fastest growing economic regions in the world. China, India, and Japan are some of the countries, growing at a significant rate in terms of economy. Asia-Pacific is rich in mines, refineries, and chemicals. Therefore, the adoption of industrial equipment such as Cable Glands has witnessed a considerable growth in this region.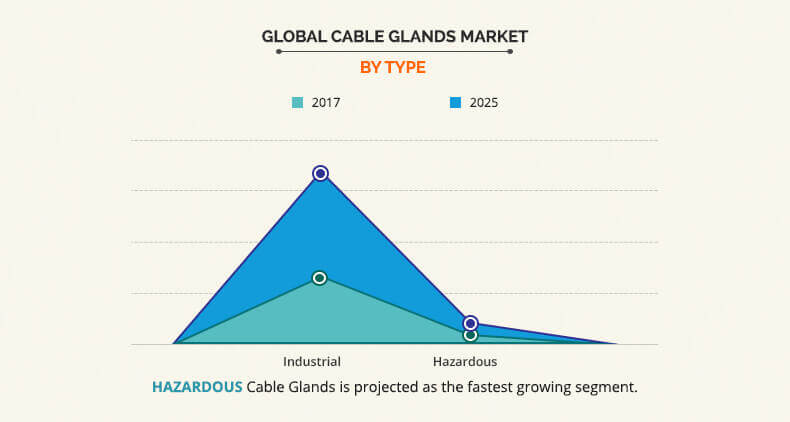 Global Cable Glands Market, by type
The industrial market is anticipated to have major share in the global cable gland market. The rapid industrialization across the globe, especially in the APAC region leads to set up various industries such as automotive, steel, petrochemical, electronics, and aerospace & defense. These industries run on the automated system that use various types of cables and wirings. This leads to increase in demand for industrial grade Cable Glands for proper transmission of power, earthing, bonding, insulation, and cable guarding.
Global Cable Glands Market, by Cable Type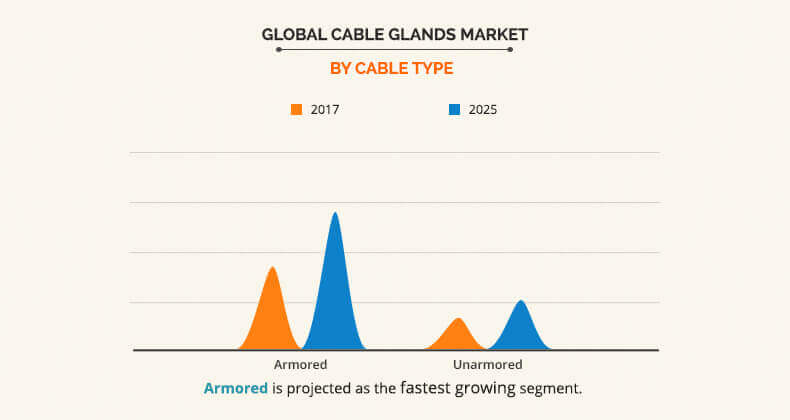 Based on cable type, the armored cable gland segment is expected to be the lucrative segment in the market. Cable Glands for armored cables contain single outer seal and they are being widely utilized for cables without an inner covering or bedding under the armor, while Cable Glands having a double, inner & outer seal configuration are preferred for cables with an inner covering or bedding under the armor.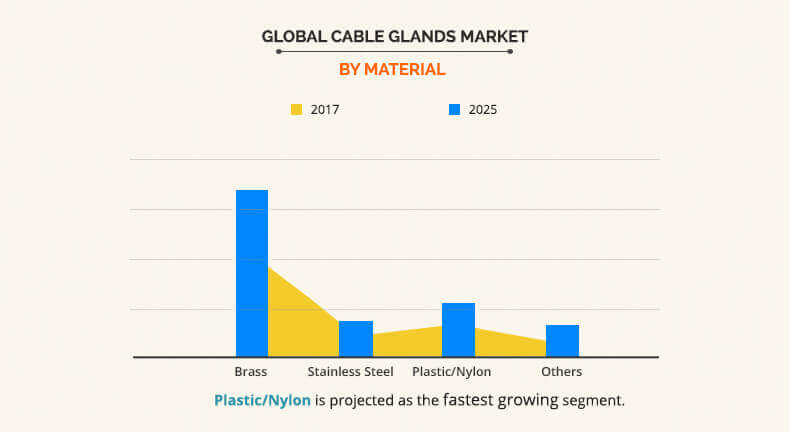 Global Cable Glands Market Share, by Material
Based on material, the brass cable gland segment holds the major share in the market. Cable Glands made up of nickel-plated brass are used broadly in the petrochemical and oil & gas industries, since they provide superior protection against contamination and corrosion inhostile environments.
Global Cable Glands Market Share, by end user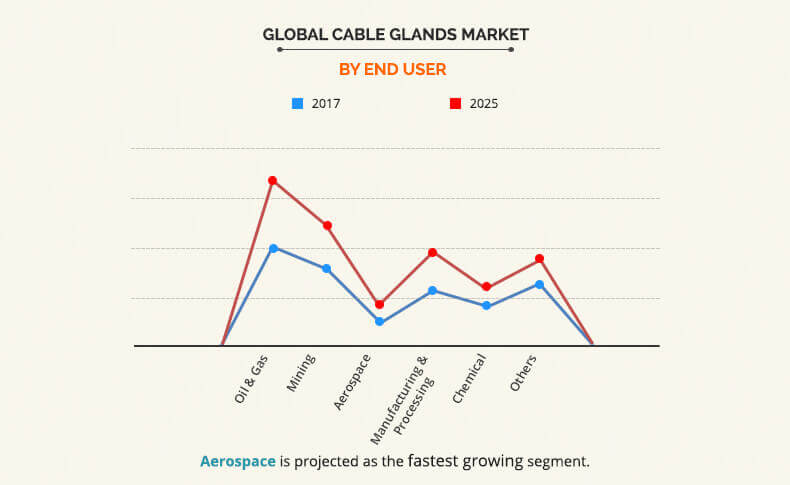 Based on end user, the oil & gas segment holds the major share in the global Cable Glands market forecast. Various types of cable connectors are utilized in the oil & gas industry. These include cold shrink cable terminations, which are used in onshore refineries as well as in harmful flammable conditions and resin Cable Glands that are used in situations where resistance to hydrocarbons is required.
Key Benefits for Cable Glands Market:
Porter's five forces analysis helps analyze the potential of buyers and suppliers and the competitive scenario of the Cable Glands industry for strategy building.
It outlines the current trends and future cable glands market trends from 2017 to 2025, to understand the prevailing opportunities and potential investment pockets in the cable glands market growth.
Major countries in each region have been mapped according to their individual revenue contribution in the global cable glands market analysis.
The key drivers, restrains, and opportunities and their detailed impact analyses are elucidated in the report.
The profiles of key players competing in the industry along with their key strategic developments are enlisted in the report.
 Cable Glands Market Report Highlights
Aspects
Details
By Type

Industrial
Hazardous

Increased Safety
Flameproof
EMC
Others

By Cable Type
By Material

Brass
Stainless Steel
Plastic/Nylon
Others

By End User

Oil & Gas
Mining
Aerospace & Defense
Manufacturing & Processing
Chemical
Others

By Region

North America (U.S., Canada, Mexico)
Europe (Germany, France, UK, Italy, Spain, Rest of Europe)
Asia-Pacific (Japan, China, Singapore, India, South Korea, Rest of Asia-Pacific)
LAMEA (Brazil, Saudi Arabia, South Africa, Rest of LAMEA)

Key Market Players
3M, ABB LTD., AMPHENOL CORPORATION, BARTEC GROUP, CMP PRODUCTS LIMITED, CORTEM GROUP, EATON CORPORATION PLC, EMERSON ELECTRIC CO., HUBBELL INCORPORATED, JACOB GmbH