Cable Ties Market Research, 2032
The global cable ties market was valued at $1.4 billion in 2022, and is projected to reach $2.5 billion by 2032, growing at a CAGR of 6.4% from 2023 to 2032.
Cable ties, also known as zip ties or tie wraps, are versatile fasteners used to bundle and secure cables, wires, and other objects. They are widely used in various industries, including electrical, automotive, construction, and home organization.  Cable ties are typically made of nylon or plastic, which are durable, lightweight, & resistant to moisture and most chemicals. They have a long, flexible strap with ridges on one side and a small, rectangular head at the opposite end. The head has a small opening through which the strap is threaded. To use a cable tie, loop the strap around the items that are needed to secure and then thread the strap through the head. Pulling the strap tightens the tie around the bundled items, and the ridges on the strap prevent it from loosening. Cable ties come in various lengths and widths, allowing users to choose the right size for specific needs. They are used to secure small wire bundles or larger cables. They are available in different colors, making it easier to color-code and organize cables & wires in complex setups.
The cable ties market has experienced growth due to increased industrialization and infrastructure development in emerging economies. As industries expanded, the need for cable management solutions, including cable ties, also grew.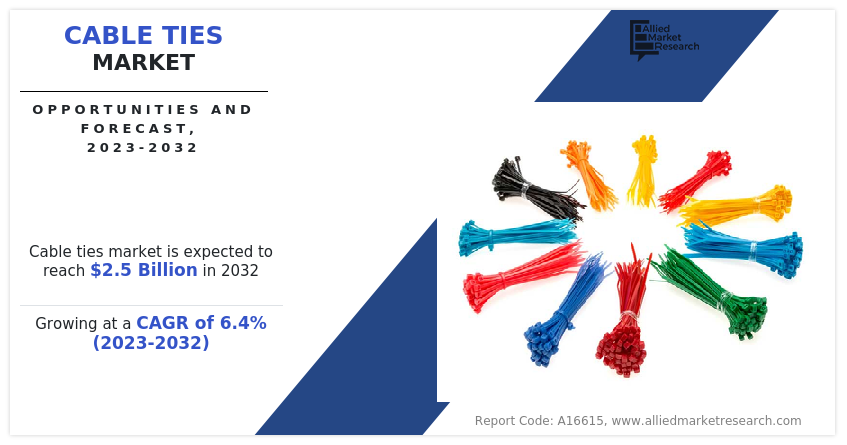 Securing and organizing electrical wires, computer cables, and networking cables reduces clutter and improves safety. Cable ties are widely used in holding together wiring harnesses and securing various components in vehicles. They are employed for fastening together, scaffolding, secure fencing, and bundling construction materials on job sites. They are also significant in tying together garden hoses, securing tarps, and organizing tools in workshops. In emergencies, cable ties are used for temporary repairs, such as fixing broken straps or securing items. They are sometimes used as makeshift handcuffs or restraints in law enforcement and security situations, though this use is controversial and dangerous.
 Manufacturers are continuously innovating to develop cable ties with improved strength, durability, and resistance to environmental factors. This innovation was expanding the range of applications for cable ties. With the proliferation of electronic devices and the growth of the electrical industry, cable ties were in high demand for organizing and securing wires and cables in various electronic products and installations. The automotive industry was a significant consumer of cable ties for wire harnessing and component securing. The growing demand for electric vehicles (EVs) also contributed to the market's growth.
The expansion of telecommunications networks and the deployment of 5G technology require extensive cable management, boosting the cable ties market expansion. Moreover, there is a surge in emphasis on environmentally friendly cable tie materials and designs. Manufacturers have developed biodegradable and recyclable cable ties to meet sustainability goals. E-commerce platforms provide easy access to cable ties for consumers and businesses alike, contributing to market growth by expanding distribution channels. Increase in regulations and safety standards in various industries drives the adoption of cable ties that meet specific compliance requirements. Cable tie manufacturers offer customization options, allowing customers to order cable ties tailored to their specific needs, which attract a broader range of clients.  The globalization of supply chains and the need for efficient logistics contribute to the demand for cable ties for packaging and securing goods during transportation.
Market Dynamics
Currently, cable ties are used in a range of industries including electronics, building & construction, automotive, and others. The electronics industry is the major application area of cable ties made of nylon where they are utilized to tie the bundle of cables inside the electronics products to protect them from damage and short circuits. Consequently, they offer protection to electronics products and help in extending their life span. Cable tie is a superior solution to electronics industry as it regularly deals with the complication related to bundles of cables or wires during electric installation. Once applied the permanent and temporary locking feature of the cable ties assures a tight and secure hold. This eliminates the possibility of damaging the wire's insulation; consequently, allowing extension of the lifespan of electronics products.
Surge in investments by the governments in infrastructure growth has been witnessed across the globe. Moreover, there are numerous construction projects initiated by the government globally, primarily in the urban areas. The development of new infrastructure and development projects is rising worldwide owing to the growth in population, which is requiring the construction of new hotels, education centers, schools, hospitals, office buildings, colleges, and other public buildings.
According to Invest India, the construction sector in India is anticipated to reach $1.4 trillion by 2025. The construction industry market in the country works across 250 sub-sectors with linkages across sectors. The Real Estate Industry in India is anticipated to reach $1 trillion by 2030 and will contribute 13% to the country's GDP. Moreover, under National Infrastructure Pipeline, India has an investment budget of $1.4 trillion on infrastructure. Schemes such as the revolutionary Smart City Mission are anticipated to improve the quality of life through technology-driven urban planning. Also, the government of Middle East, primarily, in Saudi Arabia is focused on developing its economy through expansion of multiple commercial & residential construction projects. The increasing investment by the government in areas pertaining to tourism, healthcare, and education is predicted to propel the construction market in Saudi Arabia.
Various alternatives for cable ties include Velcro straps, conveyor belt hooks, surgeon's knot, or constrictor knot. Velcro straps make it easy to bundle, fasten, and cinch cargo, luggage, equipment, toolboxes, and others. These fasteners cinch and adhere to themselves for a firm hold. These straps are excellent for camping, power cords, and organizing various indoor or outdoor items. These straps are strong, adjustable, and reusable and available in a variety of styles and sizes. Further, various manufacturing, processing, and packaging applications use laced conveyor belts that are disconnected and removed for maintenance, repair, and replacement. These mechanical fasteners join the ends of the belt to form a loop. They allow the belt to be installed on a conveyor without having to disassemble the conveyor system, which reduces downtime for the conveyor.
Unlike endless conveyor splicing, conveyor belt lacing will show signs of wear, allowing users to schedule downtime for repairing the belt before it malfunctions. Conveyor belt lacing is commonly used in package handling, warehousing, assembly, manufacturing, and distribution applications. Hence, availability of substitutes for cable ties is expected to hinder the growth of the cable ties market.
The cable ties market is studied on the basis of material type, product type, end-use industry, and region.
By material type, the cable ties market is divided into nylon, stainless steel, and others. The nylon cable ties segment dominated the cable ties market share for 2022. The same is expected to maintain its dominance during the cable ties market forecast period. Nylon cable ties are generally resistant to a wide range of temperatures, making them suitable for both indoor and outdoor applications. They come in various lengths and widths, making it possible to secure small wire bundles or larger cables and objects. Nylon cable ties are available in a range of colors, which are useful for color-coding and organizing cables and wires.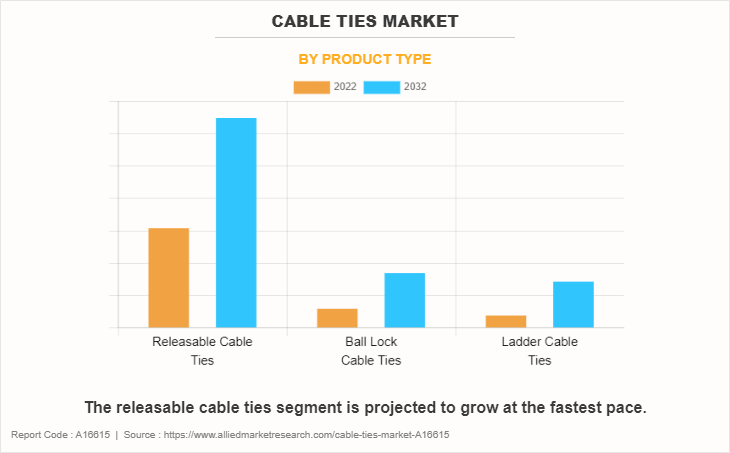 By product type, the market is classified into releasable cable ties, ball lock cable ties, and ladder cable ties. The releasable segment garnered the highest market share in terms of revenues in 2022. It is also expected to grow at a higher pace during the market projection period. These cable ties have a special design that allows releasing and reusing them multiple times. This makes them more cost-effective and environmentally friendly compared to single-use cable ties.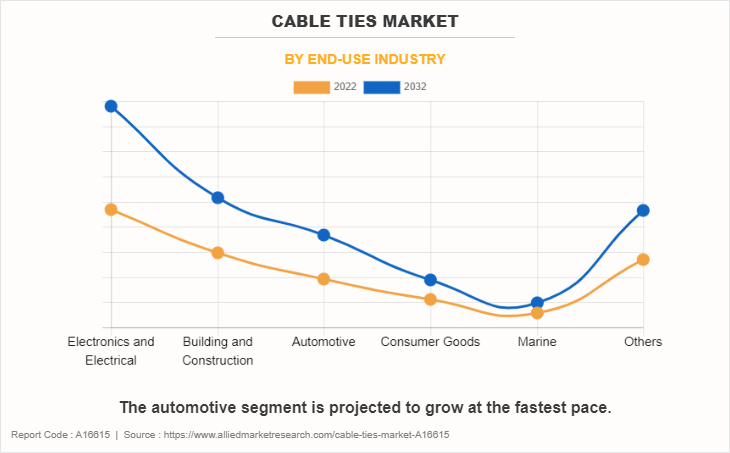 By end-use industry, the cable ties market size is categorized into automotive, electronics & electrical, consumer goods, building & construction, marine, and others. electronics & electrical segment dominated the market share in 2022. Cable ties are commonly used in the electronics and electrical industries for cable management, organization, and securing various components. They are an essential tool for keeping wires, cables, and other electrical equipment neatly organized, preventing tangling, and ensuring safety.
However, the automotive segment is expected to dominate the cable ties market growth during the projection years. In automotive applications, cable ties are used to secure and bundle fluid hoses, such as those for coolant, brake fluid, and fuel lines. Automotive engineers use cable ties to mount various components, such as sensors, small modules, and connectors, to different parts of the vehicle's structure.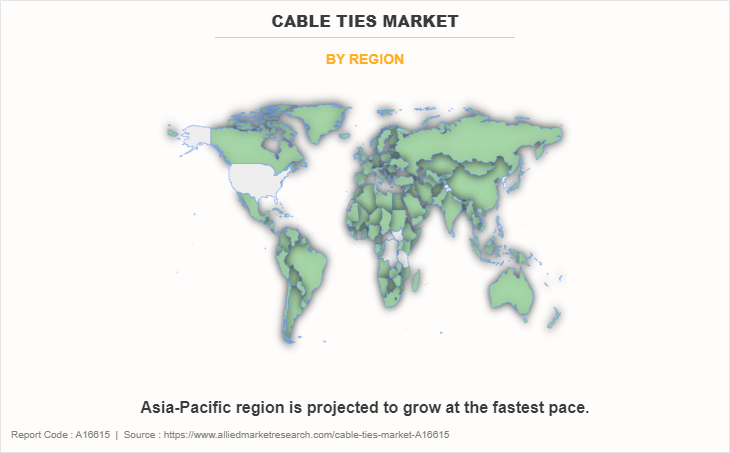 By region, the cable ties market analysis is done across North America, Europe, Asia-Pacific, and LAMEA (Latin America, the Middle East, and Africa). Region-wise, Asia-Pacific dominated the market growth and is expected to grow at fastest pace during the forecast period.
The major players operating in the cable ties industry are ABB Installation Products Inc., AFT Fasteners, Avery Dennison Corporation, 3M, Hellermann Tyton, Panduit, Novoflex, Acme Seals Group, Ascend Performance Materials, and Band-It IDEX In. The companies adopted key strategies such as collaboration to increase their market share.
Impact on cable ties market of rules & regulations on single-use plastic
Since the global population is dealing with plastic waste issues, government and regulatory bodies across various geographies have collectively restricted the use of single-use plastic across the globe. This initiative is highly effective in European countries due to the strong presence of regulatory bodies. This is a collective global safety measure undertaken to deal against increasing plastic waste that ends up landing in the ocean every year. Polyethylene, polyethylene terephthalate (PET), polyamide (nylon), and polypropylene are some of the major plastic types that are deposited in the ocean as plastic waste every year. Apart from regulating ban, the government along with regulatory authorities are coming up with environmental awareness programs to reduce single-use plastic and to increase awareness for bio-based plastics and chemicals. Cable ties made of nylon are single-use products in most cases.
Further, the new amendment to tackle the issue of plastic fastenings and fixings was brought into force from 1st January 2015. Under BS 7671 of the Electrical Regulations, new requirements trace the requirement for cabling to be backed by fire-resistant fastenings and fixings that are not exposed to premature collapse in extreme heat. This means that non-metallic cable ties, plastic cable clips, and plastic trunking to support wiring systems are unlikely to comply with the new rules.
Earlier there had been no precise policies on what products should be utilized in locations where certain risks of fire exist. Nonetheless, after 2005, it was recognized that standard cable ties and fixings utilized by installers were not enough to offer security and safety. Wiring systems should always be supported in the event of a fire and structural performance should not be influenced by raised temperature. The recent requirements made by the amendment of BS 7671 would be unlikely to be met by the sole usage of non-metallic cable ties, plastic cables clips, and plastic trunking to support wiring systems and hence, stainless steel products are crucial in installations. Stainless steel products are excellent for applications, which need high reliability, strength, as well as fire resistance. Although seen by numerous installers as a more expensive option, therefore the usage of non-metallic & plastic fixings and stainless steel cable ties delivers critical support and reassurance.
Hence, regulation on single-use plastic products is likely to challenge the adoption of nylon cable ties across the globe. However, stainless steel cable ties, which are capable of resisting temperatures of around 500°C, comply with the new rules and remarkably lower the risk of loose wiring and melting trunking and are expected to gain popularity in coming years.
Key Benefits For Stakeholders
This report provides a quantitative analysis of the market segments, current trends, estimations, and dynamics of the cable ties market analysis from 2022 to 2032 to identify the prevailing cable ties market opportunities.
The market research is offered along with information related to key drivers, restraints, and opportunities.
Porter's five forces analysis highlights the potency of buyers and suppliers to enable stakeholders make profit-oriented business decisions and strengthen their supplier-buyer network.
In-depth analysis of the cable ties market segmentation assists to determine the prevailing market opportunities.
Major countries in each region are mapped according to their revenue contribution to the global market.
Market player positioning facilitates benchmarking and provides a clear understanding of the present position of the market players.
The report includes the analysis of the regional as well as global cable ties market trends, key players, market segments, application areas, and market growth strategies.
 Cable Ties Market Report Highlights
Aspects
Details
Market Size By 2032
USD 2.5 billion
Growth Rate
CAGR of 6.4%
Forecast period
2022 - 2032
Report Pages
286
By Product Type

Releasable Cable Ties
Ball Lock Cable Ties
Ladder Cable Ties

By End-use Industry

Electronics and Electrical
Building and Construction
Automotive
Consumer Goods
Marine
Others

By Material Type

Nylon
Stainless Steel
Others

By Region

North America (U.S., Canada, Mexico)
Europe (Germany, UK, Italy, France, Spain, Rest of Europe)
Asia-Pacific (China, India, Japan, South Korea, Australia, Rest of Asia-Pacific)
LAMEA (Brazil, South Africa, Saudi Arabia, Rest of LAMEA)

Key Market Players
AFT Fasteners, AVIN Engi-Tech, BAND-IT, Novoflex, 3M, AVERY DENNISON CORPORATION, HOODS CORPORATION, HellermannTyton, ABB, Atlas Metal Industries Pvt. Ltd., Ascend Performance Materials, Acme Seals Group of Companies, Panduit Corp.
Analyst Review
According to the opinions of various CXOs of leading companies, the cable ties market is driven by the growing demand for nylon cable ties from end-use industries such as the automotive and electronics. Cable ties are used to organize cords, cables, and wires for various electronic devices such as laptops, computers, and cameras. A broad range of cable ties such as stainless-steel cable ties and nylon cable ties are available in the market, which offers the optimum solutions in order to meet customer needs. Increasing demand for cable ties in developing countries, and the surge in production as well as demand for automobiles and electronics are also boosting the growth of cable tie market. 
Further, the rise in usage of stainless steel cable ties in the construction sector due to their corrosion resistance properties is another factor anticipated to bolster the cable ties market growth. However, availability of alternatives for such as Velcro straps, conveyor belt hooks, surgeon's knot, or constrictor knot, is expected to hamper the growth of the market