Cancer/Tumor Profiling Market
Global Cancer/tumor Profiling Market was valued at $25,318 million in 2016, and is expected to reach $82,447 million by 2023, registering a CAGR of 18.4% from 2017 to 2023. Cancer/tumor profiling provides information about the genes causing cancer, which would offer useful insights related to the mechanism of cancer. The potential of cancer profiling is not only limited to common cancers, such as lymphoma and breast cancer, but also is useful in molecular profiling of lung cancer, prostate cancer, and acute leukemia. Cancer profiling has plays a vital role in diagnosis at the molecular level, as better understanding of the cancer tumors helps physicians to make appropriate therapeutic decisions and avoid "over-treatment" of the cancer patients.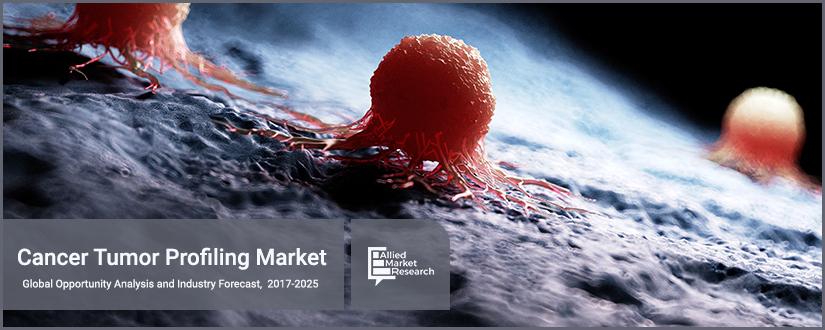 The global market is driven by growing demand for cancer profiling method by oncologists to diagnose or treat cancers as well as predict response to targeted therapy. In addition, rise in adoption of cancer biomarkers for tumor profiling, increase in incidence of cancer across the globe, and growth in use of next-generation sequencing technique for cancer profiling boost the market growth. However, high monetary investments for the development of biomarkers and dearth of skilled professionals or oncologists specific to tumor profiling hamper the market growth.
Global Cancer/Tumor Profiling Market Segmentation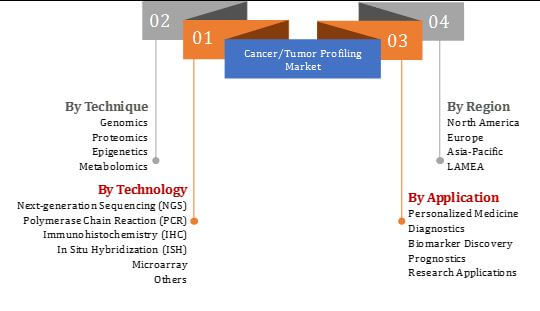 Drivers, Restraints, and Opportunities
The impact of the driving factors is expected to surpass that of restraints. Moreover, increase in focus towards personalized medicine offer lucrative opportunities for the market growth.
Global Cancer/Tumor Profiling Market: Drivers, and Restraints,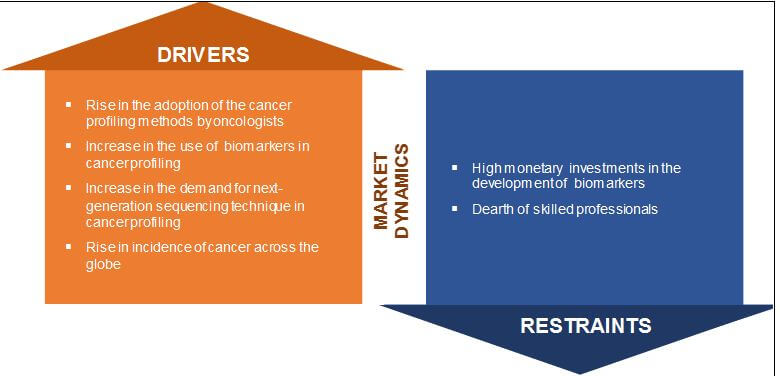 Segment Review
The global cancer/tumor profiling market is segmented based on technology, technique, application, and region. Based on technology, it is classified into next-generation sequencing (NGS), polymerase chain reaction (PCR), immunohistochemistry (IHC), in situ hybridization (ISH), microarray, and others. The in-situ hybridization segment is further categorized into fluorescence in situ hybridization (FISH) and chromogenic in situ hybridization (CISH). Based on technique, the market is classified into genomics, proteomics, epigenetics, and metabolomics. Based on application, it is divided into personalized medicine, diagnostics, biomarker discovery, prognostics, and research applications. The cancer/tumor profiling market is analyzed across four regions namely, North America, Europe, Asia-Pacific, and LAMEA.
China Cancer/Tumor Profiling Market, 2016-2023 ($Million)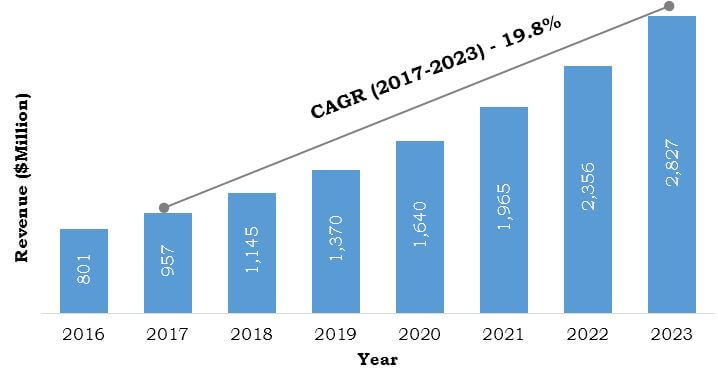 China offers lucrative opportunities for the market growth, owing to significant development of precision medicine in the region. In addition, advanced cancer testing in this country is associated with its research prowess in genome sequencing and large patient base in urban areas.
The report provides a comprehensive analysis of the key players operating in the global market, which include Qiagen N.V., Roche Molecular Systems Inc., Abott Molecular, Illumina Inc., NeoGenomics Laboratories, HTG Molecular Diagnostic, Genomic Health Inc., Hologic Gen-Probe, BD Biosciences, and Siemens Healthineers.
The other key players in the value chain include Claris Life Sciences, Personal Genome Diagnostics, Inc., Perthera, Inc., Foundation Medicine, Inc. V., Strand, ApoCell, Contextual Genomics, Agendia, and GenScript.
Key Benefits
The study provides an in-depth analysis along with the current trends and future estimations of the global cancer/tumor profiling market to elucidate the imminent investment pockets.
Comprehensive analyses of the factors that drive and restrict the market growth are provided in the report.
The quantitative analysis of the industry for the period of 2016 to 2023 is provided to enable stakeholders to capitalize on the prevailing market opportunities.
Extensive analysis of key segments of the industry is provided to understand the type of techniques and methods used across the globe.
Key market players and their strategies are analyzed to understand the competitive outlook of the market.
Cancer/Tumor Profiling Market Key Segments:
By Technology
Next-generation Sequencing (NGS)
Polymerase Chain Reaction (PCR)
Immunohistochemistry (IHC)
In Situ Hybridization (ISH)

Fluorescence In Situ Hybridization (FISH)
Chromogenic In Situ Hybridization (CISH)

Microarray
Others
By Technique
Genomics
Proteomics
Epigenetics
Metabolomics
By Application
Personalized Medicine
Diagnostics
Biomarker Discovery
Prognostics
Research Applications
By Region
North America
Europe

UK
France
Germany
Italy
Spain
Rest of Europe

Asia-Pacific

Japan
China
India
Australia
Rest of Asia-Pacific

LAMEA

Brazil
Turkey
Argentina
South Africa
Rest of LAMEA