Canes & crutches are also named as assistive device is the personal mobility device. This device widely used to helps in improving the people with disabilities and quality of life of the geriatric population. These device assists an individual in having a walking problem or ambulation. Various types of product are available in the canes and crutches market such as folding canes, offset canes, quad canes, axillary crutches, forearm crutches and accessories. This devices help the people with disabilities to move body part easily without pain.  Rheumatoid arthritis is the major cause that affect the movement of patients, thereby resulting in a massive need for canes & crutches. These devices serve many more function such as improve balance, assist propulsion, reduce load on one or both lower limbs, transmit sensory cues through the hand, enable the individual with paralysis to obtain the physiological benefits of upright posture and to manoeuvre in places inaccessible to a wheelchair, and notify passers-by that the user requires special considerations, including additional time when crossing streets or taking a seat on the bus.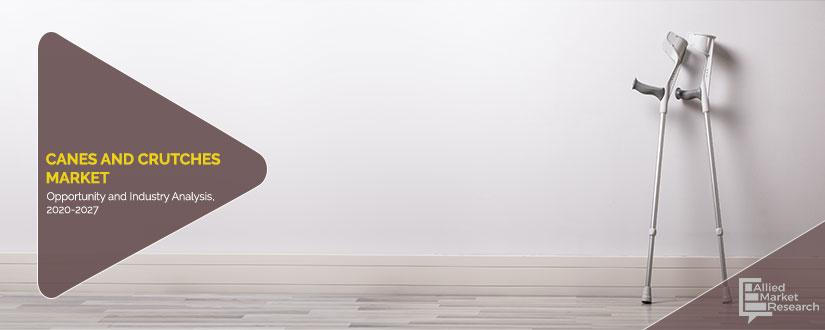 COVID-19 Scenario Analysis:
To take care of infected population the demand for medical supplies is increasing. Respiratory support devices such as atomizer, life-support machine, oxygen generator, and monitor are among the majorly used medical devices in primary clinical treatment. Moreover, COVID-19 has led to a huge surge in demand for medical supplies such as personal protective equipment including masks, gloves, and protective eyeglasses. With rise in number of COVID-19 cases worldwide, the need for medical supplies keeps on rising among, both from healthcare professionals and civil population for precautionary measures. Manufacturers of these products have a chance to capitalize this increased demand of medical supplies to ensure adequate and continuous supply of personal protective equipment in the market.
The ongoing outbreak of COVID-19 pandemic impacted the medical devices industry positively. It affect canes and crutches market. This pandemic situation reduces the demand of canes and crutches associated devices which adversely affect the supply chain of product. This reducing demand and supply chain of product due to the temporarily shutting down of industries and lockdown in various region industries and major end users losses their businesses. People who disabilities disorders also suffer from pain. 
Top impacting factors: Market Scenario Analysis, Trends, Drivers and Impact Analysis:
Globally, European is contributing largest market share and dominate overall canes and crutches market due to the presence of favourable government policies, increasing number of disabled people, growing geriatric population, and rising the number of movement disorders which rises the demand for canes and crutches in this region. However, North America expected to contribute largest market share due to the growing number of individuals with orthopaedic infirmities which rises the demand for canes and crutches market. Whereas, Asia Pacific is anticipated to expand market growth rate which attributed to the growing investment in healthcare sector, increasing geriatric population, rising number of mobility disorders, increasing demand for canes and crutches associated devices etc.  
In 2018, "U.S. Agency for Healthcare Research and Quality", in United States reported that around 600,000 knee replacement surgeries are performed every year. As per the report of "Spondylitis Association of America" in 2018, around 2 million people are found which have spondyloarthritis disorders in America. In 2017, "Arthritis Foundation" stated that 54 million adult individuals diagnosed with arthritis and 300000 children's have arthritis disorder.  According to the "International Osteoporosis Foundation", in 2018, 200 million women affected with osteoporosis across the globe among which 10% of women are above the age of 60 and 5% women are above the age of 70.  
The factor that majorly drive the growth of canes and crutches market such as growing number of surgeries associated with knees, hip, and joint replacement, increasing number of vehicle collisions, increasing chronic disorders, rising number of geriatric population, increase in the number of people with disabilities increasing the incidence of osteoporosis, ankylosing spondylitis, and arthritis, growing number of government initiatives for disabled individuals. However the factor such as, the use of the product associated with stigma, people widely using mobility aids including frames, scooters and sticks, people still are uncomfortable when they have to use mobility equipment themselves and assistive devices have been considered as a symbol of incapability to perform simple physical activities, can restrain the growth of canes and crutches market. The major opportunities available for canes and crutches market such as the emerging economies in the developing region, introducing technologically advanced devices for disabilities associated individuals. 
New Product launch to flourish the market:
Major Key market manufacturer have been focusing on increasing research and development activities and producing new product solution for specific applications as there are varying demands based on the utilization. Leading market players have determined how improved accuracy can be influential in many applications. 
In 2018, "Mobility Designed, LLC" has launched "elbow crutch". This device provides patient with offset handles and adjustable pivots for better control and movement.
 In 2018, "Nova Medical Products" has launched another new device such as "Invacare Quick-Change Crutches". This crutches constructed from lightweight aluminum, the solid one-piece crutch frame provides stability towards its users. It has padded, non-rotating hand grips for control of the crutches. With the push-button height adjustment, the crutches can be fit specifically to each individual.
In 2017, "Ossenberg GmbH" has launched Ossenberg Forearm Crutches such as "OSSENBERG – Big XL – Strong Closed Cuff Crutches", which help users to control easily and movementable 
In 2017, "Nova Medical Products" has launched "Mobility Wrist Clutch" is a medium sized clutch bag that is perfect for storing small items for easy access.
In 2015 "Ossenberg GmbH" has collaborate with the "Mobility Choices Ltd." for the distribution of Ossenberg crutches. The Ossenberg crutches will be available for supplying through the mobility choices distributorship.
Key benefits of the report:
This study presents the analytical depiction of the global canes and crutches market along with the current trends and future estimations to determine the imminent investment pockets.
The report presents information related to key drivers, restraints, and opportunities along with detailed analysis of the global canes and crutches market share.
The current market is quantitatively analyzed to highlight the global canes and crutches market growth scenario.
Porter's five forces analysis illustrates the potency of buyers & suppliers in the market. 
The report provides a detailed global canes and crutches market analysis based on competitive intensity and how the competition will take shape in coming years. 
Questions answered in the Canes and Crutches Market research report:
Who are the leading market players active in canes and crutches market?
What are the current trends will influence the market in the next few years?
What are the driving factors, restraints, and opportunities in the market?
What are the projections for the future that will help in taking further strategic steps?
 Canes and Crutches Market: Global Opportunity Analysis and Industry Forecast, 2020–2027 Report Highlights
Aspects
Details
By Product

Canes

Folding canes
Offset canes
Quad canes

Crutches

Axillary crutches
Forearm crutches

Accessories

By Distribution Channel

Hospital pharmacies
Online stores
Medical retail stores

By Region

North America (U.S., Canada, Mexico)
Europe (France, Germany, Italy, Spain, UK, Rest of Europe)
Asia-Pacific (China, Japan, India, South Korea, Australia, Rest of Asia-Pacific)
LAMEA (Brazil, South Africa, Saudi Arabia, Rest of LAMEA)

Key Market Players
Drive DeVilbiss Healthcare, Medline Industries, Inc., Invacare Corporation, GE Health Products, Inc., Ossenberg GmbH, Sunrise Medical, Mikirad., NOVA Medical Products, BESCO Medical Co., Ltd, Cardinal Health, Inc., Ottobock, Ergoactives