The global carbide tools market size was valued at $11,300.0 million in 2020, and is projected to reach $18,375.5 million by 2030, registering a CAGR of 4.9% from 2021 to 2030. Carbide is a key component (chemical compound in nature) that is frequently paired with other natural elements such as boron, silicon, metal, or steel. Carbide-based tool holders and machine tools offer a high level of durability, allowing them to last longer while maintaining their cutting tool edges. These tools are widely used in machining applications, owing to their unique characteristics, such as fast speed, cutting edge retention at high machining temperatures, reduced cycle time, superior wear resistance and long working life.
The COVID 19 outbreak has affected the growth of the carbide tools industry owing to the lockdown measure in the countries and delay in manufacturing and production of carbide tools which are utilized in automotive, construction, mining, and other industries.
There are two types of cutting tools that make cut in the machining industry: carbide-based cutting tools and high-speed tooling (HSS) cutting tools. Carbide tools appear to have greatly influenced the industry as the most popular of the two in recent years. Machine tools are used to shape or machine metal or other stiff materials into a certain shape via boring, shearing, grinding, cutting, or other methods. As the need for carbide tools increases, providers are working hard to keep up with the demand by introducing more innovative and high-performance carbide tools. For instance, in June 2021, Ingersoll Cutting Tools, a member of IMC Group, improved its indexable deep hole drilling head by expanding diameter range and providing new wear-resistant grade for more endurance. Moreover, the drilling tool is equipped with new chip breakers, which increases tool life.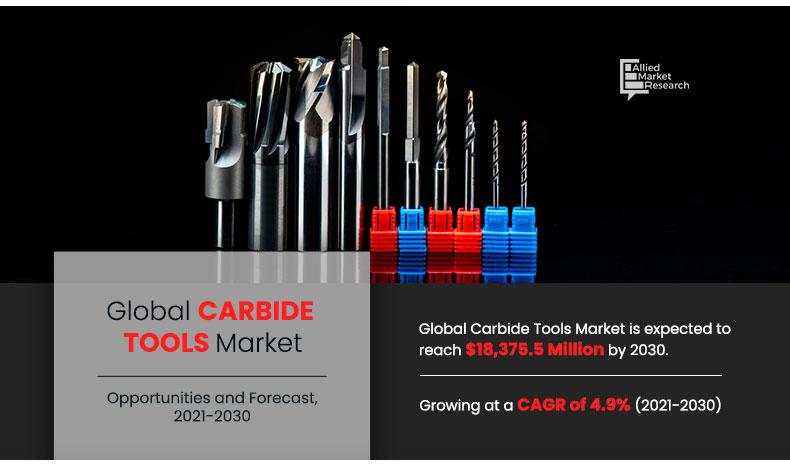 The novel coronavirus has rapidly spread across various countries and regions, causing enormous impact on lives of people and overall community. Originating as a crisis to human health, it now poses significant threat to worldwide trade, economy, and finance. Due to continuous lockdowns in key global countries, the COVID-19 pandemic has halted production of many items in the carbide tools business. Market players can afford a complete lockdown only for a limited period, after which they would have to alter their investment plans. Furthermore, number of COVID-19 cases are expected to reduce in the near term as vaccine for COVID-19 has been introduced in the market. This is further expected to lead to re-initiation of carbide tool companies at their full-scale capacities, which would aid the market to recover by the start of 2022.
After COVID-19 infection instances start to decline, equipment and machinery producers must focus on protecting their staff, operations, and supply networks to respond to urgent emergencies and establish new methods of working.
In addition, carbide tools provide a lot of important benefits, including reduced material waste, lower labor costs, higher quality, and lower inventory costs. Furthermore, manufacturers are putting a lot of emphasis on ideal cutting geometries and high-performance coverings, which is attracting customers and in turn, fuels the market growth. However, factors such as high cost of carbide tools hamper growth of the market.
Carbide Tools Market

---
By Product Type
Milling segment is projected to grow at a significant CAGR
Mergers and acquisitions of regional players by major global players represent a significant commercial potential for the carbide tools industry. Such business methods not only aid in capturing new physical places, but also in creation of new business prospects in emerging markets. For instance, in February 2020, Mitsubishi Material Corporation (MCC) acquired Mantoverde Copper Mine from Mantos Copper Holding SpA. The company produces high quality copper concentrated with very low level of impurities and deleterious materials. This acquisition helped MCC to secure copper concentrated for its copper smelters.
Some of the most important companies specializing in carbide tools are based in North America and Europe. Some of the well-known brands in the carbide tools industry in the U.S. are Super Tool Inc., Kenn metal, Gartool, Allied Machine and Engineering Corporation, and Solid Carbide Tools. Hence, these regions are expected to have high manufacturing and production of carbide tools in the coming years. Furthermore, Asia-Pacific is expected to provide lucrative market prospects. Expansion of the carbide tools market is expected to be aided by rise in number of growing economies in the region. 
Carbide Tools Market

---
By End User Industry
Auomotive segment holds dominant position in 2020
The carbide tools market is segmented on the basis of product type, configuration, coating, end-user industry, and region. By product type, the market is divided into drilling tools, milling tools, turning tools, and others. By configuration, it is divided into hand-based and machine-based. By coating, it is divided into coated and noncoated. By end-user industry, it is divided into automotive, electronics & electrical, aerospace marine & defense, plastics, construction & mining, and others. Region wise, the market analysis is conducted across North America (the U.S., Canada, and Mexico), Europe (the UK, France, Germany, Italy, and Rest of Europe), Asia-Pacific (China, Japan, India, Thailand, and Rest of Asia-Pacific), and LAMEA (Latin America, the Middle East, and Africa).
Competition Analysis
Key companies profiled in the carbide tools market report include Ingersoll Cutting Tool Company, SGS Tool Company, Advent Tool & Manufacturing, Inc., Garr Tool Company, Mitsubishi Materials Corporation, Best Carbide Cutting Tools, Inc., CERATIZIT S.A., PROMAX Tools, Rock River Tool, Inc., and VHF Camfacture AG.
Carbide Tools Market

---
By Region
Europe holds a dominant position in 2020 and Asia-Pacific is expected to grow at a significant rate during the forecast period.
Key Benefits For Stakeholders
The report provides an extensive analysis of the current and emerging carbide tools market trends and dynamics.  
In-depth emerging carbide tools market analysis is conducted by constructing market estimations for key market segments between 2020 and 2030. 
Extensive analysis of the emerging carbide tools market is conducted by following key product positioning and monitoring of top competitors within the market framework.
A comprehensive analysis of all the regions is provided to determine the prevailing opportunities.
The global emerging carbide tools market forecast analysis from 2021 to 2030 is included in the report.
The key players within emerging carbide tools market are profiled in this report and their strategies are analyzed thoroughly, which help understand the competitive outlook of the emerging carbide tools industry. 
Global Carbide Tools Market Segments
Key Segments
By Product Type
Drilling tools
Milling tools
Turning tools
Others 
By Configuration
By Coating 
By End User Industry
Automotive
Electronics & Electrical
Aerospace, Marine & Defense
Plastics
Construction & Mining
Others
By Region
North America
Europe

Germany
France
UK
Italy
Rest of Europe

Asia-Pacific

China
India
Japan
Thailand
Rest of Asia-Pacific

LAMEA

Latin America
Middle East 
Africa
Key Players
Ingersoll Cutting Tool Company
SGS Tool Company
Advent Tool & Manufacturing, Inc.
Garr Tool Company
Mitsubishi Materials Corporation
Best Carbide Cutting Tools, Inc.
CERATIZIT S.A.
PROMAX Tools
Rock River Tool, Inc.,
vHF Camfacture AG
 Carbide Tools Market Report Highlights
Aspects
Details
By PRODUCT TYPE

Drilling tools

Flat drills
Twist drills
Gun drills
Burnishing drills
Others

Milling tools
Turning Tools
Others

By CONFIGURATION
By COATING
By END USER INDUSTRY

Automotive
Electronics and Electrical
Aerospace, Marine, and Defense
Plastics
Construction and Mining
Others

By Region

North America (U.S., Canada, Mexico)
Europe (France, Germany, Italy, Spain, UK, Russia, Rest of Europe)
Asia-Pacific (China, Japan, India, South Korea, Australia, Thailand, Malaysia, Indonesia, Rest of Asia-Pacific)
LAMEA (Brazil, South Africa, Saudi Arabia, UAE, Argentina, Rest of LAMEA)

Key Market Players
Mitsubishi Materials Corporation, Best Carbide Cutting Tools, Inc., Ingersoll Cutting Tool Company, CERATIZIT S.A., Rock River Tool, Inc., Garr Tools, vhf camfacture AG, Advent Tool & Manufacturing, Inc., CERATIZIT Sacramento LP, KYOCERA SGS Precision Tools