Global Carbon Fiber Market Overview:
The global carbon fiber market was valued at $2,766 million in 2015 and is expected to grow at a CAGR of 11.7% to reach $5,991 million by 2025. Carbon fiber is composed of carbon atoms bonded together to form a long chain which are 5-10 m in diameter. These carbon atoms form a microscopic crystal exhibiting high strength to weight ratio.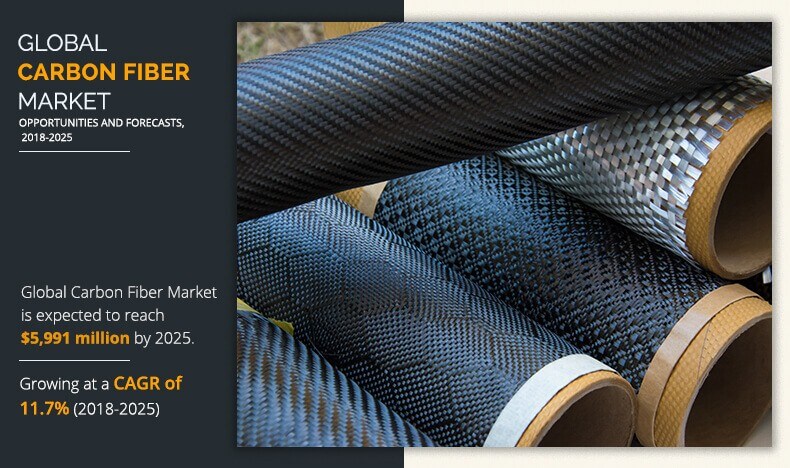 The market is segmented based on raw material, type, form, and end-use industry. By raw material is bifurcated as PAN-based carbon fiber and Pitch-based & Rayon-based carbon fiber. By type the market is divided as continuous, long, and short. by form the market is divided as composite and non-composite. Based end-use industry the market is segmented into aerospace & defense, sports/leisure, wind turbines, molding & compounds, automotive, pressure vessels, civil engineering, marine, pultrusion misc., misc. consumer, sailing/yacht building, and others which includes misc. energy, oil & gas, medical and industrial rollers. Excellent physical and mechanical properties such as lightweight, tensile strength, impact resistance, makes them fuel efficient, reliable and a preferred choice in aerospace & defense industry.
Top Investment Pocket
Excellent physical and mechanical properties such as lightweight, tensile strength, impact resistance, makes them fuel efficient and reliable for the use in aerospace & defense, sports, wind turbines, automotive and among others. Wind turbines is the most lucrative application for carbon fiber market owing to increase in demand and consumption of green energy. High tensile strength of carbon fiber enable wind turbines to withstand harsh weather conditions whereas lightweight helps in improving its efficiency. Carbon fiber used in wind turbines is expected to grow at highest CAGR of 14.5%. Automotive is the second most attractive application for carbon fiber owing to its superior strength-to-weight ratio and corrosion resistance and is expected to grow at a CAGR of 14.2%. In 2017, these two segments account for approximately 19% of the market in terms of revenue.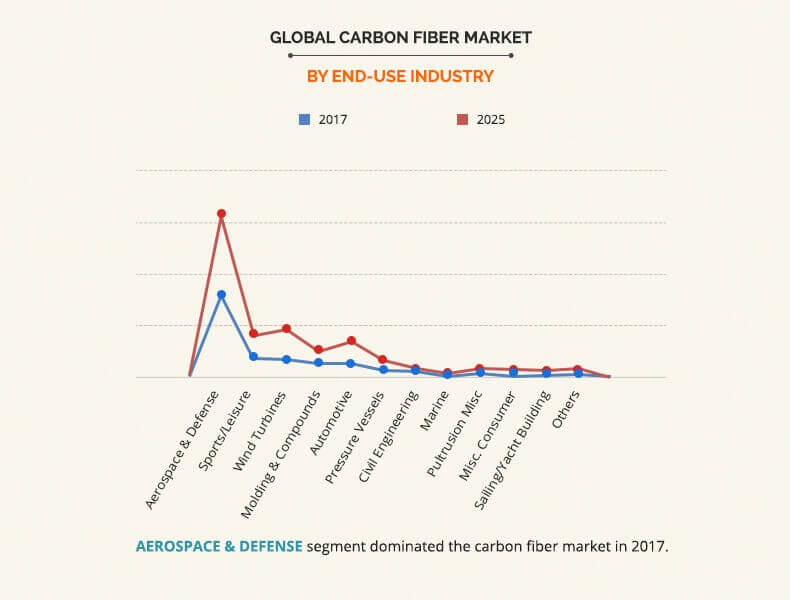 segment review
Composites are projected to be the most utilized form of carbon fiber as a reinforcement owing to its benefits such as high strength, high thermal & electrical conductivity coupled with high modulus makes them useful as an additive for enhancing the electrical or thermal conductivity. This makes it ideal across end-use industries such as aerospace & defense, automotive, sports, wind turbines among others.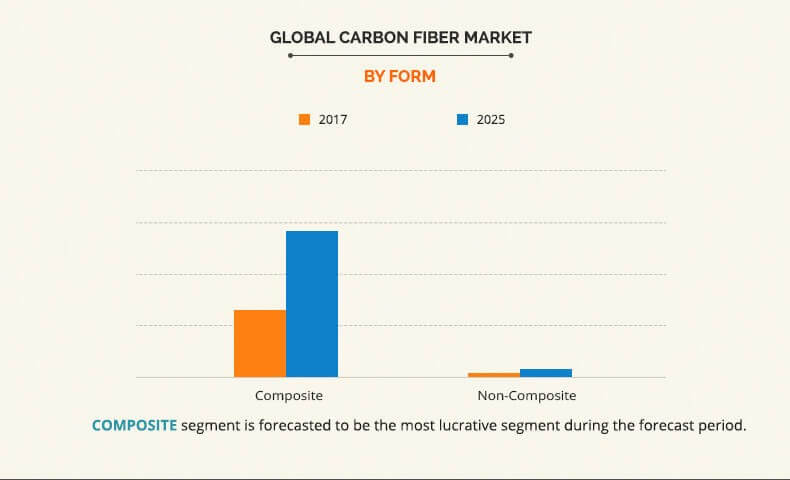 Lamea review
According to the International Towers Cranes 2012, Latin American construction industry accounted for approximately $550 billion growing at 6% annually. Middle East and African construction industry accounted for about $450 million growing at 5% annually. These factors are expected to increase the consumption of carbon fiber in civil engineering sector in LAMEA region during the forecast period.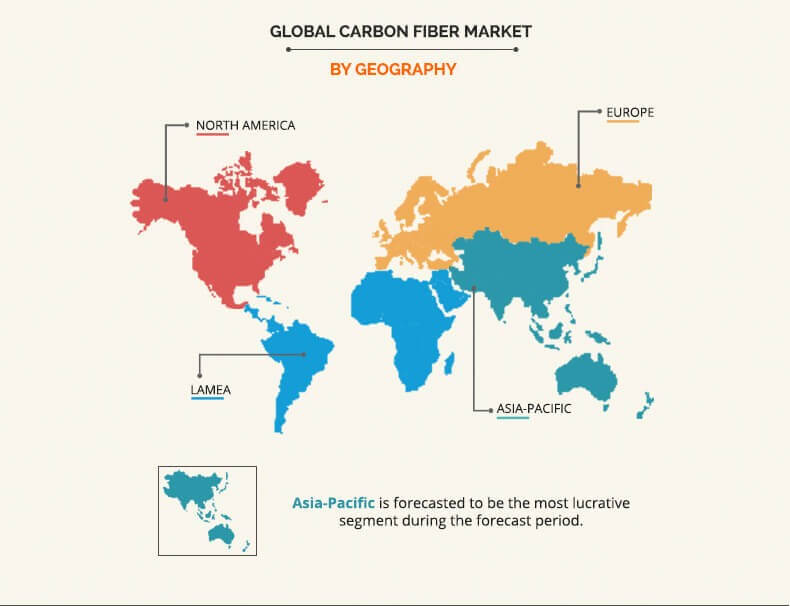 The key players operating in the global carbon fiber market are DowAksa Advanced Composites Holding B.V., Mitsubishi Chemical Holdings Corporation, Nippon Steel & Sumitomo Metal Corporation, OJSC SvetlogorskKhimvolokno, SGL Carbon SE, Teijin Limited (Teijin), Toray Industries Inc., Hexcel Corporation, Solvay SA, and Hyosung Corporation.
Other players (not profiled in the report) operating in this market are Zoltek Companies, Inc., Toho Tenax Co., Formosa Plastics, Crosby Composites, Plasan Carbon Composites, TenCate, AKSA, Mitsubishi Plastics, Gurit and GKN.
Key Benefits
This report provides an extensive analysis of the current trends, future estimations, and dynamics from 2017 to 2025 of the global carbon fiber coating market, which assist to identify the prevailing opportunities
Geographically, the market is analyzed based on various regions, such as North America, Europe, Asia-Pacific, and LAMEA
Extensive market analysis predicts the applications that are currently used along with the variants that would gain prominence in the future.
Detailed analysis is conducted by following key product positioning and monitoring the top competitors within the market framework
Key players are profiled and their strategies are analyzed thoroughly, which portrays the competitive market outlook.
 Carbon Fiber Market Report Highlights
Aspects
Details
By Row Material

Pan-Based carbon fiber
Pitch-Based & Rayon-Based carbon fiber

By Type

Continuous carbon fiber
Long carbon fiber
Short carbon fiber

By Form

Composite carbon fiber
Non-Composite carbon fiber

By End Use Industry

Aerospace & Dfense
Sports/Leisure
Wind Turbines
Molding & Compounds
Automotive
Pressure Vessels
Civil Engineering
Marine
Pultrusion Misc.
Misc. Consumer
Sailing/Yacht Building
Others

By Region

North America (U.S., Canada, Mexico)
Europe (Germany, France, UK, Italy, Spain, Rest of Europe)
Asia-Pacific (China, India, Japan, Korea, Rest of Asia-Pacific)
LAMEA (Brazil, Argentine, UAE, Saudi Arabia, Rest Of LAMEA)

Key Market Players
DOWAKSA ADVANCED COMPOSITES HOLDING B.V., HEXCEL CORPORATION, HYOSUNG CORPORATION, MITSUBISHI CHEMICAL HOLDINGS CORPORATION, NIPPON STEEL & SUMITOMO METAL CORPORATION, OJSC SVETLOGORSKKHIMVOLOKNO, SGL CARBON SE, TEIJIN LIMITED, TORAY INDUSTRIES INC., SOLVAY SA