Cardiovascular Diagnostic Testing Market Statistics- 2030
Global cardiovascular diagnostic testing market was valued at $6,876.29 million in 2020, and is projected to reach $15,430.46 million by 2030, registering a CAGR of 8.3% from 2021 to 2030.Cardiovascular diseases (CVDs) are a group of disorders of the heart & blood vessels and include coronary heart disease, cerebrovascular disease, rheumatic heart disease and other conditions. More than four out of five CVD deaths are due to heart attacks and strokes, and one-third of these deaths occur prematurely in people under 70 years of age. They are the leading cause of morbidity and mortality in humans, and millions of individuals worldwide die from acute cardiovascular events every year. 
The COVID-19 pandemic is an unprecedented global public health challenge and is anticipated to have a positive impact on the cardiovascular diagnostic testing market. Besides lung, this infectious disease also has severe implications in the cardiovascular system and therefore supporting the positive impact on the market. COVID-19 seems to promote the development of cardiovascular disorders, such as myocardial injury, arrhythmias, and acute coronary syndrome. Also, patients with pre-existing heart disease are suffering from COVID-19 are more prone to heart attacks or develop congestive heart failure. Thus, COVID-19 pandemic has highlighted the importance of reliable diagnostic tests and quick development of novel assays therefore, propelling the market growth.
Various laboratory developed tests as well as in vitro diagnostic tests are available for diagnostic and prognostic purposes. Cardiovascular diagnostics are the tests performed on patients for screening and monitoring of heart to diagnose any prevalent cardiac disorders.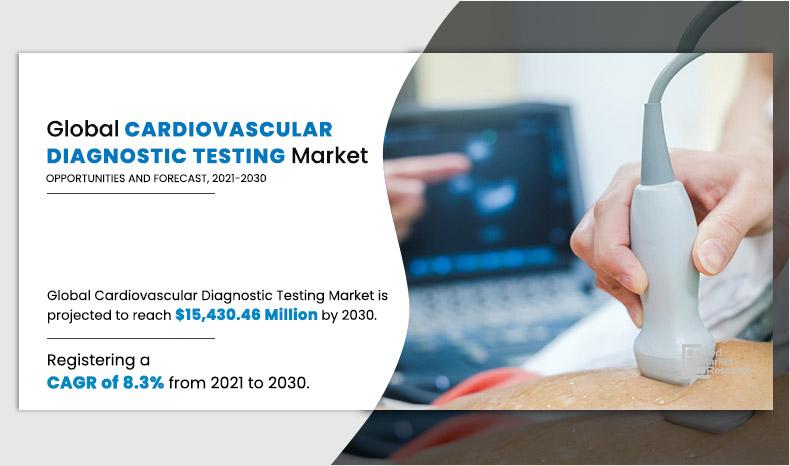 Cardiovascular diagnostic testing can provide information regarding the electrical activity of the heart, heartbeat rhythm, how well blood is pumping through the heart's chamber and valves, how easily blood is flowing through the coronary arteries to the heart muscle, and whether there are tumors or abnormalities in the structure of the cardiovascular system. Laboratory tests are used to detect the risk factors for heart diseases. These include detection of the fats, cholesterol and lipid components of blood including LDL, HDL, triglycerides. Blood sugar and glycosylated hemoglobin is measured for detection of diabetes. C-reactive protein is protein (CRP) and other protein markers like apolipoprotein A1 and B are used to detect inflammation that may lead to heart disease.
The factors contribute to the growth of the cardiovascular diagnostic testing market include, rise in geriatric population, increase in prevalence of cardiovascular diseases, and unhealthy diet & sedentary lifestyle. Moreover, technological advancements in the treatment and devices, introduction of developed treatment procedures boost the growth of the cardiovascular diagnostic testing market. On the contrary FDA regulation and guidance of laboratory developed tests (LDTs) and limited insurance coverage and high cost of devices used for the diagnostic purpose hinder the growth of the cardiovascular diagnostic testing market. 
Emerging economies in Asia-Pacific and LAMEA offer lucrative growth opportunities to cardiovascular diagnostic testing, owing to improvement in healthcare infrastructure in these regions and increase in demand for better healthcare services among the patient population. Novel diagnostic technologies are expected to be launched in this market, owing to progression in healthcare facilities and technological advancements. The purchasing power of people in various developing nations is increasing due to formulation of different healthcare policies. For instance, in January 2014, the World Economic Forum in its project paper, Health Systems Leapfrogging in Emerging Economies, stated that, one-third of the global health expenditure would be focused on the provision of healthcare services in the emerging markets by 2022.
Impact of COVID-19 Pandemic on Cardiovascular Diagnostic Testing Market (Pre and Post Analysis)
Coronavirus disease (COVID-19) was discovered in late December in the Hubei province of Wuhan city in China. The disease is caused by a virus, namely, severe acute respiratory syndrome coronavirus 2 (SARS-CoV-2), which is transmitted from humans to humans. After its discovery in Wuhan, the disease has rapidly spread to other parts of the globe. This virus causes various symptoms in a patient; for instance, common symptoms include fever, dry cough, and fatigue. However, serious symptoms include difficulty in breathing or shortness of breath, chest pain or pressure, and loss of speech or movement.
Furthermore, the virus has high potential of lethality in the geriatric population. On March 11, 2020, the World Health Organization assessed that COVID-19 can be characterized as a pandemic. In addition, no drugs are currently licensed for the treatment of COVID-19 treatment or prevention. Thus, social distancing is observed as the most important measure to stop the spread of this disease. Furthermore, to maintain social distancing, various countries across the world have adopted nationwide lockdown. Although the COVID-19 pandemic continues to impact the growth of various industries, and the immediate impact of the outbreak varies from industry to industry.
The impact of COVID-19 pandemic is expected to remain positive for the cardiovascular disease testing market. Owing to increase in medical condition such as diabetes heart diseases among others which are more vulnerable to COVID-19. Also, patients with pre-existing heart disease are suffering from COVID-19 are more prone to heart attacks or develop congestive heart failure. According to the national health commission about 35% of the total patient diagnosed with COVID-19 are suffering from hypertension and 17% from heart disease. 
COVID-19 pandemic has highlighted the importance of reliable diagnostic tests and quick development of novel assays. Moreover, coronavirus infection also affects the inner surfaces of veins and arteries, which can cause blood vessel inflammation, damage to very small vessels and blood clots, all of which can compromise blood flow to the heart or other parts of the body. Severe COVID-19 is a disease that affects endothelial cells, which form the lining of the blood vessels. Therefore, timely diagnosis become utmost important if a person has pre-existing heart issues. 
Type Segment Review
By type, the cardiovascular diagnostic testing market can be categorized into laboratory developed test (lipoprotein test, angiotensin test, fibrinogen test, fibrinogen test, high-sensitivity C-reactive protein (hsCRP) and in vitro diagnostic test (electrocardiogram test, echocardiography test, and transesophageal echocardiogram test). The in vitro diagnostic test segment dominates the cardiovascular diagnostic testing market, owing to increase in demand for the non-invasive diagnostic techniques and technological advancements leading to replacement of old conventional devices with the new one.
Cardiovascular Diagnostic Testing Market

---
By Type
In-vitro diagnostic test segment dominated the market in 2020 and would continue to maintain the lead over the study period.
Panel Segment Review
By panel, the cardiovascular diagnostic testing market is studied across atherosclerotic cardiovascular disease (ASCVD) risk panel with score.
End User Segment Review
By end user, the cardiovascular diagnostic testing market is segmented into laboratory testing facilities, academic institutes, and point-of-care testing facilities. The laboratory testing facilities segment held the largest market share in 2020 and is expected to remain dominant during the forecast period because laboratory testing is more advanced, and is fully integrated with the technology necessary to ensure that results are accurate, analyzed, validated and recorded.
Cardiovascular Diagnostic Testing Market

---
By End User
Laboratory testing facilities segment held a dominant position in 2020 and would continue to maintain the lead over the forecast period.
Region segment review
North America is expected to maintain its dominance during the forecast period due to the three major countries of North America considered in the report include the U.S., Canada, and Mexico. North America is dominating the market of overall Cardiovascular diagnostic testing and expected to dominate throughout the forecast period. This is majorly attributed to rise in incidences of coronary diseases. The rise in number of heart ailments can be attributed to the prevalence of high blood pressure, high- and low-density Lipoprotein cholesterol, and smoking which is prevalent in this region.
Cardiovascular Diagnostic Testing Market

---
By Region
North America held a dominant position in 2020 and would continue to maintain the lead over the analysis period.
This report provides comprehensive competitive analysis and profiles of prominent cardiovascular diagnostic testing market players such as Abbott Laboratories, Becton, Dickinson and Company, bioMérieux, Inc., Bio-Rad Laboratories Inc., Danaher Corporation, F. Hoffmann-La Roche Ltd., Perkinelmer Inc., Siemens AG, Thermo Fisher Scientific Inc., and Tosoh Corporation.
Cardiovascular Diagnostic Testing Market Research Study Key Benefits
This report provides a detailed quantitative analysis of the current cardiovascular diagnostic testing market trends and forecast estimations from 2020 to 2030, which assists to identify the prevailing market opportunities. 
An in-depth market analysis includes analysis of various regions, which is anticipated to provide a detailed understanding of the current trends to enable stakeholders formulate region-specific plans.
A comprehensive analysis of factors that drive and restrain the growth of the global is provided.
The projections in this report are made by analyzing the current trends and future market potential from 2021 to 2030, in terms of value.
An extensive analysis of various regions provides insights that are expected to allow companies to strategically plan their business moves.
Key market players within the cardiovascular diagnostic testing market are profiled in this report and their strategies are analyzed thoroughly, which helps in understanding competitive outlook of the cardiovascular diagnostic testing market.
 Cardiovascular Diagnostic Testing Market Report Highlights
Aspects
Details
By Type

Laboratory Developed Test
In-Vitro Diagnostic Test

By Panel

Atherosclerotic cardiovascular disease (ASCVD) risk panel with score

By End User

Laboratory Testing Facilities
Academic Institutes
Point-of-care Testing Facilities

By Region

North America
Europe
Asia-Pacific (Japan, China, India, Australia, South Korea, Rest of Asia-Pacific)
LAMEA (Brazil, Saudi Arabia, South Africa, Rest of LAMEA)

Key Market Players
Danaher Corporation, bioMérieux, Inc., Thermo Fisher Scientific, Inc., Bio-Rad Laboratories, Inc., Tosoh Corporation, Siemens AG, PerkinElmer, Inc., F. Hoffmann-La Roche Ltd, Abbott Laboratories, Becton, Dickinson and Company